Patrick Peter Owen Adams was born on March 17, 1950 at 5:07 AM at Harlem Hospital, New York City.
Already as a child Patrick was drawn to music. He grew up in a rich environment musically, he was always surrounded by music and was always in choirs or glee clubs at school. Especially he loved Gregorian chant and Christmas music.
By the age of 10 Patrick's father bought him a trumpet and he started his musical career by playing it.
The magical moment for Patrick was when he saw the Beatles in the Ed Sullivan show. At that moment he realized what he wanted to do for the rest of his life... He wanted to make music...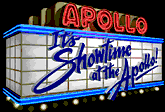 As he lived just 4 blocks from the famous Apollo theatre, he used to go and see the greatest entertainers alive every week. The Motown acts left the greatest impression on him. But he was also very influenced by the Stax acts, Chicago and Sly Stone...
At the age of 12, Patrick got a guitar and when he had learned 3 chords he wrote his first song. Each time he learned a new chord he tried to write a song around it. From the time he got the guitar and his tape recorder until he was 15, he wrote about 400 songs!!!
Patrick really tried to learn every song they played on the radio. He tears them apart and picked out the bass, the guitars and the piano lines and recreated them. He was also very influenced by MOTION PICTURE MUSIC.
Patrick has a unique gift for remembering and creating melodies. He has always had "a tape recorder" in his mind. He could still sing the theme to the 1956 film "The Vikings" with Kirk Douglas and Tony Curtis - even though he only saw it once in the Theatre as a child!
By the age of 16, some neighborhood fellows heard him play through the window and asked Patrick if he would join them and start a band. They were a blessed combination of talents and backgrounds. The guys called themselves the Sparks and just 2 days later the band auditioned for the Warner Brothers movie "Up The Down Staircase". They got the part of the Band at the High School dance. If you see the movie - that scene starts with a close-up of Patrick's hand playing the guitar and pulls back and then pans the Gymnasium.
This was the start of Patrick's professional career. Two months later the band were signed with Cub/MGM records and they recorded a single called "Cool it" with the flip side "Woe, Woe". They were touring for 4 years and were playing gigs with The Rascals, Jerry Butler and later traveled with the Commodores! The band was actually managed by the Commodores manager, the late Benny Ashburn.
At about this time he also wrote the song "You've Got To Learn Something" which has been on Sesame Street ever since.
In 1970 Patrick became the Vice President of A&R for Perception/Today Records for which he for example signed, produced, arranged and managed the group Black Ivory. One of the members of the group was a guy who turned out to become one of the best Disco/Funk writers ever, namely Leroy Burgess. The group and Patrick made several records together and one true masterpiece they made was "Mainline" which still is as fresh as back then...
In May 1997 Black Ivory was reunited and in the late 1997 they went into the studio to record a new album, and guess who produced it...
When Patrick Adams left Perception/Today Records in 1974, he incorporated his own productions company - Patrick Adams Productions Music - "PAPMUS".


About the same time, Patrick met this record promotions guy named Peter Brown and together they formed their own, Harlem-based, P & P Records. The label was distributed by Roulette Records and over the next couple of years they would release lots of (today) hard-to-find classics either on their P & P label, or any of the other labels they run; SONY [Sound of New York], Queen Constance, Heavenly Star, Jay Star, Chocolate Star and a couple of others. These releases are all early Funky Disco at its very best.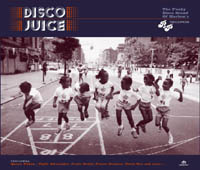 Peter & Patrick run those labels 'til the mid eighties, one of their biggest cross-over hits were the 1982 track "Last night a DJ saved my life" by Indeep on the Sound of New York label. [Some people say there was 2 different Sound of N.Y. labels and that the Indeep hit should have been released on the other label. I have not been able to get that confirmed.]
In late May of 2000, some of these classic tracks were made available again in the Counterpoint Records CD - Disco Juice - the Funky Disco sound of Harlem's P & P Records. This CD include some of the most sought-after tracks released on these labels, tracks like; Cloud One's - "Disco Juice", "Got to have your love" by Clyde Alexander, Chain Reaction's - "Dance freak" and Queen Yahna's - "Ain't it time".
Adams believes in the very basic values - He believes that his success came from following in the footsteps of all those who came before him... He went to the Apollo theatre every week listening to the greatest musicians on earth, he dissected thousands of hours of recorded music and he hung out like an apprentice in recording studios trying to learn all he could from the masters of their craft. He wanted to learn everything - Why did the bass and drum move like that? Why are the Strings and Brass? Why playing those notes? Etc...
He wanted to become the Heavy Weight Champion Producer of the world (and he sure is one of them...). He put in the time and hard work and the result followed!
When Patrick looks back at his career so far, he's convinced that Oprah Winfrey said it best; "Success comes when preparation meets opportunity".
He thinks there are thousands of very talented musical geniuses running around the earth who will never be heard outside of their homes and then there are many, many mediocre less talented people who by being in the right place at the right time, have gained a moment of fame.

Since Patrick has been Producing, Writing, Arranging and Engineering in his career, I asked him which role he preferred. He says; "Each is a branch of the other. No matter which hat I'm wearing, underneath the other costumes are still there."
And he continues...
"Producing is probably best because you can play GOD. I believe that in the studio, the Producer is King. His vision guides all the players. He has total and final say. That's why I laugh at people who try to wear the title with no experience. There are a small hand full of people who have earned the title. Just like a Pilot who wants to fly a 747. Until you've flown a certain number of hours (usually a few thousand) you have not earned the right to call yourself PRODUCER."
"Writing is a personal thing. I love expressing myself musically. I love making people happy. It is very gratifying to see people respond to a song. One day I'd like to write a song that helped to bring Peace to the World"
"Arranging again is a Talent. Either you have it or you don't. You can teach someone to write or arrange, but the intuition that allows one to SOAR FREELY is born not taught. I love doing freaky things with Strings. I have seen people cry when they hear certain chords. I've seen woman get excited by a Bass line. Music is very powerful and in the hands of a Master all things are possible." Patrick once said in another interview that "In the best records, every time you hear it, you hear something you didn't hear before. I like layering... I'll put in things [that will] keep you listening forever."
"Engineering is like being a waiter. The actually job is to cleanly put the sound on tape but of course I wind up doing more. Like Quincy Jones says. "Check your ego at the door." It's hard for me sometimes when I agree to engineer for someone who turns out to be a complete Jerk. I now only engineer for people who are talented and who are looking to learn something. Another reason I engineer is to stay current on musical trends and techniques. There is a trade off that happens then. What did Bob Clearmountain, Teddy Riley, Herb Azor, Keith Sweat, Narada Michael Walden and others learn from me? Ask them, if they remember."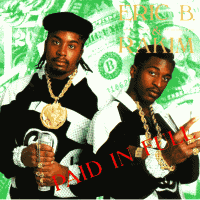 I asked Patrick of any special memories in his different roles, and as an Engineer he's most proud of Eric B & Rakim. At that time he developed certain technique that made their records stand out. Rakim has a rich percussive voice and Patrick decided to use a RE20 (This is a Bass Drum Microphone) on him. This allowed Rakim to be strong without popping and deep without a lot of Equalization. He added a room effect on the drum sample tracks to give them a more live feeling. All of the loops and samples on the first three albums are tight and in key.
The result is a very musical work that can be enjoyed and Patrick adds; "I was totally surprised to read that Paul McCartney loved the LP."
As a Producer he tells me the following; "Producing can sometimes involve politics and timing. If you have a great idea, you can be sure that someone else does too. In early November of 1979 Jerry Greenberg, the president of Atlantic Records asked if I would be interested in producing Herbie Mann. I had been a huge fan of Herbie Mann since I first saw him at the Village Gate in NYC in 1968. Warner Brothers had a great investment in the Superman movie that was scheduled for release at Thanksgiving time. The mission was to produce a Dance oriented LP featuring the cut "Superman".
John Williams had done the score of the movie and maybe we could score a "Star Wars" type hit. When we arrived for the first session at the Power Station Studio I was shocked to hear that across the hall Meco Monardo was already recording the Superman theme. He even had the original musical score sheets courtesy of John William. All I had was a cassette. On that cassette was clearly printed that the right of first recording was evoked. This meant that no-one could release a recording of the theme until 2 weeks after the first record by John Williams was released. It was bad enough that I had to go out behind John Williams but then to go against MECO, who had scored the huge success with Star Wars too, That was too much!!
With out consulting with anyone I decided to take a big gamble. I put all of the Album resources into redoing "Superman" by Celi Bee. This way we could put out our "Superman" record 2 weeks before anyone else. I took a lot of flack for that, But it worked! Herbie had his biggest POP single ever, somewhere in the 20's on the charts. All the other versions never went higher than 50 on the charts. The Album was Stereo Reviews best LP of the month."
When I, Discoguy, interviewed Meco I did have to ask him about this story and if he knew of all of this and Meco replied; "Just for you to get that out of him and to talk about that was just amazing. I did not know about that by the way. I think it was so cool that he actually did that. He heard me doing that and then decided to go do that other song, what a great move that was on his part. And of course, his was a hit and mine wasn't. He's correct, he's right there."
As a Writer he consider his 1979 DISCO stomper "I'm caught up (In a one night love affair)" by Inner Life (with lead vocals by Jocelyn Brown) as one of his best works. The reason he likes it so much is because that record contained some fantastic background, insane string lines and tremendous energy from all involved... It rocked from beginning to end.
This song was originally released as a 12"inch single by Greg Carmichael on TCT Records. Within a week of its release a bidding war broke out between Prelude and what was to become Profile Records. Prelude won by bidding $17,500 for the rights to the single. At the time this was an un-heard amount for one single record. One year before, the entire "Keep On Jumpin" LP by Musique had cost only $16,000 to make.
On the TCT Records release of "I'm caught up..." Patrick gets the credits as writer & arranger and the Producer credits goes to Greg Carmichael. In the Prelude release of the same song all the credits goes to Patrick...
But Greg and Patrick actually produced many projects together between '74 and '82. For example they produced Donna McGhee, Universal Robot Band, Bumblebee Unlimited and "Touch me" by Fonda Rae to just name a few. Many of these releases have become collector's items and are very hard to find these days...
Patrick and Greg were also among the first to release their songs on 12" singles. For example their "Dance and shake your tambourine" by the Universal Robot Band from 1976 was released as 12" single... They used to complain to the mastering labs that there was not enough bass or not enough level on the 7" singles that they cut. It was always a compromise... Bass makes wide grooves, so basically the more bass the less physical space on the record. They suggested just going to bigger disk formats, first they tried 10"s but that was impractical for the stores to rack so they went to 12"s instead...
Most of Patrick and Greg's works was remixed and extended by John Morales and I asked Patrick what he thought of John's mixes. This is what he told me; "John Morales is certainly one of the angels in my life. At the time that John was involved with us, I always felt that my work was in good hands. The original process of 'remixing records' was intended to provide an alternative listening experience which had been optimized for people who went out to dance at Discos. The breaks and the unique equalization of bass and drums was for the dancer. The extended versions which built to a fever pitch was for the dancer. The sparse vocals, the swirling string and brass lines punching in and out; All was to make a recording as hot and enjoyable as possible for a dancer!!!
John was one of the early pioneers who loved music, understood his craft and HAD RESPECT FOR THE CREATIVE WORK from which his mixes were derived. A long time ago in a galaxy far, far away Record companies always released the original recording as made by the producer; then as a marketing tool a remix was done to capitalize on club play. Somewhere along the way things got out of hand...
Club DJs and other 'non musical' people aided by record company A&R 'suits' became stars. The result was the destruction of the record making process. Record companies started releasing alternative productions. A lot of times the original record never sees the light of day. That is one of the reasons the music business is as screwed up as it is today. You have a lot of non musical people in record companies making non creative decisions about things that once were considered an ART. I will give you a personal experience.
Someday I may tell you who the players were in this story but for now the names are not important.
I produced a record once which I thought was a magnificent work of art. The song was great, the tracks were amazing, the string and brass arrangements were classic and the vocals were top-notch. After I delivered the 12-inch to the company everyone was excited and plans were made for immediate release. At this point the company hired a young hot DJ to do a club mix. Up to this point in my career remixes had done me no harm so I had no second thoughts about the matter. The resulting remix was a strong bass and drum piece with different elements of the original recording jumping in and out. It was a very interesting interpretation of the elements involved. Before the record was commercially released the DJ got about 50 white label 12-inch vinyl records and proceeded to do some promotion on his own. He approached radio stations and record pools and distributed the record playing his remix as the "A" side of the record. PLEASE DON'T MISS THIS POINT - If you hear a record for the first time and you have no point of reference, it is very difficult to make heads or tails of what you are listening to. A remix which features bass and drums going in and out and some thin vague vocal lines will not have the same impact as a well structured record with an introduction, a building tension with verses and choruses and a hot vamp out. So, many people including the program director of the then number one radio station in New York were not impressed by the record. The record never got off the ground.
I happened to run into the radio program director in a New York recording studio two months later. I asked him if he had heard the record and why he was not playing it on his station. He reached into his shoulder bag and pulled out the white labeled 12-inch. As he waved it at me he said; 'You mean this piece of shit with all the bass and drum licks. I hated it so much I scratched it with my ball point pen to make sure nobody ever played it on my station!'
Somehow I was able to stay calm after that knock out punch. I immediately knew what he had listened to. I asked if he had heard the other side. He said; 'Why is it different?' I took him into an editing room and played the correct 'A' of the record. His jaw dropped. He looked at me and said; 'Patrick, I am sorry. If I had heard this it would have been on the air in ten seconds.' By this time the record company had moved on to other priorities and the record had been dropped from its promotion schedule. The record did make some noise in various markets but major labels are quick to pull the plug on records that don't show immediate results. It is hard enough to get hit records and major artist into radio rotation. As the president of a major label once told me; 'SOMETIMES WE MISS A FEW!'"
It's really sad to hear how a crap remix can even kill a great tune...
Disco was a great blessing in disguise for Patrick. He had a lot of freedom as an arranger to experiment and use dissonant harmonies and off timing. If you listen to Patrick's records you will often hear out of time phrases like the 5/4 bar in Musique's "(Push, push) In the bush" or in "Glide" there is even a section of 10/4.


Musique was an act written and produced by Patrick Adams. The group had some huge Disco hits with "(Push, push) In the bush" and "Keep on jumpin'". This is what Patrick has said about the vocalists of Musique... "Jocelyn Brown and Christine Wiltshire were the two greatest living vocalists to me. Christine had been in Luther Vandross' original group on Cotillion, and she introduced me to Jocelyn. All through my life, Jocelyn has been like a charm for me. Jocelyn had the strength and gospel background, and Christine had the refinement and precision to make for some really slick backgrounds. Together, with whatever third person they brought to the party, it was a gas. Honestly, there was no great strain to making records."
One detail that can be fun to know is that Patrick and Musique shot the video for "In the bush" in the legendary New York club - Studio 54.


Both "In the bush", which is a hard dance song, and the more European Disco-ish "Keep On jumpin'" generates from Musique's first album, named Keep on jumpin'. An album that really shows off Adams' serious gift for classical string arranging in the Barry White-ish "Summer Love" and in "Keep on jumpin'". The later was covered two times and a worldwide hit twice in 1996-97. Both by Lisa Marie Experience and by Todd Terry presents Martha Wash and Jocelyn Brown. Yes... that's right... Jocelyn was hitting the charts again singing the same song again, just some 18 years later. Martha Wash was one of the girls from Two tons of fun, and later known as one of the Weather Girls.
So in 1997 Patrick received the ASCAP Songwriter of the Year Award for the third time and for the second year in a row. In 1997 he got it for "Keep on jumpin'" and in 1996 he was honored for the Number 1 dance song "Keep in touch (Body to body)" by the Shades of Love.
The first time Patrick brought home this prestigious award was for Cathy Dennis' remake of the classic Patrick Adams/Greg Carmichael penned and produced "Touch me (All night long)". It became a Number 1 pop single for her in 1991 and Patrick and Greg received the 1992 ASCAP Songwriter of the Year Award for this remake. Originally "Touch me" was released about a decade earlier and the vocalist was no less than - Fonda Rae.
Up 'til now (early 1998) Patrick has got some 32 (!!!) GOLD RECORDS on the wall.

Another Patrick Adams act is Rainbow Brown. This was a studio concept act Patrick made for Vanguard Records. The most famous song by this act is the great "'Til you surrender". Fonda Rae was the lead vocalist on all cuts and the name Rainbow Brown was one of those things Patrick came up with. It was meant to represent a diversity of Black Musical styles - Different shades of Brown.
Rainbow Brown's great "'Til you surrender" was covered in 1997 by the UK DJ Joey Negro as "Surrender" and by Rainbow Connection. He gave this great classic a new up to date sound with vocals by Taka Boom, who happens to be best friends with the singer of the original - namely Fonda Rae.
Patrick Adams was also the producer who put Narada Michael Walden "right on track". Narada had been playing with for example Mahavishnu Orchestra, a band with many influences from India and fusion rock, music with strange chords and stuff like that. He then went for a solo career with Atlantic Records and made two un-commercial records that flopped and it's said that Narada's label chief told him "You've made two albums and sold two records". At this time Patrick was brought in to save his ass.
In Narada's third album, "Awakening" from 1979, Patrick was the associate producer plus that he arranged and played on the record. This album gave Narada his first disco hit with the song "I don't want nobody else (To dance with you)". This song and the "Awakening" album started Narada Michael Waldens' transformation; from being one of the top three drummers in contemporary Rock & Roll to today's Grammy winning R&B/POP record producers. (Thanks to Patrick who really saved his ass back then...)
Later in 1979 Narada released the album with the new hit "Tonight I'm alright", but at this time he was already hot after popular performances at, for example, American Bandstand so he all of a sudden forgot all the people who got him there...
During his career Patrick has had over 300 of his songs recorded and he has been involved in over 1000 recordings!!! (That's impressive!!!)
As the record collector I am I asked Patrick if he had a copy of every record he had been involved in... But unfortunately he didn't! Or maybe that's fortunate since he sure would have had a huge record collection then.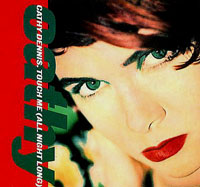 Just to name a few of all the artist/acts he have been working with during the years I can mention; Sister Sledge, Loleatta Holloway, Main Ingredient, Shannon, Spinners, Gladys Knight, Skipworth & Turner, Candi Staton, Eddie Kendricks, Ace Spectrum, Rick James, Cloud One and Bruni Pagan.
Among the more recent acts I can mention for example Coolio, Cathy Dennis, Kieth Sweat, Teddy Riley, R. Kelley, Eric B & Rakim, Salt N Pepper and Shades of Love. He has also recently worked with the legendary vocalist Jeanie Tracy. Jeanie was one of the background singers for the late gay disco star Sylvester and she is now one of the world's most sought-for session singers. Stars like Aretha Franklin and Patti LaBelle consider her "one of the Top Ten voices in the world".
He has also lately written original music for a kids CD-Rom game - "Busytown" by Richard Scary and has even written music to about five different companies web-sites.
I just had to ask Patrick if he got any favorite songs of the ones he had written, produced, arranged or engineered. Patrick replies;
"It might sound strange but I like all the songs I've written. I have a habit of not finishing a song if I don't like it. I just throw out the piece because I know it will always be there somewhere in my brain and it will come back in one form or another. I am most fond of the newer songs I've been writing. They are more polished and the lyric more meaningful. As I have gotten older my life experience has given me a broader library of events to write from and to write about.
As an engineer I'm very proud of the work I did at Power Play Studios with the rappers - Keith Sweat, Teddy Riley, R. Kelley, Eric B & Rakim, Kid N Play, Salt N Pepper and on and on......"
I then asked if he could name his very favorite song(s) all categories? Patrick continues;
"Once again I hate to sound like I'm ducking the issue but each song or each record I have worked on has had space in my life. Anything you do that takes that much time and energy should be meaningful. I have always made records for fun and enjoyment not just a quick buck. In the early eighties I often paid out of my own pocket to finish projects that were over budget. I really wanted to see those records finished." (!!! How many producers would do this??!!)
Since Patrick has been working with soooo many talented people during the years, I asked if there were any people he preferred working with. Patrick says that his only real preference is to work with talented people or people who have a real desire to entertain. Since he have worked with hundreds of people over the years he's still drawn to the fresh young persons with that burning desire to make it. He favors people who believe that all things are possible and that there is always more than one approach to a situation.
I had to ask if there were any special people he admire or would like to work with that he hasn't already. And he says; "I would love to record Mariah Carey. Take her back singing great songs with great arrangements. She has so much to offer the world and had just begun to scratch the surface before she regressed to hip hop."
I can do nothing less than agree and hope he would end up work with Mariah since I'm convinced he could do magic with her great voice.
I also asked Patrick about who or what that inspired/influenced him. Patrick started to make a list of people who influence him but he soon decided it was a very long list. Now a days life is his greatest inspiration, like seeing the beauty of the world thru his daughters eyes or just watching the sun set. Sometimes hearing an exceptional voice will spur him on... Personally Patrick likes any music which moves him emotionally. Either because of the melody and harmonies or the chord changes. The tempo is not as important as how the pieces fit together.
The lessons of making records came to him from every record he ever listened to. Even the bad records taught him - by showing him what never to do. And if you hear someone's influence in Patrick's work, then you are more than likely correct. Because he believes in the old saying - "A good artist borrows, a bad artist steals!".
And he adds; "Thank You every writer, producer, arranger and musician who ever made a record that I listened to."
When talking 'bout stealing and borrowing, it leads us undoubtedly into sampling and covers. Since many new artists use samples or choose to make covers of old disco/funk songs I asked Patrick what he thought about this...
Personally he would rather see young musicians learn how to play instruments and learn the fundamentals of music themselves, instead of sample or make covers. He thinks is annoying to the ear when you hear a sample played in the wrong key - Like a major scale horn riff against a minor key track.
But as far as remakes and samples in general he's quite flattered as a creative person when someone thinks enough of his work to wanna use it again. And in the long run this is a natural part of the publishing business... Since a copywrite last for the writers life time +75 years. That is a long time to own a property and then you want to exploit it to the fullest. Patrick would like his offspring to enjoy the same benefits as if they owned a house or land. He's happy to have something of value to pass on to them.



Download the FREE basic RealPlayer...

CLICK to hear some Patrick Adams songs...
Mainline
Black Ivory

X-15
Broadway

Lady Bug
Bumblebee Unlimited

Touch me (All night long)
Cathy Dennis

Atmosphear strutt
Cloud One

Everybody get off
Daybreak

Superman
Herbie Mann

Ain't no mountain high enough
Inner Life

I'm caught up
Inner Life

Dance, dance, dance
Marta Acuna

Glide
Musique

In the bush
Musique

Keep on jumpin'
Musique

Weekend
Phreek

Till you surrender
Rainbow Brown

Keep in touch (body to body)
Shades of Love

Dance and shake your tambourine
Universal Robot Band

Night rider
Venus Dodson

Touch me (All night long)
Wish feat. Fonda Rae


CLICK to hear some related songs...
Superman
Celi Bee & the Buzzy Bunch

Weekend
Class Action

Tonight I'm alright
Narada Michael Walden

Surrender
Rainbow Connection


CLICK G-clef for a small medley...


Click to buy from


Disc 1:
Surrender - Black Ivory
Everything Man - Day Break
I Keep Asking You Questions - Black Ivory
I Just Want to Spend My Life with You - Pete Warner
You Believed in Me, Pts. 1-2 - Executive suite 1
Kings and Queens - Patrick Adams Institute
I Need Love - Day Break
It Aint No Big Thing - Donna McGhee
My Baby's Got ESP - Four Below Zero
Dance, Dance, Dance - Marta Acuna
Disc 2:
In the Bush - Musique
Weekend - Phreek
Keep on Jumpin' - Musique
Atmosphere Strut [Remix 1979] - Cloud One
Lady Bug - Bumblebee Unlimited
Come and Make Me Feel Good - Shades of Love
Flying High - Cloud One
Everybody Wants My Body [Remix] - Sandra Herring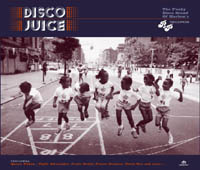 Click to buy from


Johnson jumpin' - Johnson Products
African rock - Licky
Dance freak - Chain Reaction
Got to have your love - Clyde Alexander
Ain't it time - Queen Yahna
Hooked on your line - L.J.Waiters
Feel the spirit - Foster Jackson
N.Y. applejack - Scott Davis
Out of work - Jessie Gould
Get down boy - Paper Doll
Disco juice - Cloud One
Flying high - Cloud One
Patti duke - Cloud One


Click to buy from


In the Bush
Summer Love
Keep on Jumpin'
Summer Love Theme
In the Bush [Remix]
Keep on Jumpin' [Remix]
Summer Love [Radio Edit]
Summer Love Theme [Radio Edit]
Keep on Jumpin' [Radio Edit]
In the Bush [Radio Edit]


Click to buy from


Glide
Love Massage
Good and Plenty Lover
Number One
Glide [Dub Mix]
Love Massage [Entended Mix]
Good and Plenty Lover [Extended Mix]
Love Massage [Raw Groove Mix]
Number One [Club Mix]
Love Message [Club Mix]
Love Massage [Radio Edit]


Click to buy from


It's Wonderful
Ain't No Mountain High Enough
Pay Girl
(Knockout) Let's Go Another Round
Live It Up
Make It Last Forever
Let's Get This Thing Together


Click to buy from


I Picked A Winner
Moment Of My Life
I LIke It Like That
Feel What I'm Feeling
If You're Gonna Love Me
Find Somebody
Moment Of My Life - (12" version)


Click to buy from


Till You Surrender
I'm the One
Come Let Me Show You the Way
Let's Go Another Round
It Ain't No Big Thing
Happy Music
Let's Go Another Round (Tom Moulton Extended Edit Previously Unreleased)
Till You Surrender (Instrumental Version)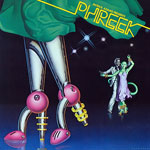 Amazingly for a guy who has meant so much to the music business during the years is that he hasn't released any records in his own name. The closest we get is the classic disco tune "Weekend" by Patrick Adams presents PHREEK from the album with the same name. This song is a true classic written by Leroy Burgess, J. Calloway & S. Davenport and produced and arranged by Patrick. The song has been covered several times, most notable is the Class Action version which were remixed by no one else than the late Paradise Garage Guru DJ Larry Levan.
BUT Patrick tells me that he's about to release a Patrick Adams album during 1998... The album is tentatively called "Opus-E" and will include several guest vocalists. It will be a combination of all the elements Patrick is known for and will include hot dance tracks, cool ballads, wild synthesizers and intense arrangements. So finally after his around 30 years musical career we got to hear him "on his own"!!!
You can now hear Opus-E and some of Patrick's other later work at MP3.com. You can also hear a track - "Fly we can fly away" - that was meant to be on the Musique III album that (unfortunately) never happened.
So what else is Patrick up to right now? He and Tony Sylvester (of Main Ingredients) has joined forces and formed a production company known as Power Exchange and the new company will represent the joint interest of their publishing and co-production efforts. Together they will be producing a few albums of the kind of music they like - music with good melodies and strong tracks. Look out for these...
In 1998 they started production on their first project - an album for a new 22 years old female vocalist named Natasha C Coward. Ms. Coward is blessed with a tremendous vocal range and her stage performance shows the qualities of a star in the making. The album is for a new record company in New York, so new that the label name is yet to be trade marked. Patrick and Tony's main interest is in launching Natasha's career and they claim this album will be a well rounded album that every music lover can appreciate. It will be loaded with singles and NO fillers!
In October 1999, me and Patrick was talking about Patrick's old friend, Leroy Burgess, when he told me this; "Leroy and I have just returned from Chicago where we were the guest of the "House Producers" at KARMA CLUB DISCO. We are currently working an album project for Radek Records of Chicago with DJ/Producer Craig Alexander and Producer/Artist Glenn Underground. I am sure it was your website that contributed to their interest in working with us. Thank You!"
What can I say... THANK YOU Patrick! I would really love to think that my Patrick Adams Tribute page [this page] contributed to getting Craig & Glenn interested in working with Leroy & Patrick. But with the talents of these guys I'm sure they got this job for all their excellent work during the years.
DJ and Remixer legend Frankie Knuckles offered to remix one of the Glenn Underground project's tracks - "Let Me Know You're Feel'n Me" - FOR FREE, just because he liked it that much!
Patrick's friend Leroy was in Stockholm, Sweden in November 2000 for a gig and some recordings. During that time he was interviewed in the most wicked way he ever was interviewed (according to himself). During this interview he got to hear lots of different Disco, Funk and Dance tracks from the 70's up to 2000. Among the tracks he got to listen to was the underground Disco classic "Makin' love" by Sammy Gordon, which is produced and arranged by Patrick. Immediately when Leroy heard this track he said; "This is Patrick! He almost has got a patent on this sound. He uses a mini-moog and pushes down a tone all the way to the bottom, so when he hits the next it sounds oih, oih, oih. It was he who invented that. May I look at the record?"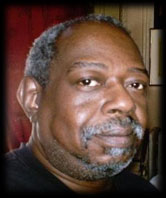 Finally - What's Patrick's best memories during his years in the business?
"I guess the best memories are always hearing your music on the radio for the first time, or passing a small club and watching a local band play your song in their act. I remember Nile Rodgers of CHIC picking up his guitar once and playing a certain guitar figure strongly influenced by "Just let me do my thing" (Sine) and saying, "Hey, I got that from you." Those are the best moments!"
He continues; "I once was hired to do arrangements on an album by an African singer. He spoke French and no English and I spoke English and no French. The moment I sat at the piano and he started singing and I found the right chords to his song there was a bonding that confirmed - "MUSIC IS A UNIVERSAL LANGUAGE". It was a very pleasant experience to know that communication is possible thru music."
In February 2021, Patrick received the 'Living Legend' Award by the BEMBE DJ's.
Congratulations! Definitely well deserved!
Patrick has given us so much great music for over 30 years, and I hope to hear his work for at least 30 more years to come. He is one of those guys that the general listener might not know about, but in the music business he's one of the most highly regarded and respected talents ever. And Patrick is for sure one of the guys who have proved that...
"MUSIC IS A UNIVERSAL LANGUAGE".