Jocelyn Lorette Brown, or just - Jocelyn Brown - as we use to know her, was born in Kinston, North Carolina in November 25th, 1950.
As many other famous artists, Jocelyn started using and training her voice already as a small kid in her home and later also in church. All of her family was ministerial singers and she was raised into Gospel music and later introduced to different kinds of other music genres by her aunt Barbara Roy, also known as Barbara Gaskin. Her aunt was a very well-known solo artist and she was also the one who sung the lead vocals of the 1976 Disco smash - "Touch and go" by the group Ecstasy, Passion & Pain, which she was a member of.
Besides her aunt, she is the cousin of Ray Gaskin, who is a famous saxophonist, songwriter & producer, and just like Jocelyn he's now living in London, U.K. since many years. But Jocelyn's also the cousin of LaRita Gaskin, who is a noted singer and musician in New York.
This little girl from Kingston grew up to become one of the most powerful voices of the world...
Discoguy; So Ms. Brown, I know you come from a VERY musical family, with your aunt Barbara Roy, your grandmother, mother, sister, brother, cousins. Everyone was singing. Why do you think the whole family of yours has been so successful in singing?
"I think it's been a hereditarian situation. My grandfather and my grandmother were both singers. But the real thing was my grandmother. I think my mom and her brother and sisters inherited it through my grandmother and I inherited it through my mother. And my cousin Ray [Gaskin] and my cousin Elaine and aunt Barbara of course to family tree."
With all those well-known artists of your family - Are you in any way related to the Disco/Dance singers Miquel Brown or Sharon Brown?
"Sharon Brown, No. I'm not related to her and Miquel - No."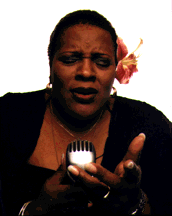 But when did you start singing?
"When I was three years old. I mean, in church - and then professionally when I was around 14 years old in a studio."
OH, that was quite early actually.
"Yeah."
I really think you have one of the greatest voices in the music business, absolutely!
"Thank you so much."
How do you think you got this powerful voice of yours? Is it just training or???
"No. I think for one thing... I wasn't really into the painting of being a singer. I was just doing songs and singing background work and one thing led to another which put me in a great position. But, I love the Lord with all my heart, Gospel has been a part of my life - all my life. Through him I think my voice began to become, you know, strong and able to deliver. I think that's a very important part of being a singer, it's knowing your voice and how it sustains you. And he's with you all the times, that's the one that puts you on the stage and helps you to deliver to the people."
OK. So how come you started with music? You said you were not planning to become a singer.
"No, because I wanted to be a school teacher, you know, and my family, we went through a whole trend of performances in Gospel Churches and stuff, but it never made me feel like 'this is what I'm gotta do for the rest of my life'... - Until I was about 14-15 years old and my aunt got me to do my first studio session and I began to have a name. From there, one thing led into the other. You know, and my career just began to take off, when people came to know that I did a lot of that work. And then I got introduced to doing solo work, which was another part of the whole situation too. It was great!"
Do you remember which was the first song you ever recorded in a studio?
"Yes, it was a song called 'the Black Widow spider' by the charming lady, her name was Sharon something. I don't know, because it was back in around 1962."
But have you ever done something else, or has it always been music since you were 14-15? I guess you never got the chance to become a teacher?
"I did teaching a little bit later on, I was a school teacher for about three years and then I got out of that because my singing career took off again."
The Disco era started and Jocelyn's tremendous voice could be heard on many of the best Disco tracks ever made. She was singing with groups like Dazzle, Kleeer, Machine, Disco Tex & the Sex-O-Lettes and Change.
For Change, which was a project by Italian producer Jacques Fred Petrus and writer Mario Malavasi who were also behind acts like B.B.& Q.Band, Revanche, Macho and Peter Jacques Band, Jocelyn sang the lead vocals on three tracks of the first album - the Glow of love. The tracks were "A Lover's Holiday", "It's A Girl's Affair" and "Angel In My Pocket". In this album she is credited as Jocelyn Shaw, which was her married name. Also on this album you can hear another great voice - Luther Vandross'.


Jocelyn was also the lead vocalist of Patrick Adams' super Disco group - Musique - scoring hits with "(Push-push) In the Bush" and "Keep on jumpin'" and Greg Carmichael's - Inner Life - with top tunes like "Ain't no mountain high enough", "I'm caught up (in a one night love affair)" [written by Patrick Adams], "Moment of my life" and "I like it like that".
She also sang on the Patrick Adams' produced version of "Superman" for Herbie Mann in 1978. Still in '78 she was brought in, along with Diva Gray and Gwen Guthrie, to sing on flautist & sax player Joe Thomas' (today) classic "Plato's retreat".
She was also singing lead vocals for French Disco artist Cerrone in 1980, on his VII - You are the one album.
So, you have been a session vocalist and you have been part of groups like Musique, Inner Life and Change. What has that been like?
"Oh, that was lovely, I mean, it was part of the information that was really good."
Have you got any favorites of these different groups you were in?
"Yes, Inner Life was wonderful. Yeah!"
And you're the voice of so many disco anthems like "I'm caught up (in a one night love affair)", "Ain't not mountain high enough", "Keep on jumpin'" and numerous of others. But is there some disco tunes or classics that you were singing on that most people don't know about? Or that you never got any credit for?
"Right, there's like for instance George Benson - 'Give me the night'. Ehmmm... I don't know what else. It's a few other things I can't remember right now."
You have been singing on so much, so I do understand...
"Yes I have."
But in the George Benson Album she was credited totally wrong. In this album she's credited as Jocelyn Allen and she has never had that name. She tells me herself that she at that time was recording as Jocelyn Brown again, since she just had got divorced and had previously been recording under her married name - Jocelyn Shaw.
You have been singing with Chic, do you remember which songs you were singing with them?
"It was some on the album before one of the last that Chic did together. Which I can't remember the name of it. And then Bernard's solo album."
Jocelyn was singing on Bernard Edwards' album - Glad to know you - and it included a duet with Edwards, "You Really Got A Hold On Me". I also know Jocelyn was singing on the Chic track "Soup for one" and then she was singing on the 1981 Take it off album, which I don't own. So I can't tell which tracks she was singing on.
When I was interviewing Michael Zager he told me the following when I asked if there was any Disco acts he really admired; "I admire Jocelyn Brown and Martha Wash. I have worked many times with Jocelyn, she worked for me as a background singer on many of my productions. But I donít know Martha."
Jocelyn reminisces that time: "It was in the late 70's yearly 80's when I did Michael's music! I cannot remember the names of the songs but it was on the Zager band Albums. He was one of the first real club music producer's. We also did Cissy Houston's music as well! Such a pleasant time for me. Thanks you for this great recalling."


Jocelyn has got a VERY impressive list of artists and groups she have been doing studio and/or live background vocals for, just look at names like Janis Joplin, John Lennon, Roberta Flack, Michael Jackson, Bruce Springsteen, Mick Jagger, Tom Jones, Diana Ross, Patti Austin, Bette Midler, Michael Bolton, Lou Reed, Debbie Harry, Billy Idol and Steve Winwood. And this is just some of them...
To mention some of the more classic "Disco" acts she has been working with we find names as Dan Hartman, George Benson, Candido, Cissy Houston, Janis Ian, Manu Dibango, Heatwave and Culture Club. She was also singing on one of my very favorite "Club" band's album, namely Breakfast Club's only album with the same name from 1987. It's a GREAT album and hobby project by Madonna's ex-songwriter and producer Stephen Bray. In this album Jocelyn and other guest stars are referred to as Specialists and it include the hit "Right on track", which Jellybean did the 12" remix of. Talking about Jellybean, Jocelyn was also singing on his 1987 album - Just visiting this planet.
Jocelyn, You have always been working with many of the highest regarded people in the business, like John Lennon, Bette Midler in her 'Divine Madness' movie, Diana Ross and many many others. Have you got any comments or special memories of some of them?


"John Lennon was wonderful. He was a great person, he knew exactly what he wanted in the studio and he was humble, with a beautiful vibration and he taught me about sushi.
Bette Midler was wonderful as well. As another individuality as a woman being a producer for film and I saw what her capabilities were, how heavy it was for a woman of her caliber to put a movie together and then make it work. And I'm proud to be a part of that.
Diana Ross, knowing her and meeting her and doing her album and doing certain songs was wonderful.
Everyone that I have had an experience with outside, you know, other entertainers who have their own legacy, they've all been able to give me something and an enrichment of knowing what the business had to offer and also on how to maintain myself and how could it be to work with other producers and artists."
Is there anyone you haven't worked with that you would love to work with?
"Oh yeah."
Someone special?
"I have never worked with... Bryan Adams. I'd like to work with Quincy Jones, I have worked with him before but not one on one. Babyface, Phil Collins, eh..."
Yeah, I can imagine there are plenty of them.
"Oh, yes! A lot..." Hahaha! [Both laughing].
You know, I've actually been talking to a couple of the people you've been working with before...
"Really?!"
Yes! For example Patrick Adams.
"Mmm, Patrick."
Yeah and he thinks "I'm caught up..." is the track that he's most proud of, out of the ones he has written. And Loleatta Holloway, who I've been speaking to her as well, she told me that she really would have loved to be the one singing that song herself. She said; "That is one of the greatest songs that one!".
"Caught up?"
Yes.
"Hahaha!"
Patrick also told me one thing that can be fun to know about "I'm caught up...". That is that the song was originally released as a 12"inch single by Greg Carmichael on TCT Records. Within a week of its release a bidding war broke out between Prelude and what was to become Profile Records. Prelude won by bidding $17,500 for the rights to the single. At the time this was an un-heard amount for one single record. One year before, the entire "Keep On Jumpin" LP by Musique had cost only $16,000 to make.
I also talked to Colonel Abrams...
"Colonel Abrams?!"
Yeah. He told me had recorded a cover of that song Ė but with a male lyric.
"Really?! I didn't know that."
They have also been saying things about you... Patrick said "Jocelyn and Christine Wiltshire were the two greatest living vocalists to me. All through my life, Jocelyn has been like a charm for me.".
"Oh!"
And Billy Amendola of Mantus...
"Yeah, of Mantus! Oh my God!"
Yeah, he told me "We have worked many sessions together. I also played on the 12" version of "Somebody else's guy".
"That's right - Billy did."
Yes, and he continued; "She's a great person and I love her!".
"Wow!"
So, I've been talking to a few of them...
"Oh yes, I see!"
So have you got any comments on what they have said about you and of these people in general?
"Well, Loleatta Holloway, let's take the female first, OK?!"
Yes, of course.
"Loleatta always set up a trend for all the other women, because she was the very first one that really came out and do something for SalSoul Orchestra and with SalSoul Records under her own name. She was very ballsy with her voice and didn't have the fear to sing that way. And she took on the dance music with a windience, you know. She was really the Queen of the SalSoul Orchestra groove, I would consider, of putting it all together, making the groove happen. I really appreciate her you know, and respect her work."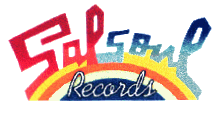 But I have to state that it wasn't only Loleatta who sang with SalSoul Records famous Orchestra, Jocelyn actually sang the lead vocals of SalSoul Orchestra's - "Take Some Time Out For Love" and "All I want for Christmas". She can also be heard on the SalSoul artist Joe Bataan's - "Sadie (she smokes)". Except for her work with Inner Life, which also was released on SalSoul.
Jocelyn continues: "Patrick Adams allowed me to do a song that allowed me to become an individual in the business, which was 'Caught up... (in a one night love affair)'. Himself and Greg Carmichael. From that time on, I never really thought Patrick really cared a lot about my voice, I didn't even really think he liked me at all as a matter of fact. Because Greg Carmichael fought so hard for me to sing, I thought that he, you know, he was like he wanted someone else to do it. Unacknowledged to you, you never know, 'cause you being the singer, you never know what the producer is thinking, you know. But I respect him and I thank him so much for ALL that he's done and all that I've been a part of that he's done as well.
Christine Wiltshire, and I do get back many many years ago, we were in a group together called Something different. I knew her prior to that as well, we were little girls together and played, you know, in the backyard. I respect her, I respect her work and I respect our knowledge of each other. Ah, who else..."
Billy.
"Oh yes..."
I know you in the Mantus and Change records were credited as Jocelyn Shaw.
"That's right, I was married. Yes. Billy helped me to become even more of a singer and more understanding to what I was grooving with, 'cause he was the groover of everything and this is now why I'm being able to turn that whole lifestyle rather, because we did a lot of work together. Yeah, and I thank him so much. He was very educational for me."
The one and only, Leroy Burgess, told me the following of what he thought about Jocelyn: "She is my favorite female vocalist. I love her dearly."
Jocelyn's friend Mark Moore told me this about her: "Jocelyn is a legend. Since moving to London about ten years ago, she has become quite anglicized. She is a warm, loving, uplifting lady to be around who is honest and down to earth. She has to be one of the most positive people I know always looking for that silver lining - to her everything is all good!"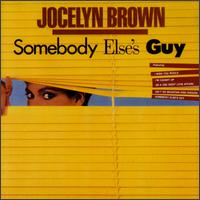 Jocelyn has been writing songs as well as singing them. For example she wrote her massive 1984 hit "Somebody else's guy" together with her sister, Annette Brown. The song reached # 2 of the Billboard's Black singles chart.
I know you have written some songs yourself. But if we say that writing is one type of work and singing is another type of work - which one do you prefer?
"Both!"
Haha! OK! But which was the first record under your own name - as Jocelyn Brown? Was it "Somebody else's guy"?
"Yes it was "Somebody else's guy"."
I'll continue to talk about "Somebody else's guy", because just the intro of this song where you sing "I-I-I-I..." - you know, that ALWAYS gives me goosebumps!
"AAAhhh-haha!"
Also you did a follow up to this single, a song called "I wish you would".
"Yes."
Which is also a great song. But on this UK pressing I've got of this 12", there's this "I'm somebody else's guy - rap".
"Right."
Whose idea was this of putting this rap on the record?
"It was NOT my idea. I was very upset about it. The people that did it were thieves, you know, and I compelled that out rightly. Because they had no right to admin this song without any knowledge of myself or my sister. And at that particular time they took the song from underneath me and I didn't know that they had gone and pressed it up and released it. But when I did find out about it, it was too late, I was too immature in knowing the law, in knowing what my rights was and a lot of things I didn't have together caused me to suffer.
As I stressed to everyone who's a writer, to know who you're working with, publish your work... It was only that that saved me, as I had already published the song prior to us using it.
And know people that you're working with that they don't have the power to take your song away from you or take your song and do something with it, that they can say that they had the right to deal with.
Because they put themselves down as the producers, when they weren't the producers of the song. You know, I produced the song and I got the musicians, you know, through Allan George, the one guy that I already knew but I had never worked with him. And he introduced me to him and we started working together. But Allan George and his friend, which I don't really wanna mention his name, you know, they were a part of a hook and they did really badly, 'cause at the time they also took away a lot of the opportunity for my family to survive and not go through a lot of changes. And they survived and made us suffer. So I won't forget that.
But the song itself, it belongs to me and my sister, it is the truth - it's a true song of what really happened to us. I'm grateful to God that we wrote it and I sing it like I sing it when I first wrote it - every time. I love the song and it's a part of my life and I will always present it the best way that I can."
Yes, it's a GREAT song! It's definitely one of the best songs of that year!
"Thank you so much!"
Later in the 80's you worked with Jellybean as well. And he produced your "Love's gonna get you" and I've read in some interview that he said; "I still get a tremendous rush every time I hear that song".
"A-ha!"
But it has also been told how you were to perform in a club when you heard your voice sampled from this song in Snap's song "the Power".
"Right."
What did you think when you first heard it?
"I thought I had been cheated. That I had been ripped of. That no one even cared about the fact that, how I was the singer there and no one paid me. No one respected the fact that they got it from there. No one acknowledged me or anything, it was very painful, it was... it's very hard to know that everyone else was living of that, but me. It's still to this day - it's the same exact way. The very serious rights. It was only because Jellybean gave the rights and didn't respect anybody else, and he knows that."
OK, so he gave them the rights to use that?
"Right. He did."
OH, I see. But your voice is probably one of the most sampled female voices in the business.
"That's true too."
So, How does all of that make you feel and what do you think of sampling, in general?
"Well, you can't do too much about it, you know. Because if someone is going to sample you and sell it in Taiwan, what are you gonna do? But I respect the fact that folks has chosen my voice, I thank them so much. But for those who understand what they're doing, they should be respectful enough to make sure that they pay properly the people that they sample their voices from, because it's not their voice. It's not a voice that they got out, you know, that they would have found. It's a voice that they came across. And they should be respectful of that."
Yes, absolutely. I think so too.
Except for the Snap sampling of Jocelyn's voice from "Love's gonna get you", this song was also the base for Bizarre Inc.'s song "I'm Gonna Get You" in 1992. This tune was credited Bizarre Inc. feat. Angie Brown - which is not a relative of Jocelyn's.
You and other Disco divas like Loleatta Holloway are still very popular to have singing on dance / house music - especially over here in Europe and I know you live in the UK since 1990.


"Yes."
How come? Is it because there's more work here?
"Yeah. I started working here and I haven't stopped."
Is it also a different music scene here in Europe than in the US?
"Yes it is, because you've got a variety of different music and different producers have different sounds and also we've got a lot different countries. Which is really even more important."
I think you have earned a great deal of respect, because today your name is always mentioned in the records you're involved in as a featured artist or likewise.
"Yes."
What do you think of this? That your name now will always show. Is it a nice feeling?
"Yes, it's wonderful. I have no problems with it, I'm sorry if someone else does. Hahaha [Both laughing] You know, it's the work that I do that speaks for me, so..."
Yeah, I think you really deserve to have your name mentioned on everything you're part of.
"Oh - Thank you!"
Ms. Brown's name can be seen on numerous of Dance releases. Personally I think it's Jocelyn's massive voice that probably is the main reason for many of these records successes. Her lovely and powerful voice always lifts and gives a magic tension to the songs. Among the dance releases she has been working on I can mention Incognito's cover of the Ronnie Laws' classic "Always There". Jocelyn and Incognito's version reached # 6 in the UK charts and this version is today also considered a classic. Jocelyn has worked with Incognito again after that on their 1999 album, where she sang on the Jones Girls' cover - "Nights Over Egypt" and "It Ain't Easy".
She has worked a lot with Masters At Work in both M.A.W. records and in their NuYorican Soul project. Another big hit was Right Said Fred's - "Don't Talk, Just Kiss" which reached number 3 in the UK charts. Other dance acts she's been singing with are Alyson Williams, Karisma, Off Shore, Da Mob's "Fun" & "It's All Good", Motiv 8, Kamasutra's "Hapiness", Jestofunk, Jamestown's - "She Got Soul" and AK Soul's - "Free" & "Show You Love" (Jocelyn co-wrote both songs).
She joined her friend Kym Mazelle in the Matt Aitken & Mike Stock [of the 80's famous Stock, Aitken & Waterman writer/producer team] produced cover of Donna Summer & Barbra Streisand Disco classic - "No More Tears (Enough Is Enough)". The success of this cover led to the two divas cover of the ZZ Top rock classic - "Gimme All Your Lovin".
Another personal favorite of mine is the quite unknown song "Mysterious" by Phill Edwards feat. Jocelyn Brown.
During summer of 2002 the song "I'm a woman" by Cassius and Jocelyn Brown was storming the charts all over Europe. It starts out with a kind of heavy rock guitar intro to end up in a great uplifting dance track.
Jocelyn, you have your name on many records now as a featured artist, but we haven't heard too much of the solo artist Jocelyn Brown.
"Well, I'm working on that now and I'm doing my album. Hopefully we'll be able to pull a single out of it within the next 12 months you know. Later this year or by the summer. Hopefully! We'll see, but if all goes well there'll be a single out during this year."
OK, that's terrific news. I'm REALLY looking forward to that one then.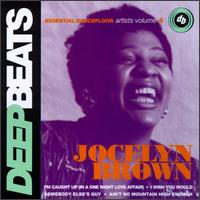 But there are some Jocelyn albums already available. Many of them include stuff she's been singing on as solo, part of a group or as featured artist. Some of the album titles are Moment of My Life: Anthology, Hits, Diva, One from the Heart, Deep Beats and of course - Somebody else's guy. There was also a Live album released in 1997.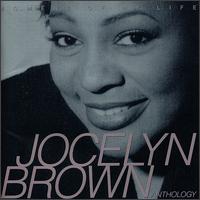 Jocelyn was also singing 2 songs on Disney's soundtrack for the animated movie - Hercules. She sang the songs "The Gospel Truth" and "A Star Is Born".
Her voice have also been heard in numerous of advertising jingles and television commercials for huge worldwide companies like McDonalds, Coca Cola, Burger King, Pepsi and American Express, plus several others.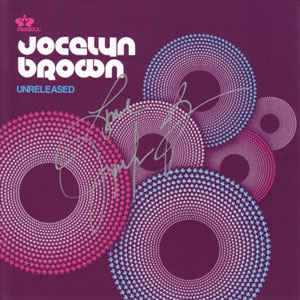 In May 2006, the Unreleased solo album was released. It's a lovely soulful 14-tracks CD in the NuYorican Soul kind of style. To top it off all the tracks have been written/co-written by Jocelyn herself and the CD is released on her own DigiSoul label.
As said earlier, this album has got lots of Soul and kick starts with two wonderful tracks "She'd Called" and one of my favorite tracks "Buttaflies". Then follows a section of four more ballad kind of songs (even if I wouldn't really call them ballads); "Find Someone To Love", "That's Just Me", "Not Yet" and "It's You".
Next out is "Real Thing" with some more beats and a lovely horns intro, followed by "Hey You Over There", both which I think would appeal to you who love Jocelyn's "Somebody Else's Guy", and they're setting ground for the Incognito influenced "Forever". "Don't Make A Mistake" tells you about love and build up for the album's more up-tempo section with "Sweet Fine Baby" and my other favorite "Vacation Time".
"I Love You" is an 8 minutes dance track that will get you shaking your stuff prior to calm down for the grand finale and last dance, the wonderful ballad "I Will Wait For You", which is pure love. Just Jocelyn and a piano.
I love this album and Jocelyn's voice is extraordinary (as always) - make sure to check out the samples in the Digisoul webpage... As you understand it's not a dance music album but it will definitely set a wonderful mood to any party.
Besides this Jocelyn also mentioned me in the THANKS notes... "To Claes for the Disco-Disco website and I'm extremely flattered!

You are also among the few people who have had the opportunity to score a hit with the same song twice... You sang "Keep on Jumpin'", first with Musique and then with Todd Terry & Martha Wash some 18 years later. You also have recorded "Ain't no mountain..." once again. But how does it feel to sing and score a hit with a song a second time?
"It was a lot of fun, specially working with Martha Wash. It was lovely, just lovely. Yeah! Beautiful."
Have you got a copy of every record you've been involved in?
"No, I do not. My sister does though."
Oh, she has?!
"Mm-hmm."
OK, that's terrific. Because many of the old Disco ladies and gentlemen's I've been talking to, they all say that they don't have copies of everything and most of them regrets it.
"Oh, my sister's got everything that I've done."
Do you know about how many songs you have been involved singing on?
"I'm definitely over the 127 mark. Probably about 200 songs that have come out on the air and made something happen between different countries. Yes."
Have you got something like a "complete" discography of what you've been singing on? Have you put all of the songs down on a list or something?"
"Yes. Yes, I have."
You have?! That's so cool.
"My sister got it. When she came over here this year, we sat down and did it. Yeah."
OK. Because, is there ANY possibility that I could get a copy of it?
"I can try."
OH, Thank you. That would be terrific. I definitely know that you have been doing so much stuff that many people don't know about. And when I do this web-page about you, I know there are so many people loving you out there...
"OH!!!"
And I think they would be so happy to find like a complete discography of what you have been singing on.
"Oh, wonderful. OK. I'll try to get that together for you."
Thank you very much!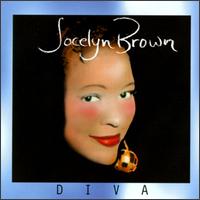 Which of the songs you've been singing is your personal favorite?
"'Something's going on' is one of my favorites. Of course 'Somebody else's guy' is an ultimate favorite. 'Nights over Egypt' [with Incognito] is a very good favorite of mine. 'It's alright, I feel it' [with NuYorican Soul] and my main one is 'Believe' [with Ministers De-La Funk] , right now."
Any songs, and I guess this can be a massive list, by another singer you would have loved to sing yourself?
"Sure. Some by Deniece Williams called 'the Boy I left behind' and all of those things that Tina Turner did - 'Steamy windows'. I'd like to sing the songs Celine Dion sang, it's a ballad I can't remember the name of right now - but not the one from Titanic. No. Definitely not that one. Oh God, what else would I... I can't remember, there are just so many of them. Hahaha!"
But how about Disco music? Did you like Disco music during that era, or was it just a job?
"No. I loved it! I think it was a lot of fun."
Since you're still into dance music, I assumed you loved it. And since my web-pages are called "Disco-Disco.com" and it's as you know dedicated to Disco and a little Funk. Have you got any favorite Disco/Funk songs?


"God, I can't remember them right off, the names of them. A lot of them I don't even remember the names or the group, you know. Oh my God. Oliver Cheatham - 'Get down, Saturday night', Chic - 'Everybody dance', who else... Oh my God, I can't remember everybody, there're so many of them that I really like, you know... Fatback Band, Ohio Players... Oh God... Barry White, Earth Wind & Fire. You know, we can just go on and go on and go on. There's just so many of them."
Is there any other of the old Disco songs you would have loved to sing yourself?
"Yeah, a Brainstorm song 'Lovin' is really my game'."
Yes, that's a great song.
"What else... Oh my God, Hahaha! You got me again, I don't know! God. You know, when you hear these songs you think of them and you go 'Wow! It would be great to do.' But you don't think it on, you know what I'm saying. You don't think of it like that, but it's just so many. Just so many."
Yes, I know. I try to collect them all, so...
"Ah ha!" Hahaha [Both laughing]
What kind of music do you personally prefer?
"I have three different kinds I love; R'n'B, Jazz and Latin music. I'm a Latin girl all the way."
If we talk about the Disco era in general. What do you think of the Disco era when you look back on it now?
"Well, it was definitely an opportunity for music to become various but with a foot to the four beat. Where people could dance. It truly made another unification of folks come together. I think Dance music was really the reason why we partied and had had explosive parties like the Garage's situation that went on all night long and you danced, you know. It also allowed you to hear another formula of music instead of being the verse, the chorus, the verse, the chorus. Some of the songs didn't have verses, they just had choruses. So, it allowed you to see the structure of songs and also allowed you to see what it was to be a singer with musicians. Singing to the music. So I think it showed a big education on how, at one time we were allowed to be very expressive musically.
Like there was one guy that they were gonna call Ritchie Weeks & Co. Ritchie Weeks had a different kind of sound of music all together, but it was Funky, but it was Dance or Garage music. But it was different kind of chords that I loved and he find that intricate ways of trying to find the harmonies and stuff, and we would put it together. I myself, my cousin and Connie Harvey, oh boy, we would have such a ball."
So, when speaking of Garage, that whole music style came from the legendary Paradise Garage in New York. And I assume you have performed there plenty of times.
"YES!"
Have you got any comments on the club?
"It was the first place I performed in New York under my name and it was brilliant. They took good care of me, I was a regular singer there. Every two months or every month they had me there, depending on the occasion, 'cause I was one of like their specialties that they would call."
And, have you got any comments on their famous DJ - Larry Levan?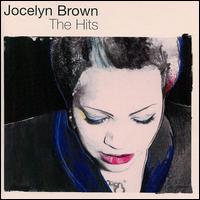 "Yeah. He was my sweetheart. He was wonderful. He and I were very close, we talked a lot. Especially in the last days he shared a lot with me. And he did a good job on my career and on my voice with the music that he mixed and remixed."
Larry Levan remixed for example the Jocelyn and Inner Life's classic "Ain't no mountain high enough", a song written by Ashford & Simpson and this song has also been a hit for Diana Ross. Larry took this track and made his own "Garage version" of it, that one times in at 10 minutes and 28 seconds, and it became a - Paradise Garage anthem.



Download the FREE basic RealPlayer...





CLICK to hear some Jocelyn Brown songs...



CLICK to hear some Jocelyn Brown songs...
Caught in the act
Jocelyn Brown

Ego maniac
Jocelyn Brown

I wish you would
Jocelyn Brown

Love's gonna get you
Jocelyn Brown

Love's gonna get you (acappella)
Jocelyn Brown

Somebody else's guy
Jocelyn Brown

the Power (the acappella sample)
Jocelyn Brown

Too through
Jocelyn Brown

Right on track
Breakfast Club

I'm a woman
Cassius & Jocelyn Brown

Hooked on you
Cerrone

A Lovers Holiday
Change

Angel in my pocket
Change

You dazzle me
Dazzle

Give me the night
George Benson

Superman
Herbie Mann

Always there
Incognito feat. Jocelyn Brown

Ain't no mountain high enough
Inner Life

I like it like that
Inner Life

I'm caught up
Inner Life

Moment of my life
Inner Life

Sadie (She smokes)
Joe Bataan

Plato's retreat
Joe Thomas

Boogie to the bop
Mantus

(Dance it) Freestyle rhythm
Mantus

Love is a natural thing
Mantus

Rock it to the top
Mantus

Believe
Ministers De-La Funk feat. Jocelyn Brown

Glide
Musique

In the bush
Musique

Keep on jumpin'
Musique

I am the black gold of the sun
NuYorican Soul

It's alright, I feel it!
NuYorican Soul

Mysterious
Phill Edwards feat. Jocelyn Brown


CLICK to hear some related songs...
Ain't no stoppin' us now
McFadden & Whitehead

I'm gonna get you
Bizarre Inc. feat. Angie Brown

Lovin' is really my game
Brainstorm

Everybody dance
Chic

No more tears (Enough is enough)
D. Summer & B. Streisand

the Power
Snap




Click to buy from


She'd Called
Buttaflies
Find Someone To Love
That's Just Me
Not Yet
It's You
Real Thing
Hey You Over There
Forever
Don't Make A Mistake
Sweet Fine Baby
Vacation Time
I Love You
I Will Wait For You


Click to buy from


Mind Buster
Freedom
Somebody Else's Guy
Absolutely
Reach Out
I Want to Know What Love Is
Turn out the Lights
This love is true
Everyday
Feel Like Makin' Love
Many Rivers to Cross
No Excuse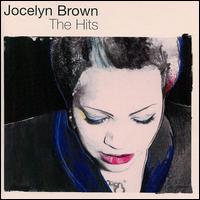 Click to buy from


Something's going on
Ain't no mountain high enough
Somebody else's guy
Keep on jumpin'
Fun
Happiness
Special love
Always there
It's alright
I feel it
I am the black gold of the sun
Let love take control
It's all good
Love's gonna get you
Gospel truth
She got soul
Somebody else's guy [live]
Ain't no mountain high enough [remix]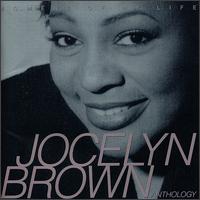 Click to buy from


Somebody Else's Guy
Ain't No Moutain High Enough
I Believe
I Like It Like That
I'm Caught up (In a One Night Love Affair)
Take Some Time out (For Love)
Can't Stop the Rhythm
Keep on Jumpin'
In the Bush
Hooked on You
You Are the One
I Wish You Would
Sadie (She Smokes)
Moment of My Life
It's Wonderful
Make It Last Forever
Somebody Else's Guy (M&M Acapella)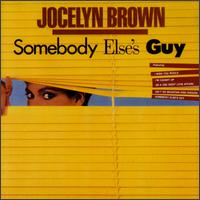 Click to buy from


Somebody Else's Guy [remix]
I Wish You Would
Hot Blood
I'm Caught up (In a One Night Love Affair)
Ain't No Mountain High Enough
Hot Natured Woman
Somebody Else's Guy [Original Version]
Somebody Else's Guy [Dub]
Somebody Else's Guy [Acapella]
I'm Somebody Else's Guy [Special Rap Version]
Somebody Else's Guy [7" Version]
You Got Me


Click to buy from


In the Bush
Summer Love
Keep on Jumpin'
Summer Love Theme
In the Bush [Remix]
Keep on Jumpin' [Remix]
Summer Love [Radio Edit]
Summer Love Theme [Radio Edit]
Keep on Jumpin' [Radio Edit]
In the Bush [Radio Edit]


Click to buy from


I Picked A Winner
Moment Of My Life
I LIke It Like That
Feel What I'm Feeling
If You're Gonna Love Me
Find Somebody
Moment Of My Life - (12" version)


Click to buy from


A Lover's Holiday
Searching
The Glow of Love
Paradise
Hold Tight
The Very Best in You
Hard Times (It's Gonna Be Alright)
This Is Your Time
Don't Wait Another Night
Change of Heart
You Are My Melody
Say You Love Me Again
Turn on Your Radio
Let's Go Together


Click to buy from


Love X Love
Off Broadway
Moody's Mood
Give Me the Night
What's on Your Mind
Dinorah, Dinorah
Love Dance
Star of a Story (X)
Midnight Love Affair
Turn Out the Lamplight

Have you still got any contact with any other old Disco acts?
"Like Shalamar?"
Yes, who ever!
"Yeah. I see Jody [Watley - ex. Shalamar vocalist] every once in a while, 'cause me and her work with Masters at Work. I see Martha [Wash - ex. Weather Girls]. I see Oliver Cheatham, I see Imagination. Who else... Connie Harvey, Diva Gray who were a part of Change. I don't know who else to say."
That's an impressive list. Because it's so hard to get hold of...
"Of all of them. Yes, but every time they come into the city I'm probably out of town and we miss each other. But they'll send me a message or some stuff, and let me know that they're around and they are thinking of me, which is lovely."
So, talking about memories - Which is you best memory during your years in the music business? Have you got some best memory?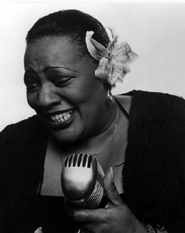 "I have SOME! I've got a lot. 'Cause I mean, I've had a long career. A lot of career and I have come across a lot of people and I've done some wonderful wonderful music, you know. I think my best, no can't even say the best... a couple of my wonderful moments was when I did Incognito's 'Always there'. That was wonderful!
I had a great time with Bluey Maunick and when I worked with Eric Morillo was fun and 'It's all good' and 'Believe'. Amazing!
And working with Masters at Work, you know, 'cause Louie Vega and I go back so far that we really have a love for each other and I love him to death, even Kenny ["Dope" Gonzalez], and we're trying to work together soon as well.
I enjoyed working with Todd Terry as well, he was pretty cool, but he was a youngster on the block, he's not one of the old guys. He's still a young baby. You know - Haha."
Yes, I can assume you have many many memories...
"But there's one great one that is Madison Square Garden with Ashford & Simpson, the O'Jays, the Whispers. There's this big big big galley in New York at Madison Square Garden and I was the second on the bill. And when I sing 'Somebody else's guy', when I started singing it. It's like the place went up and I didn't know how full Madison Square Garden was until I began to hear this rumble... And it was people screaming and clapping and stuff. It blowed my mind. Had never had anything like that in my life and that was outrageous, that was beautiful."
I can imagine that. That must be something special.
"Yes it was."
I know you also have been working with this Swedish guy - Melodie MC in his "Real Man".
"Oh yes! I love him."
You haven't been working with him for a couple of years now.
"Right. I don't know what's going on with Melodie, I haven't talked to him or anything."
We haven't really heard of him here in Sweden either, so I don't know either.
"Mm-hm. And Papa Dee... I love him. That's my sweetheart, he's a good baby."
OH, you have been working with him as well???
"Oh, I know Papa Dee. We never worked together but we knew each other and I always had an opportunity to talk with him personably, you know, like with singing and stuff like that. And he was always capable of allowing me to hear what he was doing and I really respect him 'cause he knows what to do. He's a good rapper and a good singer too."
OK, that was interesting news to me.
Well, That was actually my last couple of questions. I just wanted to know it there is something else you wanna share or tell me about?
"No more than just say Thank you, you know, for doing this."
Oh, It's I who should thank you, because I've been trying to get hold of you for the last two years now.
"Wow, I'm so sorry. But you've got a number on me now."
Hahaha, yes I've got it.
"This is directly to my company.
What's you name of your company?
"It's all Good Music."
OK. Thank you very very much for your time. It has been such a pleasure to talk to you.
"My pleasure! I'll remember you Claes. And your website... Disco-Disco.com. I'll remember that."
Thanks!
"Great! Alright Honey!"
Yeah, Thank you so very much!
"My pleasure!"
Thank you!
"Thank you!"
Bye!
"Bye!"
Jocelyn Brown has a longer and more impressive career than most people ever can dream of in the world of music. She has been singing with all the greatest names and she is still going strong - or even stronger than ever!
She is still in demand for singing on numerous of Dance releases, just as she always was back in the Disco days.
All over they years we'll keep hearing more from this lovely lady, who probably has the most well-recognized voice but whose name unfortunately isn't that well-known to most people.
But I love her dearly...
To hear her voice is always a "Moment of my life" and it always makes me wanna "Keep on jumpin'"...
Jocelyn Brown
The Most powerful voice in the music business !
For more news and info, visit Jocelyn's record label:

DigiSoul

or check out

Jocelyn-Brown.com
The day after our interview I got the following mail from Jocelyn
hi there
thank you for your e-mail and for the great interview.
I hope in the future we can do some more work together.
have a wonderful holiday if we don't speak.
with respect
jocelyn brown