Michael James Zager was born January 3, 1943 in Passaic, New Jersey, U.S.A.
Besides his parents he also has 2 sisters, but none of them was as musical as Michael grew up to be. Probably he inherited his musical talents from his aunt who wrote some hits like "Just Between You and Me" for the Chordettes in the 1950s.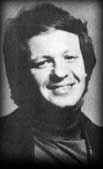 The young Michael started playing the violin in the third grade and during his school years he learned to play the clarinet, saxophone and a little bass. Later on he started playing keyboards and fast found that it was the thing for him and during his teens he played at weddings, bar mitzvahs and similar. Michael was also always a member of the school bands from junior high throughout college, but he had no plans of working with music back then. He actually wanted to be a television director, but that's something Michael's son seems to have inherited as he's a TV producer at Paramount pictures for shows like 'Entertainment Tonight' and 'the Insider'.
Michael Zager has got a bachelor of arts degree from the University of Miami. Besides this he also got himself a second degree when graduating at the New School University's Mannes College of Music, majoring in composition as well as being a member of the faculty.
He studied conducting at the Julliard School of Music and he also studied orchestration, arranging and composition at the Manhattan School of Music.
Michael never really started working with music before he was in the Army, at that time he started composing his own songs. This eventually led to a successful career with the Rock/Jazz group Ten Wheel Drive.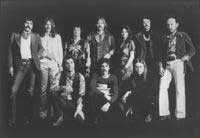 The band, Ten Wheel Drive, was formed in the late 1960's by Michael and Aram Schefrin. Through a friend they found the lead vocalist Genya Ravan. Even though other members where brought in to the 10-piece band, many came and went, but the original trio remained.
Ten Wheel Drive's big brake came in 1969 when playing the Atlanta Pop Festival, a gig where all the big names at the time were performing. After this successful gig their managers, Sid Bernstein and Billy Fields, managed to get Jerry Schoenbaum of Polydor Records to visit one of the band's rehearsals and he signed the band on the spot. Ten Wheel Drives' first album - Construction #1 was released the same year.
I, Discoguy, asked Michael; Can you tell me a little more about the group and your role in the group?
"The first songs and album I ever recorded was with Ten Wheel Drive. I was co-leader with Aram Schefrin. I was the melody writer and the arranger. Aram wrote the lyrics and co-arranged, Genya sang and co-wrote several songs.
We made 3 albums for Polydor Records and 1 album for Capitol Records."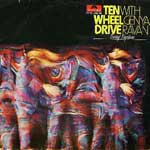 The band was productive and released the album Brief Replies in 1970 followed by Peculiar Friends in 1971.
Genya left the band after their third Polydor album. In an interview with AMG she told her view of Michael and Aram and explained why she decided to leave; "One of the last gigs we did was a show at Carnegie Hall with a symphony. Mike and Aram were geniuses. This was their forte — they wrote this rock opera of 'Little Big Horn' and it was brilliant, Polydor did not want to record it, I swear 'til this day, had it been recorded, Ten Wheel Drive would have gone down in history, it was one of the reasons I was disillusioned into leaving the label, it made me want to quit the business."
Ten Wheel Drive also decided to leave Polydor and recorded their fourth and last album, simply entitled Ten Wheel Drive on the Capitol label in 1974. But after 5 years with the band Aram left to practice law and the band was disbanded.
Despite Ravan leaving the band in 1971, Michael and Aram worked with her again as co-producers in her 1972 debut solo album.
Ten Wheel Drive is said to have been the inspiration for the movie the Rose, starring Bette Midler.
After the time with the band, what did Michael Zager do then? He tells me: "Following Ten Wheel Drive, I began composing music for television and radio commercials in addition to composing scores for television programs and some film work."
That's something he has done ever since and he has composed and/or arranged over 400 commercials. Among others he has done work for IBM, Kodak, Budweiser, Buick, Volvo, Burger King, Dr Pepper, Lancôme, Clerasil, MCI, Cablevision and Maxwell House Coffee.
He also brought in people like Kool & the Gang, Chi-Lites and the Spinners to sing for a Chlitz Malt Liquor commercial and Whitney Houston to sing for Bounce, as well as for a Crystal Light commercial getting the vocals added by no less than Raquel Welch.
His music has been heard in major movies like The Eyes of Laura Mars, Last Days of Disco, Donnie Basco and Summer of Sam, just to mention a few. And his song "I've Loved You for a Long Time" was performed and featured on the hit TV series Ally McBeal.
So, Which of your music jobs, writer - producer - arranger - singer, do you prefer?
"I am a composer, arranger and producer. My main instrument is keyboards."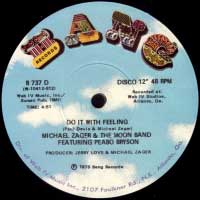 The mid 70's came and as the pioneer he is, Michael was among the first to discover this new rapidly growing dance music genre called - DISCO. Together with former head of A&R at A&M Records, Jerry Love, Michael started a production company called Love-Zager Productions. In 1975 they entered the Disco scene with the song "Do it with feeling" credited to Michael Zager & the Moon Band featuring Peabo Bryson [also credited sometimes as Michael Zager's Moon Band] for the small Bang label. The track peaked at #3 in the Billboard Disco singles charts and at #15 in the Club Play charts.
For Peabo it was one of these once in a lifetime shots, as he was just hanging around in the studio and ended up singing the lead for this track. A track which was also re-released in 1978 to hit a second time around.

But Michael Zager's first entry on the US Disco charts was actually with his Love Childs Afro-Cuban Blues Band's cover of "Life and Death in G&A" for Roulette Records in 1975. The song is featured in the bands first album Out Among 'Em along with covers like; "Black Skin Blue Eyed Boys" and "Honeybee". On the album we also find the tracks "Bang Bang", "Get Dancin'", "Ask Me" and "Once You Get Started", among others.
In 1977 the band returned with the album SpanDisco, this time on Midsong International Records. The title track peaked at #13 in the Billboard Disco Charts. The band also released "Spanish Harlem" with "Oye Como Va" on the flip on a 12" single, but it didn't reach the success of "SpanDisco".
For the band's third album they dropped parts of the name and simply became Afro-Cuban Band. Their album Rhythm Of Life was released in 1978, once again on a new label - Arista Records. Once again it was the title track - "Rhythm Of Life" - that became the biggest hit and was released on 12" single. It was followed by two more 12" single releases; "Baila" and "Black Widow Woman", but none of them scoring the charts.
In 1979 the Disco single "Have A Real Good Time" put the band on the charts again. The single was planned to be followed by an album, but for some reason Arista didn't want to promote the group and Zager decided to disband the group.
But the Afro-Cuban Band returned to the Dance Charts in both 1998 & 2000 when two different remixes of the 1975 classic "Bang Bang" became hits again.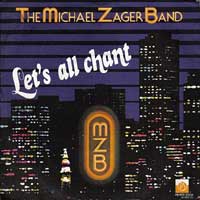 But Michael's all-time smash came in 1977 when the true Disco Classic "Let's all chant" was released on the small Private Stock label. In January 14, 1978 the song reached the top of the Billboard Disco charts and it soon became a #1 hit in the UK and the rest of the world. All over people were singing along with the now legendary "Oh-Oh... Let's all chant".
I asked Michael about that; How did you come up with the "Oh-Oh... Let's all chant"? Was that in the original text or was it ad lib in the studio?
"We actually heard it in a New York club originally."
When writing "Let's all chant", did you feel it was a hit?
"We thought 'Let's All Chant' would be a disco hit, but we never expected a worldwide smash... We sold around 5 million copies of the song."
The song was credited to the Michael Zager Band. Who were the members of the Michael Zager Band and did you sing lead yourself?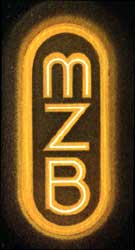 "The Michael Zager band was a studio band I put together. My co-writer, Alvin Fields was one of the singers. I did not sing."
What did the success of "Let's all chant" mean to you - back then and now when looking back?
"The song is bigger than ever, along with many other recordings I produced/composed etc. For example the Spinners' 'Working my way back to you' and 'Cupid' along with 'Right before my eyes' by Patti Day.
But 'Let's all chant' really put me on the 'map' as a composer, producer and arranger."
The hit single was followed up in 1978 by an album entitled Let's all chant. Other than the title track you should listen out for tracks like "Music fever" and Love Express, which is Disco at its best. The later was actually the B-side track of the "Let's all chant" 12" single, while "Music fever" was released as a second single off the album and with "Freak" on the flip.
The whole album actually reached the top of the Billboard Club Play chart.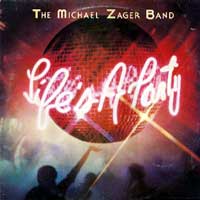 In 1979 Zager was back with the album Life's a Party including tracks like "Still Not Over", "Using You", "Love, Love, Love", "I Wish You Could Make Up Your Mind" and "You Don't Know a Good Thing" (which include vocals by a very young Whitney Houston).
Whitney sang on "You don't know a good thing"; this must have been one of her first recorded tracks...
"In fact her first record was 'Life's a Party' by the Michael Zager Band. I found her when she was 14."
What did you think of her?
"I love her and her mother, Cissy Houston."
In 1980 he's back again with the album - Zager, but on the Columbia label. Most notable is the track "Time heals every wound" with lead vocals by Deniece Williams, but also Luther Vandross added his vocals to a couple of tracks on the LP. The single "Don't sneak on me" was also released off the album.
After that there have only been a few 12" singles released like "Dr. Rhythm" credited to the M-Zee Band with the song "FunHouse" on the flip - a song Mr. Zager confirms is about the classic NYC club the FunHouse.
There have also been a few others like the theme from "Friday The 13th Part 3", "Like a Tiger" and "Shot In The Dark".
Back to some of the people you have been working with... You have really worked with some of the brightest acts like - Deniece Williams, Luther Vandross, The (Detroit) Spinners, Cissy Houston and many others. How were they to work with and have you got any comments on them and the work you did together?
"Luther, Cissy, and Deniece were all consummate professionals, all some of the greatest singers of any era.
We recorded 3 albums with The Spinners, with great success. 'Working my Way Back to You'/'Forgive me Girl', 'Cupid'/'I've Loved You for a Long Time'. They were great fun and very professional to work with."
Michael also produced the Spinners' song "Body Language" and in that track the Spinners sing a part of Michael's classic "Let's All Chant". It's really cool and I just had to ask Michael about that... [ Listen ]
Who came up with that idea of adding that part into the "Body Language" track?
"I did. I thought it would be fun."
Have you got a copy of every record you've been involved in?
"I think I've got most of them."
That's great. Do you know how many songs have you been involved in?
"So many that I really don't know!"
Which is your own favorite song of the ones you've written/recorded?
"I don't have any favorite."


After you Zager album and a few 12" singles, we have unfortunately not seen your name very much. What have you been up to? I've heard you've been working with soundtracks, writing music for commercials and compilations and so on. Is all of that correct?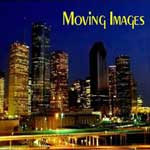 "I've have scored hundreds of commercials, many television programs and some music for feature films. I have produced, arranged and composed music for over 40 albums. I am primarily a composer/producer. I have a new smooth jazz album out, called 'South Beach Wind' by my group - Moving Images.
I produced a Billboard number One dance record three years ago, 'Think it Over' by Jennifer Holliday. Also, 'Bang Bang' by the Afro-Cuban Blues Band [formerly the Love Child Afro-Cuban Blues Band which had a hit with the song the first time in 1975] it entered the Billboard Dance Chart 2 times around 3 years ago.
I have been working on the smooth jazz record since that time.
I also produced Patti Day's 'Right Before My Eyes' which is a classic in the U.K."
It's a wide range of different music styles, what kind of music do you personally prefer?
"Anything good... I listen to a lot of Classical music, Smooth Jazz, Pop and Dance music that have got songs, not just tracks. I like good vocals!"
As you understand by now, music has always been a great part of Michael's life. Besides his own music work, Michael Zager also holds the positions of the Dorothy F. Schmidt Eminent Scholar in Performing Arts and Professor of music, at Florida Atlantic University in Boca Raton, Florida.
Do you still write music even though you teach others music at FAU?
"Yes, the recent album by my band Moving Images and I'm beginning to work on a new album."
Since my page is mainly Disco oriented... What about Disco music, did you like Disco music during that era, or was it more like a job? With the great Disco music you wrote and produced, I guess you liked it...
"I love disco! We worked with the best musicians and singers. The songs were better than most of the current dance songs, in my opinion. Today's dance music is primarily production oriented rather than song oriented."
What did the whole Disco era mean to you?
"Fun and great musicianship. Work for many players before synths took over. Writing for orchestras was great fun. We need more live playing today."
Which song(s) represent the Disco era for you?
"Gloria Gaynor's 'I Will Survive', the Bee Gees' hits and the Donna Summer hits."
Have you got any favorite classic Disco songs (except for your own work)?


"Yes, the same as above... the Saturday Night Fever soundtrack, 'I Will Survive', Donna Summer's tracks, Cerrone and others... Regarding today's dance music I have not had a chance to stay current on that as I have been working on my new smooth Jazz album for the past several years. Now that the album has been released, I will get back into it."
Is there any Disco song you wish you had written yourself?
"YES! the Saturday Night Fever soundtrack!
Of all the people you have worked with, have you got any favorite people you like or prefer working with?
"I loved working with Cissy Houston, Herb Alpert, Peabo Bryson, the Spinners and more..."
Was there any Disco artist or acts you really admired yourself?
"I admire Jocelyn Brown and Martha Wash. I have worked many times with Jocelyn, she worked for me as a background singer on many of my productions. But I don't know Martha."
Jocelyn reminisces that time: "It was in the late 70's yearly 80's when I did Micheal's music! I cannot remember the names of the songs but it was on the Zager band Albums. He was one of the first real club music producer's. We also did Cissy Houstons music as well! Such a pleasant time for me. Thanks you for this great recalling."
Back to Michael...
What do you think of sampling? Your work has already been sampled by Jay–Z, 50 Cent and Missy Elliot among others...
"Used properly it can be effective."
Do you think it's OK with sampling? Do you approve when people want to sample your tracks?
"It all depends on HOW the sample is used."
What about covers? You have also been covered several times... Jellybean did for example a cover of your Cissy Houston track "Think it over"...
"I produced that track with Jennifer Holliday. I gave Jellybean the record to distribute and he had some remixes done as well."
Right... But so many classics are covered today, what do you think about covers in general?
"Some are good, but I think most have lost the essence of the original."
Have you still got contact with any of the classic Disco people you have worked with?
"I'm still in close contact with Cissy Houston and I spoke to Andrea True about a year ago."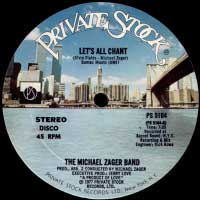 Download the FREE basic RealPlayer...

CLICK to hear some Michael Zager songs...
Do it with feeling

Freak

Let's all chant

Let's all chant'87

Love express

Music fever

Shot in the dark

Soul to soul

Traffic jam

You don't know a good thing

Bop box
M-Zee Band

What's your name, what's your number
Andrea True Connection

Think it over
Cissy Houston

Body language
Detroit Spinners

Working my way back to you
Detroit Spinners


CLICK to hear some related songs...
Bad girls
Donna Summer

Disco Inferno
Trammps

Hot stuff
Donna Summer

I feel love
Donna Summer

I will survive
Gloria Gaynor

If I can't have you
Yvonne Elliman

Last dance
Donna Summer

Love to love you baby
Donna Summer

MacArthur Park Suite
Donna Summer

Night fever
Bee Gees

Rumour has it
Donna Summer

Stayin' alive
BeeGees

You should be dancing
Bee Gees




Click to buy from


Let's All Chant
Life's A Party
Music Fever
Love Express
Traffic Jam
Soul To Soul
Freak
Rhythm Magic
Warning Danger
Greased Lightning
Let's All Chant
Think It Over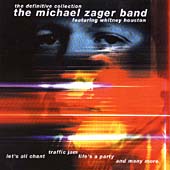 Click to buy from


Let's All Chant (Original Version)
Love Express
Music Fever
Traffic Jam
Freak
Rhythm Magic
Soul To Soul
Life's A Party (Ft Whitney Houston)
Greased Lightning (Ft Robert John)
Let's All Chant (Disco Version)
Can't Stop (Too Hot)
Shake Your Groove Thing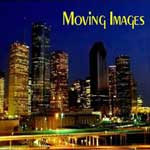 Click to buy from


South Beach (Ft Herb Alpert)
Eleanor Rigby
Sunday Morning
Street Beat (Ft Tim Walters)
Miles Mood
Vicky's Secret
Your Light (Ft Herb Alpert)
Cruisin' on Ocean Drive
Last Night
Sex Sells
Knock Em' Out


Click to buy from


Writing Music for Television and Radio Commercials; A Manual for Composers and Students by Michael Zager

As mentioned earlier Mr. Zager is a professor in music and has taught at Florida Atlantic University in Florida since July 2002. Prior to that he taught at the Mannes College of Music, a division of New School University, in New York City.
At FAU he has built new academic programs for an undergraduate and master's degree in commercial music studies as well as created a student-run music label, FAU HOOT/Wisdom Recordings.


Besides his job at FAU he has also written the book Writing Music for Television and Radio Commercials; A Manual for Composers and Students which was released by Scarecrow Press Inc in September 2003. The book even includes an audio CD of compositions that illustrate examples in the book.
He has also written a new book called Music Production: A Manual for Producers, Composers, Arrangers and Students which will be published by Scarecrow Press in 2006.
Like this wouldn't be more than enough for most people, but Michael Zager is also a member of the Board of Governors of the Florida Chapter of The Recording Academy [Grammy Awards].
He has produced several Grammy Award winning artists like: Whitney Houston, Cissy Houston, Peabo Bryson, Luther Vandross, Denise Williams, Jennifer Holliday, Joe Williams, Arturo Sandoval, Herb Alpert, Olatungi and The Spinners.
Some of his original scores and original studio recordings even reside in the Rock and Roll Hall of Fame and Museum, in Cleveland, Ohio.
His work over the years has earned him; 13 Gold/Platinum records, several European and other music awards along with nominations like "Producer of the Year", a Platinum Video Award and Emmy Award for the ABC Funfit TV show and many advertising awards like the Clio Award and the Mobius Advertising Award.

So, Finally... What's you best memory during your years in the business?
"I have had a rewarding career and try not to work with people I don't like personally."
Anything else you can think of that you wanna tell me about?
"I think the dance music programmers are some of the best and most inventive musicians in the world.
I also get upset when I read in history books about how irrelevant Disco music was... The Best singers, some of the best writers, the best producers... If it was irrelevant, why did all the major labels make Disco mixes of Rock tracks and other non-Disco genres?"
That's a perfectly relevant question and I think most of us would love to hear these music history "experts" explain that someday. But without any doubt Michael Zager is one of these guys who made it all happen, as being one of the best writers/producers of the Disco era.
I'm happy to have got this chance to get to know this man and that he agreed to share his career with all of us...
As you understand we haven't heard the last from Michael Zager, he's still productive and is now also teaching others to follow the path he successfully has laid out.
He has had a remarkable career starting in school bands, over Rock/Jazz, Disco, Commercials and TV/Movies, Smooth-Jazz and now holding a position as Professor of music.
Thank you for everything...
"Let's All Chant..."

MICHAEL
ZAGER