Gloria Fowles is the born name of the lady we know better as Gloria Gaynor. Gloria was born in Newark, New Jersey on September 7, 1949.
Her mother who had a good voice used to sing all the time and that woke Gloria's interest for singing. She never really got some education in music, but as she tells me herself; "No I haven't studied... Well, I did study music, but not formally. I only studied in my home with recordings of artists who were great and well-known and respected a the time, like; Nat King Cole, Ella Fitzgerald, Frank Sinatra, Barbra Streisand, Marvin Gaye, Stevie Wonder - you know, people like that. I studied by listening to their records and trying to emulate their techniques. Not their styles, but their techniques."
And Gloria definitely learned a VERY good technique out of this...
Discoguy; Mrs. Gaynor, How come you started with music, was it something you wanted to do, or did it more or less just happen?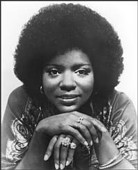 "No, it was something I wanted to do. Or, actually, it's both. It's something I wanted to do, something I prepared for and when the opportunity arose I was ready."
Have you ever been working with something else... You did this song "My love is music", so I guess music always has been your life?
"Yes! Music is my life. The only other thing I've done is office work in different places. But no real professional career other than singing."
So, when did you start singing professionally?
"I started singing professionally in... '62 or '63 - I'm not sure."
What did you sing back then? Where you singing solo or in a group?
"Well, I was in a band. I was the singer with a band called the Soul Satisfiers. I sang then quite a bit of Jazz and some Top 40 stuff."
In the early 70's she was discovered during a gig at the Wagon Wheel in New York. The young Gloria had to audition three times for the music legend Clive Davis, former head of MGM Records, before he signed her.
Can you tell me more on how and when did you get signed to MGM Records?
"I was signed first to Columbia Records..."
OK??!!
"...by Clive Davis. And then when Clive Davis left Columbia, of course, he left me there. Then Bruce Greenberg from MGM Records heard the song that I had recorded on Columbia Records and he wanted both the song AND me for MGM. So he went and made a deal and bought the contract. And that's how I got onto MGM Records and recorded the 'Never Can Say Goodbye' album that contained 'Honey bee', which was the song that I had recorded on Columbia Records."
Did you just do one single, "Honey bee", on Columbia?
"Yes, I just did one single on Columbia. I later on had an album on Columbia Records - the 'I am what I am' album."
The title track of the 'I am what I am' album was also released by Gloria's friend, the classic French Disco producer Henri Belolo on his In the Mix label in Europe.
But, which was the first song you ever put on record?
"That was 'Honey bee'. No, no - that wasn't the first one. The first song I ever put on record was 'She'll be sorry'. A song done back in '65 I believe it was, with Johnny Nash on his label."
Was this the first record you recorded under your own name?
"That was the first - 'She'll be sorry' - Yes! The first record I recorded was 'She'll be sorry' and it was done under Gloria Gaynor. As a matter of fact, Johnny Nash is the one who gave me that name - Gloria Gaynor."
OH - OK! Had you ever been working on other records before this, like with a band or something?
"No."
Gloria's first royalty check was for six dollars and some change. She never cashed it, she has it packed away with other memorabilia of her career.
After getting signed to MGM Records, the Gloria Gaynor's success really begins. We're now in the early 70's and Disco is waiting right behind the door, a door that would give Gloria a success one can only dream of...
So, Now we get into the Disco days... and I have to say - "I will survive"... That's really THE Disco Anthem.
"It is. All though, 'Never can say goodbye' which was my first Disco song. Well actually 'Honey bee' was my first Disco song. 'Never can say goodbye' was the title song from my first Disco album. And that was the first Disco record ever to be played on AM radio."
Yes, and I know Tom Moulton was involved in that one.
"Yes, he mixed that."
Have you got any comments on Tom Moulton?
"Well, he's wonderful and he definitely is the King of Disco. If you wanna know anything about Disco, Tom is the one to go to. He's the one to ask, because he did the best mixes and he definitely should be considered as that in that area. He definitely should be considered the King of Disco."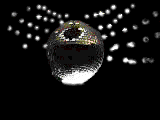 The "Never Can Say Goodbye" album was the first album specially made for clubs. In this album Tom extended all the songs and segued all three songs of the A side together in a non-stop music orgy - a dance medley mix. Something that other artists, like Donna Summer and others, later used in their records.
All the success of this album gave Gloria the official title - 'Queen of the Discos' - in New York in 1976. Chosen by the American National Association of Discotheque DJ's.

The "Never Can Say Goodbye" album was produced by a team called DCA - Disco Corporation of America, which was formed by MECO Monardo, Tony Bongiovi and a third guy. These guys also produced the following two Gloria Gaynor albums; "Experience" and "I've Got You".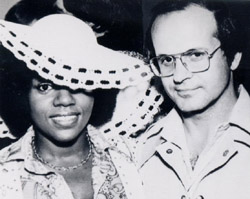 This is what MECO said about Gloria in an interview I did with him;
"I retired from the business in 1983 and Gloria stayed in the business and has flourished. You know we were three people producing her, but in our production she would not allow anybody to be in the studio when she was recording her vocals except for me. So we had this bond as producer and artist quite often get. We had this wonderful bond that she could sing and sing better when she knew I was listening and I was helping her. I remembered that, 'cause it was a wonderful wonderful time and then when I spoke to her recently - that is one of her major major positive memories of the record business. That relationship that we shared. So, that's my memory and my comment on Gloria. I love her dearly, she's a wonderful wonderful talent and more than that, she's a great lady."
If we go back to "I will survive" - You have won a Grammy Award for this song. It was voted the best Disco song of the century in Sweden, the French Soccer team has used it as a team song and it also has become a women's anthem. So, how does all of this make you feel - with all the success with "I will survive"?
"Well, it makes me feel wonderful, because it makes me know that I have accomplished what I intended to accomplish with that song. My purpose for recording that song was to bring hope and encouragement to people, to impact their lives in a way that helped them to know that they could gather their strength and overcome the problems in their lives."
It's really amazing, it's such a great song and you can listen to it a million times I think, and it's still as great.
"OH - Thank you!"
I've also heard that you re-wrote some of the lyrics in the song?!
"I changed one line in 'I will survive'. I changed that back in the '80's actually. Early in the '80's. Because I became a born again Christian and I wanted people to know that all though I had been telling them all this time that they would survive, I needed to let them know how I managed to survive and how they could manage to survive. So I changed the words from 'I took all the strength I had not to fall apart' - to 'Only the Lord could give me strength not to fall apart'." Listen to the change HERE!
Another 'song' that's using "I will survive", it's the "Alien song" - that is also possible to download from your website...
"Right - Yes!"


What do you think of this short animated movie?
"I think it is hilarious. I thought it's really cute, I think it's really funny and I think it's a tribute to me. Because I spoke to the gentleman who originated that and he said that he didn't like other people singing 'I will survive'. He didn't want anybody to sing it but me. So his idea was that anybody else that sings 'I will survive' was an alien."
Haha! I love that little movie, it's really good.
"It is - very good."

As said before - "I will survive" has really become THE Disco Anthem, in 1980 Gloria received the first and only Grammy Award for 'Best Disco Recording'. To crown that title, music video channel VH1 called the song the Greatest dance song of all times and the Swedish radio channel P4's listeners, together with an expert jury voted the song as the Disco song of the Century on April 30, 1999. Mrs. Gaynor was on tour when she got the message and she got really touched. Dino Fekaris, who wrote and produced the hit song together with Freddie Perren back in 1978, was also surprised when he received the information.
In September 2005 Gloria and 'I will survive' was voted into the Dance Music Hall of Fame.
But actually the song was originally written to be a B-side track!!! But when Gloria and her husband (and manager) read the lyrics, they just knew it would be a hit... And they were right! The big break for the song came in late 1978 when Richie Kaczor, the DJ of Studio 54, started to play it - the rest is history!
Richie received a promo copy of the 12" single and he just loved the B-side track and started playing it in '54', soon the word spread and all the other New York DJ's started playing it.
DJ legend Nicky Siano confirms: "Richie discovered that record. He made a hit out of it.".
Leonard Balk who back then worked for Impact Publications remembers; "Ritchie used to report to our paper every week the hottest records and who was seen at Studio 54. One afternoon Ritchie called me and asked me if I had the Gloria Gaynor record 'Substitute'. I told him I did and he asked me to play the flip side, I told him I would and he said - 'no do it now! I will hold on.' After listening to it I brought the record to Joe Loris and played it for him. I started calling programmers across the country and Joe started writing it up in IMPACT, which was very respected at the time. The record company was giving Joe a hard time because the push was on 'Substitute', Joe persisted and the rest is history. It all really started with Ritchie."
Even Mrs. Gaynor herself gives Richie the credit for breaking the song; "Richie Kaczor became the first to play 'I Will Survive' and became responsible for other DJs in New York playing it in clubs and on radio."
The record company had to flip the song to the A-side for the commercial release and it became a massive hit and stayed in the Billboard charts for 27 weeks, 3 weeks as number one.
Richie was even presented a platinum disc award from Polydor for the incredible sales of the song.
Except for the Grammy Award and the other "awards" above, Mrs Gaynor has also been given her own star on the Hollywood Walk of Fame. Gloria was really excited by that, since it's something that won't break, get lost or be thrown away. By this star she'll be remembered forever...


And as that star on the 'Walk of Fame' wouldn't be enough... As of September 19, 2005 Gloria Gaynor is a member of the Dance Music Hall of Fame. At the same Gala in New York her song "I Will Survive" was also inducted into the Hall of Fame. Of course Mrs Gaynor was there to accept the awards and was singing her wonderful classic to standing ovations.
Many people have recorded (covered) "I will survive", with various results - even Diana Ross has covered the song. Actually the song has been recorded somewhere around 215 times (!!!) since Mrs. Gaynor's original release. But none of the versions gets even close to the greatness of the original, so I, Discoguy, just had to ask Gloria what she thinks about covers...
"I think it's a tribute to the person who recorded it. Because it's unlikely that somebody gonna wanna cover or record a song that was done poorly. So, if they're covering it and they're recording it, it must be because they really liked the one that was done. The person who did it made the song so likable and so enjoyable that other artists wished they had the opportunity to do it. So, whenever anybody records and cover 'I will survive' I consider it a tribute to me. I consider it a compliment to me."
Yeah, I would too, I guess. What do you think about sampling, it's so popular these days...
"I think it's good when it's done well. Like for instances, I heard one, not too long ago, done with 'Ain't no sunshine when she's gone'. I loved the new beat they put to it. I liked the way they're using it. I didn't hear all of the rap, so I can't really speak for that, but what little I did hear I thought fit very well - I thought it was clever."
Even ex-Take That member Robbie Williams used a pitched-down sample of "I will survive" as the base for his hit "Supreme" in 2000.
Back to covers... I know you have sung a couple of them yourself.
"I started out doing covers. I did one or two covers on each of my first 5 or 6 albums. And I think that's great, it's especially good for the writers and publishers of course... But, you know, when songs are THAT good, I think it's wonderful that they be brought up to date musically and that the new generation is given an opportunity to enjoy the song."
One of your covers I specially like and I had a hard time to find, that was your version of "Can't take my eyes off you".
"Aha! Yeah, that album was only released in Italy and was only available here on import. So it is difficult to find."
"I am what I am" is also a cover of a song from 'La cage aux folles'.
"Yes."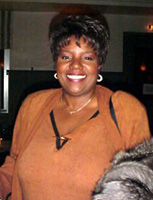 Have you ever been part of any musicals or likewise?
"I did 'Smokey Joe's Cafe' on Broadway. And that was a lot of fun, but that's the only one I've done."
I hope we can see you in some others later on, or???
"That's possible."
Until that happens, Mrs. Gaynor has appeared as special guest star on famous TV-Show - Ally McBeal. In the episode - I will survive, originally airdate April 17'th 2000, the radio alarm sounds and Ally wakes up to "I will survive". When she turns the radio off - the music continue to play and Ally finds herself haunted by Gloria Gaynor and the song through out the whole program.
About your records, have you got a copy of every record you've been involved in?
"Yes!"
OH, that's nice, because most of the people I've been talking to, like Loleatta Holloway and others, they say; "No, I've lost them a long time ago, or I gave them out to friends and relatives".
"I keep one collection. First I have a collection of all of the albums I've ever done, on vax. And then I have a copy of every CD. I just immediately take one and put it away for my personal collection."
That's good. I think you should hold on to them.
"Haha! I will."
The people I've been talking to before, they really regret they don't have them any longer.
"Yeah - You do, you do. I have to admit that, when I first decided to do that - I did NOT have all of my records and I had to get some of them from fans. Some are from fans and some from a Fan club President over in Holland. I have a European Fan club that's based in Holland, and I had to have that President of the Fan club to get me a number of recordings that I hadn't had the foresight to collect myself."
So - How many songs and records have you been involved in?
"Well, I've recorded 16 albums - 17 albums. 17 albums! And besides that, compilations... No, I can't say I have all of the compilations, but I must have at least 20 compilations that I've been on."
Probably there are many more than 20 Gloria Gaynor compilations. But then there's also all other Disco compilations and box sets that include "I will survive" or any of Gloria's other Disco hits... And those must be well over a couple of hundreds!!!
Among Mrs. Gaynor's albums you can mention the first MGM albums Never Can Say Goodbye and Experience Gloria Gaynor, both from 1975. Then she started recording for Polydor/Spring with albums like the 1976 I've Got You, Glorious (1977), Park Avenue Sound (1978) and the 1979 albums I Have a Right and Love Tracks. In the 80's she gave us albums like Stories (1980), the 1981 I Kinda Like Me, the self-entitled Gloria Gaynor and the 1984 - I Am Gloria Gaynor.

Gloria's songs has also been featured in Soundtracks, "I will survive" could for example be heard in no less than 6 different movies during the year 2000, among those the Keanu Reeves & Gene Hackman movie - The Replacements. Will Smith's "black suit-colleague" in Men in Black II of 2002, Frank [the dog], is also singing the song.
Beside the movies above, the song is also heard in top films like; Four weddings & a funeral and the Adventures of Priscilla - Queen of the desert among others. The famous intro to "I will survive" is also sung by actress Jennifer Love Hewitt in the horror movie I still know what you did last summer.
Gloria can also be heard in the 1979 Disco vampire movie - Nocturna: Granddaughter of Dracula, where she performs "Love is just a heartbeat away (Nocturna's theme)". The soundtrack is said to be MUCH better than the movie and it also include songs by Gloria's friend, the late, Vicki Sue Robinson, Moment of Truth and Heaven'n'Hell Orchestra.
Do you know approximately how many songs you have recorded?


"I haven't even thought to think of that."
No. But it really must be a couple of hundreds.
"I guess so."
One of the latest ones is the song; "Last Night" [2000], in which she works with another Disco legend, Giorgio Moroder. A very nice return and collaboration of these two famous Disco acts.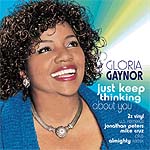 In mid January of 2001, Logic Records released "Just keep thinking about you". A great Dance track with a nice driving beat and of course Gloria's unmistakable vocals. The remixing workout was done by some of the best DJ's, Producers and Remixers out of New York City.
Have you ever written or produced some of your material yourself?
"I've written about one song on several different albums. But I've never produced anything. I've written a lot of songs but I haven't had the opportunity to record a lot of them."
In July 2002 Logic Records/BMG released the Gloria Gaynor single "I never knew", a power ballad with great dance remixes by Hex Hector.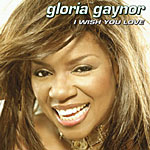 To follow up the success of the single, Mrs. Gaynor's first worldwide released album in 15 years, I wish you love, hit the stores on September 10, 2002. It's a very strong, kicking dance album and is jam-packed with hits and possible single releases.
Except for the two previous singles ("I never knew" and "Just keep thinking about you") there are many future dance hits like "Gotta be forever", "Gone too long", "No one can love you more" and others.
The intro of "Just no other way" give me the chills since it builds similar to Gloria's classic - "I will survive". That track's also featured in this album but in Live versions from Brazil.
There are also a few tracks slowing down the dance beat to a more r'n'b - ballad tempo, all perfectly accompanied by Gloria's unmistakable lovely voice. If we would have to wait another 15 years for her next album and it would only be half as good as this - it's would be worth the wait. For sure!!!
So, if you haven't got hold of this album already - make sure to get yourself a copy right now!
Which is you personal favorite song of the ones you've recorded?
"Oh, my personal favorite... It's a song that I wrote and... actually no. It's a song that I recorded and I did wish I had written it and it is also called 'I will survive' - but it's a Gospel song. It's on that same album with 'Can't take my eyes off you'. Actually on the album we called it 'He gave me life', because I didn't want people to think it was the same song. So, we changed the title to 'He gave me life', but the original title of it is 'I will survive'."
Have you got some personal all-time favorite songs, but that's not by you?
"But that's not by me? Oh yeah! Loads of them. Sure! Let me think... Personal all-time favorites... I've got a lot of old songs that I love, that my mother used to sing to me. Like really old songs like 'Willow weep for me' and 'Lullaby for Lovers'. I like songs by Marvin Gaye like 'Stubborn kind of fella', Frank Sinatra's 'My way'. Barbra Streisand's 'People', Gloria Lynn's 'Brokenhearted melodies'..."
It's a long list.
"Yeah, yeah! It's hard to cut it down, you know, there are so many great songs it's hard to cut it down to A favorite song. Currently I like this song called 'There you go' by a young artist named Pink. It's great. It's another of those female and powerful songs that I like. Haha. That song I definitely wanted to record when I heard it."
Is there any other song by some other singer you would have loved to sing yourself, if you just could pick one or two?
"Well, like I said - that one, the Pink song and probably one from a long time ago - 'People' by Barbra Streisand."
How about Disco music. Did you like Disco music during back then, or was it just a job to you?
"No, I liked it because I loved dancing. I've always done that. Actually I'm more passionate about dancing than I am about singing."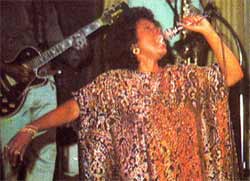 So, I guess it's quite a performance to see you live then?!
"Well, not any more. Well, I mean, I hope that it is quite a performance. I mean, I get wonderful rates, applause from the audience. My audience is often hands-up, standing and cheering and on tables and all of that kind of things. So I think it must be still what they consider a good performance. But I just don't dance as much as I used to. I've had a couple of car accidents and hurt my knees so I'm unable to dance much."
OH, I'm very sorry to hear that. I know that you also had this accident in 1978, when you fell from the stage and injured your spine. How did that affect you?
"Well, that affected me very very badly. I was paralyzed from the waist down the next morning and had to be rushed to the hospital with an ambulance and I was in hospital for 3 and a half months. I had surgery on my spine. I came out with a back brace on and then I had to wait for another 3 months, at the end of which I recorded 'I will survive'. But it still left me a bit... I can't say handicapped, but I guess it is a minor handicap because I'm unable to dance the way I used to and as much as I used to. I'm unable to exercise as much as I used to and of course having had 2 car accidents since then has made it even worse. But I have chronic back pain ever since, I mean, I never overcome the back pains. Of course, Thank God, I'm no longer paralyzed and it relatively didn't last very long at all. But it could be a thousand times worse, but I have some back pains ever since that accident."
OH, I'm sad to hear that.
Since my pages are mainly Disco orientated, have you got some favorite Disco songs, except for your own work?
"Well, I don't know if it's considered a Disco song, but as far as the dancing is concerned - 'Brickhouse' by the Commodores. It's my all-time favorite!"
Yes, I consider that a Disco song.
"That is my all-time favorite!"
Yeah, it's a great song!
"I also liked Claudia Barry's 'I can't get no...' [starts singing] 'I can't get no..., hanging out at the Discotheque, I believe in the boogie'. What's the name of it? 'I can't get no...'"
Can't it be Brainstorm's "Lovin' is really my game" - It goes; I can't catch no man, hanging out at the Discotheque, I believe in the boogie'...
"Yes, that's it!"
Is there any of the old Disco songs you would have loved to sing?
"That one."
And "Brickhouse" maybe?
"No, 'Brickhouse' is definitely a mans song. Yeah, because he talking about a woman's body and how she's built so great."
Hahaha! [both laughing]

But what kind of music do you personally prefer?
"Personally I prefer Gospel music."
OK, you do. That's just like your friend, Candi Staton. I know you still have contact with Candi and she was actually the one who helped me get your phone number.
"Aha! Oh, Great!"
Have you got any contact with any other old Disco acts?
"Well, because of the rebirth of the Disco music I'm often working with a number of them like K.C. & the Sunshine Band, Thelma Houston, Kool & the Gang, the Ritchie Family... You know, I find myself working with them from time to time. So, but on a personal level, the only one I've been in touch with is Thelma Houston, Candi Staton and Vicki Sue Robinson, who recently passed away."
Yes, unfortunately.
"Yes - yes. Unfortunately. That was a tragic loss."
What do you think of the Disco era now, when you look back on it?
"Well, I think it's era that in which people had a lot of fun. In fact too much fun and would not concern themselves with the negative effects of the accesses that they were involved in. But I also think it was a time when there was a common ground, a musical common ground, for people. It brought together, it bridged generation gap, you know, there was never a time when parents and children had more common latency between them."
There were much drugs and alcohol floating around during the Disco days and I heard somewhere you also were a little into drugs and alcohol way back, before you became a born again Christian.
"What happened was that... what I really like you to understand is that I never had a drug problem. I never had a drug problem. I never had an alcohol problem. And I don't say that in defense, I say that as simple truth. But what I want people to understand is that I had the same problem as I'm sure many many of my peers did during that time. And I'm sure so many young people have now, which is why I want to bring it up. My problem was low self-esteem. My problem was trying to be in with the in-crowd. My problem was a lack of security, insecurity. OK?! These are the kind of things that cause people very often to do these things. Not to the point of becoming a habit, but just to be, sort of, one of the hip cats. And that's the way that I was doing it. Nobody could have thought I had a problem. It was something that I walked away from any number of times and went back to, not because I had a problem with them, but because I wanted to be with the people. I had a fear of being alone. None of my family had anything to do with show business, my life was totally foreign to them. And so if I wasn't going to be with the people that were in the business, I was going to be alone. And I couldn't stand being alone."
No, I understand.
"So, the purpose was just to be with them and fit in."
Yeah. Was that back during the Disco days?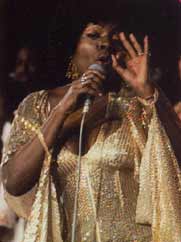 "That was just definitely during the Disco days. But because I've had that background of my mother who was engaged with church and did engage us with church. That was a part of who she was and so she taught us that, brought us up with the morals and principles of Christianity. That was my foundation, that was my background. When I was in that, within time to be with those people, it was a turmoil inside of me. It was always a fight. I didn't wanna be doing those things, although I wanted to be with them. And that's why I kept going back and forth. And finally I gathered strength to stay away from the people. By initiating a personal relationship with Christ, who taught me about the strength and this gift that actually he has placed in me that did make me worthy. That did make me secure as an individual. That did make me realize that I didn't need those people. And then I was able to just walk away from all. Like I said, it wasn't any rehabilitation that needed to be involved, I just needed to walk away because I was... You know, it's like a person who smokes and doesn't inhale - they can stop any time. And that's the was it was with me. It wasn't something I was into. I was into the people."
Yeah, I perfectly understand and it's nice to hear that it was just the people you wanted to hang out with and not the drugs and other stuff.
"Yeah, because, I mean, I want young people to understand. I don't want them to read 'Gloria Gaynor was a junkie' or 'Gloria Gaynor was an alcoholic', I'm doing OK because I was only doing it socially and I thought that's OK. I want them to know IT'S NOT OK! It's NOT OK to do it socially. You know, because perhaps you would have the chemical makeup that would cause you to become a junkie or an alcoholic. I was blessed in that, you know, because alcoholism is something that happens to you because of your physical makeup. It starts out with fooling around, doing it socially and then - that's when you realize, that's when you come to know that physically I can't handle alcohol and that is what makes you an alcoholic. That could have happened to me, but I was blessed, I didn't have that physical makeup. I don't know if that's true with drugs or not, I always believed drugs were never a problem. That drugs were always symptomatic of a problem and whether or not you become a junkie depends on how deep feeded and how long your problem lasts. And I want young people to realize that anybody can become an alcoholic, anybody can become a junkie. I'm blessed that I didn't, you may not be so blessed."
Exactly.

My Gloria Gaynor Spority Playlist

Open in Spotify
Download the FREE basic RealPlayer...

CLICK to hear some Gloria Gaynor songs...
Anybody wanna party?

Can't take my eyes off you

Gone too long

Gotta be forever

Honeybee

I am what I am

I will survive

I will survive
New version v/s Old version

Just no other way

Love is just a hearbeat away (Nocturna's theme)

Let's mend what's been broken

My love is music

Never can say goodbye

Reach out (I'll be there)


CLICK to hear some related songs...
Lovin' is really my game
Brainstorm

Brickhouse
Commodores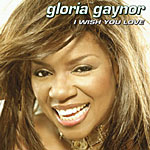 Click to buy from


Gotta Be Forever
Gone Too Long
Just No Other Way
I Never Knew (LP Version)
All The Man
Just Keep Thinking About You
I Wish You Love
Stronger
Let It Rain
No One Can Love You More
You Keep Running
I'm Here For You
Free Bonus CD
I Will Survive (Live from Brazil - English Ver.)
I Never Knew (Hex Hector, HQ2 Remix)
I Will Survive (Live from Brazil - Spanglish Ver.)


Click to buy from


I Will Survive
Let Me Know (I Have a Right)
As Time Goes by/Hands of Time
Goin' Out of My Head
Never Can Say Goodbye
Luckiest Girl in the World
Anybody Wanna Party?
Can't Fight the Feelin'
Casanova Brown
So Much Love


Click to buy from


Disc 1:
I Will Survive
Honeybee
Never Can Say Goodbye
Reach Out (I'll Be There)
Anybody Wanna Party? [12" Remix]
Most of All
This Love Affair
You're All I Need to Get By
Let's Make a Deal
I've Got You Under My Skin
Be Mine

Disc 2:
Casanova Brown
(If You Want It) Do It Yourself
How High the Moon
Real Good People
Walk on By
What'll I Do
I Love You 'Cause
When You Get Around to Do It
Let Me Know (I Have a Right)
Tell Me How
I'm Still Yours
Don't Read Me Wrong
I Kinda Like Me
I Will Survive [Remix]


Click to buy from


I Am What I Am (From la Cage aux Folles)
Chain of Whispers
Strive
Eeny Meeny Macker Rack
Bullseye
Only in a Love Song
I've Been Watching You
More Than Enough
After the Lovin'
You're All I Need to Get By


Click to buy from


Oh, What A Life
Mighty High
Rippin It Up
You
You'll Be Mine
Answer
Can't Take My Eyes Off You
Reunuon Of Two Hearts
Perfect World
It's My Time
Set Me Free
Jealousy
Rippin It Up
Can't Take My Eyes Off You
Perfect World


Click to buy from


I Will Survive
Reach Out (I'll Be There)
Never Can Say Goodbye
I Am What I Am
Stop! In the Name of Love
Even a Fool Would Let Her Go
For You My Love
Love Me Real
Runaround Love
America
Mack Side
Tease Me
I Want to Know What Love Is
Every Time You Go Away
Wonderful World
Careless Whisper
Every Breath You Take
I Will Survive [Chico and The Gypsies Mix]


Click to buy from


Reach Out I'll Be There (Mix 1)
How High The Moon
What A Wonderful World
(If You Want It) Do It Yourself (Mix 1)
I Am What I Am (Mix 1)
Every Breath You Take
The Power Of Love
The Heat Is On
The Eye Of The Tiger
Feelings
I Will Survive (Mix 1)
Never Can Say Goodbye
I Will Survive (Mix 2)
More Than Enough
Feelings
Suddenly
Reach Out I'll Be There (Extended Mix)
Don't Go Soft On Me
How High The Moon (Mix 2)
Mama San
(If You Want It) Od It Yourself (Radio Mix)
Can't Take My Eyes From You
The Reason For The Season
I Am What I Am (Disco Extended Mix)


Click to buy from


I Will Survive
Careless Whisper
Every Breath You Take
Suddenly
Reach Out (I'll Be There)
Everytime You Go Away
Heat Is On
Eye of the Tiger
He's Out of My Life
(What A) Wonderful World
I Want to Know What Love Is
Feel So Real
I Am What I Am
Power of Love
Everybody Wants to Rule the World
Never Can Say Goodbye


Click to buy from


I Will Survive
Reach Out (I'll Be There)
(If You Want It) Do It Yourself
I Am What I Am
Reason for the Season
Can't Take My Eyes off You
How High the Moon
Never Can Say Goodbye
Feelings
Mama San

Have you got like some best memory from your years in the business?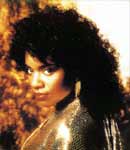 "OH Yes! I have lots... Phuu, I've got wonderful memories. Of course being elected 'Queen of Disco' is an attractive memory. And then of course with the hence by the fact that 3 months before that I met the love of my life, to whom I've now been married for 20 years. [Mrs. Gaynor's husband and manager - Linwood M. Simon]
And concerts, different concerts like the one down in New Orleans - where I performed before 65000, No! - 85000 people. 85000 people singing 'I will survive' at the same time was a wonderful sound. Another previous great memory was when I performed in Verona, Italy and there was Barry White, Suzy Quattro and a number of other American artists and there were 52000 people there listening to us sing. That was wonderful!
And then there was another memory of a performance down in Brazil, when I was asked to perform before a soccer match. Because nobody were coming to the matches and they wanted me to sing to draw the people, 50000 people came to see that performance and stayed for the game in which the Cosmos, our American soccer team, won their first South American game."
OK! Hahaha! [both laughing] That was a new way of getting audience to a soccer game.
"Yeah! They said to me, you shouldn't stay and watch the game, they're gonna loose. I said 'No my team never looses when I'm there'. Hahaha! [both laughing] And they won their first game."
I know you're still active playing gigs. Is it any difference in playing gigs today than back in the Disco days?
"Well, one thing that is a great difference is the tracks. The track tapes. Where you perform live, you sing live to recorded music. That is the biggest difference. I do a lot of that."
But is it still as fun?
"No. It's not. It's not as fun. The people enjoy it. I don't know if they enjoy it as much, I really can't say, I get a great response to those performances, but I think that it's always better when you have a live band and you get that... spontaneous creativity between yourself and the band. There's nothing to compare to live music, there just isn't anything."
You have told me about some of your performances and I guess you have performed everywhere on the globe...
"Well, over some 80 countries.
Among all her performances you can clearly see her engagement for charity. Some of the events she has attended are The Rita Hayworth Gala For Alzheimer's and Revlon's Annual Walk For Life. Gloria is also involved in helping underprivileged children in the inner-cities, inspiring them and teaching them to use their skills in overcoming the many challenges and obstacles that they face.
OK, we're almost finished. But is there anything else you wanna tell me about?
"No, I think you pretty much covered everything. Anything else you like to know that we not talked about is, as I said, in the book."
OK Mrs. Gaynor. It has been a real pleasure to speak to you.
"It all my pleasure."
Thanks a lot for taking your time.
"You're quite welcome."
Thanks a lot.
"Thank you. Take care."
You to. Bye!
"Bye!"
But the story doesn't stop here...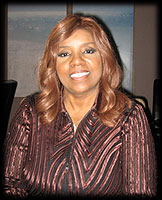 In March 2008 I was contacted by Mrs. Gaynor's promotions people at Webster Promotions, who was handling things for the 30'th Anniversary of "I Will Survive". They offered me another interview with Gloria and of course I couldn't turn an offer like that down. At about the same time it was also announced that Gloria Gaynor would be the headline act and perform in one of the Swedish cruise line Viking Line's ships. So the people at Webster helped me to get the interview set up at the ship, in order for me to get to see the gig as well.
So in April 3, 2008 at 7 PM I was entering the Sauna Suite and stood face to face with this lovely lady.
As I had already covered most of her career in my earlier interview I decided to focus on the 30'th Anniversary of "I Will Survive" along with a bit on the latest album - I Wish You Love - and the upcoming gig, specially with the limited time I was given with the prime Diva of Disco. After greetings we sat down and the interview began;
First, it's very nice to meet you and I'm thankful for the opportunity... So, let's focus a bit on "I will survive" for a start. What do you think made the song become this Anthem of Disco, or actually it's like THE Anthem of Disco?
"Well I think that... there are a few things... I think first of all the song celebrates the tenacity of the human spirit.
Also it's a song that can bring hope and encouragement and empowerment to anyone who's having or facing any kind of problem in life that they think is insurmountable and hope they'll survive.
The other thing why I think it's so popular among women is because with the song I have given voice to women in a men's world."
Yes, I think that's really so. I actually spoke to one of my friends earlier today and he couldn't be here tonight, but he told me that you and "I Will Survive" had helped him through a lot in life...
"Oh! Thank you!"
Also, VH1, the video channel, you know they dubbed "I Will Survive" - the Greatest Dance Song of All Times.
"Yes, they called me and told me that."
So how did that make you feel?
"Oh! I was very happy and flattered."
Yes, it's a wonderful song so you're definitely worth it... But what has the song meant to you over the years?
"Well, when I first recorded it, what I was thinking about was the fact that my mother had recently passed away and that was something I thought I never would overcome, that I would survive. She was my best friend, the world's best mother as far as I was concerned. And then I was also standing recording it in a bad brace, because I had fallen on stage and woken up paralyzed from the waist down and had had surgery on my spine and people in the record company were going around saying the queen is dead. And I was determined that I was not, not only because I was not dead and I certainly will survive and I would thrive and become fit and those were the things I was thinking about when I was recording it.
So, the song has been an anthem for me as well. It has given me strength through my life for different things... like I said, we all go through problems and circumstances that are difficult and we need something to sustain us. And of course, as far as I'm concerned the phrase 'I will survive' is nothing more than a catch phrase without Christ, and so that's where my power comes from and that's how I know I will survive."
So, how do you feel about the song today? Because you have lived with it for 30 years!
"I feel great about it. When I recorded that song it became a part of who I am. I just love doing it, I love the reaction and response from the audience. I love knowing that this song is definitely gonna touch the hearts of the people in the audience. They're going to enjoy it, they're going to sing along, it's gonna be great when I sing that song. So I really really enjoy singing it. I love the fact that it is my song. I love even more the fact that the song has been recorded over 200 times and yet they keep coming back to my version of it.
So, I feel that it's a gift from God, you know, he just looked down one day and said 'This one's for you!'."
Yes, you did it so well and no one compares to you and your version.
"Thank you!"
Have you changed the text any more?
"No, I changed it once. When I became a born again Christian I changed it - it originally said 'It took all the strength I had not to fall apart' and I changed it to say 'Only the Lord could give me strength not to fall apart'. I did that because I wanted my public to know where my strength comes from and to understand... 'Cause I've been intending to do or hoping to do a Gospel album and I wanted them to know that I wasn't selling out, I wasn't gonna not ever do Disco music again or anything like that, but I just wanted them to know where my strength was coming from and I will do the Gospel album for my pleasure but also mainly to honor God."
Have you had any contact with the writers of the song, Dino Fekaris & Freddie Perren?
"Well, I've had contact with them over the years because a lot of times when people are doing things like this, they want to talk to me, they want to talk to them. One of them sadly is passed away. But the other one, he's still around and I hear from him from time to time."
Is this - 30 years with "I Will Survive" - celebrated in any way by the record company or...
"Well, no! I don't have a record company, but I am personally releasing a commemorative version of 'I Will Survive'. It's very much like the original. One reason why I'm doing it is because it really isn't available to the new generation. They can't really buy it. So, I'm doing it for them and I'm also on the same CD, I'm doing another song that's called 'I Will Survive'. It's a Gospel song. A completely different song, it's not a remake or remix or new version or anything like this. It's a totally different song, it's a ballad. Because I felt like this is 30 years that I've had this song. For 30 years I've been singing to the public 'I Will Survive' but I've never told them how. So now, with this song, it tells them how."
That's great! Because that was one of my questions actually - if there was any plans to make a remix or something celebrating the 30 years. Because it would be great to hear people like Tom Moulton, Dimitri from Paris, Joey Negro or Frankie Knuckles and the like remix it...
"I'm going to try to get Tom to, because he never remixed the original 'I Will Survive', but he did remix my first songs. So I really want him to have a shot at remixing this new one."
Yes, that would be great. Because I think there's a lot of classy people who would do a great job lifting this and really celebrate the 30'th Anniversary.
"Yes."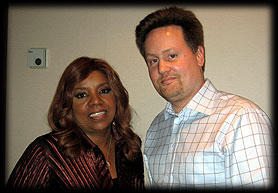 Actually I received a promo copy of your latest album - I Wish You Love. And in the promo there's a spoken greeting in which you refer to yourself as GG. Is this something your friends call you, or?
"I've always been called GG since I first started in the business. This was the idea of... Well my name - Gloria Gaynor - my name is Gloria, that's my birth name, but Gaynor is a name that I choose. How it happened was that I was recording for Johnny Nash. My very first recording and he said to me; 'You know Gloria, Fowles is not really a very good stage name you know!' I said; 'Yeah, I know. I'm not that crazy about it myself!'. And he said; 'Well, I think you should choose another name. Choose one that starts with a G and maybe then people will call you GG and your friends will have a nickname for you.' And I said; 'Yeah, but I don't know any names that starts with G.' He says; 'Well, there's Gaynor...' I said; 'That's good!" And that was it."
Haha! So it was like kind of the first name he came up with?
"Yes, the first name he said."
Yes, it's very good. Which is your favorite song out of the 'I Wish You Love' album?
"Of the 'I Wish You Love' album? My favorite song is 'Let It Rain'. I love 'Let It Rain'."
Yes, it's a beautiful ballad.
"Thank you!"
Actually the opening song of the album is "Gotta Be Forever" and the first line in the song is; 'I know you wonderin' where I've been' - was that planned?
"Yes!"
Hahaha! [both laughing]
"We didn't plan that, those words, actually it wasn't me - it was the producers. As they were listening to it they thought 'Oh yeah. This is a good start of this album because it's been a while since she recorded an album'."
Because I think it was really nice and clever to do that.
"Yeah!"
In the spoken introduction you also say you think it's the strongest album you had made to date.
"Yes I do."
Yes, it's a very good album and I've been listening to it a lot before coming here.
"Haha! Oh, good! Yes, it really is. I my opinion that is."
Yes, in mine too.
"It's so many great songs on that album. Especially in a day and age when they do an album with one or two good songs and the rest of them are garbage, this is unique."
So, any new albums coming up?
"I'm going to do this Gospel album, but I also wanna do an album with Jazz standards."
That's really interesting. About this gig tonight... I'm really looking forward to it. Which tracks will you perform?
"Well, I'll be doing, you know, all of the tracks that the people are expecting. 'Never Can Say Goodbye', 'I Am What I Am', 'I Will Survive' and then I'll do some songs from the latest album as well."
Wonderful! Have you still got contact with any other of the old Disco people?
"Yes, I still see and talk to, well - normally by e-mail - Evelyn 'Champagne' King, Thelma Houston and Donna Summer. I should see Donna at the end of this month in Nashville, 'cause that's where she is now. And the Village People, I work with them from time to time. We did a tour with K.C. & the Sunshine Band and Sister Sledge last year, last summer and that was lots of fun."
Excellent! I didn't have much more questions as we already spoke once before, but it was really nice to finally get to meet you in person.
"Thank you! My pleasure."
Good luck with the gig tonight and Thank you for your time.
"Thank you!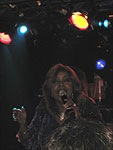 A few hours later, at 11:30 PM, Gloria entered the stage of Viking Line Cinderella to the tones of "I Am What I Am" and an immediate rush went through the audience and everyone just screamed...
I have to admit that I got really carried away from the first song to the encore and in my ecstatic state of mind, I might have forgotten a few and also the order of the tracks played. But the gig included "Never can say goodbye" and a wonderful cover of the late Barry White's "My first, my last, my everything". Mrs. Gaynor also sang "Let it rain" along with "I never knew", "Gone Too Long" and "Just No Other Way" from the latest album before ending with "I will survive".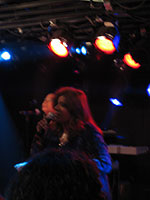 As soon as the first piano strike of the intro of "I Will Survive" was heard, an immense roar was heard and everyone in the club started to sing along and it became one of those magical moments where the performer and audience becomes one. I'm sure it was not just me who got goose bumps in right that moment, the thing is that the moment lasted throughout the whole song... And you could see the satisfaction in both the audience's, Gloria's and her background singer's eyes as they left the stage.
But we couldn't let her stop there and we all screamed for an encore and the Diva entered the stage again dedicated the song to all women and performed a great version of the Leonore O'Malley classic "First be a woman", which Gloria also recorded in 1993.
I'm sure everyone watching Mrs. Gaynor's performance will agree that she's a wonderful performer, with an exceptionally stong voice and presence, and yet with all her success being so loving and humble. She's a true entertainer and you should all try to go see her perform whenever you get the chance...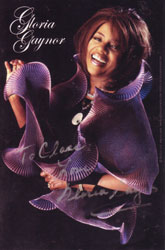 In New Years Eve 2020 Gloria (at age 77) got to close out the year, which had been one of the worst in memory due to the Covid-19 / Corona pandemic, with her encouraging - "I Will Survive". A positive message when going into 2021. She also got to perform her songs; "Never Can Say Goodbye" and "Joy Comes In The Morning".
Gloria Gaynor is really a fantastic lady. Very nice, warm and loving. She's still as popular today as ever before. For those of you who wants to know even more about this remarkable lady, I suggest you should buy Mrs. Gaynor's autobiography, titled just as her biggest hit; "I Will Survive" [St. Martin's Press]. This book gives you all other details of her life and career that you haven't been able to read about here. All about her hard life, tough times and how to survive. It can be bought through her Web-site www.GloriaGaynor.com
Keep enjoying her music, both the previous hits and the new to come. I definitely know I "Never can say goodbye" to...
Gloria Gaynor

The Queen of Disco !