Giorgio started his career by recording some albums under the name Giorgio during the late 60's and early 70's. Most famous is probably the album Son of my father (1972), which is a sought for collectors item.
Still in the early 70's he meets a guy named Pete Bellotte and they team up together with Donna Summer and creates some great music... Starting out with the album Lady of the night (1974) and followed by the brilliant Love to love you baby (1975). The title track of the later album became a huge worldwide hit, the sound and sexxxy lyrics was copied with less success in numerous of other songs; for example "Feel'in good" by Francine McGee.
The team (Giorgio, Pete and Donna) was VERY productive and released almost 2 albums a year for a period...
A Love trilogy was released in 1976 and later the same year they released Four seasons of love. In the summer of 1977 I remember yesterday was available in the stores.


I remember yesterday was a "theme" album were each song represented a different decade... For example the title song, "I remember yesterday", is a 20's "Charleston" type of song. But the huge hit from the album was the song that should represent the future - it became the first real computer Disco hit - "I feel love".
This was a groundbreaking tune in which Giorgio founded the famous "galloping bassline", which today has become a kind "standard". This was a new and fresh sound which got copied immediately with various results. The original version is still as fresh and good as back then... And it's absolutely one of the most important Disco songs ever and it definitely helped Disco music to become as huge as it was during the late 70's and early 80's.
Different people have tried to remix it during the years, for example Patrick Cowley in 1982, and there have been recorded covers of the song as well, but none is as good as the original 1977 (!!!) version.

Later in 1977 a new Donna Summer LP called Once upon a time was released. This time the very productive team had put together a double album with some great dance tracks like; "Faster and faster to nowhere", "Rumour has it", "I love you" and the title track "Once upon a time".


Following up the success of Donna Summer's career the team decided to release a live album called Live and more in 1978. The album was recorded from Donna's concert at the Universal Amphitheatre, Los Angeles, California. The album is like a "live Greatest hits" and is a very good live album where you can feel the energy of Donna's performance.
Besides all the touring, Donna Summer somehow managed to discover a group called Brooklyn Dreams. Donna helped Brooklyn Dreams to get a contract with Casablanca Records and in 1979 the guys released their album Sleepless nights. The album includes their version of Donna's "Heaven knows". This album track has made this LP a rare collector's item for Giorgio Moroder and Donna Summer fans all over the world.

It wasn't until 1979 we got the next Donna Summer studio album, Bad Girls. This (double) album was really worth waiting for and it really was a real breakthrough for Donna. She topped charts all over the world with the songs "Hot stuff" and "Bad girls". Other notable songs from the album is "Dim all the lights", "Our love" and "Sunset people". She was (according to Cashbox magazine) voted Number One in the US in the following categories; Top Female vocalist/Pop album, Top Female vocalist/Pop single, Top Black Contemporary Female crossover/Pop album, Top Black Contemporary Female crossover/Pop single, Top Female Disco crossover/Pop album, Top Female Disco crossover/Pop single and Top Female vocalist/Black Contemporary album.

As this wouldn't be enough there was another Donna Summer double album release this same year. Now it was time for On the radio - Greatest Hits. Except for all the other great previously released songs, the LP included the new hits; "On the radio" (included in the movie Foxes) and the great almost 12 minutes long duet with Barbra Streisand - "No more tears (Enough is enough)". This song still gives me goosebumps every time I hear it!!!
Then in 1980 the team of Giorgio, Pete and Donna releases their last Donna Summer album, the Wanderer. This album sets a nice end to a great partnership that lived for nearly a decade and which helped getting Disco as popular as it was during the seventies.

The new and futuristic sound created in "I feel love" led the way for Giorgio into making soundtracks for movies. The director (Alan Parker) of a film called Midnight Express, liked the sound of "I feel love" and contacted Giorgio and wanted him to write the music for the movie. The result was just great... Actually so great that Giorgio Moroder received an Oscar for best soundtrack in 1978. Working on the score to Midnight Express has so far been his absolute favorite project.
The movie is a dark story 'bout an American guy who tries to smuggle drugs out of Turkey and gets busted and has to spend time in a Turkish prison. The movie itself is one of the best I ever have seen and Moroder's music completes the trill, tension and feelings in a perfect way. Strangely maybe the album included a great dance track called "Chase". In the movie you don't think of it as a dance track but when you hear it on a dance floor it's obviously a great danceable instrumental tune.
Both the movie and the album are worth checking out!!!

Winning the Oscar for the music to "Midnight Express" led to other soundtrack appearances like in - Foxes starring Jody Foster, Richard Gere's debut in American Gigolo, Cat People starring Nastassja Kinski, Flashdance with Jennifer Beals and Tom Cruise as pilot in Top Gun just to mention a few...
Giorgio won his second Oscar in 1983 for best song from a movie - "Flashdance... What a feeling" with vocals by Irene Cara. Irene Cara was by the way the girl who also sung the title track for the movie Fame.
The 12" single remix of "Flashdance" was made by John "Jellybean" Benitez. Originally this was a mix he made especially for his radio show at the WKTU - New York, but the pressure from the listeners made Casablanca Records to release the awesome mix.
When talking Oscars and awards... Giorgio has so far received three Oscars, four Golden Globes, three Grammy Awards and has over one hundred platinum records to testify the artistic prominence of the musician who launched Donna Summer and to the quality and appeal his music have had to the audience during the years.
He has received awards for the soundtracks of Midnight Express, American Gigolo and Flashdance.
Beside his soundtracks he still worked with Donna Summer and several other acts like; Roberta Kelly, Sparks, Suzy Lane, Madleen Kane and Japan.
He also wrote and produced the Munich Machine's self titled LP. An album with only one track on each side - A side: "Get on the Funk train" which times in at 15:45 and the B side: "I wanna Funk with you tonight", which is a medley of Disco songs Giorgio wrote, produced and played on and it times in at 16:36.
In 1978 & 79 he wrote and produced "Giving up, giving in" and "the Runner" for the Three Degrees. He also co-produced their hits "My simple heart" and "Jump the gun" together with Harold Faltermeier. The later track was also written by Harold.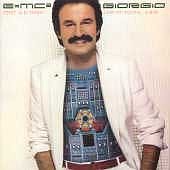 Despite all the work he wrote and produced for others, he also somehow managed to release some work in his own name, most notable is probably the very rare E=MC2 (1979). Other album releases in his own name is Knights in white satin (1976) and From here to eternity (1977).
In 1988 Giorgio worked with the most famous Korean pop group Koreana for the 1988 South Korean Summer Olympics main theme song - "Hand in hand". In this song he blended his great work with traditional Korean rhythms. The album sold over 10 million copies worldwide and "Hand in hand" reached the # 1 in over 50 countries.
Giorgio Moroder have worked with Koreana ever since, for example they made "Taejon expo theme song" together.
During his career he has worked lots of people and he enjoyed working with most of them. Especially he liked working with real professionals. He mentioned in an interview for example working with David Bowie for "Cat People" and Elton John & RuPaul for the 1995 version of Elton and Kicki Dee's classic "Don't go breaking my heart". These professionals comes to the studio and gets the vocals perfect in just two or three takes, sometimes even in just one! These guys get the whole recording done in one and a half to two hours.
Moroder has always been a pioneer in using the latest technology. He was among the first to use the classic Linn synth drum machine and who managed to handle a 24-track studio. He likes working with the new digital equipments, even though he prefer to use an analogue drum machine (instead of a digital) when he wants to create a good dance song. The analogue drum machines give the song a more "live" sound than the digital ones.
Giorgio thinks that one of the greatest things with the technology today is that it gives anyone with some talent, inspiration and a little money the possibility to be creative and do things that were impossible just 10 years ago.
So what does Giorgio Moroder think of Disco, Hi-Nrg and all the different styles in dance music of today?
His roots are in Disco music and it will always be... He loves ABBA and still thinks they're GREAT. But he also loves House music, actually he loves all types of dance music...
Back in the Disco days it was just ONE style or everything was accepted as Disco. When Disco "died" in the early eighties, the music style formerly know as Disco started to get new names like Hi-Nrg or Euro-Disco. Since then the "Disco music" have got lots of different names like House, Garage, R'n'B and Techno. All of them with its "own" sound, but they all generates from Disco and the common thing is that they all (just like Disco) are music made for dancing!
Talking about "Dance music" leads us in to the dance music's essential remixes... In 1991 Giorgio debuted as a remixer when he made the new remix of Eurythmics' "Sweet dreams" and since then he has done remixes for Heaven 17 and a couple of others, . He doesn't think the remixes should change the original too much, he prefers when you still can recognize the original version and not as many of today's DJ remixes that basically is a completely new song.
He can actually also be heard talking on a record... That's on the Sigue Sigue Sputnik's album, where he did a commercial on the album for the band where he actually speaks...
Nowadays the guy from Ortisei, Italy lives in Beverly Hills, CA., U.S.A. He still loves working with Donna Summer, but they have no projects going on right now, and they are very good friends. He has lately been involved in a Broadway musical version of "Flashdance", writing the theme for the 1998 World Cup Soccer games in France and writing music for Michael Jackson's movie "Dr. Lao", which Michael eventually pulled out of at the last minute...

In the 1998 Grammy Awards that took place in February 25, 1998 - Donna Summer and Giorgio Moroder wins the Grammy for the Best Dance Recording with the 1997 Remix of the song "Carry on".
Congratulations!
During August 7 - September 27, 1998 all Girogio Moroder fans could check out the MORODER & MORODER ART SHOW hosted at Centro Culturale Claudio Trevi, via Cappuccini 28, Bolzano, South Tyrol - ITALY.
This was the information sent out for the show;
The Museion and Centro Culturale Claudio Trevi host an exhibition of unquestionable international interest dedicated to the multimedia artist and famous musician GIORGIO MORODER and to the painter ULI MORODER, Giorgio's brother.
The exhibition marks the South Tyrolean artist's return to his land of origin after a long absence, during which he received the most important international awards in the sector of music and cinema.
Giorgio Moroder, proposes himself today as cyber-graphic artist, sculptor of images and multimedia artist, even though he is especially renowned and appreciated all over the world for his talent as a musician and composer.
Beside the musical aspect, the exhibition is evidence of the artist's return to the form of expression of his youth: figurative art, now re-interpreted according to the new multimedia language and supported by digital techniques and tools to a degree that it has been called cyber-graphic. The exhibition title, "Art Show", recalls precisely this lively multimedia dimension where music, art, images and software interact guided by the Maestro's skilful hand.
Uli Moroder, artist and brother of the famous composer, completes the Art Show also with pictorial representations of his brother's golden and platinum records.
In the summer of 1999 we could hear Giorgio's remix of the group Texas' song "Summer son". He still have that magic touch and drive as we remember from all his earlier work with Donna Summer and others...
His music has still got great impact in the music business. In 2001, former James Bond title track singer - Sheena Easton ["For your eyes only"] - returned with the Disco album Fabulous. First single out was her version of the classic Moroder/Belotte Three Degrees' track "Giving up Giving in".
In Swedish TV-channel 5's documentary soap 'Radio' - they use the legendary Donna Summer tune "On the Radio", as their signature song.