But Neil's label would also become one of the most successful and influential Disco labels when signing artists like Donna Summer, Village People, Brooklyn Dreams, Cher, Love & Kisses and great P-Funk act Parliament.

Warner and Neil didn't get along very well since Neil wanted more freedom to release records whenever he wanted and not according to a timetable which was the major labels, like Warner's, way. Neil and Warner came to an agreement that Neil on a monthly basis would pay back the money Warner had put into the company, which he did.
After the split with Warner the Casablanca office were moved to Sunset Boulevard and the whole office interior were inspired by the Casablanca movie, with Neil's office like a complete replica of Rick's American Café from the movie.
The employees used to refer to the office as "the Casbah".
This was in the mid 70's and it was now the Disco scene really took off...

Donna Summer, Giorgio Moroder and Pete Bellotte had been working together for some years when Donna in 1975 came up with the idea of doing "Love to love you baby". She had been inspired by the old Jane Birkin & Serge Gainsbourg song "Je t'aime... moi non plus", a song that later was released as a bonus 12" with the Thank God it's Friday soundtrack. She said to Pete and Giorgio that she wanted and could do a song like that. Giorgio produced it and made a 3 minutes single out of the song. The single didn't hit and Donna was actually quite satisfied since she thought it was maybe a little too sexy and she had never intended it to be a hit. But... Neil Bogart got hold of the single and he just loved it.
He played it at a party he held at his house and all his friends just begged him to play it over and over again. Neil immediately called Giorgio and told him to make it much longer to any cost - and the result is an almost 17 minutes long Disco orgy.
The team (Giorgio, Pete and Donna) was VERY productive and released almost 2 albums a year on Casablanca.
A Love trilogy was released in 1976 and later the same year they released Four seasons of love. In the summer of 1977 I remember yesterday was available in the stores. This was a "theme" album were each song represented a different decade... For example the title song, "I remember yesterday", is a 20's "Charleston" type of song. But the huge hit from the album was the song that should represent the future - it became the first real Disco hit - "I feel love".
This was a groundbreaking tune in which they founded the famous "galloping bassline", which today has become a kind "standard". This was a new and fresh sound which got copied immediately with various results. The original version is still as fresh and good as back then... And it's absolutely one of the most important Disco songs ever and it definitely helped Casablanca Records and the Disco scene to become as huge as it was during the late 70's and early 80's.
In around 1977 Neil Bogart also took Casablanca into the movies with Casablanca Filmworks, scoring successes with the Deep, the brilliant Midnight Express and Thank God it's Friday. Both the movies and soundtracks were doing great but Neil still decided to sell the movie company off.

1977 also meant the big break for the recording artist Meco. The first Star Wars movie hit the silver screen this year and everything related to the movie was hot, specially the music in Meco's Disco version. With his Star Wars and other Galactic Funk album he sold platinum and scored his record labels', Millennium Records (one of Casablanca Records' sub-labels), first Number 1 hit. Through Meco's version of the Star Wars score music you could visualize the movie much better than in the John Williams original soundtrack, and it did sell much better than the Williams' version.
According to Billboard Magazine, the single - "STAR WARS" by MECO is still the biggest-selling instrumental single of the last 50 years, as it reached platinum status in 1977 in the United States - an official 2 million records sold according to the RIAA and another 2 million sold around the world!
Meco actually tributed his label, Millennium Records, in the song "Meco's theme/3 W. 57". 3 West 57th Street was the New York address where the label had its office.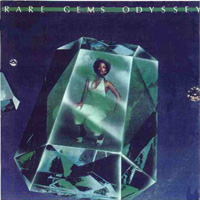 Rare Gems Odyssey was another signing for Casablanca in 1977 and the same year they released their first album simply entitled Rare Gems Odyssey. The album includes the Funky Club hits "What Is Funk" and "We Are... the Rare Gems Odyssey"
This album is today really a "rare gem" and is worth looking out for.

In 1976 a young lad named D.C. LaRue had a huge hit with his song "Cathedrals" for the small Pyramid label, which was distributed via Roulette Records. But for reasons mentioned in my interview with D.C., Neil Bogart acquired the U.S. rights to D.C.'s upcoming releases in late 1977. Neil actually managed to bring D.C. onboard just in time for the Thank God It's Friday release and two D.C. songs were in the movie, and "Do You Want The Real Thing" was also featured in the soundtrack.
Casablanca released D.C.'s third album - Confessions - and got themselves a huge worldwide hit with the song "Let Them Dance". Two more albums and a couple of singles were released, but none of them manged to match to the success of that top hit.

Donna Summer was the one who discovered a group called Brooklyn Dreams and helped them to get a deal with Casablanca Records. They released their self-titled album Brooklyn Dreams in 1977, the album contained the hit - "Music, Harmony and Rhythm". In 1979 they released their second album Sleepless nights. The album includes their 1978 hit "Streetman" BUT most of all it has a version of Donna's "Heaven knows". This album track has made this LP a rare collector's item for Giorgio Moroder and Donna Summer fans all over the world.

When Donna Summer released the Bad Girls album in 1979, it became the real breakthrough for her. She topped charts all over the world with the songs "Hot stuff" and "Bad girls". Other notable songs from the album are "Dim all the lights", "Our love" and "Sunset people".
She was voted Number One in the US in the following categories; Top Female vocalist/Pop album, Top Female vocalist/Pop single, Top Black Contemporary Female crossover/Pop album, Top Black Contemporary Female crossover/Pop single, Top Female Disco crossover/Pop album, Top Female Disco crossover/Pop single and Top Female vocalist/Black Contemporary album.

But there were other great stuff except for Donna and KISS to come from the label...
In my interview with Henri Belolo, he tells me about how the Village People were "created" and why the first Village People album where signed to Neil Bogart's Casablanca; "Because he [Neil] was already famous with KISS and Donna Summer and he was really a music man. So he understood immediately where we wanted to go."
I asked Henri; Where you somehow close connected to Casablanca? Because most of your acts were actually released on Casablanca Records. (Village People, Patrick Juvet, "later" Ritchie Family work and Dennis Parker)
"Yes, but there is an amazing story. I am born in Casablanca. So I was always attracted about that idea of having someone in America establishing a record company called Casablanca. Nile Bogart already had a reputation of being a talent scout and a music man - someone that will fast understand an idea."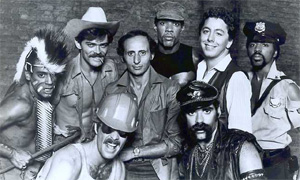 Henri continues; "We did that first album and to write the songs of the first album we thought of all the places in America where they had a gay life. So, Hollywood, San Francisco, Key West and Fire Island. This is why we wrote the songs around these towns or cities or islands.
I called Neil Bogart and I told him that I had an idea. Jacques and I flew to Los Angeles and the day before we had a meeting with him, we went to a club and we convinced the DJ to play our acetate. He was kind enough to do it, because we already had a reputation with the Ritchie Family. I remember he played San Francisco. It was a big Studio, 4-5000 people and I was scared to death. Because he played the 'San Francisco' at the peak hour around 2 AM. The first 30 seconds the floor got empty! I said to myself 'My God, it's a failure!' And when the chorus came 'San Francisco' a miracle - 5000 people were screaming back on the dancefloor and everyone kissing us, congratulating us. I said 'Jacques, we got an idea there, there is something!'
So the day after at the meeting with Casablanca we pretty much stronger in our belief. You know, we tested it in a club. But I have to say that Casablanca Records and Neil Bogart immediately recognized a potential winner and we signed a deal in an hour."
Which of his tunes is Henri's own favorite? Henri goes on; "Definitely "Y.M.C.A". That was really a big song. And I have to say also it became a big song because the arranger, Horace Ott, created that arrangement that started with the horns. That famous 'Ta-ta-ta...' And the Village People created the choreography with the 'Y', 'M', 'C' and 'A'.
So, in life you discover that an invention is not always one man or two men. It's a combination of people putting their love together. And I said love because you can not create a song that out pass the years, because "Y.M.C.A" became a standard that will stay forever."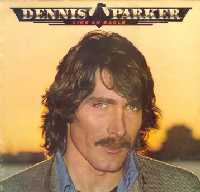 Jacques and Henri also wrote and produced 2 huge hits in 1979 for Dennis Parker - "Like an Eagle" and "New York by night", both actually featured in the same Casablanca 12" single.
Dennis Parker was born in New York, USA in October 28, 1955, but he was also known as Wade Nichols - the porn star actor, who Jacques and Henri turned into a Disco star.
Sadly he was diagnosed with AIDS in 1984 and committed suicide in 1985.

In 1979 Neil Bogart helped the two owners of famous Studio 54, Ian Schrager and Steve Rubell, to release a double LP called A night at Studio 54. (Of course) the album is jam packed with classic Casablanca songs like "Y.M.C.A" (Village People), "Take me home" (Cher), "Last dance" (Donna Summer) and "I love America" (Patrick Juvet).
But it also include hits like "Le Freak" (Chic), "I love the nightlife (Disco round)" (Alicia Bridges), "Let's all chant" (Michael Zager Band), "Instant Replay" (Dan Hartman) and "(Push, push) In the bush" (Musique).
Neil Bogart was even once in negotiations with Steve Rubell and Ian Schrager about buying Studio 54, but that never happened.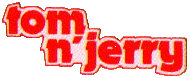 Legendary mixer Tom Moulton also owned his own Disco label called Tom n'Jerry Records. It was originally distributed through SalSoul Records, but he later moved the company to Casablanca and artists included People's Choice among others.
And yes... There was a Jerry as well, Jerry Moulton - Tom's younger brother, who was the labels promotions man.
In 1979 Tom released an own 12" single as T.J.M on the Casablanca label. The song was called "I don't need no music"
When I interviewed Tom I asked him; Have you done any others 12"s by your own name, or is that the only one?
"That was part of my deal with Casablanca, that I had to come out with something with my name on it. And I love that "I don't need no music" and what was the other side... Oh, I loved that one too. That was..."
"Put yourself in my place".
"Yeah!"
Yes, both sides are really good on that 12". Was that the only one you released?
"Yes!"
Is it you singing? Or is it someone else singing?
"Oh No, no, no, no, no - It's not me. Actually it's... the guy who's singing that is, his name is Ron Tyson - who is the guy in the Temptations."

My good friend D.L.Chandell has updated me with the following information on Casablanca's sub-labels.
The sub-labels included;
* CHOCOLATE CITY, which was founded by former fellow Buddah Records co-worker Cecil Holmes in 1975, and whose artists included Cameo, Brenda & The Tabulations and Randy Brown.
* PARACHUTE, which were just down the block from Casablanca and founded by Russ Regan in 1976/1977. Artists included Liquid Gold, Morris Jefferson and David Castle.
* MILLENNIUM was founded by Jimmy Ienner Sr. in 1976 approximately; changed distribution from Casablanca to RCA in 1979 before the PolyGram sale; most famous artist: Meco.
* OASIS was a sub-label started by Casablanca in 1975 and ended just shortly before 1977; Artists included Donna Summer, fellow producer Giorgio Moroder and Roberta Kelly - who all moved to Casablanca straight.
There were also short-lived imprints like EARMARC (founded by Marc Paul Simon) and AMERICAN INTERNATIONAL RECORDS (owned by the motion picture company of the same name).

Neil Bogart sold Casablanca to Polygram in 1980 and in May 8, 1982 Neil Bogart died of cancer.
In around 1983, PolyGram folded the 20th Century Fox record catalog and artist contracts into the Casablanca label name, especially since 20th Century Fox Records shut down.

When the music channel - VH1 - broadcasted their 100 Greatest Dance Songs of the 20th Century, in October 2000, several Casablanca classics were on the list...
At # 6 we find Donna Summer's "Last dance", "Y.M.C.A" held the number 7 spot followed by Donna's "Love to love you baby" at # 63, # 64 "Funkytown" by Lipps Inc, # 67 "Flashdance... What a feeling" by Irene Cara, # 76 Donna Summer and "I feel love", # 89 Donna again with "MacArthur Park" and at # 94 Parliament's - "Flashlight".



Download the FREE basic RealPlayer...

CLICK to hear some Casablanca songs...
Romeo & Juliet
Alec R. Costandinos

Take me home
Cher

Let them dance
D.C. LaRue

Like an Eagle
Dennis Parker

New York by night
Dennis Parker

Bad girls
Donna Summer

Hot stuff
Donna Summer

I feel love
Donna Summer

Last dance
Donna Summer

Love to love you baby
Donna Summer

MacArthur Park Suite
Donna Summer

Rumour has it
Donna Summer

No more tears (Enough is enough)
Donna Summer & Barbra Streisand

Boys will be boys
Duncan Sisters

Chase
Giorgio Moroder

I was made for loving you
Kiss

Funky town
Lipps Inc.

All night man
Loose Change

Thank God it's Friday
Love and Kisses

I love America
Patrick Juvet

Lady night
Patrick Juvet

Dancing in the moonlight
Platypus

Give me a break
Ritchie Family

Take it to the zoo
Sunshine

I don't need no music
T.J.M.

Can't stop the music
Village People

Go West
Village People

In the Navy
Village People

Macho Man
Village People

San Francisco
Village People

Y.M.C.A
Village People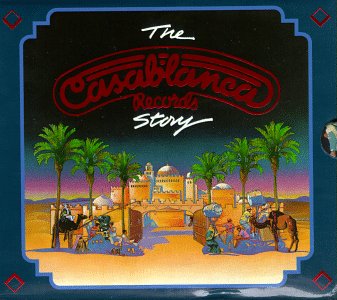 Click to buy from


Disc 1:
Love To Love You Baby - Donna Summer
Funkytown - Lipps, Inc.
Tear The Roof Off The Sucker - Parliament
Take Me Home - Cher
I Feel Love - Donna Summer
Romeo And Juliet - Alec R. Costandinos
Ain't Nothin' Gonna Keep Me From You - Teri Desario
In The Navy - Village People
My Baby's Baby - Liquid Gold
Find My Way - Cameo
I Found Love (Now That I Found You) - Love And Kisses

Disc 2:
Thank God It's Friday - Love And Kisses
Macarthur Park Suite - Donna Summer
Music, Harmony And Rhythm - Brooklyn Dreams
San Francisco (You've Got Me) - Village People
In Hollywood (Everybody Is A Star) - Village People
Let's Go All The Way (Down) - Brenda & The Tabulations
Let Them Dance - D.C. LaRue
Put Your Feet To The Beat - Ritchie Family
Pleasure Island - Paul Jabara
Like An Eagle - Dennis Parker

Disc 3:
Flashlight - Parliament
I Just Want To Be - Cameo
I Just Wanna Dance With You - Starpoint
Hot Stuff - Donna Summer
Bad Girls - Donna Summer
Chase - Giorgio Moroder
Walk The Night - Skatt Bros.
Don't Stop Get Off - The Sylvers
You Ought To Be Dancing - People's Choice
Medicine Song - Stephanie Mills
Dance, Freak And Boogie - Nitelife Unlimited
Macho Man - Village People
Pleasure Principle - Parlet

Disc 4:
When She Was My Girl - Four Tops
Just As Long As We're Together - Gloria Scott
YMCA - Village People
Star Wars Theme / Cantina Band - Meco
Maniac - Michael Sembello
Touch Me Baby / Love Is The Ultimate - Ultimate
Do That To Me One More Time - Captain & Tennille
Yes, I'm Ready - Teri Desario with K.C.
After Dark - Pattie Brooks
Flashdance (What A Feeling) - Irene Cara
Last Dance - Donna Summer

For more Casablanca CD's...
Click here!