Fonda never dreamt of a career as a singer and she tells me [Discoguy] herself: "I never wanted to be a singer... It wasn't my dream, but I could always sing and it just happened."
Actually Fonda was more interested in Painting and Design than music, a dream she later did fore fill.
So, How come you started with music?
"Because some people thought that I had the talent - and I did." Fonda continues; "I was not accepted in my elementary school choir, there for I didn't try to join any other choir again. I sang background for Carol Douglas - that was my first paid job singing."
Already as a girl she got involved in working with music by singing for Carol and from that day on music has always partly been her life, but she has done other things as well... She has been working with painting and design, graphical art, wood works and writing, producing & recording.
But let's get back to her musical career... I asked Fonda; Which was the first song you ever recorded?
"It was 'This Bird's Gonna Fly' with a group called Foreign Funk. But you never heard it, not many people did."
What we DO have heard is some of Fonda's now legendary (and extremely hard-to-find) classic Disco releases like the Patrick Adams and Greg Carmichael written and produced - "Touch me (All night long)" and "Till you surrender" by Rainbow Brown.


Rainbow Brown was a studio concept act Patrick Adams made for Vanguard Records. The name Rainbow Brown was one of those things Patrick came up with, it was meant to represent a diversity of Black Musical styles - Different shades of Brown. They made a great album and Fonda Rae was the lead vocalist on all cuts. Some of the songs Adams also recorded with some of his other acts like Inner Life and Donna McGhee. But Rainbow Browns most famous song was the awesome disco gem "Till you surrender".
The song was later covered in 1997 by the UK DJ, Artist, Remixer & Producer Joey Negro as "Surrender" and by Rainbow Connection. He gave this great classic a new up to date sound with vocals by Taka Boom, who happens to be best friends with Fonda.
Mrs. Rae also worked with legend Leroy Burgess, who wrote and produced her 1982 Vanguard hit - "Over like a fat rat".
As if this wouldn't be enough, Fonda was also singing on "Deputy of love" for Don Armando's Second Avenue Rumba Band and she was the first Coconut in Kid Creole & the Coconuts
You have worked a lot with Patrick Adams, in both his Rainbow Brown act and on "Touch me" under your own name. How was he (and Greg) to work with?
"I like Patrick, but he always wrote songs in a key that was very uncomfortable for me and when I asked him if he could change it, he would always say I sounded great in that key.
I never got paid for 'Touch me' tough, but it wasn't Patrick's fault - because he wasn't doing the business transactions and as for Greg - I'm basically cool with Greg."
You told me you were the first Coconut for Kid Creole - where you singing for him in "the Coconuts"?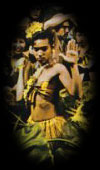 "YES! I sang some of the lead and backgrounds on the first Kid Creole & the Coconuts album [Off the coast of me] and I WAS the first Coconut."
In this Kid Creole album, the Kid actually covered himself - he re-recorded his Machine classic "There but for the grace of God go I" as well as "Maladie D'Amour" originally recorded by Aural Exciters with another Disco diva at the vocals - Taana Gardner.
You can see Fonda in the cover of that Kid Creole album - Fonda is the girl in the front with a grass skirt on.
But it's not that common to get a glimpse of Fonda anywhere. There's a picture of her in an Indian outfit in the back of the cover of the Don Armando's album. But in the Rainbow Brown album cover, Vanguard records used a model instead of Fonda - since it was a "group" album, even though Fonda was singing all the lead vocals.
Besides from being the first Coconut you were also singing for August Darnell [Kid Creole, also the guy behind Dr. Buzzard's Original Savannah Band] in his Don Armando's 2'nd Ave. Rhumba Band. Have you got any comments on him?
"When you start getting a lot of attention over the band leader, then egos get bent out of shape and people start getting 'weird'."
You told me you were also singing on "You're too late" by Fantasy - which you never got credit for, did you sing on any other Disco tracks as well without getting credit?
"No, I think they were the only people that disrespected me in that way."
But, How does it feel to have added the voice to quite a few of the most hard-to-find disco classics? Has these tracks helped your career?
"I feel normal because I am normal. I don't see myself anymore special than you or anyone else. Of course any song that you sing on that's a hit is a plus for your career, but also it can 'stereotype' you."
Which of these disco classics you sung, do you like the most or are you most proud of?
"It's hard to say because I feel my vocal quality has improved so only I see the imperfection in my voice and the mistakes always seem to make me crunch."
What would you say characterize your voice?
"It depends, I think I sound different ways on different songs."
After singing classic Disco, Fonda was found on the Posse Records label where she released for example the self-penned "Live it up" and another of her classic trademark recordings "Heobah". Both from 1983.
Over the next couple of years Fonda kept out of the spotlight, but was still active writing, producing as well as working with clothing design.
In 1989 Fonda returned as part of a constellation called Science, which featured Fonda, Leroy Burgess and Sharon Redd. Together they sung both lead and background vocals on producer Larry Joseph's track - "Believe in your heart" on Smokin' Records. The artist credits of this release are to Larry Joseph & Science.
About the same time Flatbush Beat Records released "Do you want my love", credited to Fonda Rae.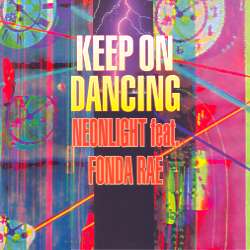 Over the years she has been featured artist in several acts/records, for example;
Neon Light feat. Fonda Rae - "Keep on dancing",
Deep Bros feat. Fonda Rae - "Get into you",
Adam Goldstone feat. Fonda Rae - "Alternations"
and Community feat. Fonda Rae - "Parade".
The later constellation also made a remake of "Over like a fat rat", as featured in the DiscoHouse mixed by Joey Negro CD.
In 1996 we got to hear from Fonda again in her own right, this time she was to be found on the legendary NYC DJ Francois Kevorkian's Wave label. The track was a dance track called "Living in Ecstasy".
Besides all of this she has been covered and sampled several times. The most famous cover is the Cathy Dennis version of "Touch me (All night long)".
What did you think/feel when Cathy Dennis covered your "Touch me" and had this huge hit with the song?
"I didn't really think anything about it. I guess she really liked the song."
Actually even Leroy Burgess covered his own Fonda hit, "Over like a fat rat", together with Kool Kyle in a collaboration they called El Bee & Tee.
As mentioned earlier, in 1997 UK Disco-House DJ/Remixer/Producer Dave Lee (aka Joey Negro) covered "Till you surrender" as "Surrender" by Rainbow Connection and brought in Taka Boom for the lead vocals.
Just when I was about to complete this page on Fonda (April 2003) I was reached by the information that Joey Negro is releasing "Over like a fat rat" credited to Community feat. Fonda Rae in new Jazz'N'Groove remixes on his Z Records.
As for sampling - "Over like a fat rat" has been sampled by people like De La Soul on their "Keepin' the faith", Eric B & Rakim on "Eric B is president", while for example "Touch me" has been sampled in F Project's "Tek Niq" and Zorro's "Dying the death of a thousand cuts" among others...
When having recorded classic gems like the ones mentioned above, one thing I have noticed is that many artists (unfortunately) haven't got copies of their work. So, I had to ask Fonda; Have you got a copy of every record you've been involved in?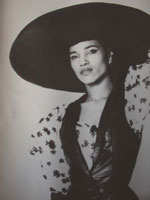 "On records - NO, but I've got most of them on CD or cassette."
Do you remember how many songs/records you have been involved in?
"That's a hard question. Some things I've done I don't remember and they may not have ever been released. But I'd say at least 150 or more."
Which is your favorite song of the ones you've recorded?
"A song you've never heard called 'Steady'. It was written years ago but I recently recorded it. It never was released."
This song "Steady", will it be released? Will it be included in this new material you told me you're about to release?
"It probably won't be the first release, because it more jazz-rock-alternative. I can't give you a date as of yet, but it will be released on an independent label."
Your new record and this material you have recorded... What kind of music can we expect to hear?
"R&B, Hip Hop and Alternative."
I guess we all have something to look forward to then...
But as DISCO my pages are, What about Disco music - Did you like Disco music during that era, or was it just a job?
"God gave me the talent to sing and I was asked to render my services and so I did. It was fun but it didn't have to always be my favorite tune, 'cause I have other things I prefer."
Any other Disco song(s) you would have loved to sing yourself?
"NO! To be honest with you, I'm really a Funk, Rock and Roller."
OH, so what kinds of music do you personally prefer?
"A fusion of Funk, Jazz, Rock, HipHop, Country Western, Techno and Opera."
That was kind of a wide spectrum, but since my pages are mainly Disco oriented - have you got any favorite Disco songs at all?
"CeCe Peniston's 'Finally'."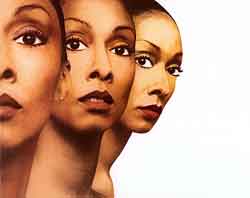 I know you have also been working with backing vocals for other Disco acts like Carol Douglas, Vicki Sue Robinson and others... Have you been working with other people as well?
"Way back in the past I've sang backgrounds for Joe Simon, Kurtis Blow, Ester Phillips, Taka Boom, the Fat Boys and others..."
Have you still got contact with any of these people you have worked with?
"Vicky Sue, Sharon Redd and one of the Fat Boys have passed away, but the rest - if I'm not in touch with them, I can get in touch whenever I want."
In 1989 you, together with Leroy Burgess and Sharon Redd backed Larry Joseph as 'Science' on his "Believe in your heart". Did you, Leroy & Sharon work together any other times?
"No."
You recorded "Living in Ecstasy" for Wave, Francois Kevorkian's label, in 1996 - have you been recording something else since, or when do we get to hear anything new from you?
"There are new material coming soon!"
Do you still play gigs from time to time?
"Yes."
Which tracks do you use to sing in your gigs today?
"Most people want to hear the classics - 'Over like a fat rat', 'Touch me' and 'Heobah', but it also depends on the crowd. I give them what they request..."
So, what do you do for a living these days?
"I still do music - I write, produce and engineer. I also do clothing design, interior design, graphic design and wood works etc."
Wow, that's a lot... What kind of music/acts have you been writing and producing for?
"I've worked with up and coming new artist."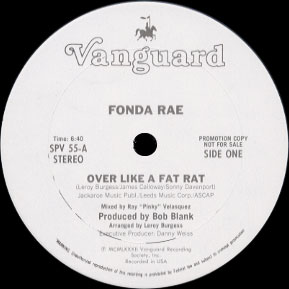 Download the FREE basic RealPlayer...

CLICK to hear some Fonda Rae songs...
Heobah (Hey-O-Bah)
Fonda Rae

Over like a fat rat
Fonda Rae

Over like a fat rat
Community feat. Fonda Rae

Touch me (All night long)
Wish feat. Fonda Rae

Deputy of love
Don Armando's 2nd Ave. Rhumba Band

Till you surrender
Rainbow Brown

You're too late
Fantasy


CLICK to hear some related songs...
Maladie D'Amour
Aural Exciters

Touch me (All night long)
Cathy Dennis

Finally
CeCe Peniston

There but for the grace of God go I
Machine

Surrender
Rainbow Connection




Click to buy from


Till You Surrender
I'm the One
Come Let Me Show You the Way
Let's Go Another Round
It Ain't No Big Thing
Happy Music
Let's Go Another Round (Tom Moulton Extended Edit Previously Unreleased)
Till You Surrender (Instrumental Version)


Click to buy from


Funky Sensation - Gwen McCrae
Over Like A Fat Rat - Fonda Rae
Can't Play Around - Lace
What Can I Do For You? - Labelle
Always There - Side Effect
Why Leave Us Alone - Five Special
Is It All Over My Face - Loose Joints
Free Man (Disco Version) - South Shore Commission
Bad For Me - Dee Dee Bridgewater
I Love Music - The O'Jays


Click to buy from


Mister Softee
Maladie d'Amour
Yolanda
Off the Coast of Me
Darrio
Lili Marlene
Bogota Affair
Calypso Pan American
There But for the Grace of God Go I
He's Not Such a Bad Guy After All
Darrio
Yolanda
Maladie d'Amour


Click to buy from


Disc 1:
One Way - Cutie Pie
Atomic Dog - George Clinton
Get Down on It - Kool & the Gang
Rapper's Delight - The Sugarhill Gang
Juicy Fruit - Mtume
And the Beat Goes On - The Whispers
Got to Be Real - Cheryl Lynn
Another Man - Barbara Mason
Tear the Roof off the Sucker (Give up the Funk) - Parliament
Message - Grandmaster Flash & The Furious Five
Outstanding - The Gap Band
I Wonder If I Take You Home [Extended Version] - Full Force
Breaks - Kurtis Blow

Disc 2:
Just a Touch of Love - Slave
Weekend - Class Action
Boogie Down Bronx [Bronx] - Man Parrish
On the Floor [Rock It] - Tony Cook
Touch Me (All Night Long) - Fonda Rae
Is It All over My Face? - Loose Joints
No Parking (On the Dance Floor) - Midnight Star
(You Are My) All in All - Joyce Sims
Disco Nights (Rock Freak) [Rock-Freak] - GQ
Fantastic Voyage - Lakeside
Walking on Sunshine - Donnie Calvin
Encore - Cheryl Lynn
Just an Illusion - Imagination
Say I'm Your #1 - Princess
I Feel for You [Remix] - Chaka Khan