Vanguard Records was started in the 1950's by the two brothers - Seymour and Maynard Soloman.
To be able to start their own record label, the brothers borrowed $10.000 from their dad and that money soon turned out to be very well invested...
In the early days the brothers concentrated on the music they knew best - classical music and jazz & fold stuff.
Maynard was the jazz & fold guy, while Seymour was the one into classical music. Seymour is actually a noted musicologist at Yale and he is often hired to speak at different seminars about classical music. During 1999 he spoke at a seminar at the University of Toronto on Beethoven.
In the beginning of 1977 the Disco scene started to grow rapidly all around and in April 1977 a guy called Mark Berry started working for the company as an assistant engineer. He had been stumbling around New York for a while before he got this work and together with Danny Weiss - who was the company's #1 jazz producer - they brought in the Disco music to the company. Mark & Danny became Vanguard's in- house remixing team and their names are mentioned in most of the labels Disco releases.
Mark, who today owns his own record company - Attack Records in Los Angeles, has nothing but good things to say about his former remix partner; "I learned a great deal about song structure and vocal comping from Danny. He is a great jazz producer. He now works at Shanachie Records in New York."
Mark and Danny was later joined by Ray "Pinky" Velazquez, who was a famous New York City DJ/Remixer and together they made magic with many Vanguard 12" singles releases.
Ray filled me in on details and memories on Danny and Mark;
"Danny Weiss was working as an in-house Jazz producer and Jazz A&R man. And they gave him the task to see if Danny could put things together and come up with some Disco records to release. Wild Cherry got involved with the Players Association, his first release, which was, better that average. He was a candid expert and he studied a lot of the things going on with Gamble & Huff at Columbia Records. What they were doing there, producing the Jazz type of R'n'B and Dance Records. That's were his comfort zone was and he had that as his base.
Mark Berry was an in-house producer and a talented engineer for Vanguard. A great asset in the arena of Disco. He could edit tape. He could edit complicated issues like a magician. He had a great ear for strong melodies and pop basslines. He liked Pop stuff, he liked the synthesizer stuff that was coming out of Europe; the synthesized music that was creating the Disco craze and rocking Disco floors across the country. He was young and talented and visited many clubs to support his European vision. And, you know, he loved Disco! But his comfort zone was Euro-Disco. This was his cup of tea. He had an incredible feel for melody and Euro synthesizer arrangements. All of Alisha's song verifies this!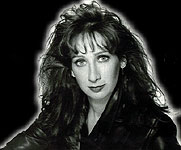 He was involved with the Alisha productions, and was assisting Bobby Orlando with "O" Records, which was part of the Vanguard family. Bobby "O" had a very European sound and this is where they both connected. Listen to Ronnie Griffith or the Flirts productions and you can interchange and see the likeness with the Alisha productions, very European in nature. Mark was just a great person to have in the Vanguard days, when it came to the Disco stuff. And he really helped Danny Weiss expand Danny's vision of what Danny would consider Disco. Because, the two of them had two different backgrounds. Mark more of the Pop - European sound while Danny Weiss would be more into R'n'B and Jazz sounds and eventually I came into the picture and kind of tried to bridge both of their sounds as I like R'n'B and R'n'B Dancing and I also like the Disco stuff and Disco Dancing. Later I crossed over and decided getting involved with the Rock stuff.
So the three of us kind of gave Vanguard our initial vision of the Vanguard Disco label."


Mark and Danny more or less got free hands concerning the labels Disco releases and as Mark says; "It was a very loose atmosphere for making records and we [Mark & Danny] pretty much did what we wanted. We pretty much was immersed in all the Disco material. I was also very busy between mixing for other producers and producing all of the Alisha records.".
Discoguy; So, What do you think made Vanguard to become one of the hottest labels on the Disco scene?
"The acts that Danny Weiss and I were signing and bringing in. Acts like Poussez, Rainbow Brown (with vocals by Fonda Rae) and of course - Alisha. We were also engineering a lot for Arthur Baker and we mixed everything at Vanguard Studios."
Have you got any special memories from your days at Vanguard?
"Definitely the Alisha success. From the street to a worldwide hit with "Baby talk". Alisha was incredibly talented along with Patrick Adams [famous Disco writer & producer behind acts like Rainbow Brown, Bumblebee Unlimited, Universal Robot Band, Musique & Inner Life] who I worked with a lot. Patrick is a great songwriter and Alisha was a tremendous vocalist for her young age of 15."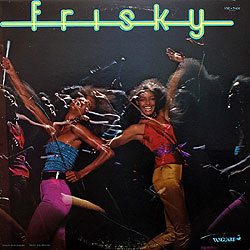 How many 12" singles did Vanguard release during the years in business?
Mark replies; "Many, too many to count!" And I think he's quite right there, I know of at least up to around some 100 12" singles on the Vanguard label.
So Mark, which was the first song out on 12" single?
"That was "Love hangover" by Players Association."
the Players Association was a studio act put together by the writer Chris Hills and the producer Danny Weiss. This band was more or less the Vanguard "house band", similar to Salsoul Record's - Salsoul Orchestra. For their Players Association tunes, Chris and Danny hired professional session musicians - usually the best around.
But which was Vanguard's biggest hit?
"All the Alisha hits - "All night passion", "Too turned on" and, as mentioned before, "Baby talk"."
I, Discoguy, also asked Mark if he had any personal favorite song among the ones Vanguard released. To my big surprise he mentioned the song that's also my personal favorite Vanguard track - Frisky's "You got me dancing in my sleep". This awesome 7 minutes Disco frenzy was written and produced by Moses Dillard & Jesse Boyce [the guys who also was behind acts like Saturday Night Band and Constellation Orchestra on Prelude] and one funny detail is that this track was actually the B side track of the 12" single. The A side was "Burn me up (with your love)", a track that really can't measure with "You got me dancing...".
Unlike many other of the Disco people I've been talking to, Mark has still got a copy of every Vanguard 12" release. OK, he admits that they're somewhere in his basement and he would have to dig them out - but at least - they're there!!!
Unfortunately he no longer has got any contact with all the great acts he has been working with during the years and that's a shame, 'cause it would have been great to hear what they're up to now.
I also asked "Pinky" which of his own remixes that are among his favorites and he replied; "I would say 'Over Like A Fat Rat' by Fonda Rae, it was a great record on the dance floor and for the R'n'B market and R'n'B radio. That record was great. I like that record a lot.
And Carol Williams 'Can't Get Away From Your Love' on Vanguard. The original dance mix and then the special 10" version that I did, were both favorites of mine.
OH, another one of my favorite mixes is Junior Byron's 'Dance To The Music', I do remember the excitement that I had getting involved with that track and also Frisky's ''You Got Me Dancing In My Sleep', plus another cut from the album - 'Tutty Frutty Booty' was the name of that track along with their 'Burn Me Up (With Your Love)'. Those tracks are among my favorite tracks too.
The 10" version of "Can't Get Away From Your Love" has become a high priced collector's item and it has even been bootlegged on 12". But as you understand, any 12" version of the NYC Club "Dub" Mix is a fake.
This 10" release has a special spoken introduction in which Carol says; "Hi, this is Carol Williams, and I'd like to thank all of the New York metro DJs for supporting Can't Get Away. I'd love to say this in person, but that is impossible. So we at Vanguard have prepared a special mix, to show our appreciation for your support. Thank you New York metro DJs!"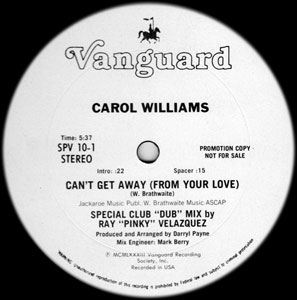 In the late 70's a young ex-boxer called Bobby Orlando, later more known as just Bobby "O", started writing and producing records for Vanguard.
For the label he produced Lyn Todd, he also wrote and produced Free Expression's "Chill-Out!" and he brought in Roni Griffith to the label.


Roni was a young girl he had met in a restaurant and who he signed a 50/50 contract with written on a napkin. The young two even became a couple for a while and in 1980 "Mondo Man" is released, but the year after the big break comes for both of them when Bobby writes and produces the song "Desire" which became a huge hit, specially in Europe but also in the US club land. They topped that success with their 1982 cover of the Ronettes' classic "(the Best Part Of) Breakin' Up" which almost made it all the way to the top of the US Dance Charts, but peaked at # 2.
At Vanguard he worked a lot with the label's head of A&R as well as in-house producer - Danny Weiss. Together they worked on several Vanguard recordings and Bobby kept working with Danny even after leaving the label to start his own labels, why you can find Danny's name on many Bobby Orlando productions.
Bobby's "O" Records was also originally released and distributed through Vanguard.
Several of the labels releases are today considered classic Disco gems and have been sampled and covered many times. The most sought for of these classics is probably Rainbow Brown's "Till you surrender" (covered by British Disco DJ and remixer Joey Negro under the name Rainbow Connection and with the title as just "Surrender"), Fonda Rae's "Over like a fat rat" and stuff by Poussez and the Players Association.
The same Joey Negro (as mentioned above) also sampled Frisky's "You got me dancing..." for his remix of Nikita Warren's "I need you" for Raiders Records in 1991.
So, with many classic Disco songs out of the Vanguard studio - did Mark like Disco music during that era, or did he just consider it as a job?
NO! I loved the music. It was so full of melodies and great string arrangements. I got to pick the great songs."
Have you got any comments on the Disco era in general?
"I really miss the great grooves and songs."
Have you got anything else you wanna tell me about? Memories, anything...
"Yes, the majority of records I mixed were "accidents" and they went on to become world wide hits. That is very rewarding. I also have fond memories of signing artists that were from the street and that went on to sell hundreds of thousands of records."



Download the FREE basic RealPlayer...

CLICK to hear some Vanguard songs...
All night passion
Alisha

Baby talk
Alisha

Can't get away [NYC Dub]
Carol Williams

Sweet thing
Convertion

Over like a fat rat
Fonda Rae

You've got me dancing in my sleep
Frisky

Fourteen days
Lex

Don't stop, keep movin'
Poussez!

Leave that boy alone
Poussez!

Till you surrender
Rainbow Brown

the Best Part of Breakin' Up
Roni Griffith

Desire
Roni Griffith


CLICK to hear some related songs...
Let's do it
Convertion

I need you
Nikita Warren

Surrender
Rainbow Connection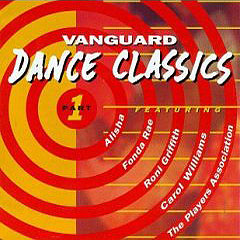 Click to buy from


Love Hangover - The Players Association
The Get Down Mellow Sound - The Players Association
Mysterious - Twilight 22
Over Like A Fat Rat - Fonda Rae
Till You Surrender - Rainbow Brown
Can't Get Away (From Your Love) - Carol Williams
Can't Get Away (From Your Love) - Carol Williams
Dance To The Music - Junior Byron
Too Turned On - Alisha
Baby Talk - Alisha
All Night Passion - Alisha
(The Best Part Of) Breakin' Up - Roni Griffith

Click to buy from


All Night Passion (Original Version)
Stargazing (Extended Dance Mix)
Baby Talk (Extended Dance Mix)
Too Turned On
Boys Will Be Boys
One Little Lie
All Night Passion (Extended Dance Mix)
In the early 1980's the label started a sub-label called Flip Records. Ray fills me in on the thoughts and visions of the new label;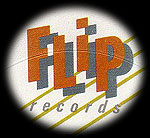 "At Vanguard, we also had the Flip label, that was a Rock label that we started based on the fact that the Dance Rock arena was beginning to erupt and I believe we started the label in '82.
Our fist two releases were 'First Last For Everything' by Endgames produced by the legendary Steve Levine who produced Boy George. The second track was 'Fourteen Days' by local artist Lex. We were intending to go after more artists on the Flip label... We were negotiating with the UK in trying to license Musical Youth, Tears For Fears and Falco...
We did license a 12-inch track from Chrysalis Records in the UK called In 'Memory of Your Name' by Private Lives, produced by hot producer Tony Visconti. We never released the song here in the States. The track is still circulating as an underground Dance Rock extended 12 inch.
After some 10 years with the company Mark quit his work as an in-house remixer/engineer in December 1987. At about the same time Vanguard was sold to the Lawrence Welk Group and they closed the label down. But in 1990, Seymour bought back the classical catalog.
The 40 years the label released their material and then the revival - has definitely left an everlasting mark in the music history - and on the Disco scene!