John Morales was born in the Bronx, New York on April 14, 1954. And to straighten things out right away - John is not related to the David Morales of DefMix, even though he's asked this question all the time.
John has always loved music and as he tells me himself; "My first taste of music was when I was about 12 or so. I loved music and after school I found a job at a local record shop in the Bronx called Stan's which I was paid for with 45's. I would be so excited at the end of a week to go home with a few 45's. When I was about 14, I started playing the guitar and formed a three man band called the F Band and we would play local high schools. Nothing really developed from that but my love for music continued to grow."
Already back then he understood he wanted to work with music in some way... His music interest and 45's collection grew and he soon became a DJ which later also led to a remarkable career as a remixer. But I [Discoguy] had to ask John: Have you ever done something else? Or has music always been your life?
"Well I've done music for most of my early adult life, it's what I wanted and loved to do, and I am grateful I had the opportunity to do it.
Today, I'm in the Sports Collecting Business and have once again started to work on my music. Hopefully, to do something that I really enjoy and love, what I feel is in my blood."
As told above John started out his musical career as a DJ, he fills in; "I started DJ'ing at home like most of us.. My first gigs were in '75 at small clubs and bars in the Bronx, I cannot remember the names. I worked for free and my first paying gig was at the Stardust Ballroom in the Bronx about that same time... From there I worked at various clubs in the Bronx, mostly small rooms and when the roller skating craze broke in the 80's, I started working at the Bruckner Roller Dome, the owners owned three rinks and I worked at all three. I also spun at Jerome Roller Rink [later Skate Fever] across from the famous Fever Club in the Bronx. I then ventured into NYC to DJ at various clubs. I did not have a steady gig at any of the Manhattan Clubs, but as my name and M&M became popular I got the opportunity to do a lot of guest spots at clubs like Pippins, Bentleys, 1018, Limelight, Studio 54 and a few other in the 80's. Me and Sergio actually opened the NY club 1018 as M&M.
I also worked at WBLS, a radio station in NY, which I did the midday and weekend mixes."
So, How come you started with DJ'ing in the first place?
"I started DJ'ing because I thought that having the ability to control and motivate a crowd and drive them into a frenzy would be great."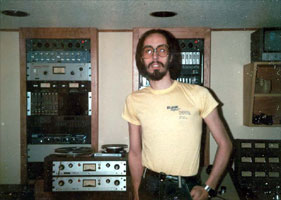 One thing led to another and all of a sudden John was involved in mixing and remixing records as well. He soon became one of the first classic Remixers. I asked him: In today's digital world it's easier to "re-model" music, but Why and How did you make your medley's and remixes back in the 70's?
"Most people don't even know what a remix is and definitely don't know why we started making them in the first place...
I started to make the Medley's and remixes because the records in those days were too short, most in the 3 min ranges. Being a DJ I needed to get more out of the records I was spinning. I purchased a SONY 1/4 reel to reel and learned to edit. It was hard work and long hours editing and putting all the little pieces of tape together and making something real creative happen. Reflecting now, I realize how important it was to what I would later do. It taught me a lot about what I wanted to do and how to do it, so that by the time I got in a real studio I was virtually a whiz at editing tape much to the amazement of some of the engineers I worked with. It was a lot of fun and really where it all started for me."
What do you think made you one of the most wanted remixers? Did you have any special techniques or special sound or something?
"I'm not exactly sure what made me one of the most wanted remixers, I guess it was because of the success of some of the records I was mixing. In the mid 70's to early 80's, I considered myself a DJ friendly mixer. Being a DJ, I felt I knew what was needed in a mix. In those days it was important to make a record easy for club DJ's to play. I would make sure that the records I mixed made it easy for a DJ to get in and out, by formatting them with intros, breaks and outros. Making beats that were easy to blend in and out of."
Have you got any comments on how Remixers were regarded in the beginning and how it has changed during the years?
"I feel I was one of the first DJ's mixing, having started around 1975, while I know I wasn't the first I was right there at the head of the pack, I would like to think I pioneered some of the art and technique of mixing 12" records. During the 80's the mixer/remixers were highly regarded for what we could do to a records life and the added exposure a good mix could bring. In the late 80's that started to change as the producers started to understand the concept and formula of a 12" mix and did their own mixes and the life of the remixer specialist started to fade. Now days, a remix is more of a complete overhaul or new production in order to give a record new life and extended sales. It's not done for the same reason we did mixes back in the day."
He continues; "After thinking of how mixing had evolved, I realized, how difficult it actually was in the seventies and early eighties to accomplish some of the things I would want to do in a mix. I thought I would give a little insight into the process...
When I first started mixing, the studio mixing consoles were not as they are today or even as they were when they began to evolve in the mid 80's. In the late 70's it was mostly an all hands approach. On many occasions it took two, sometimes three people, and ten fingers each, to accomplish a task during the early years. Most of the mixing consoles basically had a mute button associated with each channel/track so you could turn a particular channel/track on or off, considering most consoles had anywhere from 24-56 channels. It was a lot to handle.
The most effective and timely way to accomplish, lets say a section where you would want to mute a particular instrument such as a guitar, bass or vocal part to do a breakdown. You needed to mute or silence many tracks at one time you would mute them in advance, and then edit the tape together to create the exact effect you wanted.
As years passed the consoles became more complicated where by you started to be able to group a set of fader's and mute complete sections at a time, making the task much easier then it once was and more time efficient, also allowing for more and expanded creativity.
In the mid 80's came the world of computerized automated mixing console. This was when it all really started to get good and you now had the mixing/remixing boom. Consoles that would remember not only where you wanted a mute but the volume eq and level for that track. With that came the ability to mix a record, tear down a session and come back the next day, insert a floppy and reset the mixing console to where you last left it.
This was a God send as it allowed for the ability to continue mixing at a later day as opposed to being in the studio countless and endless hours trying to complete a mix, and have it come back sounding just as you left it say a week or month later. In the 70's, you had studio engineers writing down all the levels and settings on paper and sometimes, more than not, the mix did not come back as you had left it.
Now in the new millennium, everything is computerized and tapeless. You now have huge hard disk recorders. Everything is done on the computer. You can literally do your mix at home and phone it in.. We have come a long way in 20 years, I did love the hands on approach. The difference now is you can now make your creativity come alive a lot more easily."

John practically lived in the studio and he believes he has mixed/remixed and edited more records than most of the people back then. So how would he explain the difference between - mixing, remixing and editing?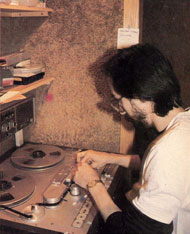 "Mixing is when you are involved in the record early and are the original mixer, something I did a lot of. I was a mixer/engineer before I started to do remixes and before they started to call them that, [remixes] (if you can understand what I am saying). On most of my early mixes, I was involved early in the production.
Remixing is when you are called in at a later date or after the fact, to take a record that has already been mixed and give it a new treatment.
As for Editing, which I was really good at, it was the ability to cut tape. A lost art now days, with the digital world, piecing things and parts together, repeating beat and phrases, that might or might not necessarily belong together and extending the records or music."
P.Diddy has credited himself as the first Remixer - how does that feel?
"I got a kick from hearing him say he invented the remix. It was around long before him and will be there long after."
Starting out remixing and making medley's on your reel to reel at home, did you press acetates of them, or did you bring the tapes to your gigs?
"I always pressed acetates of my Medley's and mixes so I could play them in the club. This was the reason I was doing the tape edit/mixes, most of the songs were to short so I made them longer and then got into doing the medley's...
Here is a list of all the Sunshine Sound Acetates I can Remember I did. I do have many of them either on acetate or tape form:"
Remixes
A Taste of Honey
"Boogie Oogie Oogie"
Beautiful Bend
"Boogie Motion & That's the meaning"
Bumble Bee Unlimited
"Love Bug"
Carol Douglas
"The Answer"
Dan Hartman
"Instant Replay"
Eddie Kendricks
"Date With The Rain"
First Choice
"Hold Your Horses"
Gladys Knight
"Its better than good Time"
Gonzales
"Haven't Stop Dancing Yet"
Karen Young
"Hot Shot"
LE Chic
"Freak Out"
Loleatta Holloway
"Love Sensation"
M
"Music In My Heart"
Musique
"In the bush"
Rod Stewart
"Do You Think I'm sexy"
Universal Robot Band
"Funky Tambourine"
Ruby Andrews
"I wanna Be Near you"
(don't know what it is, its a re-edit of a something I don't remember)
"U"
Medleys
Deadly Medley 1
Deadly medley II
Love And Kisses Medley
Prince Medley
Teddy Pendergrass Medley
Village People Medley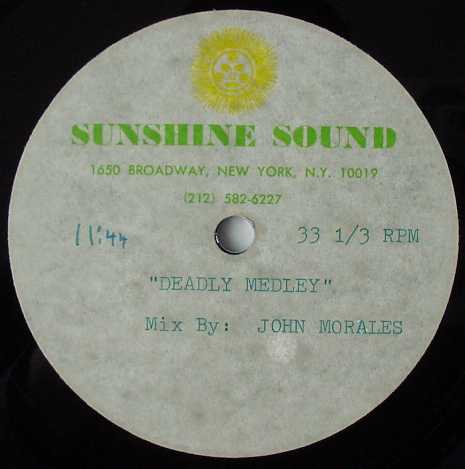 Which of your remixes/medley's above was the first one you pressed on acetate?
"I wish I could remember, I think it was the Deadly Medley 1."
How did you come up with the idea of doing medley's?
"The idea of doing medley's came from originally trying to make songs longer, in doing this, I would add parts from other songs and from there they started to evolve into full medley's."
I'm a sucker for medley's myself - I just LOVE them. Are you familiar with for example "Disco'80", "Bits & Pieces", "Broadway mix", "Hollywood mix" and others? Where you involved in any of these or do you know who made them?
"I know of them but don't really know who did them. The only thing I remember is that some of them would take bits & pieces from some of my early medleys and create new ones. If you would compare some of them with mine you would see what I mean."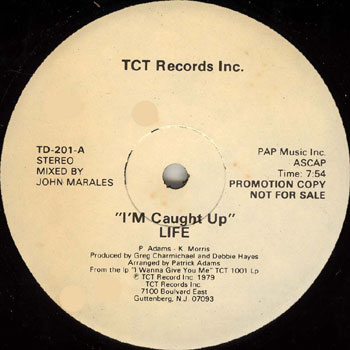 Which was your first official mix/remix?
"My first credited mix on my own was Inner Life's 'Caught Up', even though I had worked on a few others before that but were not label credited like on 'Dance and Shake Your Tambourine', 'In the Bush' and many others."
Those three tracks all come from the Greg Carmichael and Patrick Adams' Disco writer/producer team. Did you work with them?
"I attribute and give credit to Greg Carmichael for giving me my first start after hearing some of my Sunshine Acetate mixes. He gave me my first shot. I did many records with Greg and some with Patrick, but getting Greg to give me credit was tough, he always forgot... Oh well, I know what I did and he eventually got it right.
In those days there was a small group of talented people that ran with Greg, or should I, say He kept around Leroy Burgess and Jocelyn Brown, being the focal. What else would you need! And Patrick who was a great arranger/producer. He parlayed those into many Groups and artist as you well know."
But working closely with Greg and Patrick, and through them also Jocelyn & Leroy. Have you got any comments on all of them? How they were to work with?
"My first experience with Greg was probably the Universal Robot Band's 'Dance and Shake Your Tambourine'. I pretty much mixed and was involved in the production of all of Greg's records in the late 70 to early 80's even though I didn't get credit all the time, we knew who was doing what. Unfortunately, I have not seen or spoken to Greg since the late 80's and I hope he is alive and well.
As for Patrick, I knew him, however, did not have much contact with him. I mainly dealt with Greg but Patrick was one of the most talented producers and arrangers out there.
Jocelyn she is special. She will always hold a place in my heart. Our first record together was Inner Life 'Caught Up'. I knew from day one it was a special record. I always felt there was a special bond between us, we did a lot of work together, I worked on all the Inner Life records as well as mixed her 'Somebody's Else Guy'. I also worked with her on many, if not all, of the M&M productions. I used Jocelyn as often as I could. I hope to work with her again, maybe we can work that magic again.."

Patrick Adams once told me himself that he consider his 1979 DISCO stomper "I'm caught up (In a one night love affair)" by Inner Life (with lead vocals by Jocelyn Brown) as one of his best works. The reason he likes it so much is because that record contained some fantastic background, insane string lines and tremendous energy from all involved... It rocked from beginning to end.
This song was originally released as a 12"inch single by Greg Carmichael on TCT Records. Within a week of its release a bidding war broke out between Prelude and what was to become Profile Records. Prelude won by bidding $17,500 for the rights to the single. At the time this was an un-heard amount for one single record. One year before, the entire "Keep On Jumpin'" LP by Musique had cost only $16,000 to make.
I asked Patrick Adams what he thought of John's mixes and he told me: "John Morales is certainly one of the angels in my life. At the time that John was involved with us, I always felt that my work was in good hands. The original process of 're-mixing records' was intended to provide an alternative listening experience which had been optimized for people who went out to dance at Discos. The breaks and the unique equalization of bass and drums was for the dancer. The extended versions which built to a fever pitch was for the dancer. The sparse vocals, the swirling string and brass lines punching in and out; All was to make a recording as hot and enjoyable as possible for a dancer!!!
John was one of the early pioneers who loved music, understood his craft and HAD RESPECT FOR THE CREATIVE WORK from which his mixes were derived. A long time ago in a galaxy far, far away Record companies always released the original recording as made by the producer; then as a marketing tool a remix was done to capitalize on club play." [continues in the Patrick Adams page].
As you say, I have also noticed you haven't been properly credited in many of the 12" singles I've got off the list of records you worked on that you sent me. Sometimes someone else is credited as remixer. Could that be because you in some of them where the original mixer of the track and someone else got in and did the remix?
"You, unfortunately, are partially right. Especially in the beginning, many producers did not want to give credit to the people doing the work. I guess that either they wanted the credit for themselves or they didn't want anyone to know who was actually doing it. I know I wasn't the only one not getting credited for the work. I know one thing - I wanted to keep mixing and learning, and stay in the music business, so I didn't complain too loudly. I was grateful for the opportunity I was given and figured it was part of paying dues and I loved what I was doing.
Secondly, as for other remixers, and remixes especially in the mid 80's when mixing 12" really took off, there was a frenzy of mixing going on. Record companies would often get a record mixed by more that one person, sometimes two or three times, whether it was me, Jellybean, Larry Levan, Shep Pettibone, Tee Scott and so on. It would not be rare to see a 12" with different mixes on the same record from different people." [For example Class Action's "Weekend", that has got a John Morales & Sergio Munzibai (M&M) mix on one side and a Larry Levan mix on the other.] "This was done sometimes because the record company either didn't like your mix or they wanted a different treatment on it. Most of us had our own style and signature, at least I know you could always tell an M&M Mix."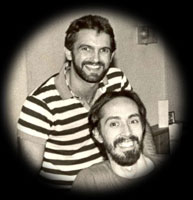 In the early 80's John's name used to be seen together with the name Sergio Munzibai and they remixed a lot of stuff under the name M&M. Tracks for people and groups like Rolling Stones, Thelma Houston, Melba Moore, Ashford & Simpson, MECO, Inner Life, Aretha Franklin, Rose Royce, Miami Sound Machine, Phil Fearon & Galaxy, Shakatak, Shalamar, Dan Hartman, Candi Staton, Five Star, Billy Ocean Odyssey and of course Jocelyn Brown. But the list could go on and on and on...
How much work have you done on your own (as John Morales) and how much was done together with Sergio as M&M?
"I did quite a bit of work on my own prior to M&M, all of the Sunshine and acetate mixes, as well as all the mixing before '82 was done solely by me. We partnered in 1982, when we met at a NY Studio called Blank Tapes where I had worked for many years with Bob Blank. Our first record together was Instant Funk's 'No Stoppin' That Rocking'. After that we pretty much did all our mixes together and M&M was born, except for any mixes done outside of the US. Those were done by me since Sergio was working at WBLS & at Motown Records and was unable to travel. So I did them, but I still kept the credit as if we had both done it."
Can you tell some more about Sergio. Where did he come from? When was he born? What had he done before you two teamed up together? Memories... Yes, anything...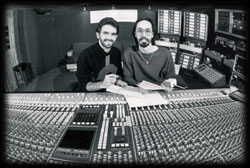 "Well, I will tell you what I remember about Sergio. We pretty much kept our private, and out of studio, lives to ourselves. Sergio was born in Cuba, and if I remember we were both about the same age. He came to the U.S. around the time he was 10. Sergio also started his love for music at a young age, he later became a music teacher and like me, always loved music. He was a DJ working in Manhattan in the late 70's - 80's working at the famous Flamingo Club, he also worked at a club called Chaps and the Rainbow Grove. In the mid 80's, he got a job at WBLS in NY as an Assistant Program Director working with Frankie Crocker, that is how we initially met. As at that time I was also doing tapes for the station, on one occasion we both found ourselves mixing records at the same studio (Blank Tapes). With both of us moving from room to room within the studio to see what the other was doing and exchanging ideas, we slowly developed a friendship and decided that we would make a good team. Thus M&M Mix was born - Morales & Munzibai. We worked together from '82 to about '90.
Sergio, unfortunately passed away around 1993, if I remember, sometimes I'm not very accurate with dates. Sergio was a wonderful person, full of life, he loved music and he was a great people person. Anyone who knew him loved him, and I'm sure wherever he is - he's listening to music."



Download the FREE basic RealPlayer...





CLICK to hear some John Morales remixed songs...





A night to remember
Shalamar

Ain't no mountain high enough
Inner Life

Boogie oogie oogie
A Taste of Honey

Da ya think I'm sexy
Rod Stewart

Dance and shake your tambourine
Universal Robot Band

Down for double
Cubie Burke

Going back to my roots
Odyssey

Haven't stopped dancing yet
Gonzalez

Hooked on your love
Fantastic Aleems

Hot shot
Karen Young

I know you will
Logg

I'm caught up
Inner Life

"Push Push" In the bush
Musique

Instant Replay
Dan Hartman

Lady Bug
Bumblebee Unlimited

Le Freak
Chic

Love sensation
Loleatta Holloway

Native New Yorker
Odyssey

Nice and soft
Wish

Weekend
Class Action



CLICK to hear some related songs...

"Push Push" In the bush
Musique






Click to buy from


Disc 1:
I'm Gonna Love You Just a Little Bit More Baby - Barry White
Circles - Atlantic Starr
Tenderness - Diana Ross
Turn Me Up - Keith Barrow
Can't Live Without Your Love - Tamiko Jones
This Time Baby - Jackie Moore
Just Keep Thinking About You Baby - Tata Vega
Life Goes On - The Jones Girls

Disc 2:
Joy & Pain - Frankie Beverly
Stay - The Controllers
Lover Girl - Teena Marie
You Stepped Into My Life - Melba Moore
Heaven Knows - Donna Summer
Life Is a Song Worth Singing - Teddy Pendergrass
You Got Me Running - Lenny Williams
Walk Away From Love - David Ruffin

Disc 3:
Vertigo/Relight My Fire - Dan Hartman
No One Gets the Prize - Diana Ross
Take Me Home - Cher
Star Love - 3 Ounces of Love
Don't Wanna Lose Your Love - The Emotions
Got to Be Real - Cheryl Lynn
Before I Let Go - Frankie Beverly
Girl You Need a Change of Mind - Eddie Kendricks

Disc 4:
Funkin for Jamaica - Tom Browne
Don't Leave Me This Way - Harold Melvin and The Blue Notes
Let the Music Play - Barry White
Mind On You - Level 42
All Night - Katzuma
Standing Right Here - Mannix
Hi Tension - Hi Tension
Love Is The Message - MFSB


Click to buy from


Disc 1:
Night to remember
There it is
I can make you feel good
Take that to the bank
Second time around
Friends
Dead giveaway
I owe you one
Disappearing act
Make that move
Uptown festival (part 1)
Right in the socket
Over and over
Sweeter as the days go by
My girl loves me
Deadline USA

Disc 2:
Dancing in the sheets
Amnesia
Mix to remember (megamix)
Night to remember (M&M remix)
There it is (M&M remix)
Take that to the bank (M&M remix)
Second time around (extended mix)
Right in the socket (extended mix)
Full of fire (extended mix)
Ooh baby baby
This is for the lover in you
Attention to my baby
Work it out
Circumstantial evidence
Games
Don't get stopped in Beverley Hills

Have you kept all you DJ records and have you got copies of all your mixes/remixes? You must have got a HUGE (and GREAT) collection if you've kept all your records during the years...
"Well, like many of the DJ's from back in the day, I sold all my 12" records years ago and I wish I would have kept them now... But I did keep all the records I was involved in mixed or produced. My discography will list what I have and in and what format it exist, whether I have it in record, tape or cassette form. I feel fortunate that I kept all of what I have. I am sorry I did not take more care in preserving them."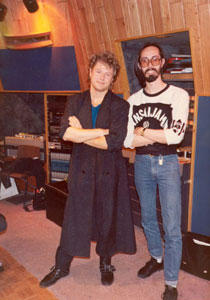 I have got a copy of John's Discography and I can tell you it's a massive and impressive list of work.
As a Mixer/Remixer - How many records have you been involved in? I got the list you sent me of your work during the 80's, but I know there's a lot more before the first one in your list [September '82]... As we've mentioned before "Caught up..." and several others...
"I would venture to think that I have been involved in well over 500 records."
Have you got any special memories as a mixer/remixer you wanna tell about? Or any other special memory?
"I think one of my fondest or funniest memories was when we were remixing 'Too Much Blood' for the Rolling Stones and Mick Jagger was at the studio with us. Mysteriously that morning my leather jacket somehow disappeared. Well, a few weeks later, I received a phone call to find out Mick was wearing it on a picture of him in Billboard. Guess he must have liked it, put it on and left with it, mind you it was snowing, cold, 5am and my house keys was in the pocket.
Another fond memory was the first time I heard a record I mixed on the radio, it was 'Caught Up'. I was so excited to hear it!!!"
How about other remixers, have you got any favorite remixers. Someone whose work you specially liked?
"It's hard to say that I liked anyone's work. We were so competitive back then that we always found something different we would have done on a record someone else would mix. I did like the work of Francois K, as well as some of Shep Pettibone and Arthur Baker's work."
Did you know or have you got any information on these and other of the classic remixers of the Disco era?
"Unfortunately I haven't really kept up or followed any of them. Most of us pretty much kept to ourselves, I think the competitive nature of what we were doing kept most of us at a distance as well as the work schedule we were keeping."
Some special remix by another remixer you just think is so good and that you wished you had done yourself?
"Probably too many to name. You always wanted to be the one to get the call to mix it all..."
Which is your own personal favorite remix of you own mixes?
"I have to say that I am partial to my first hit, Jocelyn and Inner Life's - 'Caught Up', as well as 'Somebody's Else's Guy'... Here is a small list of Some of My Favorite Mixes/Records:"
| | |
| --- | --- |
| Betty Wright | "One Step Up Two Steps Down" |
| Denise Lopes | "If You Feel It" |
| Class Action | "Weekend" |
| Curtis Hairston | "I Want You All Tonight" |
| I Level | "In The River" |
| Evelyn Thomas | "Heartless" |
| Commodores | "Nightshift" |
| Frankie Beverly & Maze | "Too Many Games / Back In Stride" |
| Colonel Abrams | "Over and Over" |
| Odyssey | "Inside Out" |
John follows up by adding; "Those are just a few of the ones I still listen too and brings a smile to my face. I could have listed many more and I am sure I'll regret not mentioning some others."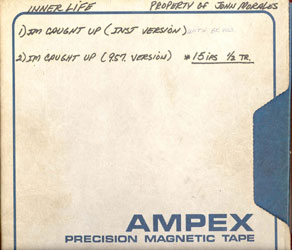 You mentioned in a mail earlier that you were listening to some unreleased mixes/remixes... Have you got many unreleased mixes? Any special mix you think it sad it never was released?
"I'm sure, many if not all of the remixers have unreleased mixes, the bigger question is do they still have copies of them (I KNOW I DO). Many times the record companies or the artist would not like the remix and the record company would not releases it and more than likely it would be sent to be mixed by someone else. I do have plenty of those and am toying with the idea of releasing some kind of CD containing some of the unreleased mixes and songs."
That really sound like a great idea. Especially since John told me he had unreleased mixes/remixes of Leroy Burgess, Fantastic Aleems and Jocelyn Brown tracks... I would die to get to hear those!!!
What about the Disco music - Did you like Disco music during that era, or was it just a job? As being a DJ and Mixer/Remixer I guess you liked it!
"I loved anything to do with music. Even though it was a job, there is nothing like loving what you're doing, and getting paid for it..."
What kind of music do you personally prefer?
"I listen to all kinds of music; Techno, HipHop, Pop, R&B, Country... I like good songs, good music and good singers. I can appreciate almost anything. Right now I'm liking the Techno Anthem Stuff, there's nothing like really catchy hooks."
Since your mixes has helped launched many fine artists during the years... Any special ones you wanna mention?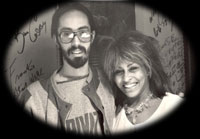 "Well, there is Jocelyn Brown. I would like to think my work with her helped her even though she in my eyes has one of the classic unknown voices of all time. I also worked with Debbie Gibson, Mark Anthony, Miami Sound Machine and many others. There were many act's I think I had some influence and maybe I helped along the way somehow.
I was at the studio when Tina Turner was doing the cover of Al Green's 'Let's Stay Together'... I'd like to think I was helpful there. This picture with Tina, it was taken when she visited WBLS in NY, as it was me who brought the record to Legendary NY DJ Frankie Crocker's attention, who then put the record in heavy rotation, the rest is history.
When and why did you decide to leave the music business?
"I left the music business in 1993. It was not my first choice, however, for a lot of reason during this time the fun and enjoyment I had found in the music had gone. In '93 I developed a severe heart arrhythmia which was pretty bad and that event changed my life. I was pretty sick for a while and after I recovered many things had not only changed in the music business, but changed for me."
Oh, I'm sorry to hear about your heart problem, after recovering, have you been working in the Sports Collecting Business ever since or what have you been doing?
"After leaving the music business and recovering from my ailment I was still working in music but in a different aspect. I started to work for Atari Computers, and C-Lab & Steinberg software as a sales representative promoting their Midi Computer & Software products which I became very good at using."
When looking back on your musical career, What is you best memory from your years in the music business?
"I think my best memories are some of the people and places I was fortunate to meet and see. I was lucky that this work took me all over the world, visiting places I would have only dreamed of seeing. Probably something I would never had experienced or done, had it not been for the love of music."
Finally, Anything else you can think of that you wanna tell me about?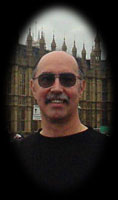 "First off, I would like to thank you for putting me back in touch with Jocelyn. I had been wanting to catch up with her for years... We are now taking about doing something together! I would also like to thank you for the opportunity to share the information on my past experiences and life. To let people know about my accomplishments and my contribution to the music we all love, as I am sure most people are unaware of who and what I and M&M did..."
John ends by telling me; "´For the past few years I have been trying to get back into the music I love so much and somehow lost, my girlfriend Gail now wants me too follow my dreams at 48. My heart is still in it, just lost it's way a bit. I was thinking of doing an M&M greatest hits or best of... using unreleased and reedited stuff as I have many of the master tapes to all my mixes and have almost all the records. It was fun going in my garage and getting them the past few days."
I [Discoguy] for sure keep my fingers crossed that it will happen - soon.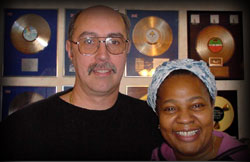 Partly it has actually already happened...
Because in London in February of 2003, John and Jocelyn Brown "Caught up" with each other again - more than 20 years after the classic original Musique release.
Still best friends they're actually talking about redoing some of the classic stuff, like some Inner Life songs and some other VERY interesting tracks...
As you can understand, I'm very happy I managed to hook up these two longtime friends again.
So, make sure to keep your ears and eyes on the lookout for anything from them...
In 2006 John launch his own web-site - www.johnmoralesmix.com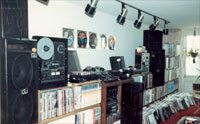 Since the original interview took place John has got to release several different records; John Morales presents the M+M Mixes (volumes 1 to 4), John Morales presents Club Motown, All Q'd Up, and he has been remixing for loads of different acts besides touring the whole world gig'ing as a DJ for club nights like Glitterbox in London and Ibiza (and elsewhere).
So his career really hit off (again) after I had the opportunity to do this piece about him, and he's now busier than ever...
John has been working with numerous of acts and has been involved in well over 800 songs. Both on his own and as part of M&M with Sergio Munzibai.
He has had a great career and has influenced the Disco/Dance music scene with his mixes and as he says himself;
"The majority of my stuff was always very underground. Even from the bootleg days when I was making Acetates at Sunshine...."
That's where it all started!