From social work to the nightlife of NYC, seems like a huge step and actually Barry tells me [Discoguy] that he becoming a DJ happened 'by accident'...
"After College I went to a place called the Firehouse in SoHo where dances were held Fridays and Saturdays. The attendance was OK, about 300 or so people. I went to the owner and complained about the music. That summer I had been out to Fire Island Pines, which was considered one of the premier places to play, since most of the New York DJ's were there as well as the top record people (it was a gay community). The music I heard was incredible and way ahead of what I heard in NYC.
So the guy at the Firehouse asked if I could do better and three weeks later I was playing records. Now I must admit that this was a first for me. My mixing was not the best. However, I played great music which saved the day. Within a month the crowd surges to over 1500 with lines around the block.
I was there for 6 months and then turned it over to Richie Rivera who would make his own name and go on doing his 'Midnight Mixes'. He was a great friend and a much better DJ than me. I miss him."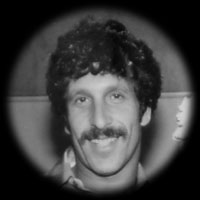 Do you think you had some specific skills or techniques as a DJ?
"My skills were that I chose the right music. I always believed to leave a crowd wanting more. So I would always end my evening with my top records. I knew how to please the crowd."
How could you characterize your playing style?
"As for my style, I will admit it was never the best. There are many many DJ's who could outplay me. However, since I was one of the first I got away with a lot."
After leaving the Firehouse, Barry got new offers and DJ'ed many of the NYC clubs as well as the ones in Fire Island. I had to ask Barry about the different clubs...
Which clubs have you played and any favorite club of those?
"The Clubs I played in were twofold - Straight and Gay.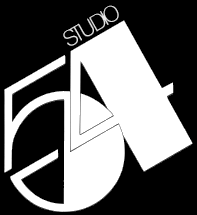 On the straight side were Le Club, El Morocco, Hippopotamus and Doubles, which was located in a very exclusive hotel at 5th Avenue and 60th Street. All of these were very exclusive, even more so than Studio 54. They were Posh and for the rich. Here I was limited to more of the Top Ten hits. I played these clubs from around the mid to late 70's.
But, the clubs that changed my career, and many others, were those out at Fire Island. First there was the Botel, which is where the word 'Tea Dance' originated as the dancing was from 4-7 PM (also at night, but everyone went to the Sandpiper). I was playing at the Botel from '72 to '74 and at the Sandpiper in 1975.
My one and only year at the Sandpiper was 1975. It was a great year but also a difficult one. The crowd at the Sandpiper was a demanding one to say the least. They knew what they wanted and demanded perfection. A good many times I was up to the task and a few I am sorry to say, just didn't work. The advantage was of course the ability to play new music, which they thoroughly enjoyed and encouraged me to go further than I ever would with an audience.
However I am not sorry, for the lesson I learnt was great and the legacy of being a DJ there was an accomplishment. Only the best of the best go on to play there. Others that fit into this category are: Lary Sanders, Tom Savarese and Robbie Leslie, who all came after me.
The Sandpiper was really THE place to be... It was a DJ's dream to play there as ALL the 'right' people went there to dance. I mean Designers, Record Executives, DJ's and all else. It's hard to explain, but the Fire Island was what Studio 54 was later on. 'IT WAS THE PLACE TO BE'.
Prior to me, Tom Moulton made tapes there. His tapes took hours to put together and were perfect! Since he and I had a hold on the Island, we could introduce new songs. Knowing Tom Moulton was a great asset to say the least. He used to tease me with new music until I said 'If I can't have a copy, don't play it for me'. From then on, whenever Tom did a new mix, I was able to get an advance copy.
The year prior to Tom was 1971 and a DJ named Don Finlay played the Sandpiper. This was not his only year there, but his BEST! Though many people don't know of him.
In the city, the Sanctuary was happening, as was the Loft and a few other places."
Would you say there Was a different crowd, musically, in each of the clubs? Were there songs that were floor fillers in one club that didn't work in another club?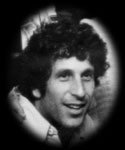 "My favorite place was the Sandpiper, which is now called the Pavillion. Here I would get incredible responses to the music. Although the crowd was on their toes in knowing their music. I always tried to keep ahead of the game. Naturally there was a distinction between playing at a gay club as opposed to a straight one. For the latter, as I said, I stuck more to the hits. With the gay clubs I could experiment more. For example:
When 'Rock Your Baby' and 'Rock the Boat' came out, and I would play them in that order, I got a better response to it from the crowd on the Island. However, as the word spread and radio and the straight clubs picket up on it, so did the audience. Consequently, the straighter crowd was more radio friendly. However, other classics like any of Donna Summer or Gloria Gaynor made it no matter where it was played. I hope you get my drift...
Let me use different songs; Bill Winter's 'Harlem' was an instant hit at the Islands but wouldn't make it at other clubs. Marvin Gaye's 'What's Going On' is another example. This is not meant to be prejudiced, but is what the 'gayer' audiences seemed more receptive to - newer music right away. These examples give you a slight idea of songs that could fill or empty a dance floor."
Yes, I understand, but was there some special "anthems" for some of these clubs?
"As for anthems, certainly 'Love Is The Message' [MFSB], 'Melting Pot' [Booker T & the MG's], Donna's 'Love To Love You Baby' and Gloria's first album were strong all over."
So, have you got any comments or special memories from these clubs?
"As for Best memories, they were at time when I wasn't playing
Certainly some of Tom Moulton's tapes had you dancing all over. Don Finlay in '71 at the Sandpiper and Jimmy Stuard on a New Years Eve. He had pre-mixed a half hour medley of songs that ended exactly at 12, when the Trammps' 'That's Where the Happy People Go' began. This happened at 12 West.
There were also many crazy nights a David's Loft and certainly many nights from Bobby 'DJ' Guttadaro when he played at 'the Grove', which was down the beach from 'the Pines'. He and David Todd were there. They would end the evening with a song from Purlie, a black musical on Broadway at that time. The song was 'Walk Him Up the Stairs' and was gospel sounding and a thrill o dance to."
Which would you consider your best gig ever?
"That has to be a party on Fire Island on the beach overlooking the bay. We had a secret surprise for the guests. The highlight would be a live performance of an African band called Alatunji. We planned the music so at a certain point in the party we had it all tribal and I played one of his tunes from his LP 'Drums of Passion'. At a certain point, he played along with his music and came out live playing the same music. The guests were floored to say the least..."
Besides this exceptional gig Barry has met many of the brightest shining stars of the Disco days and he has a large collection of dedicated signed photos from acts like Cerrone, Amii Stewart, Taana Gardner and lots of others.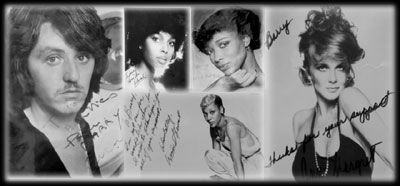 Since being a classic "Disco-DJ", have you got any comments on how the DJ was regarded in the beginning and how it has changed over the years?
"I believe the DJ's of the seventies were more talented then, because they had less to work with, to say the least. They only had their talent of mixing and that was with a 45 that back then might have been under 3 minutes. Today the DJ's have a virtual studio in their booths and the records run easily past eight minutes. In the earlier days the DJ's had to decide quickly what the next song would be. That certainly is not true for today."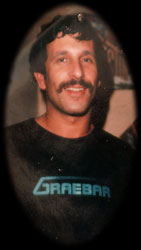 In 1972, Barry together with his friend Peter Spar, went deeper into the club scene by designing sound systems through their company Graebar Productions. There was also lightning guy involved in the beginning called Graham Smith, and the company name was built by using the first 3 letters of Grahams name together with the 3 first of Barry's - GRA+BAR. They added an 'E' to get GRAEBAR so it wouldn't be too similar with the NYC Grayber Building.
Which clubs did Graebar install?
"The clubs we installed were 'the Botel' at Fire Island Pines along with the Saint, 12 West, the Anvil and Les Mouches in New York City.
We installed Salvation in Miami, Trocadero Transfer in San Francisco where Bobby Viteritti played and Probe in Los Angeles. We also did a club in Toronto, whose name escapes me and Resorts International in Atlantic City and another in the Virgin Islands."
Which one of the above was your first installation?
"The Botel was the first. But we more or less just upgraded it."
Which system was the best you installed, in your opinion?
"The best system was 'the Saint', though '12 West' comes close behind since the room was perfectly acoustical for our system."
For how long did you run Graebar?
"The name actually still exists today, though we no longer design sound systems. My partner Peter Spar passed away some 20 years or more ago. I use the name for my fashion company as well as sound rental, where I use JBL speakers."
So what about the equipment that were used back then, compared to today?
"Our equipment was self designed and included special made tweeter arrays and bass bottoms hidden as part of the seating. It had a smooth rich sound as opposed to many others that were louder and had a 'Boom' impact, like for example Paradise Garage.
We installed the systems with Thorens and later Technics turntables and, of course, Bozak mixers. Our systems were loved by all DJ's that played on them.
Today is a whole new ballgame and the sound at many clubs is great."

In 1976 Barry took over the Billboard Disco Mix column, when Tom Moulton felt he didn't have enough time to do it no more. Barry wrote the column during the whole peak of the Disco era, from 1976 to 1982. For 6 years he run the column in his own positive and up-tempo style, informing on the latest dance floor tracks as well as industry news along with Club Play charts from the hottest Disco DJ's around. The column was read by EVERYONE in the music business and a good review could actually make it for a new artist.
Besides your early job as a Social worker and then DJ'ing, Graebar and Billboard - have you been working with something else and what do you do today?
"I stopped playing around 1980 and after DJ'ing I was involved in doing music for fashion designers here in the US and also in Europe. I still do it today and we are quite well known and respected in the industry as we have worked with so many top people."
Among these to designers you find Tommy Hilfiger, Calvin Klein, Donna Karan, Ralph Lauren, Oscar De La Renta, major store's like Saks, Macy's, Bloomingdales, Bergdorf Goodman, Nordstrom as well as fashion magazines like Elle, Vanity Fair and Glamour.
Did you know many of the other great DJ's of the Disco era?
"I have known almost all of the DJ's from day one as I was in the New York Record Pool and later For the Record from the beginning. I was promoting the Pool to all the top DJ's in the city to have them join up.
I knew Rob Leslie, Larry Levan, Roy Thode, Jim Burgess, Richie Kaczor from '54', David Mancuso, Nicky Siano and so many more..."
Have you got any comments or memories on them?
"My comments are all really the same - They were all pioneers and great in bringing wonderful music to the masses.
DJ's are like actors on a stage, trying to turn on a crowd with their own performance. Good DJ's make a good night as good actors make a play."



Download the FREE basic RealPlayer...





CLICK to hear the Barry Lederer remixed song...

Sesso matto
Sessomatto



CLICK to hear some Barry Lederer favorites...

Life & death in G&A
Abaco Dream

Love is the Message
MFSB

Love to love you baby
Donna Summer

Rain 2000
Titanic

Woman
Barrabas



CLICK to hear some related songs...

Date with the rain
Eddie Kendricks

El bimbo
Bimbo Jet

Free man
South Shore Commission

Hijack
Barrabas

Rock the boat
Hues Corporation

That's where the happy people go
Trammps

Wild safari
Barrabas






Click to buy from


Can't Stop Talking - Jeanie Browne
Big John - Undisputed Truth
Law Of The Land - Temptations
And They Call That Love - Vernon Birch
We're Getting Stronger - Loleatta Holloway
Get Into Something - Isley Brothers
Yes We Can Can - Pointer Sisters
I Can Understand It - Bobby Womack
I Got It - Gloria Spencer
Sand And Dance - Bar-Kays
Love Epidemic - Trammps
I'm Gonna Let My Heart - Supremes
Harlem - Bill Withers
Crazy Bout My Baby - Bonnie Bramlett
Exuma – Exuma
Giving Up - Za'ema

Click to buy from


Funky Sensation - Gwen McCrae
Over Like A Fat Rat - Fonda Rae
Can't Play Around - Lace
What Can I Do For You? - Labelle
Always There - Side Effect
Why Leave Us Alone - Five Special
Is It All Over My Face - Loose Joints
Free Man (Disco Version) - South Shore Commission
Bad For Me - Dee Dee Bridgewater
I Love Music - The O'Jays


Click to buy from


Just Us - Two Tons O' Fun
Baby I'm Scared Of You - Womack & Womack
Somebody Else's Guy - Jocelyn Brown
Touch And Go - Ecstasy, Passion & Pain
Love Is The Message - MFSB
Running Away - Roy Ayers Ubiquity
Now That We Found Love - Thirld World
Bra - Cymande
Down To Love Town - The Originals
Over And Over - Sylvester


Click to buy from


Give Your Body up to the Music - Billy Nichols
Weekend - Phreek
You Got Me Running - Lenny Williams
I'll Do Anything for You - Denroy Morgan
Runaway Love - Linda Clifford
Girl You Need a Change of Mind - Eddie Kendricks
I Want to Thank You - Alicia Myers
Clouds - Chaka Khan
Vertigo/Relight My Fire - Dan Hartman
Music Got Me - Visual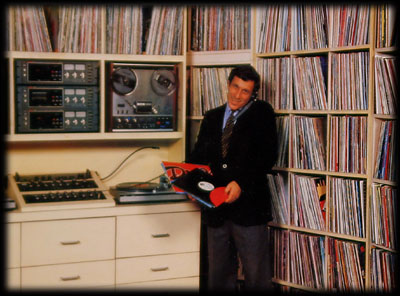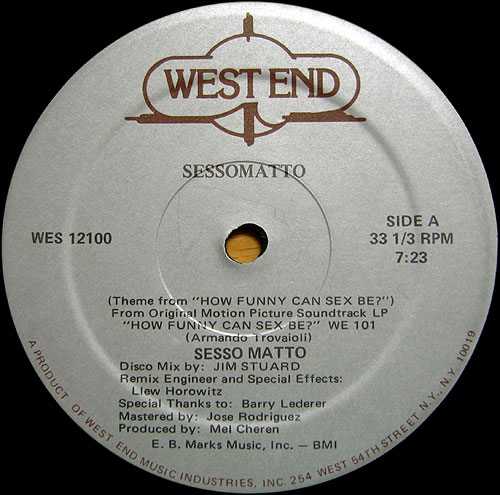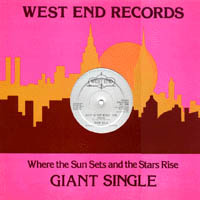 Many Disco DJ's went into remixing as well and I know you were involved in the first WestEnd Records 12" single - "Sessomatto" by Sesso Matto. Have you been remixing anything else?
"The only song I ever remixed was just 'Sessomatto' together with Jimmy Stuard. But most of the later DJ's, in the 80's, went into remixing."
Have you still got your DJ record collection, or have you sold it off as many others of the classic DJ's?
"Luckily I have most of my collection, some 40'000 12" singles and LP's and about 5'000 CD's. But I'm beginning to transfer the vinyl to CD's, due to lack of space."
Yes, 40'000 vinyls sure take up some space, but can you name some of your favorite Disco songs in your collection?
"Wow, Favorite records... There are so many... Here are just a few:"
| | |
| --- | --- |
| Abaco Dream | "Life and Death In G&A" |
| Equals | "Black Skinned Blue Eyed Boys" |
| Detroit Emeralds | "Feel the Need In Me" |
| Bill Withers | "Harlem" |
| Dorothy Morrison | "Rain" |
| Jimmy Ruffin | "Tell Me What You Want" |
| Barrabas | "Woman" |
| Titanic | "Rain 2000" |
| MFSB | "Love Is the Message" |
| Booker T & the MG's | "Melting Pot" |
| Eddie Kendricks | "Girl you need a change of mind" |
| Glass House | "Working On A Building Of Love" |
| Donna Summer | "Love To Love You Baby" |
| Voyage | the Album |
| Boris Midney | Pinocchio - Album |
Many true and hard-to-find classics there and by the songs I guess you liked Disco music at the time and didn't only consider it a job?!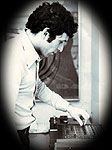 "NO ! I loved Disco music as I do today. It wasn't a job, but a pleasure !"
What kind of music do you personally prefer these days?
"Believe it or not, I like Country with Electronica as a close second."
So have you got any other favorite memories from back in the Disco days?
"One of the great moments for me, wasn't when I was playing but when my company did the sound for Beach 79 at the Pines. There were several thousand people dancing on the beach to the music of Jim Burgess with a special performance by Bonnie Pointer. I met her at the airport with a limo and hurried her off to the Island. She was a hit and had the crowd screaming. A fun light to say the least. This was the beginning of the Annual Beach Parties held at the Pines."
When I was in New York in October 2006 I had the pleasure of visiting Barry in his midtown Manhattan home.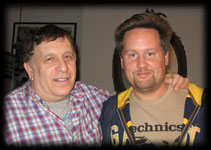 His home was filled with records, CD's, stereo and recording equipment, framed photo's/original fashion drawings with dedications to Barry... and the largest TV I've ever seen in a private home.
I had a great time and we were talking music, the business and of course the Disco days. He showed me many of his classic Billboard Disco Mix columns and he also gave me a bunch of CD's he had burned from original Disco DJ reels he had in his possession, stuff like some original Tom Moulton mixed sessions he made for the Sandpiper in 1974, Jim Burgess mixes, mixes from Robbie Leslie, Roy Thode and Alan Dodd among others... Just AWESOME!!!
So - THANKS Barry!
Sadly Barry passed away in Spring 2008 and the official date of death is May 31, 2008.
Barry will be missed - for sure!
As you can read above Barry has been doing A LOT in the Disco music business over the years and is still contributing by making sure fashion shows are getting the right music...
So you better trust the guy who played Disco in the clubs during the Disco era...

"IT WAS THE PLACE TO BE"


Find Barry's thoughts (and reflections) on different aspects of the Disco Era
and the Music scene in general in the FORUM.