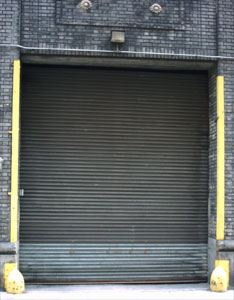 The club was strictly "MEMBERS ONLY" and if you got past the body search by the guards in the entrance, you walked up the runway, up the hill and feel the pumping music hitting you by every step.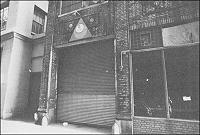 You could stop by the changing room to get into your dancing clothes or you could head directly to the huge dancefloor, which would hold up to some 2000 people.
By the dancefloor was also the stage, ALL the best artists entered this stage, people like Grace Jones, Patti LaBelle, Chaka Khan, Karen Young, Colonel Abrams... The list is endless. Some famous acts like Gwen Guthrie and others actually started their careers on that stage.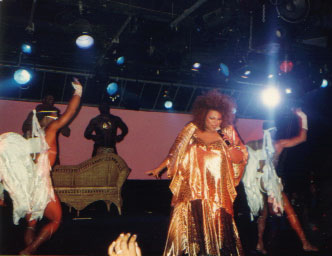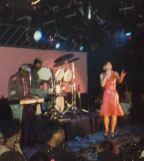 Above the dancefloor was Larry's domain, the DJ booth, from where he ruled his kingdom and set the mood of the crowd with his remarkable mixes. Surrounded by massive security, no one, except the ones Larry agreed to, could enter his booth. One guy who spent most of his time up there was Larry's right wing man; David DePino, who was also a DJ at the club from day one till closing.
One of the few female DJ's Lizzz Kritzer was introduced to Larry and the Garage by another famous female DJ - Sharon White.
Sharon is actually the only female DJ to ever play at the Garage and she still consider the club as one of her favorite clubs.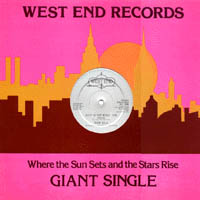 Another guy who made his way all the way up to Larry in the DJ booth was this young talented writer, a guy called Kenton Nix. Kenny had this test pressing of a song of his, a song he called "Work that body". The record didn't even have any vocals yet, but Kenny gave it to Larry. Larry and the crowd loved the record and Kenny asked Larry if he couldn't help him get the record to SalSoul Records.
Larry said; "No, we're not gonna go to SalSoul this is a West End's Record, we gonna give this to West End." And since Mel Cheren, the owner and former of West End Records, was part owner of the club along with being Michael Brody's lover and life partner - Kenton got to meet him, it hit off and the rest is history.
"Work that body" was released by West End but now there was vocals added to the song from this young lady named Taana Gardner. The song was (of course) remixed by Larry and was followed by other Kenton penned and Larry remixed hits for Taana like "When you touch me", "No frills" and the song that's actually West End's biggest hit today - "Heartbeat".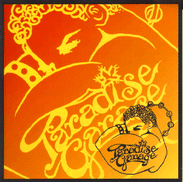 Not very surprisingly, the Paradise Garage was also the place where the same Taana Gardner did her first gig. This was what Taana told me; "Yes, that was my first gig and that place... The intense there was nothing but... emotion... I mean love... I associate it with, I know it might sound like a cliché, but I'm telling you - when I got up on that stage there, some times... I would just stand there and absorb the energy 'cause I felt it was so warm. The energy was warm to me and the longer I stand there the more they would applaud me... Hahaha! I would say 'God... You all know how to make a woman feel good up here!' There's no audience like the Garage audience. Never! There's none!".
Taana went on telling me that her best memory during her years in the music business was actually from the Garage; "It's 'When you touch me' - the first time performed on the Paradise Garage stage... I had on a Patrick Kelly mini skirt with matching shoes, my hair was gorgeous. I stood in there, and that's the night I was telling you about before - how the energy is so real. I stood behind these curtains, it was see through and they had little diamonds all over the curtains and I stood backstage. I stood back in there and those people screamed and yelled before I even opened my mouth - before the music even started. I'll never forget that night. I just stood there and I mean, I was... they had to keep starting the tape again because I was just tearing up because they were just giving me so much love."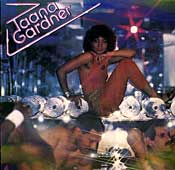 On the Taana Gardner album there was this Kenton Nix written song called "Paradise Express", this was Taana & Kenny's Tribute to the Paradise Garage. Kenton almost got lyrical when we started talking about the Garage; "Yeah, the Garage was like... It was like a sanctuary! The Garage was, it was... were there you heard the best music, you just danced with the best dancers. Even if you couldn't dance you got better. It was THE trendiest place. It was THE trendsetter, I mean, what happened in there definitely set the piece for everybody. I mean, Calvin Kline would come, everyone would come there and it was just incredible. It's almost indescribable, walking up that runway and walking up the hill and hearing the music... You know, the way Larry played it, it was, it was just something that would never be again. I would love to see it, but it's just something that's... that's almost like - perfect. Hahaha... (burst out laughing) Yeah, you know, almost perfect."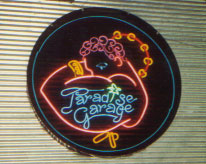 As said before, not many could enter the DJ booth, but everyone could relax in the movie room or... get up on the famous rooftop patio. Someone once said; "Being on the rooftop for Sunday morning sunrise, was the most beautiful thing in NYC clublife. There will never be another.".
In the movie room films like Altered States, Divine Madness, Tootsie, Midnight Cowboy, Swept Away (the 1974 Italian original) and Mark of the Devil could be seen. Maybe someone recall other movies shown...
You could also stop by the bar. The club didn't serve any alcohol, but everything in the club was free once you had paid your entrance fee. In the bar you could dig in on the fresh fruits and snacks, or drink juices and other refreshments, while checking the dancefloor move to the beats Larry played in his own wicked way. Larry's very own mixing style, were he used a songs instrumental parts, break beats and accapellas to make completely new "live" remixes of the songs he choose to play, inspired lots of other DJ's to try the same and made the audience go wild...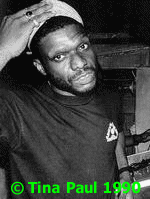 Paradise Garage really got THE best DJ ever and I have never heard anyone saying something bad about Larry... Kenton Nix told me this about his friend; "Oh... I still think he's the greatest of all times. Larry is the greatest of all times... You know, he will go down in history as that. I mean, every DJ knows it. Every DJ knows it. So, you know... it's... like I said, it must be heavy to revered as much as this guy has been musically. There's really nothing you could.. You would really be cheating him if you said anything less."
Another comment I've heard is; "On the deejay side Larry Levan was huge!! His mixes were like 'butta' smoothe, hot dripping and wet!!! He truly was a pioneer of the beat mix, and now there is actually a Grammy award for 'Remixer'. I would love to see a posthumous award in his honor..." and I can really agree with that.
Other comments on his very wicked, but still great, spinning is stories like this; "The best night of my life was June of 1984, when Larry played 'Music is the Answer' by Colonel Abrams for one whole hour! Mixed up with Betty Wright's 'One Step Up, Two Steps Back'!.
Another story is when he first played the Peech Boys' "Life is something special". He teased everyone by playing bits and pieces of it mixed into other records throughout the whole evening until he finally decided to play the whole thing. But a "standard" Levan mix would usually last for some 15-20 minutes with added extracts of other songs and sound effects.
He really know his value and the effect he had on the crowd, you can say he was kind of a Diva in his own way - You know, sometimes he wouldn't play the next record until you applauded him.
But actually Larry was not playing the club all the time... No, there was a time when the management started what they called White Parties, since they thought there were too many Black kids in the club. They brought in other DJ's like Jim Burgess, Howard Merritt, Roy Thode and Sharon White. And for about 4 Months there were no Black people in the Garage and when Larry finally took over again, some of the original Black folks never came back.
During this time Larry was out clubbing and among others, Steve Rubell of Studio 54 tried to convince Larry to start playing the '54' instead, but Larry just replied "They're not ready for me yet.". And soon enough he was back at 'the Garage' again.

Larry was known for breaking new records and was always among the ones getting the latest releases first to try them out in the Garage. For example "Serious, Sirius Space Party" by Ednah Holt was one of Larry's favorite songs in 1981 [he as actually the one remixing that track] and below you can find his favorites playlist at the Paradise Garage in December 1978:
"Chains/Cream (Always rises to the top)" Bionic Boogie
"Contact" Edwin Starr
"Feed the flame" Lorraine Johnson
"Hold your horses" First Choice
"I don't know it it's right" Evelyn "Champagne" King
"I will survive" Gloria Gaynor
"I'm every woman" Chaka Khan
"Je suis music/Rocket in the pocket" Cerrone
"Kiss me again" Dinosaur
"Lady Bug" Bumble bee Unlimited
"Le Freak/I want your love" Chic
"My claim to fame/True love is my destiny" James Wells
"Shoot me (with your love)" Tasha Thomas
"Souvenirs/Kechak fantasy/Eastern trip/Tahiti, Tahiti" Voyage
"You stepped into my life" Melba Moore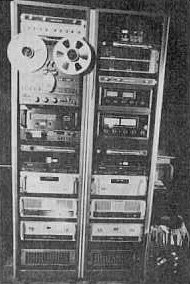 But it wasn't only the DJ [Larry] and the music that was something extra at the Garage. No, together with the sound engineer of the club - Richard Long - they managed to put together the world's best sound system... It has been told that the whole system were sold for some half a million dollars (!!!) to the Ministry of Sound in London when the Garage were forced to close down in September 1987. But that's NOT true... The sound system was installed at a club called the Paradise Ballroom on W. 43'rd St., New York. Sadly that club didn't live that long and the system was actually auctioned off.
Gary Stewart, owner of GSA [Gary Stewart Audio] based in New York, still offers some of the original RLA [Richard Long & Associates] designs, electronics, speakers and consoles. Gary tells me that the RLA system at the Ministry of Sound was purchased new and only had 3 components that were similar to the ones in the Garage;
The RLA X3000 3 way DJ crossover
The RLA Bertha/Levan Sub Bass cabinets
The RLA Tweeter Arrays
The RLA system @ Ministry of Sound employed some of RLA's new designs including; the Puissance - the GSA horn loaded main bass box named after Kenny Powers [Puissance = Power in French], Double "D" - Double D or DD Horn is a low mid device with 2 x 12" transducers and finally - the tried and true Levan Bass horns.
The Ministry's system was designed and maintained by the New York based sound company GSA [Gary Stewart Audio].
GSA has been involved with some of the original people associated with Richard Long & Associates, including the very talented Kenny Powers - who was Richard's dear friend, employee and confidant. Mr. Powers became the owner of RLA after Richard's untimely death on December 9'th, 1986 and with the company Kenny got the complete archive of Richard's drawings, design's and schematics, this also includes many designs that Richard was never able to implement before his death.
In 2010 Kenny has joined with Gary Stewart of GSA to jointly build a new Sound System in New York City. This new system will be a dedication to Richard Long. RLA designs are available through GSA - the company that has engineered and installed some of the highest top rated Sound Systems Internationally.
The RLA's technology was far ahead of the time and that could really be heard in the Paradise Garage. Because, from any point on the dancefloor, center to sides and corners, the bass was numbin', clean and forceful thumping directly into your breast bone. However, the most amazing thing was you could not tell where the music was being generated. There were no bulky sub woofers. Many clubs have tried to create a sound system as good, but no one has yet succeeded.


I got a chance to interview Mel Cheren about West End Records, the Paradise Garage, Larry Levan and other things some time ago and Mel told me this; [the late] "Michael Brody was my life partner, so the connection to the Garage was natural. I've got lots of memories of Larry Levan and the Garage that are very important to me."
Mr. Cheren shares much more of his memories of the Garage, his life, West End Records, Larry Levan and the whole Disco Era in his book - Keep on Dancing. Check it out it!!!
Mel continues talking 'bout the Garage and the book... "I really hope someone would like to make a movie out of the book and that they for the movie would restore the Garage to its original condition. And then open it again with a diner in the bottom floor, which never was used before, like the Hard Rock Cafe or Planet Hollywood. I really wish the profit should go to charity. Also, I've got the ashes of the late Larry Levan and I would like to have the urn with the ashes in the entrance of the Garage so the fans from all over would be able to see it.".
I asked if he have got any other special memories or comments on some of the Garage, Larry or something else. Mel told me; "I've got too much memories to tell... That's basically the whole book. But everything of Michael, Larry, the Garage and the whole start of the Disco era is very precious to me."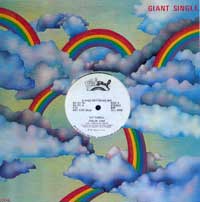 But Larry and the Paradise Garage wasn't just part of the Disco era... No, due to the fact Larry was such a very hot and popular DJ he also became a very sought for remixer of 12" singles. His remixes are much like the style he had when spinning at "the Garage". It's almost like a dub type kind of mixes, often with long instrumental parts and building DJ-friendly intros. On top of this he put lots of heavy basslines... And his remixes sounds as brilliant today as they did around 20 (!!!) years ago.
Most of his remixes can be heard on the "New York Labels", i.e. West End, Prelude and Salsoul.


A MUST HAVE for any Garage fan is the West End Records CD release - Larry Levan Live at the Paradise Garage. It's a live Larry DJ set from the Garage in 1979. Tracklisting as follows:
Disc One
Ashford & Simpson "Bourgie bourgie"
Damon Harris "It's music"
T-Connection "At midnight"
Stephanie Mills "Put your body in it"
Crown Heights Affair "Dreaming a dream"
Bunny Sigler "By the way you dance (I never knew it was you)"
Shalamar "Right in the socket"
Cher "Take me home"
Melba Moore "Pick me up, I'll dance"
Munich Machine "Get on the funk train"
People's Choice "Here we go again"

Disc Two
People's... "(...continued)"
Motown Sounds "Bad moutin'"
Supremes "Let yourself go"
Change "Angel in my pocket"
Janice McClain "Smack dab in the middle"
Jakki "Sun... Sun... Sun..."
John Gibbs & the US Steel Band "Trinidad"
Chi-Lites "My first mistake"
Jermaine Jackson "Erucu"
When Disco "died" in the early eighties and new dance music styles started coming around - like the up-tempo Hi-Energy and Chicago's House music... New York had it's own type of House music and Levan was of course one of the pioneers in developing this new style - and what would be more appropriate than calling the New York sound after "Larry's" Paradise Garage - the New York sound was of course called Garage. Personally I think Garage music is the closest you can get to good old real Disco music, great vocals on driving beats and nice melodies. I just love it - Disco and Garage.
There were also a record label associated with the Paradise Garage - the label was called Garage Records and had the same male logo but with Garage Records as the text.
Garage Records was the child of Larry Levan and it was on this label he had his and Michael de Benedictus' act, n.y.c. Peech Boys, signed to. The label's records was originally released by West End Records but was later moved to be released by Island Records.
Larry signed for example Gwen Guthrie to Garage Records and it was for this label he released the famous Padlock album.



Download the FREE basic RealPlayer...

CLICK to hear some Paradise Garage favorites...
Boogie oogie oogie
A Taste of Honey

I love the nightlife
Alicia Bridges

Found a cure
Ashford & Simpson

You can't have your cake and eat it too
B.T. (Brenda Taylor)

Give your body up to the music
Billy Nichols

Lady Bug
Bumblebee Unlimited

Street player
Chicago

Weekend
Class Action

Brick house
Commodores

Got to have loving
Don Ray

Ten percent
Double Exposure

Don't turn your back on love
Eloise Whitaker

Shame
Evelyn "Champagne" King

You're too late
Fantasy

Dr. Love
First Choice

Love insurance
Front Page

You got my love
Front Page

Rio de Janeiro
Gary Criss

Keep on dancin'
Gary's Gang

Ain't nothin' goin' on but the rent
Gwen Guthrie

Padlock
Gwen Guthrie

Peanut butter
Gwen Guthrie

Seventh heaven
Gwen Guthrie

Boogie nights
Heatwave

Ain't no mountain high enough
Inner Life

Everybody
Instant Funk

I got my mind made up
Instant Funk

Slap, slap, Lickedy lap
Instant Funk

This time baby
Jackie Moore

Smack dab in the middle
Janice McClain

Hot shot
Karen Young

Can't play around
Lace

I know you will
Logg

Strong enough
Loleatta Holloway

Disco Circus
Martin Circus

In the bush
Musique

Keep on jumpin'
Musique

Don't make me wait
NYC Peech Boys

Weekend
Phreek

Ooh, I love it (Love break)
Salsoul Orchestra

Body music
Strikers

Do what you wanna do
T-Connection

Heartbeat
Taana Gardner

No frills
Taana Gardner

Paradise Express
Taana Gardner

When you touch me
Taana Gardner

Work that body
Taana Gardner

Can't live without your love
Tamiko Jones

Don't leave me this way
Thelma Houston

Sure shot
Tracy Weber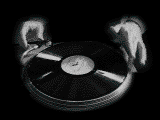 Listen to Larry Levan LIVE...
Paradise Garage 1982 - Part 1
Paradise Garage 1982 - Part 2
Paradise Garage 1985
Paradise Garage 1986
Paradise Garage 1986
Paradise Garage 1987
Paradise Garage Closing party 1987
Mixes are not for sale...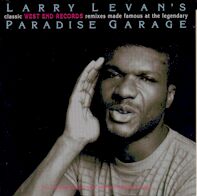 Click to buy from


Heartbeat - Taana Gardner
Serious, Sirius Space Party - Ednah Holt
No Frills - Taana Gardner
Don't Make Me Wait - New York Citi Peech Boys
Let's Go Dancin' - Sparque
Is It All Over My Face - Loose Joints
Work That Body - Taana Gardner
Give Your Body Up to the Music - Billy Nichols
When You Touch Me - Taana Gardner


Click to buy from


Disc 1:
Bourgie bourgie - Ashford & Simpson
It's music - Damon Harris
At midnight - T-Connection
Put your body in it - Stephanie Mills
Dreaming a dream - Crown Heights Affair
By the way you dance (I never knew it was you) - Bunny Sigler
Right in the socket - Shalamar
Take me home - Cher
Pick me up, I'll dance - Melba Moore
Get on the funk train - Munich Machine
Here we go again - People's Choice

Disc 2:
...continued - People's...
Bad moutin' - Motown Sounds
Let yourself go - Supremes
Angel in my pocket - Change
Smack dab in the middle - Janice McClain
Sun... Sun... Sun... - Jakki
Trinidad - John Gibbs & the US Steel Band
My first mistake - Chi-Lites
Erucu - Jermaine Jackson


Click to buy from


I Got My Mind Made Up - Instant Funk
Handsome Man - Sparkle
First Time Around - Skyy
Double Cross - First Choice
Greatest Performance of My Life - Loleatta Holloway
How High - The Salsoul Orchestra
Make It Last Forever - Jocelyn Brown


Click to buy from


Keep on dancin' - Mel Cheren: My life and the Paradise Garage