So how come you became a DJ?
"My love of music and a little luck, got me involved in High School with the Staples High School radio station. By the time I graduated I was the General Manager of the largest high school radio station in the country. At the radio station, I learned to handle turntables & recording equipment.
When I went to college (Georgetown), I decided that instead of working at the radio station, I'd rather play records at the pub. I asked if I could start up a Disco Night at the Georgetown Pub. Freshman weren't even allowed to work at the Pub but they gave me Tues night. No one went out on Tuesday nights! It was 1975 and the rest is history. Disco night at the pub became the most popular night with people coming from all over Washington to dance. I had no idea how to mix records but I knew how to blend them like we did on the radio. Guys from New York used to bring me their favorite records. It was a ball..."
In 1978 Lizzz moved to New York and got introduced to another world of Disco than the Pub in DC... The nightlife in the Big Apple had everything to offer and Lizzz became part of it as DJ in various clubs and also a residency at La Folie.
So how would you describe your playing style?
"My music was good and I had a good work ethic. But I was never a star."
Have you ever done something else - Or has DJ'ing been your life?
"In 1980 (while I was still DJ'ing) I got involved with my current profession, Advertising Specialties. In 1982 I stopped playing in clubs to devote my energy to my day job. Now I am the owner of Kritzer Marketing, one of New York's leading Ad Specialty agencies. Ad specialties are items branded with a company logo: t-shirts, coffee mugs, pens, etc."
Which clubs have you played? Any favorite club(s) of those?
"I was the second woman to ever play The Saint on May 26, 1982. I also played twice at the Pines Pavillion in Fire Island Pines (also in 1982). I was the house DJ at Flynns in Ocean Bay Park on Fire Island in 1980 and I was the house DJ at La Folie on 61st & Madison in 1979.
Those were my favorites. Another one of my favorite gigs was making tapes for Fiorucci on 59th Street in NYC in 1979-1980. It was the coolest store, a real scene. They used to lend me their reel-to-reel and I would take it to my house, stay up all night and make music for them."
Would you say there was a different crowd in each of these clubs?
"ABSOLUTELY, playing in some of the clubs was hard work. One bad mix and the dance floor would clear. Or worse, you could get booed at! In other clubs, they wanted happy party music. Something that they knew and heard on the radio. Mixes didn't matter at all!"


Any comments or special memories from these clubs?
"My favorite club moments were on the dance floor at the Ice Palace in Cherry Grove and on 57th St, Flamingo, The Garage, The Pavillion and The Saint. These were special times. Special clubs. Special DJ's..."
Since you started your Club-DJ career back in 1975 - have you got any comments on how the DJ and Disco music was regarded in the beginning and how it changed during the years?
"In the beginning it was so underground. It belonged to us. After Saturday Night Fever, disco became an Industry and eventually ate its young."
Any comments on the techniques, equipment and stuff like that?
"Music sounds better on vinyl!"
As one of the few female DJ's - did you feel you were treated differently than your male colleagues? In what way?
"As a woman I think it was easier to get jobs. I was a novelty. Working for the men was a harder gig to get. But I did."
Did you female DJ's get the same kind of money and status?
"I had status in my own little world but I wasn't a 'star'."
Which was your best DJ gig ever?
"The Saint. No question! I quit DJ'ing after that night because there was no where to go from there."
The Saint had mainly a male crowd - Was this club more demanding, both musically and technically (DJ wise) for the other clubs?
"Worlds apart. In the other clubs there was no down tempo (sleaze) music. The crowd wanted fast party music, preferably something very familiar. Good mixing was not necessary. Just put on a good dance tune and everyone was happy. In the Saint, the mix was as important as the song and there was an opportunity to play new, interesting music. Also, in the similar clubs I played in, there was a longer night and time for uptempo and sleaze music."
Being a DJ in the Disco days - Did you have any "mentor(s)"?
"Sharon White was my tutor/mentor. I owe EVERYTHING to Sharon and my friends... Especially, Roberto Blain who made the case for me to play at The Saint.
But, when I met Sharon I had just moved to NY and was DJ'ing at La Folie. She was the DJ at the Sahara and was working at RSO Records as promoter. Everywhere I went in the DJ world, people would mention her and tell me I should meet her. So finally, I called her at RSO and made an appointment to come to her office. I stayed there all day and watched the top name DJ's come by to pick up their records - Howard Merrit, Roy Thode, Ritchie Rivera... I was in awe. She knew all the stars!
Sharon introduced me to some of the best clubs around - some nights we'd go to Flamingo and some nights we'd go to the Garage.
At Flamingo, the MOST PRIVATE, exclusive club, everyone greeted Sharon with warmth and respect. After a few times there with Sharon, they told me I was welcome anytime on my own. This lead to my own Flamingo membership.
At the Garage, I used to store my coat under Larry Levan's turntables and we would hang out in the booth.
Sharon introduced me to many of the anthem songs that predated my arrival in NY and she got me into For The Record record pool - top top DJ's. For The Record was exclusive and I was thrilled to be a member. Every week, you would go to the office and pick up a box of free promotional records.
Sharon introduced me around and helped to give me the attention that eventually lead to me being the second woman, after Sharon, to work the turntables at The Saint.
Sharon was also very supportive of other female DJ's like; Susan Moribito and Wendy Hunt. Sharon really deserves a place in disco history."
Sharon White said the following about Lizzz in my interview: "Lizzz Kritzer was one of the first women to make the crossover in the NY scene. She had a unique musical sensibility all her own. We recently got back in touch when I came out of retirement last year."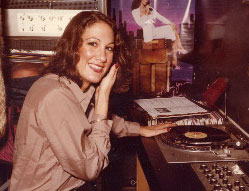 Did you know some of the other great DJ's of the Disco era?
"Through Sharon I met them all, Howard Merrit, Roy Thode, Robbie Leslie, Larry Levan..."
Have you got any comments/memories/info about them?
"I have so many. I don't know where to start. Everything disco was my life for years - the clubs and the music. My memories are all about amazing music & amazing club nights. Nothing really more to say.
I think my favorite DJ was Roy Thode playing at the Ice Palace in Cherry Grove in 1980. He played Saturday nights. I would arrive at 4:30 am (after I finished DJ'ing at Flynn's in Ocean Bay Park on Fire Island) and we would dance till mid morning. The music was sublime. And then everyone would walk home on the beach."
Many Disco DJ's went into remixing as well - have you ever been remixing? Which acts/songs?
"I remixed one record. It was a lousy song to start with and it never got any play. But I am proud to have my name on a record label and I have it framed in my home!"
That's really cool, even though it was not a hit record. What was the song called and who was the artist?
"The song was called 'Trust Me' and is by Iris Starr."
What about your other records... Have you kept your DJ record collection through out the years? You must have got a HUGE (and GREAT) collection if you've kept them during the years.
"I have everything. I imagine that I must have one of the best existing disco record collections in the world. I was a member of For the Record record pool and between getting all the promotional copies & buying records... I think I have it all."
I take it you liked Disco, but for the record I must ask: Did you like Disco music during that era, or was it just a job?
"I LOVED IT. But of course, some nights, it was just a job."
What kind of music do you personally prefer?
"I like dance music, rock, pop and country."
I know this might be an impossible task, but can you name some of your favorite disco/dance tracks?
"A sampling of my favorites:"



Download the FREE basic RealPlayer...

CLICK to hear some Lizzz Kritzer favorites...
Down to love town
Originals

I'll always love my Mama
Intruders

Touch and Go
Ecstacy, Passion & Pain




Click to buy from


Funky Sensation - Gwen McCrae
Over Like A Fat Rat - Fonda Rae
Can't Play Around - Lace
What Can I Do For You? - Labelle
Always There - Side Effect
Why Leave Us Alone - Five Special
Is It All Over My Face - Loose Joints
Free Man (Disco Version) - South Shore Commission
Bad For Me - Dee Dee Bridgewater
I Love Music - The O'Jays


Click to buy from


Just Us - Two Tons O' Fun
Baby I'm Scared Of You - Womack & Womack
Somebody Else's Guy - Jocelyn Brown
Touch And Go - Ecstasy, Passion & Pain
Love Is The Message - MFSB
Running Away - Roy Ayers Ubiquity
Now That We Found Love - Thirld World
Bra - Cymande
Down To Love Town - The Originals
Over And Over - Sylvester


Click to buy from


Give Your Body up to the Music - Billy Nichols
Weekend - Phreek
You Got Me Running - Lenny Williams
I'll Do Anything for You - Denroy Morgan
Runaway Love - Linda Clifford
Girl You Need a Change of Mind - Eddie Kendricks
I Want to Thank You - Alicia Myers
Clouds - Chaka Khan
Vertigo/Relight My Fire - Dan Hartman
Music Got Me - Visual

| | |
| --- | --- |
| "Make me Believe in you" | Patti Jo |
| "Midnight Music" | Stevie B |
| "It Should Have been me" | Yvonne Fair |
| "Stubborn Kind of Fellow" | Buffalo Smoke |
| "Total Control" | The Motels |
| "Forever Young" | Alphaville |
| "Trippin on the Moon" | Cerrone |
| "American Love" | Rose Laurens |
| "Why Can't we Live Together" | Mike Anthony |
| "Heaven to Me" | Technique |
| "Take my Heart Away" | Gillian Lane |
| "Facinated" | Company B |
| "Garden of Love" | Don Ray |
| "Makin' Love" | Sammy Gordon |
| "We're on the Right Track Now" | Ultra High Frequency |
| "Cosmic Wind" | Mike Theodore Orchestra |
| "Touch and Go" | Ecstasy, Passion & Pain |
| "Take me the the bridge" | Vera |
| "Your Love Still Brings Me to my knees" | Marcia Hines |
| "Stop, I don't need no sympathy" | Alma Faye Brooks |
| "Down to Love Town" | The originals |
| "Every beat of my heart" | Crown Heights Affair |
| "I'll always love my momma" | Intruders |
| "I'll go where your music takes me" | Tina Charles |
| "Kiss me again" | Dinosaur |
| "Love in finally coming my way" | True Example |
Do you still know or have contact with any other old Disco acts or DJ's from the Disco days?
"None. I hate to be a downer, but so many people from my disco era are dead. AIDS wiped out my generation. I don't often meet anyone with shared experiences of these clubs and the old days of disco. Most of my friends are younger and don't know the music that I love. Recently I installed a DJ system in my house and have been giving great dancing parties. I use my original 1200 turntables, a Pioneer Stainless Steel Reel-to-Reel and a double CD Player. While, I don't like to go to clubs anymore, I do enjoy DJ'ing at home!"
I'm happy to be able to give you this interview with a female DJ, since there were not too many of them around...
Lizzz made her way from the Georgetown Pub, all through the Disco jungle of the Big Apple and scored when she became the second female DJ to ever play the Saint.
She has hold on to all her records and Lizzz still thinks that...
"Music sounds better on vinyl!"