James Michael Burgess, or as we know him - Jim Burgess, was born on July 21, 1953 in Okeechobee, Florida.
Some of his closed friends used to call him "Aunt Bea", but he also went by the name "the Marquesa". These days no one seems to recall how these names came about.
Jim was a classical trained tenor and opera lover who turned into one of the hottest DJ's and Remixers of the Disco era.
Unfortunately he left us far too early in January 18, 1993 at 5:30 am when he died of an AIDS related brain tumor, multi-focal leuko-encephalopathy.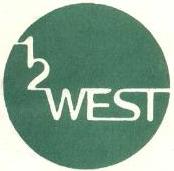 Jim's dear friend Kathy Flaherty fills me in on how Jim got his DJ career started: "Jimmy loved music, all types of music! That was the driving force behind him starting to DJ. Besides he had an amazing ear and was technically, near-flawless in his mixing of records. He started around 1974-75 in Florida and then moved on to Limelight, a gay club in Atlanta."
It was in Limelight Tony Martino and Alan Harris, the owners of the now legendary New York club 12 West, "discovered" him and brought him over to 12 West and New York city.
In New York he fast made a name for himself and played all the hottest clubs like; 12 West, Infinity, the Saint, Underground, Studio 54, Paradise Garage, as well as playing the Ice Palace in Fire Island.
The regular DJ staff at Underground included Jim, John Ceglia, Roy Thode, Robbie Leslie, Michael Fierman, Richard Viglione, Sean Burke and Richie Rivera. They all were fortunate to have the wonderfully talented Eric Erickson as their light man.
In the River Club (12 West) and the Saint the lightning was handled by another lighting talent - Richard Tucker.
Most of the clubs in which Jim played in were mainly gay and the crowd in these clubs were among the best in the world, their energy and musical sophistication made them great fun to spin for. Jim himself once told famous music journalist Brian Chin the following in an interview: "New York is culturally and socially more advanced. We're used to better things, more intense experiences. 12 West has the most appreciative crowd. They come for a party with a very intense peak between 2 and 4 a.m. There's a unity and cohesiveness to the party when everyone knows the record and the mood of it."
This fits well with Kathy's memories of which was Jim's favorite clubs: "He loved 12 West, even though his dislike for the owners came into play and he left for Infinity. However, he also loved Infinity because it gave him the freedom to play more experimental music to a mixed (straight/gay) audience."
Two of Jim's anthems of 12 West were "That's Where The Happy People Go" by the Trammps and "Hold On To My Love" by Jimmy Ruffin.
Jimmy always associated Donna Summer's "MacArthur Park Suite" with the Underground.
It was a hard job being a DJ back in the Disco days, there were usually just one DJ playing alone the whole "evening", an evening which usually started some time around 10 or 11pm and would last to anything between 6 to 12am (noon) the next day.
Then the DJ needed to pick up the latest tracks and get familiar with them to be able to play them to the crowd the next night. All the hottest N.Y. DJ's were members in THE Record Pool, For the Record... Except for Jim you would see the names of many famous DJ's like: John Ceglia, Larry Levan, Robbie Leslie, John "Jellybean" Benitez, Roy Thode, Michael Fierman, Richie Kaczor, Warren Gluck, Tee Scott, Howard Merritt, Jonathan Fearing, Frank Hoolihan and the list could go on...

Technically Jim was a master. His mixing and overlaying was seamless. He knew exactly how to make a room move. He would overlay entire songs over each other and you could not tell that it wasn't recorded like that. For example; Beautiful Bend overlaid by Tavares' "Don't take away the music".
Another part of Jimmy's huge popularity was, beside of his style and great techniques, his love for theatrical effects and elements. That was probably something he had got from the opera and he created his own "sound scenes" by using dialogues from famous movie scenes over the break of a record or "just" by his fabulous long mixes and excellent blending.


And as Jim's good friend, the DJ John Ceglia recalls; "Jim was also extremely good at programming an evening around the theme of a party." He was "the natural choice" as the DJ of any special theme night in any club.
Jim's popularity also gave him other special gigs - like when he was brought in to do the opening night of the FunHouse, a club where another talented DJ/Remixer would soon become the resident DJ, namely Jellybean.
John Ceglia remembers: "My fiancée Darlene, Jim Burgess and I visited the Funhouse when Jellybean was working on a Friday night in 1980 or '81. France Joli was in the booth with us and Madonna was there too. But it was really before she was 'Madonna'."
John had started to become friends with Jim when they both were panelists for the Billboard "Dance Music Forum" in New York in July of 1980. In the panel was, except for Jim & John, other great DJ's like: Bobby Viteretti and Mike Lewis among others.
Jim and John would soon become best of friends... John had just moved to New York and moved in to Jim's apartment for around 2 months before he (John) and his wife managed to get their own apartment in the Bronx. Jim later was evicted from his place, due to too much loud music, and moved in with John & Darleen's and stayed there for almost a year. And just across the street from them lived another very good friend of theirs, Anthony D'Erario...
Jim and John's DJ styles were very similar and John tells about what he learned from Jim; "Jim was a classically trained tenor, so his musical background was invaluable in both his DJ and remixing careers. Jim was the person who convinced me to throw away my BPM [Beats Per Minute] book because he felt that the blends tend to be more musical as opposed to when you're simply matching beats. He was right! That was the single most important thing I learned from him."
Jim also told his life partner Martin about this technique of his; "Jim could hear a song right away and know what to mix it with. He could go into a 96 BMP song and match it with a 112 BPM song, he would speed the first one up to around 104 BPM and slow the next one down just a notch from 112 to 104 so you wouldn't know, and then mix the songs at 104 to finally bring it up (or down) to it's original speed in a matter of seconds."

Jim was also one of the first and most well known remixers and John tells us how Jim became a remixer; "Jim came to New York when Disco was really at the absolute peak. He became close with Ray Caviano of Warner Brothers Records (later RFC Records), and various other record promoters who all used to frequent the clubs in which he played. Because his theatrics were unique at that time, and his background and training as a tenor helped him to make very musical choices when deciding what record would sound best after the one he was currently playing. His ear for blending and craftiness made it easy for him to break new music and get a good response from the floor. Add it all up and he became a very logical choice to bring into the studio."
Jim's remixing style has always been compared with another of the famous remixers of the Disco era, namely John Luongo. Mr. Luongo told me the following regarding the similarities in their remixing styles; "Jim Burgess was a classically trained opera singer. He was an even tempered and yet very passionate human being and a wonderfully talented DJ supreme. Our similarities were centered around the fact that we both loved great vocals and wonderfully powerful and well separated mixes. If you listen to my mixes you will always hear every line of the vocalist at all times. I prided myself with being the mixer whose mixes always let the vocalist be heard.
I have always said that I did not mix dance records, just great records that you could dance to. Jimmy had the same attitude as I did. A record should be mixed to play at the clubs and be listened to on the radio.
Jimmy would come to see me in the studio and watched and listened to my mixes. He would have told me if what I was doing was crap and had no fear of being honest with me. Thankfully, he loved my selection of songs and the way I mixed them. He constantly told me that he would pay me the supreme compliment by playing any record that said 'Mixed by John Luongo' even without a preview listen the evening before. He followed in my footsteps and always came to me for advice and critiques of what he did. I encouraged him to go for it and never play it safe. I believed and told him that you always experiment at the top. It is not the time to play it safe or to repeat a formula.
I have very fond memories of Jimmy, he was a great guy and I miss him!"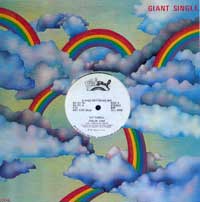 Both John Ceglia and Anthony D'Erario recalls Ripple's "The beat goes on" to be the first track Jim ever went in to a studio to remix... This track he went into the studio and remixed for SalSoul Records on November 21, 1977.
Neither Anthony nor John know exactly how many remixes he made, except that there were many... Just to mention some of them;
Rod Stewart - "Da ya think I'm sexy", Doobie Brothers' "What a fool believes" (Which also received a Grammy for Song of the Year!), Madleen Kane's "Rough Diamond" & "Forbidden Love", "Night rider" by Venus Dodson, "Here comes the sound again" - Love De-Luxe, Alicia Bridges' "I love the nightlife (Disco round)", Deniece Williams' "I've got the next dance", "If there's love" by Amant, "Crazy love" - Alton McClain & Destiny, Nicolette Larson's "Lotta love", Phyliss Nelson - "Don't stop the train", Linda Clifford's "Runaway love", "A lover's holiday" - Change and "Victim" by Candi Staton.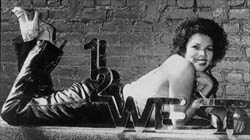 Jim actually adored Candi Staton, he thought she was the hottest lady until she found Jesus and (as he thought) wrecked her career. He thought she really had the soul in it all..
But his list of remixes is quite an impressive list, right!?
To top that off, John tells me he actually have got some acetates of unreleased Jim Burgess mixes of Earth, Wind & Fire's "Boogie Wonderland" and "Searchin'" by Change.
Anthony tells me he have got acetates of the classic Jim Burgess remixes of Gene Page's "Hot city", Ripple's "The beat goes on" and the Doobie's "What a fool believes". He still remembers hanging out in Jim's apartment when a messenger delivered the finished remix copy of that Doobie's song.
Jim was also involved in the remix of KISS' "I was made for loving you", the 12" single released on Casablanca Records in 1979. His not credited on the record, but KISS gave Jim a pinball machine for remixing their record.
With his great ear for music and his schooled background it's no wonder he made such a success as a remixer as well as a DJ. Question is how to best describe Jim's way in remixing or something like a "trademark" for a Jim Burgess remix. I think John Ceglia describes it perfectly; "He had a great feel for how to extend a record with editing, very warm drum and percussion sounds. His overdubs added such a nice movement to the records and he used great session players like percussionist Jimmy Malen to do these overdubs and had a terrific engineer in Mike Hutchenson and together they would transform the track and bring it to life."
He could take any track and with his remixes he would bring the song alive in another way than it was originally.
Martin tells me the following; "Jim had the ear for a loser song, then he knew how to fix it up! For example... Rod Stewart's 'Da ya think I'm sexy', was a bomb first time around and Jim just added a woodblock... Just listen to it again, it's so stupid but so right! He also added cow bell to some things too... He used to be a percussionist in high school."
Kathy tells me her view of Jim's remixes; "Jim had a special sound. It's hard to describe, you could just tell it was a 'Jimmy' record. Beautiful strings, cowbells, extra tambourines and a special percussion. It all came together perfectly."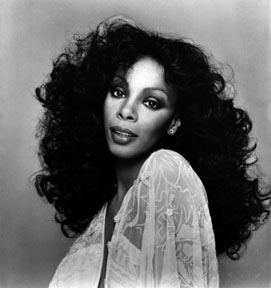 Jim's two personal favorite remixes, of his own mixes, were "Runaway Love" by Linda Clifford and "Searchin'" by Change (with vocals by Luther Vandross). Actually he liked most of the ones mentioned above, but probably also "Crazy love" or "What a fool believes" stood out a bit.
When other remixers work were considered, he specially liked and had a great deal of respect for the work by Tom Moulton and he liked what John Luongo did as well. For example he just loved Tom's "Rio de Janiero" [Gary Criss] mix.
It's also known that he would have loved to remixed anything by Boris Midney, Giorgio Moroder (especially the Donna Summer stuff), Don Ray and Alec R. Constandinos.
When a specific song is considered, John remembers that Jim wanted to remix "Party line" by Andrea True Connection and Kathy recalls; "He would have loved the opportunity to work on 'This Time Baby'." [Jackie Moore]
You can't say he preferred either DJ'ing or remixing; "He liked the glamour of being a remixer and the glory of playing for an audience line in a club." as John Ceglia puts it. Kathy think Jim's first love was to DJ, as she puts it; "To work a room and get the crowd into a frenzy was a great rush for him."
One of Jim's own personal favorite Disco songs was Bionic Boogie's "Hot butterfly", but he also loved opera and specially the Ring. Besides that he loved most of Boris Midney's work and he liked France Joli's songs. There are too many songs that, for different reasons, were very special to him.
But being a DJ does not necessarily mean you can play your favorite music all the time, you have to adapt and play what your crowd wants to hear as well. So, to give you an idea of which songs were the most popular on one of Jim's dancefloors - here's Jim's Top 10 playlist from Infinity, New York of September 1978:
| | |
| --- | --- |
| Beautiful Bend | LP |
| Gibson Brothers | "Heaven" |
| Laura Taylor | "Dancing in my feet" |
| Alicia Bridges | "I love the nightlife (Disco round)" |
| Dan Hartman | "Instant replay" |
| Musique | "In the bush/Keep on jumpin'/Summer love" |
| Hamilton Bohannon | "Let's start the dance" |
| Gregg Diamond Starcruiser | "Starcruisin'/Fancy dancer/Arista vista/This side of midnight" |
| Cissy Houston | "Warning - Danger/Think it over" |
| Sylvester | "You make me feel (mighty real)/Dance (Disco heat)" |
But everything has to come to an end, and as the theatrical guy Jim Burgess was, he choose to end his DJ career in a most spectacular way. A party that was called Jim Burgess' Swan Song Farewell at the Saint in January 31st of 1981 and this is one thing New York club people still talks about...
John tells us; "Jimmy was very popular and the place was mobbed for his retirement from spinning. Burgess was always very dramatic, and in a club that was open from 11pm Saturday night till noon Sunday and the crowd wore Levi's and T-shirts, he was in white tie and tails in the booth. He played his sets, did a masterful job, and at 6am, only half way through the night, he waved me up to the DJ booth. He said; 'I'm playing one more record because I've said everything I had to say, it's over!'. I said; 'You must be joking, these people want to dance and more important they paid money to send you off.' He said; 'I'm sorry, I'm finished. I'm going to catch a cab. When the record ends, grab my crates and come to my house for the after party. Please John, do it for me.' With that he left me in the booth. Some of our mutual friends knew something was up when he split. The record ended, the crowd cheered for what they thought was another encore. No music came on. The crowd began to stamp and clap. This went on for a while as I packed his things. The owner and a few of his 'closest associates' knew I was a DJ (I had only been in New York for six months) and said; 'Play something!'. I explained for them what happened and they didn't care, they still wanted me to play. I didn't. I respected my friends' wishes. ...and the rest is Disco history!
Eventually famous female DJ Sharon White took over the booth and the first song she put on after Jim left was the Emotions' "Don't Want to Loose Your Love" followed by "Dance and Leave It All Behind You" by Sumeria as messages and tributes to a great DJ.
People in New York still talk about Jim walking out 21 years later. I think Jimmy knew that would be the case and boy was he ever right. Most of them don't know what really happened that night, until now."
Anthony adds: "It was one of the greatest nights of music I have ever heard, the energy in the room that night was unbelievable."
At the age of 28 Jim choose to retire from the DJ scene totally emotionally drained. But his 'Swan Song Farewell' was actually not his last DJ gig ever. He played for example some gigs at both the Saint and the Underground, as well as together with his friend John Ceglia at the River Club on Good Friday 1982 - a party called One night stand. They also played the anniversary at Salvation in Miami on Memorial day weekend the same year.
As Martin recalls: "I'm pretty sure that his last gig was in September 1989, when he went off to Fire Island to play the Ice Palace. I'll never forget him dragging all of those vinyls in huge bags, what a job... Right after that he went to Germany for 11 weeks to audition for the German Opera house."



Download the FREE basic RealPlayer...





CLICK to listen to Jim Burgess tracks on Spotify...



CLICK to hear some Jim Burgess remixes...
I love the nightlife (Disco round)
Alicia Bridges

A lover's holiday
Change

I've got the next dance
Deniece Williams

What a fool believes
Doobie Brothers

I was made for lovin' you
KISS

Here comes that sound again
Love De-Luxe

the Beat goes on and on
Ripple

Da ya think I'm sexy
Rod Stewart

Night rider
Venus Dodson


CLICK to hear some Jim Burgess favorites...
Instant replay
Dan Hartman

MacArthur Park Suite
Donna Summer

Boogie Wonderland
Earth, Wind & Fire

Come to me
France Joli

Feel like dancing
France Joli

Gonna get over you
France Joli

Rio de Janeiro
Gary Criss

This time baby
Jackie Moore

(Push push) In the bush
Musique

Keep on jumpin'
Musique

You make me feel (mighty real)
Sylvester




Click to buy from


Disc 1:
the Bottle - Joe Bataan
Dr. Love - First Choice
Hit and run - Loleatta Holloway
My love is free - Double Exposure
Love thang - First Choice
I got my mind made up - Instant Funk
Runaway - SalSoul Orch. feat. Loleatta Holloway
Checking you out - Aurra
Moment of my life - Inner Life
Just as long as I got you - Love Commitee

Disc 2:
Ten percent - Double Exposure
Love sensation - Loleatta Holloway
Let no man put asunder - First Choice
Call me - Skyy
Dreamin - Loleatta Holloway
Ooh I love it "Love break" - SalSoul Orchestra
the Beat goes on - Ripple
Ain't no mountain high enough - Inner Life
This will be a night to remember - Eddie Holman
Magic bird of fire - SalSoul Orchestra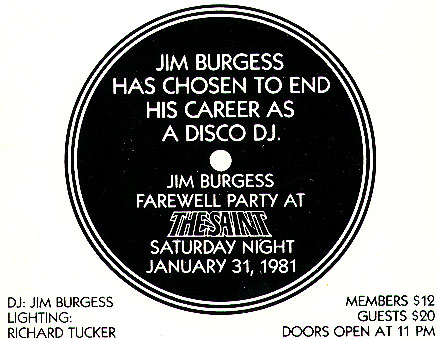 Basically Jim had retired as a DJ, except for these "one night gigs". And he actually played kind of regularly at the Underground. Over the years 1985 to 1988 he shared many Saturday nights in the DJ booth with light man Dominick Pinto.
'Dom' recalls that Jim left the club around 1988 and his replacement was DJ Animal on Saturdays. Thursday nights was 'Blow Out Thursdays' for KTU Hot103 with Scott Blackwell and Fridays was 'Rap night' with DJ Red Alert. Around the time Jim left, the club also changed its name to Union Square.
Dominick remembers one special night in the booth with Jim; "It was a Saturday in the summer time, the club was rocking about 12:30 AM. Than we noticed a fireman from the upper level trying to get our attention in the DJ booth.
A few minutes later they made their way downstairs and came to the booth. They were screaming at me to tell Jim to shut off the music. The bouncers were able to keep them from entering the DJ booth and finally Jim lowered the music and the club manager made an announcement. They informed him that there was a fire upstairs in the building and they wanted to lead all the people outside.
Just as this was going on there was a loud noise and then all you saw was a water fall coming from the ceiling and the club emptied quickly. I remember going outside for a minute to check out the havoc on the street, it was a sight to see. Back in the club the water was about 2 feet high and the cleaning crew was pumping the water out.
The club remained closed for the rest of the weekend but I remember we were dancing in the puddles, laughing and singing. We had the club to ourselves and Jim played music all night long, He never shut the music down even through all the commotion. Jim played on... Just another Saturday night in New York."
Dom adds; "You gotta love the music... and nobody played it like Jim"
So, when the Underground closed, Jim choose to disappear from the music scene.
He moved to Philadelphia and took a job at a school, he also studied and sung opera. He was once again very successful, but this time in his new career as a Helden-tenor and he won first prize in the Lauritz Mechior Contest associated with the Wagner Society of New York and the Liederkranz Foundation...
There are actually a classical concert series happening in Philadelphia the 3rd Sunday of every month at 2:30pm, dedicated to Jim... The Memorial James Burgess concert series, these are mostly vocal concerts.
Not much is know about him and his behaviors during his last years, and unfortunately he passed away in January 18th of 1993 of an AIDS-related brain tumor.
There's still some fun stories Jim's friends remember, things that had happened to him and stories which Jim himself always enjoyed...
For example:
- When Liza Minelli and Liz Taylor entering his booth and digging for their "downers" in their "shag carpets". He throws them out of the booth as he had to do with celeb's more or less every night.
- A tape with Helen Reddy singing "I am woman" over a background mix at about 4-5 AM in the morning. She sounded like shit and people who have heard it has said things like "My cat sounds better."
- He woke up one morning in NYC in a swank hotel, he lifted the covers and found Grace Jones sleeping with him. This scared the shit out of him...
- In the mid 70's Jim was driving around Atlanta with James Brown, both all fucked up and they were going to a party. They did so many poppers that they almost didn't make it to the party, as they were just hysterically laughing about everything...
- He taught Shep Pettibone how to DJ and remix...
This was the history and career of Jim Burgess, the DJ and remixer.
Unfortunately he's no longer among us, so we can't get his own view of his -
career, works and memories.
What we do know is that he was one the most influential and highly regarded DJ's and remixers of the Disco era and his works will be remembered by Disco people forever.
Or as Alicia Bridges sings, which fits perfectly for Jim...
"I love the Nightlife - Disco Round"