Jeanie Tracy was born in Jasper, Texas, a city and county some 140 miles North East of Houston. But the family later moved and she was raised in Fresno, California.
Already at the very young age of 3 she started singing in her church choir and that's when her love for music started to grew.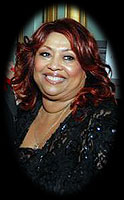 I [Discoguy] got the opportunity to interview Jeanie and I started out asking her; When did you know you wanted to pursue a career within the entertainment business?
"In college, when I was approach to do parties. Otherwise I would have been a high school teacher, in music."
It was actually her own high school music teacher who encouraged Jeanie to go after a singing career based on her tremendous talent and passion for music.
You have also studied Opera, what has that meant to your voice and career?
"I learn to control and how to pace myself to be able to sustain singing every night and still have voice."
Jeanie later moved to San Francisco and it was here things really started to happen for her.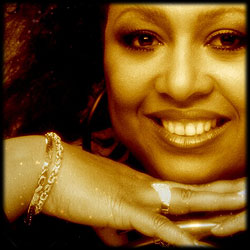 So when did you really start WORKING in the business?
"When doing a local gig in SF on Broadway during topless era."
Had it been a lifelong goal, or did it just more or less "happen"?
"Everything just started to happen, so I ran with it... and had a passion for it once I began."
Jeanie also took up acting and had already starred in various plays when she got a part in the musical Slave Driver by Oscar Brown. That opened up for other parts, like acting opposite Jennifer Holliday in Sing, Mahalia, Sing and staring with several actors from 'the Wiz' in the play Right Mind.
Have you ever been working with something else, or has music and acting always been your life?
"Early on I took on odd jobs to help with finances."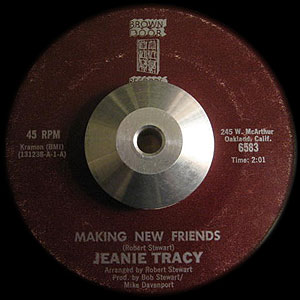 Your first record release was "Making New Friends" on the small independent Brown Door label in the mid 70's, is that correct or had you recorded something prior to that?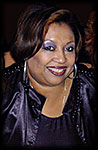 "It was the first one. I don't remember years... but it was around that time."
The single is very rare these days and is also considered a classic in the UK's rare grooves circuit.
Jeanie was then approached by Harvey Fuqua who wanted her to write and produce for his Gospel group - Voices of Harmony for Harvey's Milk and Honey Records. This was a meeting that would come to impact her future career quite a bit (to say the least)...
I know you have worked a lot with Harvey Fuqua, who was he and what has he meant to you over the years?
"Yes and he just passed, [July 6, 2010] so I am very sad because he meant a lot to me and the starting of my professional career and my first album."
Harvey Fuqua was also the one who discovered Sylvester James, the Disco artist more known as just Sylvester, another person that would become very important in Jeanie's life.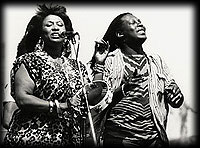 When did you first meet Sylvester?
"I met Harvey Fuqua and Nancy Pitts and they introduced me to Sylvester in a meeting at Honey Records, their label."
You worked with Sylvester for many years. Can you tell more about how you became part of his career, both on record and during live performances?
"I opened for Sylvester in a live show, and he wanted me to join him and the girls. So I did Live at the Opera house, my first Sylvester gig. Afterwards I was doing many sessions, live gigs and so on."
The 'Live at the Opera' Jeanie refers to above, is Sylvester's 1979 Living Proof album, where most of the album was recorded live at the San Francisco War Memorial Opera on March, 11 in 1979.
How was Sylvester to work with?
"Sylvester was a very fabulous complicated person sometimes, but he loved me and I loved him."
Can you tell more about Sylvester and how he was as a person? How was your relation?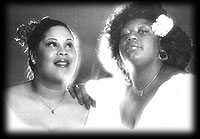 "Absolutely wonderful 'til the day he passed."
How did the collaboration with Martha Wash & Izora Armstead, a.k.a. Two Tons Of Fun, work?
"Wonderful because we were already friends and they were trying to get me in the group as well, so it was an easy transition."
Did Sylvester encourage or help you in any way to pursue a solo career?
"Yes, he called me his alter ego and protege."
When Sylvester died in 1988 you put your solo career on hold for a while, and you focused on theatre and session work, why?
"Because I needed to be able to take care of him while he was ill."
Oh, that was wonderful of you!
Together with Sylvester Jeanie recorded the duet "Here Is My Love" in 1981, a track which is only credited to Sylvester and that was included in his Too Hot To Sleep LP, an album where Jeanie sings background vocals on every track.
That album is actually Jeanie's favorite Sylvester album, much because she managed to convince him to sing at a lower range opposed to his traditional characteristic high falsetto voice.
The same year "You're Gonna Lose Me" was released, another duet credited to Freddie Hubbard featuring Jeanie Tracy.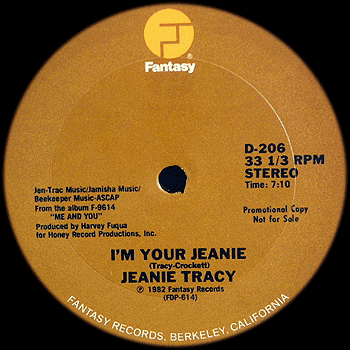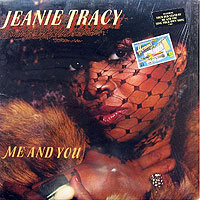 All the work she did with Sylvester paid off and in 1982 she got to release her first solo album, the mellow R&B LP - Me And You on the Fantasy Records label. Harvey Fuqua was the producer of the album and in the biggest hit off the album; "I'm Your Jeanie", Sylvester returned the favor and added the background vocals (in a low range voice).
The song was written by Jeanie and in the song there's a line that goes "let me funk with your emotions..." and Sylvester really loved that line so much that he used it as inspiration for his own 1982 hit "Do You Wanna Funk".
The hit track "I'm Your Jeanie" was also released as a promotional 12" single, a split release with Azymuth's "May I Have This Dance (Concede-Me Esta Danca?)" on a Milestone Records label on one side and with Jeanie's song on the other side but with a Fantasy label.
In 1983 she wrote and released the [today] high-priced collectors 12-inch single - "Can I Come Over And Play With You Tonight", which was produced by Harvey for his Honey Records.
It's a danceable Funky Boogie tune which sounds as fresh today as it did back when it was originally released.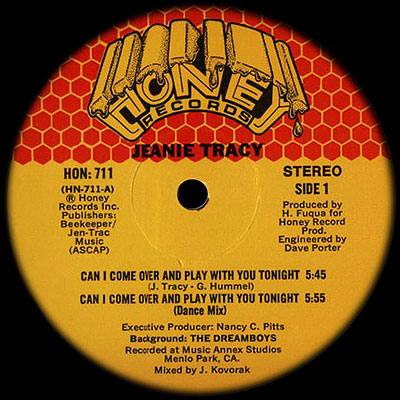 She added he voice to the vocal side of the track "Manhunt" by Silhouette in 1984, hence why that side of the record is credited to Silhouette with Jeanie Tracy, while the instrumental side is only credited to Silhouette.
Still the same year she returned with another solo release but now on a new label, the legendary Hi-NRG label Megatone Records. The home of High Energy stars like Patrick Cowley, Paul Parker and her dear friend Sylvester. Her first release on the label was the uplifting Hi-NRG workout "Time Bomb", which was flipped by "Sing Your own Song".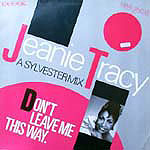 Second release out on Megatone was a remake of the Gamble & Huff penned Philly classic "Don't Leave Me This Way" in 1985. A song who Harold Melvin & the Blue Notes and Thelma Houston had scored hits with before. In Jeanie's version the tempo was pitched up to work out the dancefloors and she did it so well that the Communards redid the song already the next year [1986], trying to cash in on the huge gay scene success Jeanie's version gained.
After that release Jeanie help her label mates with background vocals; like singing on Sylvester's "Living For The City" in 1986, along with "Earthquake" by Jo-Carol with Morocco in 1987, before returning with her own release "Let's Dance" in 1988. This was also her last release for the label.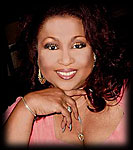 Or actually she continued to work with the Megatone label, but from 1990 Jeanie was involved in artist and producer Brian Soares' new project Technodiva, for the newly started Megatone House Records.
Under the Technodiva name they released the tracks "I Found Love" (a cover of the Love & Kisses 1977 classic, written by Alec R. Costandinos), followed by the Tracy written songs "Funkin' With Your Emotions" and "Picture This", to round things up with "Party Up (Feel The Funky Beat)" in 1991.
"It's My Time" was released under her own name in 1993 on UK's 3-Beat Records. She wrote the lyrics to the song and in the chorus she sings; "It's my time to live again, it's my time to stand up and shout. It's my time to live again, took so long to get over you.", it was her way of making up with the past and move on with her life and this actually became like a new start for her as she felt joy singing again.
The track was later remixed and re-released in both 1994 and 1995 by Pulse-8 Records. With the new Pulse-8 contract she returned to the spotlight with the songs "If This Is Love" [1994], "Do You Believe In The Wonder" [1994] (a track which also got a StoneBridge remix treatment), the 3-songs release "Crying In My Sleep"/"Do The Right Thing"/"Do You Wanna Be" [1995] and a duet with Bobby Womack in a cover of the James Brown classic; "It's A Man's Man's Man's World" [1995].
They are all featured in the full length album - It's My Time.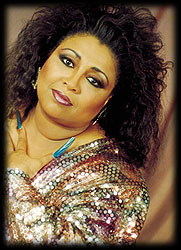 In 1997 she added vocals to the UK hit "Into Tomorrow" as Full House feat. Jeanie Tracy. She also added vocals to the DeConstruction act Wand's House track "Happiness" the same year.
It seems UK was the place to be for Jeanie, in 1998 she sung "Answer My Prayer" for ZTT's experimental label Paral.lel Records with credits to Rhythm Street feat. Jeanie Tracy.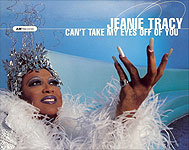 Back in the U.S. and in the last year before the new millennium she got a big hit with a remake of the legendary song "Can't Take My Eyes off of You" for the San Francisco based AM Records.
That same year she also shouted "Keep The Party Jumpin'" for the label.
Both releases came in various club remixes by the production/remixer duo - Rosabel; Ralphi Rosario & Abel Aguilera.
Later she was featured act on the Rosabel duo's 2001 Tommy Boy Silver Label release - "The Power", as well as on the Rosabel's 2004 release - "Cha Cha Heels". Both reaching #1 in the Billboard Dance/Club Charts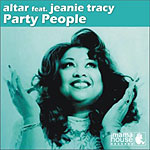 "Put Some Funk In Your Shoes!" was released as Inbetween feat. Jeanie Tracy and Larry Batiste in 2006.
Together with Brazilian DJ and Producer duo Altar [M.A.M. Carvalho & V.M.C. Filho] she has recorded several tracks under the name Altar feat. Jeanie Tracy, for example; "Party People" [another Billboard Dance/Club Chart #1 in 2007], "Everybody Up" [2008] and "Turn it Out" [2009].
All of the above are only a small selection of all the tunes Mrs. Tracy has been involved in...



Download the FREE basic RealPlayer...

CLICK to hear some Jeanie Tracy songs...
Can I come over and play with you tonight

Crying in my sleep

Do you believe in the wonder

Don't leave me this way

Feel the need

Free like a bird

I'm your Jeanie

If this is love

It's a man's man's man's world
w. Bobby Womack

It's my time

Keep the party jumpin'

Let's dance

Making New Friends

Time bomb

We need love

Cha cha heels
Rosabel feat. Jeanie Tracy

the Power
Rosabel feat. Jeanie Tracy

I need you
Sylvester

You make me feel "mighty real"
Sylvester

Do you wanna boogie, hunh?
Two Tons O' Fun

Earth can be just like heaven
Two Tons O' Fun

Happiness
Wand feat. Jeanie Tracy


CLICK to hear some related songs...
Don't you want my love
Debbie Jacobs

High on your love
Debbie Jacobs

Hot Hot (Give it all you got)
Debbie Jacobs

Undercover lover
Debbie Jacobs

Bad girls
Donna Summer

Hot stuff
Donna Summer

I feel love
Donna Summer

Last dance
Donna Summer

Love to love you baby
Donna Summer

MacArthur Park Suite
Donna Summer

Rumour has it
Donna Summer

No more tears "Enough is enough"
Donna Summer & Barbra Streisand

Shame
Evelyn "Champagne" King

If my friends could see me now
Linda Clifford

Runaway love
Linda Clifford

Shoot your best shot
Linda Clifford

Tonight I'm alright
Narada Michael Walden

Don't leave me this way
Thelma Houston




Click to buy from


Dance (Disco Heat)
You Make Me Feel (Mighty Real)
Down, Down, Down
Stars
Body Strong
I Need You
Sell My Soul
Cry Me A River
Ooo Baby Baby
Can't Stop Dancing
You Are My Friend

Click to buy from


Overture; Grateful / You Make Me Feel (Mighty Real) / Dance (Disco Heat)
Body Strong
Blackbird
Medley; Could It Be Magic / A Song For You
Happiness
Lover Man (Oh Where Can You Be?)
Sharing Something Perfect Between Ourselves
You Are My Friend
Dance (Disco Heat)
You Make Me Feel (Mighty Real)

Click to buy from


Do Ya Wanna Funk
All I Need
Be With You
Hard Up
Don't Stop
Tell Me [Remix]
Won't You Let Me Love You
Be With You [Remix]
Don't Stop [Remix]
Do Ya Wanna Funk [Remix]
Do Ya Wanna Funk [Radio Edit]
So there's no question that writers, producers and audiences loves Jeanie's massive and powerful voice! Besides working with all of the above she was even on the same soundtrack with the Doors for Francis Ford Coppola's Apocalypse Now already in 1979.
Other soundtracks she's been part of includes; About Last Night, Body Guard, In and Out, Mr. Wonderful and Titanic, along with more kids oriented movies like Stuart Little and Disney's Hercules, the Hunchback of Notre Dame and Snow Dogs. She has also sung the theme song for the Disney channel; "Wonderful World of Disney".
You have also worked with other top artists like Curtis Mayfield, Aretha Franklin, Patti Labelle, Celine Dion, Santana and the list goes on. Anyone else you would like to mention?
"Narada Michael Walden, who has been a tremendous influence in my career, and has done some exceptional things for me to help get my name out there with some of the greatest artist."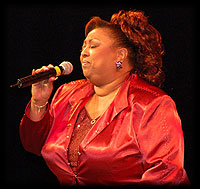 And she has got her name out there, that's for sure, because Aretha Franklin and Patti Labelle has even called her "One of the Top Ten voices in the world!", a voice other well-known artists also has called in for their projects. The list of acts include names like; Anastacia, Paul Anka, Patti Austin, Gary Barlow, Angela Bofill, Michael Bolton, Peabo Bryson, Mariah Carey, Tracy Chapman, Taylor Dane, Sheena Easton, Herbie Hancock, Whitney Houston, Michael Jackson, Al Jarreau, Stacy Lattisaw, Kenny Loggins, Van Morrison, Jeffrey Osborne, Diana Ross, Rod Stewart, Barbra Streisand, Weather Girls, and Pia Zadora.
The above is an impressive list of names, but your voice has also been heard in numerous of commercials, can you name some of the most known?
"The California raisins, Mazda and Shower Massage."
Other commercials Jeanie has added her voice to are for example; 7-Eleven Coffee, Alamo Rental Car, Burger King, California Lottery, Levis Silvertab & 501, Nissan, Taco Bell, Toyota and the Winter Olympics. At one point she had nine or ten TV-commercials out at the same time.
From TV-commercials over to TV shows the step isn't very big. Jeannie sung the theme song for the PBS Children's Television Show - Kangaroddy and she also did the voices of Bantu The Snake and Kimmie The Cat in the show. Besides that she sung the Aretha Franklin classic "Respect" as part of the show.
Since you have been working in all fields of entertainment, from Singing, Acting, Voice-overs to cartoons, which is your favorite line of work?
"I love the Studio... as it allows you to create and be in a world all of your own."
You have acted in plays, do you still do it or would you still be interested in doing it?
"Yes, I love the theatre! I just finished the life of Gospel singer Mahalia Jackson. It is my second time playing her."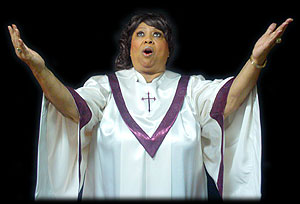 What about Disco music, did you like it during that era?
"Oh Yes, I loved it."
Any other Disco songs by some other artist you would have loved to sing yourself?
"I love Donna Summer, there are a couple of her songs that I would have loved to cover."
Which are your favorite songs of the ones you've recorded?
"'The Wonder of Love', 'Party People' and 'Cha Cha heels'. I have a euro collection of songs I adore also, that I recorded with the Band of Gypsies [Tim Cox and Nigel Swanston] and also Paul Masterson."
It seems classic Disco people like yourself are especially in demand for the European market and you have recorded for several European labels. Do you feel the same and have you got any idea as of why?
"I don't know, but I love Europe and am trying to get back to work with some of my friends over there."
You have often been credited as 'SOME ACT' featuring Jeanie Tracy and when talking credits, one easily comes to think about sampling - What do you think of sampling?
"Sampling is alright if the artist gets credit for it, the part that was sampled."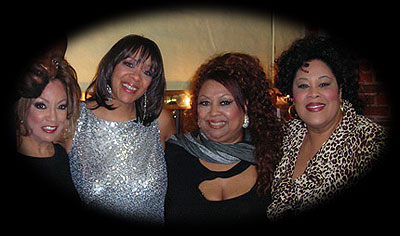 I know you're still in contact with and have been performing with friends like Linda Clifford and Debbie Jacobs-Rock, have you still got contact with any other of the classic Disco people?
"I love Evelyn 'Champagne' King and am in touch with her."
You're still in demand and performing all over. How many gigs do you do each year?
"Can't count, but I work a lot and love it. I still also do session work, still with Narada."
Debbie Jacobs-Rock said the following about her friend Jeanie and a gig they did together some years ago; "Martha Wash, Jeanie Tracey and Linda Clifford along with DJ Abel did a benefit for my organization two years ago and blew the town away. We named it The LIMELIGHT GALA; folks are still talking about it."

You appeared on the US TV series Star Search in 1984-85, and were the number one in the Female Vocalist Category for six weeks, can you tell more about Star Search and what that show have meant to you?
"It was an amazing frightful experience... and it gave me a fabulous jump start."
You have also received several Grammy Awards - how did that make you feel?
"Wonderful!!!"
She received two Grammy awards for her work on the Titanic soundtrack, including one for 'Song of the Year'. She has also received Grammy Awards for her work with Carlos Santana and the work she did on the Santana feat. Eric Clapton song - "The Calling".
You must also have met lots of talented people during the years... Any special ones you wanna mention? Some comments on them?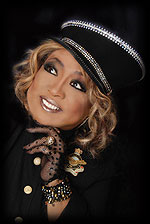 "Carlos Santana... Have been fortunate to work with him many times in the last five years and on a couple of albums. He is a wonderfully talented human being."
You have described yourself as a bit flamboyant, in what way?
"Over the top with costumes is all... I love wonderful drag to give the people more than a song."
What is your best memory during your years in the business?
"The Sylvester days... I loved being with him and the girls."
Anything else you can think of that you wanna tell me about? All information is very welcome, some fun happenings...
"My music has been played on Sex and the City, in the movie Bring it on: Fight to the Finish, and in So you think you can dance... this is so exciting to me. I love performing and will do it as long as I can do it."
That is really satisfactory to hear, as we really want to keep hearing more from you. Thank you very much for your time. Greatly appreciate that!
"Thank you!"


She has already done more than most artists can dream of in a lifetime,
but she has no plans of stopping yet.
So we can look forward to hear more of her lovely powerful voice in the future.
As she sings herself; "Let me funk with your emotions..." and
"It's my time to live again, it's my time to stand up and shout."
To that we will only say...

PLEASE DO and THANK YOU...
Jeanie Tracy