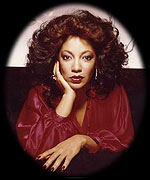 Linda Clifford was born in New York City, New York, USA.
One shouldn't ask a lady about her birth but I, Discoguy, had to specifically ask Linda about her birth date; There seems to be some confusion about your birth date, I have information of June 14, 1944 as well as August 20, 1944 and June 14, 1948... Which is correct?
"I've heard those rumors too, but my actual birth date is, June 14, 1948"

When did you start singing?
"I began singing at the age of four. That was my first audience performance. By the time I was seven, I was doing a weekly television show in New York."
How come you started with music? Was it something you always wanted to do, or did it just "happen"?
"Actually, I always loved music. I was always performing in school for upper classmen, and in school plays, etc. Singing at home to entertain my family, and really enjoying it."
When did you start WORKING with music? You just told us your first professional performance was a weekly TV show you did already at the young age of seven...
"I was singing and dancing by then. I did shows for the NAACP, National Association for the Advancement of Colored People. This was an organization that kept up with anything that had to do with the African American community at that time, and was extremely relevant for our survival in a very racist America. I also performed at local club events, and as I mentioned earlier, television."
What would you say characterize your voice?
"As a young child, I listened to every kind of music known to man. I still do! So, I guess my voice is a voice of the world. LOL!"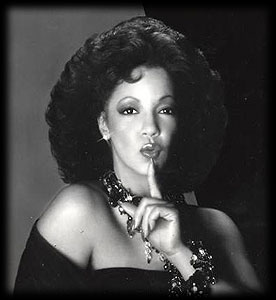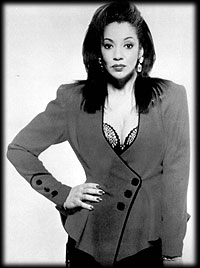 In 1966 you won the Miss New York State beauty pageant. What did that mean to you and what did it do to you career?
"Ah, 1966 was a very turbulent year, and the people of the U.S. were not ready for a black Miss New York! What it did was force my family to leave our home, because of the hate mail and threats we received. The pageant officials refused to acknowledge that there had been a mistake in the accounting and gave the title, the crown and all prizes to someone else. The mistake was reported to the press, and my family, by the judges. UGHHHHH, that was ugly. Anyway, it did nothing for my career, and even less for my self esteem."
OH, That was really ugly and I'm truly sorry to hear that. You later pursued a career as an actress with roles in movies like Coogan's Bluff in 1968 starring Clint Eastwood, The Boston Strangler starring Tony Curtis and Henry Fonda and in 1969 the Shirley MacLaine blockbuster Sweet Charity also starring Sammy Davis Jr.. When and why did you decide to stop acting?
"Singing and performing in front of a live audience made me happy! Acting just didn't."
Have you ever done something else, I mean outside the artistic/performance world? Or has music been your life? What do you do now for a living?
"I do now what I've always done, I sing. I'm about to go back in the studio to do a few things. I also write for other artists who have recorded songs I've written for them, such as Martha Wash and Gloria Gaynor. I also perform regularly with a wonderful orchestra here and I travel occasionally to do my own show. I recently opened for Joan Rivers at the historic Castro Theatre in San Francisco."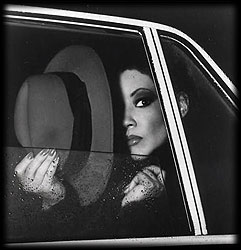 In the 60's you performed in nightclubs and were singing with the Jericho Jazz Singers before starting your own jazz trio - Linda and the Trade Winds. Which are your best memories from these years?
"There are many very wonderful memories from that era, so it's hard to name one or two. I think just being very young, traveling the world and doing what I loved most was the greatest memory of all."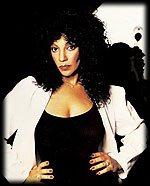 Which was the first song you ever recorded? I know you recorded "(It's Gonna Be) A Long, Long Winter" for Paramount Records in 1973, was that the first one or had you been part of other recordings prior to that?
"There were recordings before that, at about the age of fourteen or so. I don't remember the songs or the labels. That was long ago and far, far away."
"(It's Gonna Be) A Long, Long Winter" entered the R&B charts, how was it to see your name in the charts, something you've seen many times since then, but I assume the first time must be kind of special?!
"It was special! But isn't everything when it's new?"
Linda returned the next year on the small Gemigo Records label, for which she recorded the single "Turn The Key Softly" with "Can't Get Enough" on the flip. That was the only release she did for the short-lived label.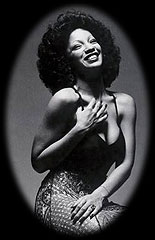 In 1977 you got a deal with Curtis Mayfield's Curtom Records. How did you get signed to the label?
"I decided that I needed something other than just singing in nightclubs for the rest of my life. I knew of only one record label in Chicago at the time, so I went to their offices and invited them to come hear me sing at the Playboy Club, where I was working. Several days later, a huge party showed up with Curtis Mayfield and his management team. A week later, I signed with Curtom Records."
That's a wonderful success story. Your first single for Curtom was "From Now On" from your Linda album. The track got quite a bit of Club play together with "You Can Do It". This first release was your transition into the Disco scene, how did you feel about that?
"I was delighted! I loved the songs themselves, so it didn't matter what kind of label they put on it."
How was Curtis to work with? Was he involved in every artist signed to his label?
"Curtis was a dream to work with. He was very laid back and relaxed, and he always had a kind word to say about everyone. I miss him."
The 1977 Linda album was a Soulful Disco experience produced by Motown veteran Gil Askey, a man who Linda would come to work with on most of her albums. At Motown he had been working with acts like Diana Ross & the Supremes and Leroy Hutson.
As mentioned above it was "From Now On" and "You Can Do It" that got most play and they were also single releases.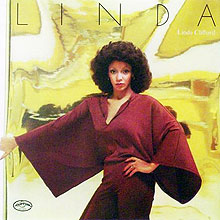 "From Now On" was written by Philly Soul pioneer writer and producer Bunny Sigler and is a wonderful orchestrated Disco gem in the vein of what Mr. Sigler also delivered to SalSoul Records.
"You Can Do It" is a more mellow and mid-tempo Funk number with an exceptional magic bass line driving below Linda's strong voice throughout the whole track.
The album also include Linda's versions of some previous Soul and Pop hits like; Stevie Wonder's "If It's Magic", Bee Gees' "Be Tender With My Love", Rod Stewart's "Tonight's The Night" and Al Green's "Still In Love With You". Besides you get the ballad "You Gotta Tell Her" along with the tracks "One Thing on My Mind" and "Only Fooling Myself".
No matter if it's material written for Linda or if she recorded a cover version of a previous hit, she always manages to make the songs her own.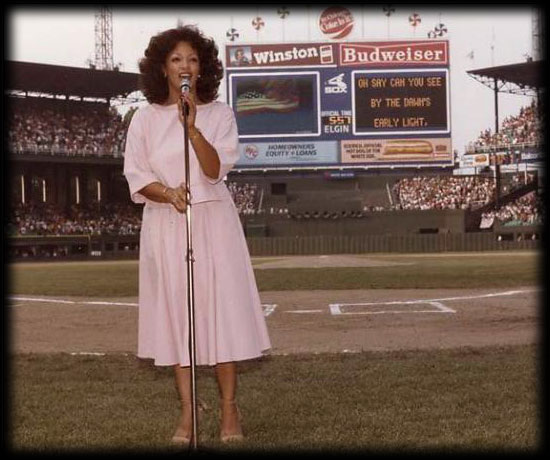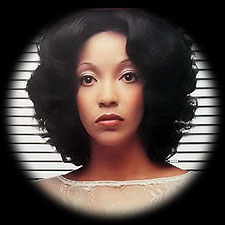 Then in 1978 you topped the Billboard National Disco Action Top 40 for 5 consecutive weeks with your If My Friends Could See Me Now album from which the title track along with "Gypsy Lady" and of course "Runaway Love" all got heavy rotation on radio and in the clubs. Which of these tracks did you like the most, and did you feel already when you recorded them that they were potential hits?
"Runaway love started out as a joke. Simply talking about an ex-husband and finding it was recorded. We were very busy looking for material for the album, so this was a surprise. 'If My Friends...' was the one that was really incredible. I didn't want to record it at first, because I thought it would be sacrilegious. I've always been a theatre buff, so this was a no-no. Then I heard the track and fell madly in love, so I had to do it. Fortunately, many people fell in love with it as well."
Yes, it's a wonderful song and we're all happy you did it. But you even had the Jones girls adding background vocals on the 'If My Friends Could See Me Now' album. Whose idea was it to bring them in to do it?
"That was all thanks to the record company and Curtis."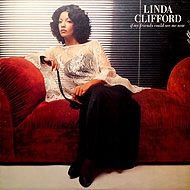 In the If My Friends Could See Me Now album from 1978 we got to hear Linda in mostly original material written for her. But the album starts out with the title track which is a Disco rendition of a classic track from the musical Sweet Charity.
As Linda mentions above, "Runaway Love" was an original which started out as a joke, but the final result is as far from a joke as one can get. Both tracks are, without doubt, rated as top Disco Classics these days.
In between these two tracks we find "You Are, You Are", a dance number signed Curtis Mayfield.
Back in the day you would have had to turn the LP around to play the remaining four tracks of the album. But now in the era of CD's and digital media you don't have to worry about that and dig straight into "Broadway Gypsy Lady" with its flamenco kind of touch, followed by the danceable "I Feel Like Falling in Love Again" before slowing down into the Mrs. Clifford co-written ballad "Please Darling, Don't Say Goodbye", just to get you shaking that booty again in "Gypsy Lady", which has more of a Spanish-Mexican flair to it.
The LP was produced by her label head; Curtis Mayfield, along with Gil Askey and the album topped the Disco/Club charts and became a Top 10 R&B Album.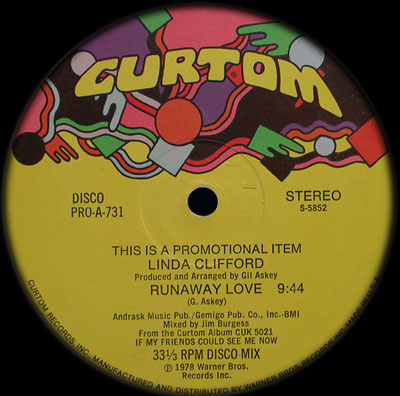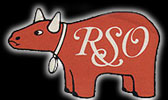 In 1979 you signed up with Robert Stigwood's RSO Records - how come?
"Actually, it was Curtom who signed with RSO and all the artists had to go along."


Ah, I understand. Even Curtis was to be found on RSO and together you released the Soulful duet "Between You Baby And Me", which was a single release and also found on Curtis' Heartbeat LP. But in 1980 you and Curtis released a full album with duets called The Right Combination. Where the two of you 'the right combination'?
"We worked very well together in the studio and we were friends, that's all! We were both married and when the Right Combination was recorded, I was eight months pregnant with my beautiful daughter."
The album itself was 'the right combination' of their two voices, the crisp and pristine voice of Linda and the characteristic wide range of Curtis'. Two singles were lifted off the album; the mentioned ballad "Between You Baby And Me" and the wonderful "Love's Sweet Sensation". Both entering the R&B Singles charts with "Between..." peaking at #14 and "Love's..." reaching the Top 40.
But the album starts out with the Funky "Rock You To Your Socks" followed by the Jazzy Soul of the title track. "I'm So Proud" is a beautiful ballad while the down-tempo Soul rules again in "Ain't No Love Lost" before speeding things up a bit in "It's Lovin' Time".
Listening to the material of this album really proves the two were 'the Right Combination', on record.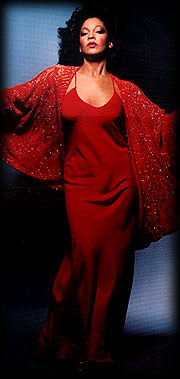 But you also did solo work on RSO and you released no less than two albums in 1979. The first release was a Disco remake of Simon and Garfunkel's "Bridge Over Troubled Water" which was remixed by Jimmy Simpson from the album 'Let Me Be Your Woman' and later the same year the album 'Here's My Love' was released with several Norman Harris & Ronald Tyson written and produced tracks. How come you got to release two albums in the same year?
"I think that was the year the company [Curtom] decided they didn't quite know which direction they wanted to take me. Fortunately for me, after many years of singing different types of music, they had options. They decided to stay with the dance genre."
In the second 1979 album - 'Here's My Life' - you've written; "This album is dedicated to Nick for giving me the courage to continue." That's Nick Coconato your husband. In what way did he encourage you to continue, did you have serious intentions to stop singing prior to meeting him?
"I suffered a tremendous family loss at that time, one I didn't think I would ever recover from, and he showed me I was wrong. He held me in my weakest moments, and gave me strength, picked me up when I was down, and loved me when I thought I was unlovable. He is the man!!!!!"

The first of the two 1979 albums - Let Me Be Your Woman - reached the top 20 of the R&B Album Charts and peaked at # 11 in the Billboard Disco Top 80 charts for the cuts "Bridge Over Troubled Water", "Don't Give Up" and "Let Me Be Your Woman". The album was released in two versions, one single LP with edited versions of the songs and one double album version with longer 'Disco Versions' of most of the tracks. The main hit off the album in the R&B Singles charts was surprisingly not the Disco remake of "Bridge Over Troubled Water", but "Don't Give It Up", a song written by Linda and Gil Askey which reached # 15. The song starts out in a soft ballad kind of style just to build up into a Funky favorite with a spoken conversation a la "Runaway Love" and Millie Jackson. The title track is a sweet ballad in which Linda gets to show her full vocal range.
First song out on the album is "Hold me close", a percussion driven Funky Disco track that set the message of the album with the lyrics; "Hold Me Close and Keep On Dancing...". And dancing is what you can do to "One of Those Songs" which is an orchestrated dance track with a slight touch of musical feel to it. If one step down in BPM you get the mid-tempo dance track "Sweet Melodies" with its 'sweet melody', turn down the tempo a little further and you'll enjoy the Soulful Mellow groove of "I Can't Let This Good Thing Get Away". There's also a beautiful ballad called "Don't Let Me Have Another Bad Dream" which was written by Linda and her husband.


Second album out in 1979 was Here's My Love. The album didn't have quite the same success as 'Let Me Be Your Woman' and the only single off the album was the song "I Just Wanna Wanna", which is a soft dance track with a catchy chorus written by legendary Disco writer, arranger and producer Thor Baldursson, who also worked with Giorgio Moroder and Pete Bellotte on some Donna Summer, Roberta Kelly and Munich Machine material. As well as on songs by acts like; Boney M, First Choice, Melba Moore, Disco Circus and Madleen Kane.
Mrs. Clifford also got help from other renowned writers and producers on this album; we see names like Philly Soul Kings Norman Harris and Ron Tyson, Curtis Mayfield, George Bussey and Leroy Gomez.
"King for a Night" and "Never Gonna Stop" are danceable Soul trips and the latter has been sampled by both Tupac and Nas. Other tracks that would satisfy the Disco dance floors are the final track "Repossessed" along with the nice dance track "Lonely Night" with its Funky beats and catchy hooks.

Your first release in the new decade became another Number One, that was "Red Light" which was featured in the movie and soundtrack of 'Fame'. The success of the movie, what did that do to you and your career? Did you ever wish it was you singing the title track instead of Irene Cara?
"My goodness no! Irene deserved that track, and no one could have done it better. Being on the soundtrack was a joy, and I got to work with people who were my friends. The soundtrack was Grammy nominated and Oscar nominated, and I was part of that. It doesn't get much better. A win perhaps, would've been nice, LOL!"

1980 was a busy year for Linda, in the beginning of the year she released the mentioned duet album with Curtis, "Red Light" was featured in Fame and was also included in Linda's I'm Yours album, which also spawned a second Number One Billboard Disco Top 100 hit with the up-tempo Disco smoker "Shoot Your Best Shot" in October. Another track off the album that got rotation in Clubs was "It Don't Hurt No More". Both were written and produced by Isaac Hayes, another legend when it comes to Soul, Funk and Disco. And he's still the one Linda has loved the most to work with, she explains him as "down to earth" and "easy to be around".


Most of the tracks of the album were written by Isaac Hayes, who was also the producer of the LP.
"Shoot Your Best Shot" is an excellent and dramatic Disco track filled with strings and slick arrangements, a song that makes it impossible to sit still. Going from the danceable "Shoot..." Isaac choose to let Linda bring things down all the way into the delicate and emotional ballad "I Had a Talk With My Man", just to bring things back up again with the full works of slap-bass, stings and horny horns in "It Don't Hurt No More".
The second side of the album starts out with the Bouncy and Funky "Red Light", followed by another mid-tempo piano and strings groover called "I Want to Get Away With You". Linda finish up the album with two soulful ballads; "If You Let Me" and the title track "I'm Yours".
Besides "Shoot..." and "Red Light", "I Had A Talk With My Man" and "If You Let Me" were single releases off the album, an album that would become Mrs. Clifford's final LP for Curtom/RSO.
In 1981, Linda signed to Capitol Records and her first release for her new label was the number one single "Don't Come Crying To Me", a groovy 80's Disco tune with a slight touch of Rock. The track, in its Club Mix, was included in the subsequent 1982 album I'll Keep Loving You.


The album is a perfect mix of danceable beat and beautiful ballads. Notable tracks off the album is the bass thumping title track, "I'll Keep On Loving You", along with "Let It Ride", the nice and groovalicious "Build A Fire" which does Linda's vocals justice. Listen out for the soulful ballad "All The Man I Need" and the Soul classic "Only the Angels Know"", which is considered one of Linda's finest moments by U.K. Soul purists.
Linda adds about "All the Man I Need"...
"'All the Man I Need' was actually written for my husband and myself. I recorded it in 1980, when I recorded 'Red Light' from the movie Fame. Whitney Houston recorded it years later."
As Linda states, writers Michael Gore and Dean Pitchford actually wrote that song for Linda and Nick for the I'll Keep Loving You album. Linda had gotten out of a bad marriage some years earlier and when Michael and Dean saw how happy Linda and Nick were together; the song kind of wrote itself.
Whitney Houston had a number one hit with the song in 1990 and it was featured in her #1 I'm Your Baby Tonight album.
New year and new label, from now on Linda was signed to a local Chicago label called Red Label.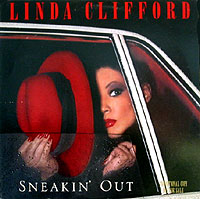 In 1984 the Sneakin' Out album was released and it was supported by the singles "A Night With The Boys", "Your Mine" and the album title track - "Sneakin' Out".
The album is a mix of Dance, Soul, Funk, R&B and Hi-NRG, with tracks like "We've Got Our Chance" which is in the vein of what Jimmy Jam & Terry Lewis did for S.O.S Band, "How Do You Say" which is a French language lesson to a Funky Disco beat, "Love Hostage" is an up-tempo dance track on the verge of Hi-NRG and "I Just Want To Hold you" is a Boogie classic.
The album did pretty well and reached the midst of the R&B charts.

Then, in 1985 - My Heart's On Fire was released on Red Label. It would be Linda's last full length album (to date) and included the Dance hit "The Heat In Me", which is a HOT dance track that even required muscular semi-naked firefighters in the video.
The album starts out with the mid-tempo soulful boogie track "If You Want My Love To Last", a song in which Linda sure shows what she's able to do with her voice.
"Wrap Your Arms Around Me" is sweet with its bouncy beat accompanied by a nice piano strand and intense horns.
Other titles off the album are; "Real Love", "X-Ray Eyes", "Sweet Distraction", "Here Comes The Night" and "First Offense".
From the mid 80's and for about a decade, Linda was on a deliberate hiatus in order to be a fulltime mom and take care of her family. You see, Linda and her husband are from a generation of hands on parenting, they wanted to put their children on the school bus in the morning and welcome them when they got back home, in other words - live a normal family life without nannies and with loving and caring parents who were around.
Maybe not the easiest task with a mother who's a world-class singer and a father who's a successful drummer. But they choose the life they wanted for their kids and let them travel with them during school breaks.
Their daughter, Gina is now a singer and dancer, while their son B.J. is a bass player.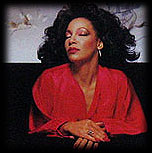 But the love for singing and performing along with the kids growing older made Linda return to the Dance scene again in 1995 with the track "Whatcha Gonna Do" for the local Gold Karat Records.
In 1997 there was a remix released by Golden Gate Records of her classic "Runaway Love", simply called "Run Away". But this is actually an un-authorized release which Linda didn't even know about before I brought it up to her attention.
Next out was "Wanna Give It Up" in 1999, a House track she did together with DJ/Remixer Ralphie Rosario that made it to # 16 in Dance Music charts. Ralphie has a special love for classic Disco Divas and has worked with or remixed several classy acts including Debbie Jacobs-Rock, Donna Summer, Karen Young and Mariah Carey, among others.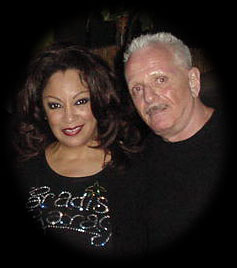 Another pioneer and legend within Disco, Mel Cheren, founder and owner of classic West End Records, had just revived his label when he signed Linda in 2000 to do a remake of a Sharon Ridley classic from 1976 - "Changin'". The first release came in Ralphie remixes, but the success of the track made Mel & Co bring in other remixers to work on the track and we got to hear the song in versions by Tom Moulton, Blaze, Pound Boys, Southern Divide and Julian Marsh.
Mel was another man Linda just adored and loved working with, sadly he's no longer with us.
About the same time "Philly Groove" hit us from the UK. It's credited to Romain & Danny Krivit feat. Linda Clifford and it was remixed by another Disco connoisseur whose productions always has a nice Disco touch, namely Dave Lee who is more known under his alias Joey Negro.
In 2001 she was back working with Dave Lee again as featured artist and also co-writer to his Akabu alias in the cosmic Deep House classic "Ride The Storm" and in 2003 the two would be able working together again in the Disco-House track "Spinnin'" credited to Prospect Park feat. Linda Clifford. Prospect Park is (of course) another of Dave Lee's alter egos. Linda also wrote and sang the song "Twinkle" off the Joey Negro Presents The Sunburst Band's album 'Until The End Of Time' in 2004.
The U.K. was really the place to be for Linda at this time as it seems, in 2002 she released a cover of the Lamont Dozier classic "Going Back To My Roots" for the One Little Indian label. A Label that earlier had been giving us hits from acts like Björk, the Sugarcubes and The Shamen (among others). Linda's version is a more up-tempo House version which she makes her own. The single was followed up by the single "Sunshine" for the label and the track was actually co-written by Linda herself.
Still in 2002 she co-wrote and added the vocals to another Ralphie Rosario release - "I Hear The Music".
In 2004 Martha Wash had a hit with the song "You Lift Me Up" which was co-written by Linda.
The last we heard from Linda was the single "How Long?" in 2008. For this release she had teamed up with Disco remixer and producer legend Rick Gianatos created some classic style mixes while Aussie House DJ and remixer Paul Goodyear made a few more edgy versions.



Download the FREE basic RealPlayer...





CLICK to hear some Linda Clifford songs...

Bridge over troubled water

Changin'

Don't give it up

From now on

Going back to my roots

Hold me close

How Long?

I just wanna wanna

If my friends could see me now

Lonely night

Never gonna stop

Runaway love

Shoot your best shot

You are, you are

Ain't no love lost w. Curtis Mayfield

It's lovin' time w. Curtis Mayfield

Love's sweet sensation w. Curtis Mayfield

Philly groove w. Romain & Danny Krivit





CLICK to hear some related songs...



Young hearts run free
Candi Staton

Don't you want my love
Debbie Jacobs

High on your love
Debbie Jacobs

Hot Hot (Give it all you got)
Debbie Jacobs

Bad girls
Donna Summer

Hot stuff
Donna Summer

I feel love
Donna Summer

Shame
Evelyn "Champagne" King

Come to me
France Joli

Feel like dancing
France Joli

Gonna get over you
France Joli

Fame
Irene Cara

Heaven must be missing an angel
Tavares

Don't leave me this way
Thelma Houston

Disco Inferno
Trammps

That's where the happy people go
Trammps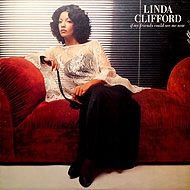 Click to buy from


If My Friends Could See Me Now
You Are, You Are
Runaway Love
Broadway Gypsy Lady
I Feel Like Falling in Love Again
Please Darling, Don't Say Goodbye
Gypsy Lady

Click to buy from


Runaway Love
Bridge Over Troubled Water
If My Friends Could See Me Now
Don't Give It Up
From Now On
I Feel Like I'm Falling in Love Again
I Had a Talk with My Man
I Just Wanna Wanna
Red Light [From Fame]
Shoot Your Best Shot
Still in Love with You
Tonight's the Night (Gonna Be Alright)
Between You Baby and Me [w. Curtis Mayfield]
Love's Sweet Sensation [w. Curtis Mayfield]

Click T-shirt to buy Linda Clifford merchandise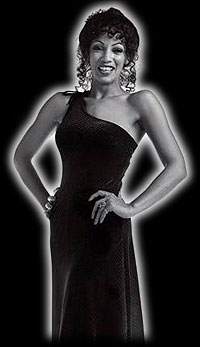 What's your relation to your classic tracks today? Were you ever tired of singing some of the tunes?
"I think I've gone through phases where I might not want to do one or two for a while, but I still love the classics."
Is there any other Disco song by another artist you would have loved to have sung yourself? Which one?
"'Don't Leave Me This Way' by Thelma Houston!!!"
If you could choose one Disco song that would characterize you, doesn't have to be any of your own songs, which would it be?
"'Young Hearts Run Free' by Candi Staton."
You have been sampled, "Never Gonna Stop" from you Here's My Love LP was sampled by 2Pac in "All Eyez On Me" as well as in Nas' "Street Dreams". I'm sure other of your tracks has been sampled as well, but what do you think about sampling?
"I think sampling is okay if it's done correctly and everyone is notified and compensated properly. Nuff Said!"
Some of your old tracks have also been remixed in new versions, what do you think about that?
"Really? What versions?"
I know "Runaway Love" was remixed some years ago...
Talking about remixes and getting into the remixers, you've been remixed by many of the greatest legends including Tom Moulton, Jimmy Simpson and Jim Burgess. Anyone's work you particularly liked or preferred?
"I love them all! Each is fabulous in his own way. They do and have done for years, amazing work."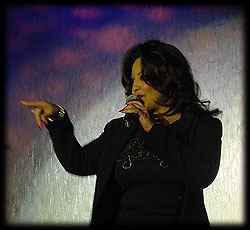 I know you're still performing, which song is the most popular during your performances? Which is your favorite to perform?
"I think the most popular is 'Runaway Love', but my favorite to perform is 'If My Friends Could See Me Now'."
Who are your most devoted fans these days?
"No question, the gay and lesbian community have been there for me since the very beginning and I love them. I perform for all kinds of audiences. Gay, straight, black, white. It's about the music."
Linda performed the Limelight Gala with some of her Disco friends some years back, this is what Debbie Jacobs said about that event; "Martha Wash, Jeanie Tracy and Linda Clifford along with DJ Abel did a benefit for my organization two years ago and blew the town away. We named it The LIMELIGHT GALA; folks are still talking about it."
You were part of the LimeLight Gala which was arranged by your friend Debbie Jacobs' organization LIGHT, do you perform many charity gigs?
"I do. In December, I did a benefit for a shelter for battered women and children. That benefit was organized by Georgie Porgie. I think that people forget it's not just about a roof over your head, it's about having food in the pantry and clothes to wear when you're looking for that job. So, we filled a pantry for those women that night. Myself, CeCe Peniston and Pepper MaShay."
Which gig do you consider your best one ever? When and where was that?
"That's a very difficult question to answer. There were so many wonderful events, but I think the show at Avery Fisher Hall, in Lincoln Center, was pretty incredible. I was very excited to learn that Bill Withers had come to see the show and I was a huge fan. We got to meet briefly after the show, how exciting!"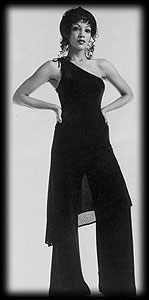 Have you still got contact with any of the classic Disco people you have worked with?
"I just did a show in New York with Martha Wash, The Trammps, France Jolie, Tavares and Carol Douglas. Fabulous!"
What about Disco music - Did you like Disco music during that era, or was it just like a job? Your songs are all considered Disco classics these days, so I guess you did like it...
"I loved that music. It was happy music, and people just wanted to move whenever it was played. It didn't become a job until people who were not singers or musicians started showing up. People who were found by producers, and put on stage or in front of a camera because they were pretty. Studio singers and players doing the work and not getting the credit."
What kind of music do you personally prefer?
"I still love 'Disco', but now it's dance music. Everything Motown was dance music in the sixties. Four Tops, The Temptations, The Supremes and The O'jays. Then in the seventies, a new label was added and it became Disco!"
Since my page is mainly Disco oriented - have you got any favorite Disco songs (except for your own work)?
"I Love 'Disco Inferno' by The Trammps, anything by Tavares, 'Shame' by Evelyn 'Champagne' King and many others."
Great acts and songs, when talking favorite songs... Which is your personal favorite song of the ones you've recorded?
"Hmnmnmnmnmn, my favorite song that I recorded, I think it might be 'Only The Angels Know'. If you listen carefully, you'll hear Luther Vandross in the backround. What a gift he was to the world."
So, When will we get to hear some new material from you?
"As for something new, about one month from now [April 2010], hopefully something will be playin' on the airwaves."
In other words - Open your ears and be on the look out for something new from Linda right before Summer of 2010!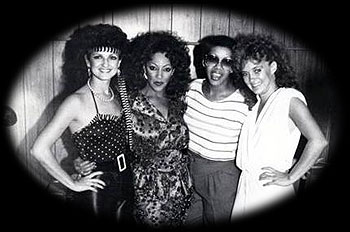 You must have met lots of talented people during the years... Any special ones you want to mention? Any "mentors" and some comments on them?
"Really can't mention one without mentioning them all."
Have you got any favorite people you like or prefer working with?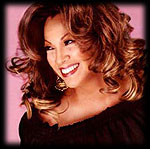 "Show people are the best in the world. There's 'No people like show people'!"
What's your best memory during your years in the business?
"Being on American Bandstand. I grew up watching that show every Saturday and then one day, I was standing on that stage, being interviewed by Dick Clark!! WOW!!"
Anything else you can think of that you want to tell me about? All information is very welcome...
"Darling, you've covered so many things already. Just know that I'm gonna do this until the end, because I love it so. It makes me happy and if I do it right - it makes others happy too!"
She's really been around and has worked with many of the greatest,
both within the music business as well as on the big screen.
Her immortal classics never goes out of style and are still played worldwide
in both Clubs and on Radio, not to forget the homes of the fans!
She always "Shoot Her Best Shot", which becomes clear in her releases.
She have had a long career and she promises to keep on singing;
I'm gonna do this until the end, because I love it so!
We're all thankful for that and look forward to hear new material from this lovely voice.
Thank you for everything so far
and we have definitely not heard the last from...
Linda Clifford