John Patrick Luongo was born in Boston, Massachusetts on December 24, 1949.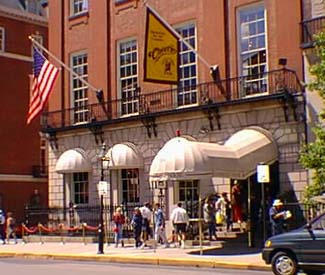 John started with music already back in his time in University. He studied Civil Engineering and graduated from Northeastern University in Boston, Ma. in 1973 with the degree of BS in Civil Engineering but even back then his first love was always music... While in university John took on a part-time job as a DJ at a club in Boston called The Townehouse, which was, at that time located above a bar called The Bull and Finch, upon which the TV show 'Cheers' is based.
I [Discoguy] asked John: When did you start DJ'ing and which was your first gig?
"I was attending Northeastern University in Boston, Massachusetts in 1968. One night I went to this club called the Townehouse and saw a DJ spinning records. I went up to speak to him since I was intrigued with his job and we started to speak. He was only playing one record and clumbsily having dead air or long fades before the next song came on. I told him before I left with my friends that I wanted to do that and gave him my number on a napkin and asked him to let me know if he needed anyone to fill in. I figured that I'd never heard from him again...
One day, not more than 1 week later, Peter, the DJ at the Townehouse who I'd spoken to, quit and gave my name to the manager. I got a call on Thursday that I had to be there Friday evening for the regular crowd. I went to the local record store and bought all the newest and classic 7" single songs that I thought I needed. I went in with butterflies in my stomach and the rest is history. After only one month the club became the Number One Night Spot in the city. We had crowds around the block waiting to get in each evening and I became extremely influential in the impact that I had on the local radio scene for pop, R&B and rock music. The audiences on the weekend were totally into the music, the scene and the fun of it all. We redefined how Dance and R&B records got on the radio and broke in Boston."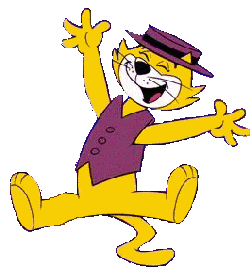 Sometime when still in the University he got his nickname - "TC", which some of his old-time friends still use to call him. The name refers to a cartoon character in the US who was a very hip and cool cat named - "Top Cat". John's friends would tease him as "Top Cat" was the leader of the gang and John was the leader of the Disco scene in New England. Thus the nickname, John "TC" Luongo!
John's University sweetheart - Nancy LaRaia, remembers how the name came about; "While at NU, John became interested in (among other things musical) doing a night or two of deejaying for the NU radio station. We occasionally listened to the station while hanging out in the cafeteria or one of the student lounges, or even sitting outside on the steps of one of the three buildings which faced the Campus Quad (quadrangle). I thought he would be very good at the job, and encouraged him to look into it, knowing with certainty that if he wanted this, he would have this, as his music-related ambition was unparalleled, even in the infant stages. He had a problem however, that required immediate attention: if he were going to pitch his deejaying capabilities to the student manager of the radio station at NU, he had to present himself as a 'professional' (in the most relaxed sense of the word). He needed a moniker. We sat on the steps of one of the University buildings, mulling this over, when, suddenly, the name hit me - Top Cat. Yes, John could be the 'Top Cat of the Airwaves', and, better still, he could abbreviate this to 'TC' for a more catchy ID. He loved it, and took it on. I believe he also used the name in the next couple of years or so, doing some deejaying for a local radio station in Boston, the station played Disco exclusively."

John later went on to be the DJ of a club called Rhinoceros, the largest business club in Boston which eventually became the largest black disco in all of New England and the East Coast.
John himself fills in:


"I also worked guest spots at Zelda's, a very exclusive hip and trendy club, which later became Club Future and then changed one again to Club Horoscopo.
I became the first DJ at a 4,000 capacity club called Whimsey's and I was the first DJ in the country to broadcast his spinning live from the club over the radio as part of a weekly broadcast on Disco 93 WBOS FM where I was one of three on the air DJ's as well as the Co-Music Director along with Vinnie Peruzzi and Ron Robin. I ran broadcasts from Whimsey's and Boston Boston, which was owned by John Addison who started New York, New York. [Legendary New York City club] The crowds ranged in excess of 3,000 to 4,000 on crowded evenings."
WHAT made you wanna become a DJ? WHEN did you know DJ'ing was what you really wanted to do? Was it something you had wanted to do for along time, or did it just "happen"?
"I started on radio by playing records on the closed circuit inter-collegiate station called WNYU. I did this for about six months and loved every minute of it. It kept me close to my music and I got to try my taste on the public.
When I later saw what a club DJ could do to a crowd by the way he managed an evening by his selection and the timing of his music, I was hopelessly hooked! Once I started playing in the Townehouse, I would never look back and even continued to play in the club after I graduated from Northeastern and got a job as a Civil Engineer. I actually quit my job after 11 months to do DJ'ing full time for 1/4th the money I was making. Now that's how you know that someone loves DJ'ing..."
Since you're one of the first classic "Disco-DJ's" - have you got any comments on how the DJ was regarded in the beginning and how it has changed during the years? What about the techniques, equipment and stuff like that?
"I started using two A&R turntables. If you ever looked at one you will say that it's impossible, but I tell you I did and did it well!! The turntable had no vari speed [pitch control] and required that you change a rubber band below the platter to change the speed. I used a Sure V-15 cartridge and circular hand cut paper with silicone spray on them to allow me to be able to slip cue the records. It was a trip and a half.
Today they use samplers and auto beat matchers as well as CD players and sound effects. It's a lot easier to be a DJ today due to the technology but the quality of the DJ is compromised by the lack of fluidity from one song to the next and the ability to use creativity to make the evening a lot more fun. The songs are more relegated into specific areas than we use to use. You would hear a much greater variety in the clubs when I was spinning. I liked playing songs from many formats to expand my base and educate my audience. It is a specialized area today and each DJ plays a specific kind of music for their audience which is like feeding someone a great meal over and over with no changes and little surprise."

Which clubs have you played in? Any favorite club of those?
"As I mentioned previously, I've played at Zelda's, Whimsey's, The Rhinoceros, Boston Boston, The Otherside, The 1270, The Paradise Garage, Studio 54 and many late night and after hours spots such as one run by Stefe D'Aquisto in New York.
My favorite in Boston was the Rhinoceros. It was a white business mans club with three floors. I actually turned it into the hottest Black Dance club in the Northeast, bar none. People came from miles around to crowd in and dance the night away! It was amazing and my boss and the club's owner then, Jackie Gateman, was a very supportive and honest guy who backed me 100% and gave me free rein. He along with his wife Enid and his sister Shirley were the best people who I could have ever met. The support they showed was unflattering and we had a great run of fun and success for a long time!"
Would you say there was a different crowd in each of the clubs?
"Absolutely and each crowd had a style of dancing that the music had to motivate and cater to. You could never use the same music or same set that worked in one club the night before. To get the audience up on their feet you had to win them over by proving your worth on each set. It was not just playing one cool song that they liked but rather showing an audience that you understood their mindset and could take them up and gently bring them down at will.
Show people that you care and are working for them - and you win their respect and undaunted enthusiasm."
Were there songs that were floorfillers in one club, but that didn't work in another club?
"In Rhinoceros I would play "Tear the Roof Off the Mothersucker" by Parliament, "The Love I Lost" by Harold Melvin & the Blue Notes, "Walt's First Trip" by the Ohio Players, "Payback" by James Brown, "Doing it to death" by the JB's, "Hollywood Swinging" and "Jungle Boogie" by Kool & the Gang.
At Whimsey's it was "Chez Chez la Femme" by Dr. Buzzard's Original Savannah Band, "Native New Yorker" by Odyssey, "I Wish" by Stevie Wonder, Grace Jones's "La Vie En Rose" and "I Need A Man", "There but for the Grace of God Go I" by Machine and "Happiness Is Just Around the Bend" by the Main Ingredient.
Whimsey's, The Townhouse and the Rhinoceros, they all had different audiences and favorites. It was a fine balancing act to get a crowd up on their feet and yet interject new and challenging music. Playing it safe was NEVER an option for me, not then - certainly not now!"
Can you name some special "anthems" for some of these clubs?
"Oh yes! The Townehouse rocked with songs like "I'll Always Love My Momma" by the Intruders and "Heat Wave" by Martha and the Vandellas. They also loved "Do It Again" by Steely Dan, "Who's that lady" and "Fight the power" by the Isley Brothers. The disco smashes included, "Love Town" by the Originals. "Bad Girls" - Donna Summer, "Dance, Dance, Dance" and "Le Freak" by Chic, "Don't Stop Till You Get Enough" by Michael Jackson, "You Make Me Feel" - Sylvester, "Ain't No Stopping Us Now" by Mc Fadden and Whitehead, "It's Raining Men" by Weather Girls, "Relight My Fire" and "Instant Replay" by Dan Hartman, "Black Skinned Blue Eyed Boys" by Equals, "Dreaming A Dream" by Crown Heights Affair, "It Only Takes A Minute" by Tavares, "You + Me = Love" by Undisputed Truth, "Car Wash" by Rose Royce, "Turn the Beat Around" by the late Vickie Sue Robinson, "Who Is He and What Is He To You" by Creative Source, "The Hustle" and many many more - too numerous to mention..."
Have you ever owned a club?
"No, I never had desire to. I wanted to take care of the music content and programming and focus on the crowd. I was afraid that the diversion of running a club would compromise my expertise as a DJ. I do not know if there will be an opportunity for me in the future, as I would love to pursue this avenue, but for now I'll stick with making the music the clubs and radio play and making sure the audiences get the best I have to offer."
Do you remember/can you tell which was your best DJ gig ever?
"Yes, I played in front of 4,500+ people for an event which I conceived called Ultimate Disco I held at the Boston Park Plaza. The place was fully packed to capacity and could have taken another 1,000 people who wanted in. I was one of the DJ's playing along with all of Boston's Best and I got an ovation when I finished my 45 minutes set. I was quick cutting from record to record and it was all clicking with such adrenalin as I had never experienced prior. The roar of the audience was so strong it was actually frightening! When you did a great segue and it met with the crowds approval it was a invigorating and loud as being on stage at a rock concert."
Did you know many of the other great DJ's of the Disco era?
"Yes! I had the pleasure of knowing and working with the absolute best. I must admit that I am very fortunate to have had them as my peers and contemporaries. I wish that I still had some of them around. As you know, Aids, drugs and over abusive lifestyles took an awful toll on an industry of talented and young individuals, both male and female.
I knew Jimmy Stewart, Tee Scott, Larry Levan, Richie Rivera, David Todd and all the heads of the record pools both here and abroad. It is important to note that without the record pools there would never have been a disco era or heritage as we know of today!!!


I worked in the same scene and knew Tom Savarese, Francois Kevorkian, Larry Levan, Shep Pettibone, Danae Jacovidas, Ritchie Rivera, Jim Burgess, Tee Scott, Andrew Reskowski of Zelda's in Boston (he could not mix to save his life but had amazing taste and timing for music), Wendy Hunt and Sharon White (two great female DJs) , Jellybean Benitez and Mark Kamins.
I can't even begin to tell you how many that I met and worked with that I have not mentioned and If I left them out I apologize. It would take a lot more paper to do this as complete as it might be... I also had the pleasure of knowing some great music people such as Tommy Silverman, Ray Caviano, Danny Glass, Corey Robbins, Steve Kopeckni, Vince Pelligrino, Lewis Martinee, Tom Moulton, Judy Weinstein, Tom Hayden, Eddie O'Loflin, Joey Carvello, Johnny Copola and a wonderful mastering engineer named Josť Rodriguez.
All the aforementioned were at the beginnings of wonderful careers as was I and all were very instrumental in making dance music the accepted form that it is today."
Have you got any memories or comments about them? Have you still got contact with any of them?
"We speak occasionally but it is not a regular thing. I wish it was! As I mentioned above, there are few left due to drug abuse and diseases caught from a tough lifestyle. It is a real shame, but many good ones did get reach anywhere near their prime. I think one of my favorite memories was at my Pavillion Offices when Ray Caviano, Vince Pelligrini, myself and Judy Weinstein were all sitting on a couch discussing the business... We were all at the pinnacles of our careers and someone came in and made the comment that they were actually in the presence of the most powerful people in the dance business - and at that moment they were correct!"

In April 1975, you and Arnie Ward started Nightfall Magazine. Can you tell a little more about that magazine? Content, readers and so on...
"Actually I started Nightfall with a friend named Warren Frank and not Arnie Ward. I eventually bought Warren out of his share and maintained full ownership. Arnie came along many years later and was not really involved in the magazine but more on the record pool front.
I wanted to come up with a platform from which to launch my ideas and opinions so that I had a springboard to make my move. I thought that I might be able to make Boston the capitol of Disco and for many years of my tenure there, I did exactly that! When I made my decision to leave Boston in order to move to New York and begin a career of mixing and production, Boston was firmly and legitimately on the Disco map forever and I am very proud of that fact.
I made the magazine the standard of the entertainment scene in New England. We made a point of appealing to the teen market and the hip young adult nightlife person. I have thought of doing the magazine again at some point, as I still own the name and assets..."
I've heard that you where also the one organizing the first Record Pool - Boston Record Pool - in 1976. How did you come up with that idea?
"I used to go to the labels looking for product and would ask for a copy for anther DJ that I had as a friend. The labels liked me due to my radio background but did not want all the club jocks there all the time. I asked if they would give me 15 copies of each piece of product and I in return would pass the records out and give the labels the feedback on one sheet from all of the individual DJ's along with an overall consensus of the songs viability. When I officially announced the Record Pool in Boston, I read in Billboard how NY, with Judy Weinstein and The Long Island Pool run by Jackie McCloy, had also started within the same week. We did not know of each other, but we were the first three in the United States and possibly in the world to the best of my knowledge.
I must give credit to a very special person who ran the pool for me once I got too busy to attend to it daily, and that was my assistant and friend J. Roxy Myzal. She did the most incredible job of dealing with the daily goings on and providing feedback to labels to a degree that was unsurpassed. She was more than just an assistant!"
Through Nightfall and the record pool, events like The Ultimate Disco I, The Ultimate 2 and The National Disco Awards brought Bostonís Disco-goers together in large venues and The National Disco Awards was the biggest venture. The word got out and within a year they had DJ's coming from every corner of the States to attend and take part in the events. This award ceremony began in 1976 as a small gathering with some 250 people at The Mirage. In 1977, the event was held at the Sheraton-Boston and about 1700 people showed up. In 1978, the awards had over 2500 attendees at the Grand Ballroom of Park Plaza Hotel. The event was headlined by The Trammps, Odyssey, Claudja Barry, Vicki Sue Robinson, Evelyn King and The Webster Lewis Orchestra and the event got coverage by both Billboard Magazine and Time-Life.
The National Disco Awards was also founded in Boston, and as I understand you where one of the guys behind that as well. Was this like some kind of Disco Grammy awards? Have you still got some information on who the winners and nominees where for the running years?
"I was the one who conceived of the awards in an effort to bring attention to the disco scene and even more so to Boston, which I loved so much. To this day it is still on record as the first acknowledgement of Dance Music in the world on a National Basis. The Nightfall Awards got people from all over the country and the dance music world to come and participate. Our reputation was really stellar in throwing these events and they were fun and impactful. I was at one point approached by Andrew Suskind, who was David Suskind's [A major television interviewer in the US] son, to back me in the National television broadcast of the event. Before I could proceed I had offers from labels to go to work for them and since I loved to make the music that touched people, I shut the magazine that I owned that sponsored the event down and went to New York to pursue my career as a mixer and eventually record producer.
I have the programs from the events along with pictures of some of the events. I will do my best to provide them for you as I go through my papers pertaining to the event."
And today I know you're on the board of governors for NARAS, who picks the Grammy's. That must be really interesting, can you tell a little more on what kind of criteria's and other things you are judging the nominees by and over all how that work is done?
"It is all based upon what was done that advanced the awareness to the field of entertainment along with utilizing ground breaking performances and techniques. We really do go through great pains to assure that we allow our opinions to remain free of pressure and political correctness. It's a very good bunch of people who all care. There are actually only about 13,000 people who really actually vote on the Grammy's since you must have great and verifiable credentials to be a voting member. We take great pains to be sure that those who show creativity and talent are recognized and rewarded."
Now, let's get into your work as a remixer... You are one of the first well known remixers - how did you get into remixing and which song was the first you ever got to remix?
"My very first remix was a record I did out of Boston called "I Just Wanna Say I Love You" by a local Boston artist named Leon Collins on ELF Records. I got feedback all the way from NY that the record was a killer and the clubs all used the break in it, as they thought it was slamming. Next came a little know record called "Dancing Free" by Hot Ice on Rage Records. It did really well and got my foot in the door.
The first big break I got was when a product manager from EPIC Records, named Cheryl Machat, came to me to promote and assist her on a new release. I listened and told her that it was not quite right. I took my 2 track recorder and recorded the record on one of the tracks and then I recorded myself doing overdubs with a salt shaker as my shaker and some spoons as my tambourine. I then speeded it up and sent it to her on cassette as an idea. She loved it and asked me if I wanted to mix it to make it like I envisioned it.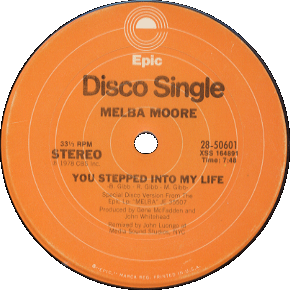 I was flown to New York, chose a studio that I had seen on the back of records that I liked and went in and mixed and did the production work on Melba Moore's "Your Stepped Into My Life". The record was a big hit and I was on my way!!
CBS loved me and I did a ton of successful records from "Shake Your Body Down" by the Jacksons, "This Time Baby" by Jackie Moore, "One Chain" by Santana and "Relight My Fire" by Dan Hartman. "I Haven't Stopped Dancing" by Gonzalez, "Music is my way of life" by Patti LaBelle, "Let Me Take You Dancing" by Bryan Adams and "Our Love Is Insane" by Desmond Child, "Don't Turn Around" and "A Little Love Keeps the Doctor Away" by the Raes..."
Actually, John had done a remix prior to the Leon Collins track... His University girlfriend, Nancy, tells me; "I believe the following is the very first remix he ever undertook. It seems that I was absolutely wild about Otis Redding's "Try A Little Tenderness". One day, after John and I had finished University, we drove back to his house in Everett. When we arrived there, he went into his bedroom, promptly came out again, and told me to "wait here for a moment until I open the door again." I had no idea what to expect, but when he opened the door and beckoned me in, "Try A Little Tenderness" was playing on his reel-to-reel 1960's-era tape player. Then I heard it: "You got to, you got to, you got to....." etc. He had remixed and extended the brilliant ending of the song, which happened to be my favorite part. It was just fantastic. I couldn't keep still. The upsurge of that powerful ending is something that I remember to this day."
I guess this gives you an idea of how much he loved the music and that he really wanted to become a remixer - something he soon would become world famous as.
Nancy adds: "I remember John was doing some deejaying for a local radio station in Boston, the station played Disco exclusively. I do specifically remember John sending a song out to me one particular evening. The song? You guessed it - Otis Redding's "Try a Little Tenderness", re-mixed by John Luongo!"

As mentioned above, John remixed Bryan Adams first track "Let me take you dancing". This is a track it seems like Bryan doesn't want to know about at all these days. It's not available in any Bryan Greatest Hits or likewise. John tells me a very interesting story on this...
"I flew to Vancouver,BC to meet with both Bryan and his wonderful co-writer Jim Vallance. I took a taxi to Little Mountain Studio on a foggy evening and went in to hear the track and do the overdubs to be mixed. I clapped on the track along with Jim and Bryan. I added a sax solo from a local saxophonist and then had Jim play a part on the Vibes that I came up with. The overdubs went great and we had a ball. I took the tape back with me to NY to mix at Media Sound with my engineer, Michael Barbiero, upon listening down felt that the tempo had to be picked up to make the song the true hit it could be.
I had to speed the track up to the most I could to make it groove harder and be at the tempo that would rock the clubs and back then there was not time compression or pitch compensation programs. The final product kicked ass but Bryan's voice was altered slightly due to the speed shift. Bryan was not really happy about that and felt that it did not suit his vocals to his taste. Sometimes you must do what is right to achieve what you need to and you must have the guts to make a call that is unpopular. The song came out, went to Number One and then sold like crazy to the public which was the reason that Bryan was not dropped by Jerry LeCoursie of A&M Canada. I believe that sometimes people do not want to look back at where they came from which is why the song seems to have not been used in any of his Hits Packages. In all honesty, it is the most different in style and feel and production on any of his songs which are all more rock/pop oriented."
I know you at one point more or less remixed everything for Columbia. Did you have some exclusive deal with them? I know Tom Moulton used to have one in the early 80's with Casablanca, which let him not remix for other labels...
"I first did tons of work for them as a remixer who was freelance. I was eventually given my own label called Pavillion as the youngest CBS Records president ever and then was asked to do all the mixing work on my first option for Epic, Columbia, Portrait and their Associated Labels such as Blue Sky, BID and Nemperor.
It was a joy and very challenging. I loved the diversity of the work I did and that I never had to deal with only one type of music. I was not exclusive at first as I did the work for every major label. Atlantic, Warnerís, Polygram, London, SIRE, EMI, Elektra, all of the majors. If you look at my discography, you will see that I've worked with every label you can imagine. I did have to give the CBS material the first priority in getting their work done first, since my label was with them and that was a contractual part of the deal."
Do you know how many remixes you have made during the years? Have you still got a copy of every record you've been remixing?
"I have mixed hundreds of songs and may be approaching a figure closing in on a figure in excess of 500 or more. Believe it or not, I have either Cassettes, Acetates, reel to reels or DATís of all my mixes and productions. I was going to start a disco library or some type of archive to share them but we'll have to see what the future brings. I would love to broadcast a show internationally over the Internet and sponsored by a major concern to highlight the older disco and its heritage. You have to know about the music and not just listen to it to enjoy all it has to offer to you!!"
Would you say that you had some special way in remixing your songs, or something else that would be like a trademark for a John Luongo remix?
"I had a gift to take songs and make them better suited for an audience without changing the context or the intentions of the producer and artist. What I mean is that I did not take Rock act and turn them into the Pet Shop Boys, nor did I take a black artist like Patti Labelle and make her into a generic dance tune. My songs were always songs first and danceable second. I mixed great records that you could dance to and not just dance records that sounded great at a club and lousy at home or on the radio.
My skills centered around the vocalist always being the star. I was brought up listening to great vocalists and kept my love for the sound and feelings a vocalist could emote to an audience. I was also more musical than many of my peers and yet I also believed in doing whatever was needed to add new parts to energize a song. My philosophy was that great percussion used correctly in a track would grab the audience and bring a track to a new level of excitement.
I was also known for my intros and my breaks and vocals sounds. At one point Quincy Jones told me at a conference that he studied my mixing and loved my percussion ideas and breaks. That was just before he did "Don't Stop Till You Get Enough" by Michael Jackson.
I was known as "Bongo Luongo" because of my sense of rhythm and percussion. I always knew exactly what I wanted for percussion on a mix and NEVER settled for less. I also had a way of building a song into a frenzy by the end of it. I have always been told that my mixes were extremely exciting and would be fit for movies and their soundtracks.
I do want to mention that I had the extreme pleasure of doing my later work with some great engineerís... My first engineer and friend was Michael Barbiero. He was assigned to me at Media Sound and was instrumental in me becoming successful. We learned to grow as individuals and as a team. I owe him a lot for what I learned and what I eventually became.
My next engineer was from Sigma Sound and his name was Jay Mark. He was a quiet and thoughtful person, he could get sounds that I dreamed of in my mind and capture them to tape. We worked on great records together and I was a better person having met and worked with him.
Another wonderful engineer that I worked with was Michael Hutchinson and also Carla Bandini of Sigma Sound.
I then met and worked with a person who became one of my best friends named, Gary Hellman. I met him as an assistant at Electric Lady Studios and he was a match from session number one!! He gave me so very much and helped to make the great mixes I did in the rock and pop arena very successful. He was as dedicated and astute in his taste of music as anyone I ever worked with. Gary to this day is still one of my best friends!!"

How was a remix made back in the Disco days?
"We did many strange things. I used to have horrible snare sounds and we fed the snare on tape to a speaker in the studio that was on top of a real snare drum. This was a great trick and then we miked that snare to get a better sounding kick ass sound. This was done in "This Time Baby", "Shake Your Body Down" and "You Stepped Into My Life" just to name a few.
The overdubs were usually me hand clapping or playing the tambourine on just about every record I did and some great percussion and overdubs. I must admit that I was in actuality the first mixer to do and credited for "Additional Production" on almost every record I mixed.
A mix of a 12" took me between 11 and 30 hours STRAIGHT!! No Sleep - but a ton of coffee!!!!!!
I also worked harder than most, because I wanted my remixes to shine superior to the original versions. I would say my mixes took an average of 6 to 10 hours more than all other mixers, but I also had more of my mixes as singles than anyone of them ever did! I worked to this point to enable my mixes to be released as the singles as well. Quite a humbling compliment to find your version being the one to turn the record into both a club and radio hit simultaneously."
Have you got some favorite remix of the ones you've made?
"Many, but the ones that seem to make me proud even to this day are "This Time Baby" Jackie Moore, "Shake Your Body Down" The Jackson's, "Vertigo/Relight My Fire" Dan Hartman, "I Want A New Drug" - Huey Lewis, "Shine On Silver Moon" by McCoo and Davis, "Out Love Is Insane" by Desmond Child and Rouge and I think "You Stepped Into My Life" by Melba Moore since it was one of my very first mixes to become a major across the board hit.
I still love "Dude Looks Like A Lady" by Aerosmith. The dance mix was hot and a lot of fun.
I also love the mix I did on "All She Wants to Do Is Dance" by Don Henley and "Missing You" by John Waite. "Missing You" was the Number One song in the country on the POP chart on my mix!
I have records that I thought sounded great such as Marlena Shaw's "Love Dancing medley". I did a non-stop on the LP side that was over 18 minutes long. I really love the way that "Give It Up" sounds by KC and the Sunshine Band. It went #1 POP in the UK on my mix and got tons of play here at clubs and radio. Of course I'm leaving out some, but that leaves room for more memories later!"
Other tracks and acts John has added his talents to is (among others); Queen - "Liar" (1991 Bonus remix), Yoko Ono's "Cape Clear", "Really Sayin' Somethin'" & "Aie A Mwana" by Bananarama, the 1984 remix of Taste Of Honey's "Boogie Oogie Oogie", the US remix of "Can You Feel The Force" by the British group Real Thing and songs for Level 42, Fine Young Cannibals, Mighty Clouds Of Joy, Duncan Sisters and many many others.
He helped remixing most of the songs of Visage's album Fade to Grey - the Singles Collection and he has been working with other acts like Bobby Brown, Belinda Carlisle, Van Halen and Michael Bolton. The list could go on and on...
Have you got some special memories from remixing a certain track? Something that might have happened, or just anything from a specific remixing "session".
"During the mixing of "Shake Your Body Down" by the Jackson's I worked for over 29 hours (!!!) straight with NO BREAK!! When the record was finally done, I had not noticed that we, me and my engineer, Michael Barbiero, had edited so much new tape into the 1/4" reel that when we fast rewound the tape it was extending over 1" past the end of the reel and was in jeopardy of being twisted and destroyed!! Michael saw this, yelled to me and he and I in sync grabbed on reel each with our bare hands to stop them from damaging the tape. The recording was saved but the tape machine got a bit bloody from slicing both our hands. The effort was worth it, the record went #1 on R&B and POP charts and saved the Jackson's career. True Story!!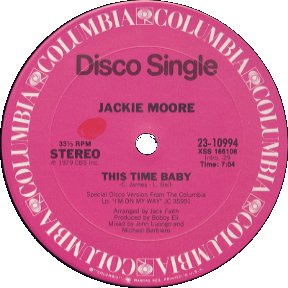 Another story of interest was when I mixed "This Time Baby" and decided to do something never done in dance music before. You always started with percussion or rhythm and built to the first verse entry. On "This Time Baby" I did that but when the first verse was to come in I edited in a breakdown with Jackie Moore's vocals over it. I was told by my engineer and others there, that this was wrong and fought to keep it in. I eventually put my foot down and took a stand saying I would not change it at all! I just knew in my heart that the audience would love it. The final result premiered at the Paradise Garage under the talented hands of Larry Levan and was played back and forth with two copies for over 45 minutes straight after which it went on the air of WBLS in NY and became their number one request and also went to Number One in every club in the US and On the Billboard Dance Charts. Very gratifying for me!"
What about other remixers, were there "competition" between you? Any other remixer's work you specially liked? Any song remixed by another remixer that you whished you have made?
"We were all in competition but it was friendly and very positive in the results the public got. I worked at a time when Jellybean, Tom Moulton, Francois K, Walter Gibbons and Jim Burgess were all hot and popular. I think Tom Moulton defined what a clean and open sound was. He took tracks and separated them, but still allowed them to have power and space.
I like some of Jellybeans mixes and Walter Gibbons.
I was more of a brash and funky guy, who gave music and my mixes an overwhelming sense of urgency and excitement. I think I advanced the mixing of records to transcend dance music and make them better sounding as well as danceable.
The song done by a remixer that I fell in love with was "Ten Percent" by Walter Gibbons. Truly one of the best pieces of work in keeping a song danceable and yet true to all that is good about its musicality."
Is there any special song you would have loved to remix?
"Yeah! I wish I had the chance to work on U2 that Francois Kevorkian did. He did "In The Name of Love" and I loved that track so very much. If I have a strong suit it is making rock and R&B even more accessible to the dance crowds while still making the artist feel that they have not prostituted their music. I also loved "Ten Percent" by Double Exposure on SalSoul. What a great 'make you feel good about life record'."
One thing about you and remixing - is that you have also made remixes for more pop and rock groups than many of your fellow remixers. Is/was there any difference in remixing a Disco track compared to a pop/rock track?
"Yes, there is a tremendous difference and it is far harder to do the POP/Rock than straight ahead disco. The reasons are that the songs are much more musical and their structures are more traditional, so you must work much harder to see if these songs can be pulled apart and lengthened. These songs also have modulations in many instances, which is not good for remixing and extending songs. The other problem is that these songs are also not cut as dance tracks, so the recording is much less separated than on dance music. Many times the drums, vocals and other instrumentation all bleeds together making it impossible to do a clean and quiet breakdown.
Finally, most of the rock/pop acts do not want anyone taking what they've slaved on and making it sound so different that it can not assist their career advancement. One group's A&R man once told me, "Don't put any homo bells on their tracks". That group will remain unknown to all but me for all time!"
Another guy who also got to remix pop/rock tracks was Jim Burgess. And many people bring up your name when talking about him or bringing up his name when talking 'bout you... You both had similar ways of remixing. Did you know and have you got any memories or something to say about Jim Burgess?
"Jim Burgess was a classically trained opera singer. He was an even tempered and yet very passionate human being and a wonderfully talented DJ supreme. Our similarities were centered around the fact that we both loved great vocals and wonderfully powerful and well separated mixes. If you listen to my mixes you will always hear every line of the vocalist at all times. I prided myself with being the mixer whose mixes always let the vocalist be heard and showcased.
I have always said that I did not mix dance records, just great records that you could dance to. Jimmy had the same attitude as I did. A record should be mixed to play at the clubs and be listened to on the radio.
Jimmy would come to see me in the studio and watched and listened to my mixes. He would have told me if what I was doing was crap and had no fear of being honest with me. Thankfully, he loved my selection of songs and the way I mixed them. He constantly told me that he would pay me the supreme compliment by playing any record that said "Mixed by John Luongo" even without a preview listen the evening before. He followed in my footsteps and always came to me for advice and critiques of what he did. I encouraged him to go for it and never play it safe. I believed and told him that you always experiment at the top. It is not the time to play it safe or to repeat a formula.
I have very fond memories of Jimmy, he was a great guy and I miss him!"
John told me that he still do mixing and production work and he have just had a Number One record for a top Belgian artist named Novastar. It sold double platinum and was #1 for 10 weeks - and was the first record to ever make the alternative rock and pop charts simultaneously...
Since you're still active in remixing - what's the difference in remixing tracks today compared to back in the 70's? Which was most challenging?
"The recording and tracking in the days of no outboard gear that assisted you with powerful drum sounds was a real challenge. The isolation of sounds that were recorded live was almost impossible without gates and going through a track to erase the sounds in between the time that they played.
Today with samples, computers, time compression, pitch programs and other technical advances, it's conceivable that anyone can come up with something. It won't necessarily be good but it's something.
I love technology mixed with wisdom and respect for what still works. Analogue is still superior to digital when it comes to capturing feel over precision. It's a balancing act that takes years of trial and failure to reach the top of your craft."
You mentioned to me earlier that you had many unreleased remixes, any special ones you're really sad they where not released? Which and why?
"I did production and mixing on a track by Stephen Still's called "You Can't Dance Alone". It was very advanced for the time and so was shelved due to fear of the unknown.
I did a mix for Hall and Oates on "Say It Isn't So" that I loved and never saw the light of day. I also did one for Van Halen that was a balls to the wall killed called "Come On Baby Finish What You Started". Vallerie Beronelli heard it and loved it and so did Eddie Van Halen. I heard that the band killed it since I replaced all the drums to make it more danceable. Oh Well!!
Finally, I did a mix for Prince from the movie Batman and it had Big Daddy Kane rapping on it early into the rap craze. It was fresh and innovative and would have been a hit, if it had been released. It was so different that it spooked people. Better to be ahead of your time than to play follow the leader.
So - Yes, I do have quite a few unreleased versions. As you can imagine, when you are in the studio you run off quite a few pieces to get to the final version, In so doing you must edit out some that are great in the name of time. In the club world today, time is of no matter just groove and motivation. I have versions of Jacksons and Greg Kihn Band's "Jeopardy", Marlena Shaw and Dan Hartman, that have not ever been heard! I'm looking in to the possibilities of releasing some compilations of unreleased material that I have from the many mixes I've done...
I will actually be meeting with someone in the next two weeks [July 2002] to see if we can arrive at an agreement to put a compilation out of my works and unreleased and unedited projects. I hope this happens as it will be a killer product.
There are more but I will get writers cramp..."
You're still remixing, but do you still DJ from time to time?
"I am in current negotiations with a friend to produce and host a weekly Dance Music history show complete with my collection of records, memories and interviews with the people who made history. I also plan to do a one night bash at some point next year to get my skills back to speed. I loved to spin so much that getting paid was a secondary reward for doing what I loved so much."
Which of your works - DJ or Remixer - do you prefer and why?
"I must admit that both have an incredible appeal to me for different reasons. To choose between the two is to split the baby in half!
I love to DJ for a crowd because of the spontaneity of the moment and the thrill of mixing live to capture the essence of the crowd and be a part of their entertainment. The rush of a great mix at the right moment to an appreciative audience is spectacular and as good as hitting a homerun in the world series for my part!
I love to Remix because one can take what a potentially good record is missing and add it or supplement that which is there to create a work of art that did not previously exist. I love to hear my songs in clubs and even more so to be listening to the radio and hearing on the I worked so hard over get played. I guess that desire to create stems from my college days when I was deciding if I was to be a Civil Engineer or an Architect. I know that I wanted to leave a mark that would stand long after I was gone and I hope that I have!"
As a Disco-holic and record collector myself, I could never part with any of my records. But what about John... Have you still got your DJ record collection? Or have you sold it? You must have got a HUGE (and GREAT) collection if you've kept all your records during the years.
"Unfortunately I do not have as many records as I once did back in the late 90s. Due to flood damage many were destroyed and had to be thrown out. The records have never been for sale as I am a DJ at heart and they hold more of a sentimental value to me than tangible value. I used to have many single records - 12", 7", Picture Discs and LPs that I received from the labels, but while I had to throw many away I kept some just because of the sentimental value to me. My actual collection really began in 1973 when I graduated from Northeastern University and went through to 1985.
I plan to use my records in the future as a reference library for me to enhance my dream radio show someday!"



Download the FREE basic RealPlayer...





CLICK to hear some John Luongo remixed songs...





Blame it on the boogie
Jacksons

Give it up
K.C. & Sunshine Band

Haven't stopped dancing yet
Gonzalez

Music is my way of life
Patti LaBelle

Relight my fire
Dan Hartman

Shake your body (down to the ground)
Jacksons

This time baby
Jackie Moore

Vertigo
Dan Hartman

Walk right now
Jacksons

You stepped into my life
Melba Moore

You're too late
Fantasy



CLICK to hear some related songs...

Ain't no stoppin' us now
McFadden & Whitehead

At midnight
T-Connection

Bad girls
Donna Summer

Celebration
Kool & the Gang

Dance, dance, dance
Chic

Do ya wanna get funky with me
Peter Brown

Don't leave me this way
Thelma Houston

Don't stop 'til you get enough
Michael Jackson

Got to have lovin'
Don Ray

Happiness is just around the bend
Main Ingredient

the Hustle
Van McCoy

"Push Push" In the bush
Musique

Instant Replay
Dan Hartman

Le Freak
Chic

Love is the message
MFSB

Native New Yorker
Odyssey

Night fever
Bee Gees

Shame
Evelyn 'Champagne' King

Ten percent
Double Exposure

There but for the grace of God go I
Machine

Turn the beat around
Vicki Sue Robinson

Who is he and what is he to you
Creative Source

You make me feel "mighty real"
Sylvester

You should be dancing
Bee Gees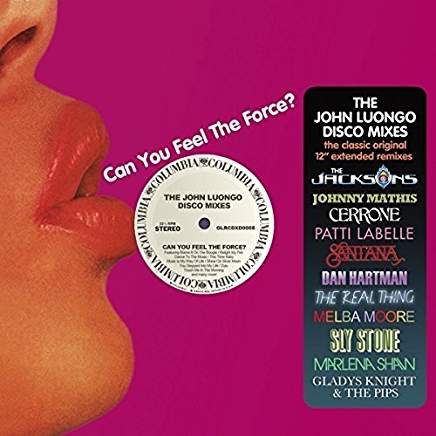 Click to buy from


Disc 1:
Vertigo/Relight My Fire (Feat. Loleatta Holloway) - Dan Hartman
Shake Your Body (Down to the Ground) - The Jacksons
Music Is My Way of Life - Patti LaBelle
This Time Baby - Jackie Moore
Gone, Gone, Gone - Johnny Mathis
Shine On Silver Moon - Marilyn McCoo & Billy Davis Jnr
Can You Feel the Force? [US Remix] - Real Thing
Pick Me Up, I'll Dance - Melba Moore
In These Changing Times - Mighty Clouds of Joy
Touch Me in the Morning - Marlena Shaw
Disc 2:
Dance to the Music - Sly Stone
Blame It On the Boogie - The Jacksons
You Stepped Into My Life - Melba Moore
Just a Feeling - Stanley Clarke
On Our Way - Southern Exposure
(Come and Take This) Candy from Your Baby - Sarah Dash
One Chain (Don't Make No Prison) - Santana
Zulu - The Quick
Back Track - Cerrone
I Will Fight - Gladys Knight and The Pips
Walk Right Now - The Jacksons

Click to buy from


The Hustle - Van McCoy
Get Down Tonight - K.C. & The Sunshine
Supernature - Cerrone
Bad Girls - Donna Summer
Let's All Chant - Michael Zager Band
This Time Baby - Jackie Moore
Funkytown - Lipps Inc.
It Only Takes a Minute - Tavares
Shame - Evelyn "Champagne" King
Macho Man - Village People
Neutron Dance - Pointer Sisters
Flashdance Megamix: Flashdance...What a Feeling '95/Maniac - Irene Cara


Click to buy from


Native New Yorker - Odyssey
Rock Your Baby - George McCrae
Can't Get Enough of Your Love, Babe - Barry White
He's the Greatest Dancer - Sister Sledge
You Know How to Love Me - Phyllis Hyman
Don't Leave Me This Way - Thelma Houston
Don't Cry for Me Argentina - Festival
Boogie Oogie Oogie - Taste of Honey
Honey Bee - Gloria Gaynor
Instant Replay - Dan Hartman
It's Raining Men - Weather Girls
She Works Hard for the Money - Donna Summer


Click to buy from


I Just Want to Celebrate - Rare Earth
Up for the Down Stroke - Parliament
You Got the Love - Rufus
Can You Handle It - Graham Central Station
Dynomite - Tony Camillo's Bazu
Do You Wanna Get Funky With Me - Peter Brown
Fencewalk - Mandrill
Hollywood Swinging - Kool & The Gang
Outa-Space - Billy Preston
Doing It to Death (Pt. 1-2) - Fred Wesley


Click to buy from


Fade to grey (12" version)
Mind of a toy
Visage
We move
Tar
Der amboss
In the year 2525
the Anvil
Night train
Pleasure boys
Damned don't cry

I asked John if he could list some of his favorite Disco songs, like some kind of Top Ten or likewise, and this is his list...
"In No Order:"
| | |
| --- | --- |
| Evelyn King | "Shame" |
| Machine | "There but for the Grace of God Go I" |
| Odyssey | "Native New Yorker" |
| Peter Brown | "Do You Wanna get Funky with me" |
| Sylvester | "You Make me Feel (Mighty real)" |
| Lenny Williams | "Choosing You" |
| Kokomo | "Imagination" |
| Blackbirds | "Walking I Sunshine" |
| Main Ingredient | "Happiness Is Just Around the Bend" |
| Funkadelic | "Shit Godman Get Off Your Ass and Jam" |
| Kool & the Gang | "Hollywood Swingin"/"Celebration"/"Jungle Boogie" |
| Thelma Houston | "Don't Leave Me This way" |
| Harold Melvin & the Blue Notes | "Bad Luck" |
| JB's | "Doing It To Death" |
| Double Exposure | "Ten percent" |
| BT Express | "Do It Till Your Satisfied" |
| Frankie Goes to Hollywood | "Relax" |
| Philly Devotions | "Pick Me Up" |
| People's Choice | "Do It Anyway You Wanna Do It" |
| MFSB | "Love Is the Message" |
| SalSoul Orchestra | "Magic Bird of Fire" |
| James Brown | "Payback" |
| T-Connection | "At Midnight" |
| Musique | "Push Push In The Bush" |
| Margie Joseph & Blue Magic | "You And Me Got A Good Thing Going On" |
| Creative Source | "Who Is He and What Is He To You" |
| Stevie Wonder | "I Wish" |
| Fantasy | "You're Too Late" |
| Everyday People | "I Like What I Like" |
| Sly & Family Stone | "Dance To the Music" |
| Tower of Power | "Drop It In The Slot" |
| Bee Gees | "Night Fever"/"You Should Be Dancing" |
| Don Ray | "Got To Have Loving" |
| Cerrone | "Love In C Minor"/"Give Me Love"/"Cerrone's Paradise" |
He continues: "I have many many unique ones that made me love the music that made us all dance. I'll give you more in time."
Did you like Disco music during that era, or was it just a job? Since you were a Disco DJ & remixer with a record of lots of great remixes - I guess you LOVED it!
"I could not fake an emotion and could never be any good if I copied. Copying is an uninspired way of being like others without ever feeling like others. My music mixing came from the depths of my passion for this music. I loved it, the crowds and the artists and producers who made the music. I would have done every mix for free if I could have because the passion that I had and still have is overwhelming.
I would NEVER do anything that was a job, because I would die a 1000 deaths each day I had to go to work."
What kind of music do you personally prefer?
"I love a blend of Dance, Rock, R&B and pure POP. I think that Top 40 was an amazing format for bringing the best of each variety of music together under one roof. It was and still is the best example of what great music is, "A pure blend of the best elements of many varied styles and influences".
Today I like the new music emanating from the young alternative rock bands. They are finally utilizing rhythmic drums and percussion into the melodic elements of rock. I think Train, Smash Mouth, Alien Ant Farm, Blink 182, Jason Dylan and U2 are all wonderful examples of what's good about music today."

I found you mixed some CD's some 5 years ago called Non-Stop Disco and also Non-Stop Funk. Can you tell me a little more about them?
"I came up with the idea that it would be great to have a real DJ mix songs in the way they would be mixed in a club and I got a big list of classics that I assembled. As is the case in the music business you make a wish list and then see which of those you can acquire. I was lucky to get many that I wanted but also had many disappointments as well.
I remastered all the tracks to put back the power and punch in the bottom end and then clear up the overall sound. After many months and a lot of hard work the series of Non-Stop Disco Volume 1 and 2 came out on Polygram and became very successful. I was gratified that my work was appreciated and I gave the people a set of CD's and selection of music that recreated an evening at a club. I got raves and the results were wonderful from the responses and gave me something to enjoy as well.
I hope to do one of these packages with all of my material some day and am going to be speaking to the labels on this soon!
As I am sure you know, I love Funk as well and was very well versed and brought up on the best around. I put together three funk Non-Stop packages that are available on Chronicles and is a three CD set Vol 1 to 3. I suggest you check it out as it is a great selection of songs mixed in a club fashion to give the audience the feel of the era they came from.
I also did Electronic 80's which is a two volume set that was done for the selection of the music rather than the mixing. I just thought that the DJs and consumer should be given access to the best music that we could offer and I convinced Polygram to put this out."
Have you ever done something else - Or have DJ'ing/remixing always been your life?
"I got my Bachelor of Science in Civil Engineering from Northeastern University in Boston, Mass. I graduated with a degree after doing work study for 5 years. I graduated and got a job less than three weeks later! I put up an 8 story 100 unit apartment building in 11 months!!! This was a very big accomplishment for a kid out of school and I was told that I broke the record for a building of this type going up. I took a picture of the building gave it to my parents and quit to spin records at a nightclub because I loved music more.
My pay at the Rhinoceros was less than 1/4th of that as an engineer but I wanted to be happy! I did it and am glad that I did."
What's you best memory from your years in the music business?


"I think that one of my most vivid occurred when I was running my Record label, Pavillion Records. I got to see how a label works and also to help to shape the music scene. I learned so much and yet had so much to learn. I became a business man but lost the sight of the creative me that I loved.
Pavillion was named and started by me and me alone. I had to have a name when I signed a deal with CBS Associated and I had seen the title of a book called "Far Pavilions" on it. I then added another "l" for Luongo and voila - Pavillion Records was born.
I also was the first person to hear the demo of and offer a deal to Madonna. It was brought to me by my friend Mark Kamins, who was the DJ at Danceteria, a great club downtown. He invited me to listen to a new girl he was working on and said that he would love me to sign her to Pavillion. I listened and loved the song, on the demo cassette he was working on. He had her come to the club the next evening and I danced with her. She was so very special and very confident and exuberant.
Mark came to my home on Friday to celebrate that I was doing the deal for Madonna. On Sunday evening at about 8PM I got a call from Madonna telling me that she had a firm deal from SIRE through Michael Rosenblatt and could not go through with the deal. She said she was sorry but that she had to do this. I did not want to risk that she would not be approved by CBS so I told her I understood although I felt bad, but that I wanted her to get the deal she deserved and would respect her.
I could have fought this, but I felt that she was in need of this on a survival as well as an artistic level and did not want to jeopardize her future.
I did tell Ron Weisner, my friend who became her manager, that I thought that he should manage her and not France Jolie!!! Nice call huh??"
Since you've helped launching many fine artists during the years... Any special ones you wanna mention? Some you got special contact with? Or Any DJ/remixer "mentor(s)"? Some comments on them?
"Dan Hartman was a friend and a very talented individual. He died a very young and untimely death and deprived the world of many great moments that now will never be.
I was impressed with Tom Moulton and his ability to make things sound cleaner and better. He was a great talent and deserves a lot of credit for acting as a friend and an inspiration in my early development.
Tom also used me as a testing ground on some of his new projects since I was a big fan and had a radio show that focused only on the dance scene. I got Grace Jones first in the United States as I did with many of Toms' wonderful mixes and productions.
As far a DJ's I learned to love my craft from a DJ named Andrew Reckowski who spun at Zelda's in Boston. I also was a fan and friend of another local Boston DJ named Jimmy Stewart. A great guy who was going to be s superstar, if he had not perished in a fire.
Larry Levan of the Paradise Garage was a friend and a wonder to watch and listen to. I miss him and what he did for the NY Music scene.
There was also Richie Rivera, one of the first NY DJs to ever play a mix of mine. It was "You Stepped Into My Life" by Melba Moore.
Tee Scott, Francois Kevorian, Frankie Knuckles, Jackie McCloy of the LI Record Pool, my friend Judy Weinstein who ran the NY Record Pool and many more unnamed but never forgotten individuals who assisted me along my way and shaped my career.
Many of the Disco people have sadly burned themselves out. I always believed that one had to keep learning and growing to be great and should always go back to the streets every 5 years to relearn and grow with the ever changing music scene. You must embrace the new to not be passed by. I love to learn and grow."
Which Disco reviewers were the most influential in helping to spread the sphere of Disco's influence and bring attention to Dance Music.
"In my eyes the most influential people in assisting Disco to spread and flourish were: Tom Moulton while at Billboard, Vince Aletti at Record World, Brian Chin at Billboard, Alex Kabazt and his partner whose name I have drawn a blank on (Good friend I am huh??) at Discoteching "B", Tom Silverman with Dance Music Report and Jim Knapp out of Atlanta when he worked with Disc and DJ and Lenny Balk and Joe Loris out of Philadelphia with Impact Magazine.
Frankie Crocker and Frankie Blue who really helped dance music to be receive the legitimacy it deserved.
There was also an old friend of mine named Tom Lewis who ran a small Midwestern pool. He began a directory called Disco Beats which we named the Disco Bible as it listed all the songs and their BPMs for easier segueing.
I'm sure that I am leaving out more but please forgive my incompleteness I will try to add as I can remember and am contacted by those I have unintentionally overlooked."
John now lives on the East Coast in Connecticut and is married with two great kids. John is actually married to Joy Winter of EPIC Records fame. She had her debut solo album, Frantic Romantic, on Epic Records that was produced by Lewis Martinee (of Expose fame), Stevie B and of course John. She was previously known as Joy Dorris and toured the world as the live performance part of LIME. Joy was a phenomenal performer and was a real crowd pleaser wherever she performed.
But despite the great career this man have had over the years, he refuses to slow down. He always wants to have new things planned and coming up...
What are you working with today?
"I still mix and want to do my own label or production company to develop new acts. I license DVDs and CDs for Palm (Chris Blackwell's label) and am now working on opening a management division to assist artists in getting what they deserve.
I am currently planning a radio show that spotlights the obscure and sometimes forgotten songs of DISCO and dance music from Funk to Rock and even Jazz and I hope that my collection of thousands of albums, singles and 12"s will be an indispensable tool in making this dream come true!
I will soon begin an endeavor that focuses on established artists and producers that takes on clients who did work that they did not receive royalties and earnings statements on. I have been doing such a situation with Marc Cerrone and have had tremendous success and recovered hundreds of thousands of dollars that he was wrongly cheated out of. If anyone reading this feels that they are in that situation, please have them contact me and I might be able to help them out.
I have a service that critiques songs and artists and that is available at www.Musicrecruiters.com. I set this up this pay service because it is now impossible for anyone to get feedback from a label since their A&R has been all but replaced with people reading soundscan charts of unsigned bands to see whose available to sign. This to me has taken a lot out of the business and shows that artist development is dying daily!!"
Finally, Is there anything else you can think of that you wanna tell me about? All information is very welcome, some fun happenings....
"Yes I love dance music and the people who made and enjoy it. It is a lifestyle of fun with a positive spin on every aspect. It give you hope and allows you to let go. I am better having been involved in it on every aspect and I do not regret one moment or occurrence in my life."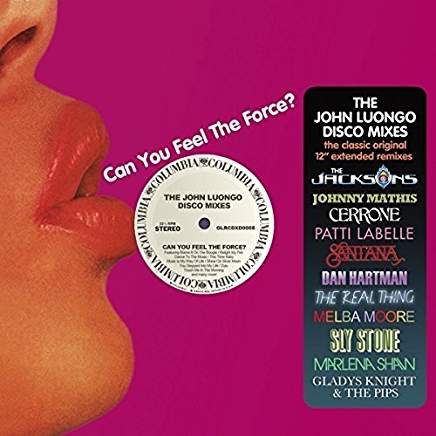 In 2017, Groove Line Records released a compilation called Can You Feel The Force? - The John Luongo Disco Mixes. So, FINALLY John Luongo got a compilation put together with some of his best Disco remixes, because he's so well worth it...
This release really shows the depth and variety of the remixes he created and the acts he worked with. Just look at names like The Jacksons, Melba Moore, Patti LaBelle, Dan Hartman, Loleatta Holloway, Cerrone, Sly Stone, Santana and Gladys Knight, just to name a few. Not just anyone would get to remix tracks for these acts, that's for sure!
Just how the record starts out, with one of my all-time favourite tacks; "Vertigo/Relight My Fire" - that definitely starts my heart beat faster. Just how the instrumental "Vertigo" builds up like a long intro, which then hits it crescendo when it erupts into "Relight My Fire" as sung by the fantastic Loleatta Holloway together with Dan Hartman. Just that one song alone is a track to die for, but the release has more moments like this..
Just look at the three (3 !!!) Jacksons tracks; Blame It On The Boogie", "Shake Your Body" and "Walk Right Now" which are all fantastic tracks from Michael Jackson and brothers.
"Music Is My Way Of Life" by Patti LaBelle is another of those immortal tracks which John remixed to perfection along with Melba Moore's "You Stepped Into My Life" , "This Time Baby" by Jackie Moore and the title track for the compilation; "Can You Feel The Force?" by UK's famous act the Real Thing.
The liner notes along with John's own comments about the tracks are great bonuses which gives the release extra life and another dimension.
A great quality record, so what are you waiting for... CHECK IT OUT!
As you can see, John Luongo has kept himself busy in the hard world of the music business, from the early 1970's 'till today. And I'm sure we'll get to see his name on many remixes and productions to come.
He still loves Disco and Dance music, because, as he puts it himself, it is...
Some of the best music ever made for having fun!.