Ralph "Ralphie Dee" D'Agostino is a second generation Italian American. He was born in June 27th and was raised in Brooklyn, New York.
As growing up in the turn-point of when the 50's turned into the 60's, he literally grew into Disco and already in 1974 he got bitten by the Disco bug. A bug that has lived within him ever since.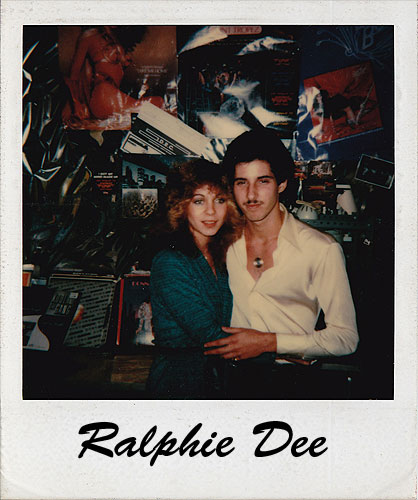 So, Ralphie, tell me; Do you come from a musical family? I know you played the drums, what about the others in your family - mother, father any sister/brothers? Anyone played something except for you?
"Nobody I know in my family played any instrument, that is kind of funny as most people with musical backgrounds got it from someone in their family."
Can you tell anything more about your youth and your background?
"I was a regular kid growing up in the baby boom generation in Brooklyn, my influences came from a very early age as I was instantly hooked on music of the time like the Beatles, Motown and all the sounds of 60's radio I grew up listening to. I can hear a song from back then and tell you exactly where I was and what I was doing. I knew I had to do something involving music as I quickly put together the thought of music and the social scene as being the center of attention like in a band and turned that into being a DJ later on."
Growing up in Brooklyn, it was know for the block parties, did you attend any? What's your view on them for the development of the music scene in the area?
"Brooklyn was a paradise back then, all thru the 70's there were block parties every summer weekend. This was also a big influence on me as bands usually played block parties but the late 70's was the beginning of blocks having DJ's play. Block parties were like clubs for us at the time, we were too young to go to clubs but not too young to put on a nice pair of jeans and a shirt and go from block to block on Saturday nights hanging with friends and looking for chicks. There were usually 5 to 10 block parties a weekend."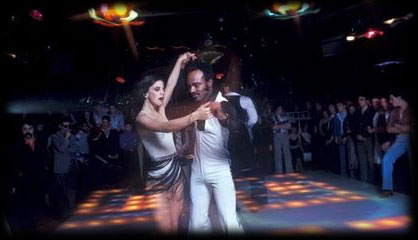 How come you started DJ'ing? Was it something you wanted to do, or did it just "happen"?
"Went to my first club at the tender age of 15. I was always into music, I played drums and I wanted to be in a rock band, but entering that club and seeing the dance floor and DJ booth for the first time was like an arrow to the brain right there."
Who was the first DJ you heard?
"It was Peter D'Agostino, no relation actually, in that first club I ever went to - Speakeasy - in Long Island, New York."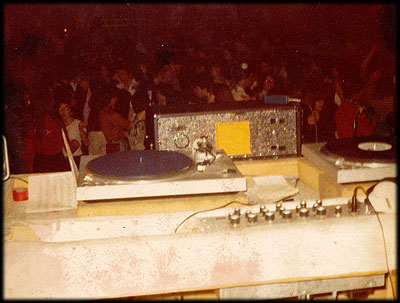 When did you start DJ'ing? Which was your first gig and how did you get it?
"Remember it well, it was in the 8th grade in high school. It was at the Drift Inn, a small bar that had a DJ booth in the back with a small dance floor. That's where I practiced all my mixes out on the crowds."
How did you land your first residency and which Club was that?
"First residency, if you want to call it that, was at that small small bar - the Drift Inn in Brooklyn. I had gotten the job thru a friend of mine's older brother who hung out there. I used to make 8 track tapes on 2 turntables and a small microphone mixer and give them away. One of the tapes got played in the bar, so once they heard that they asked me to play on the weekends."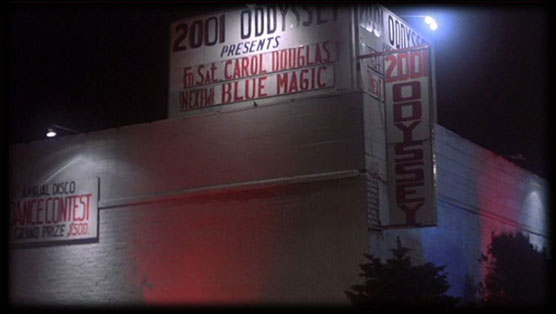 Things evolved and Ralphie went on to other venues leading to becoming the resident DJ of a Brooklyn club called 2001 Odyssey. What he didn't know when starting playing there was that it would soon become the very center of the Disco craze when the nightclub scenes of the Saturday Night Fever movie were shot in the club.
Actually many of the film's extras were club regulars, including the go-go dancer and if you look closely you can also see Ralphie in the movie. First in a scene where he stands in the corner of the dance floor and in another when Travolta bolts out of the club and calls the place a shit hole, there you can see him wearing a leather jacket.
On the premiere night of the Saturday Night Fever movie, in December 16, 1977, the movie was first shown at the Oceania Theatre followed by a huge party held at the 2001 Odyssey afterwards.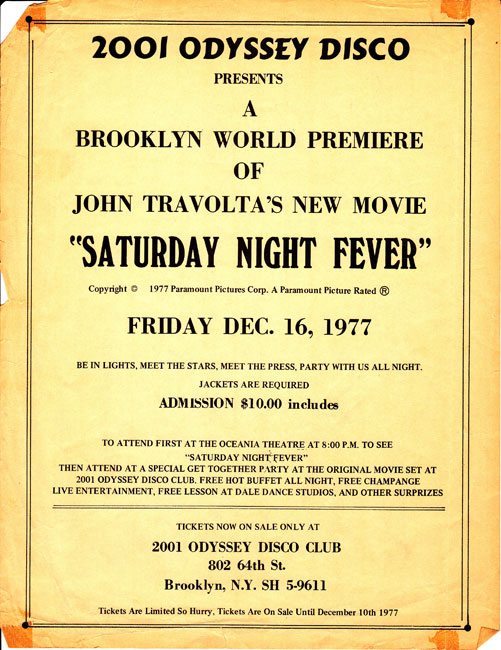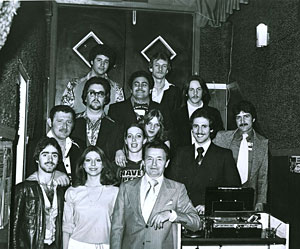 The 2001 Odyssey was owned by Charlie Rusniak who ran the club together with his son, Chuck Rusinak. Originally the place had been a Norwegian Soccer Club, but since 1948 Charlie ran Club 802 in the premise until Chuck talked him into transform the place into a Disco in the mid 70's.
The walls got covered with mylar and big multi-colored plastic balls were hung from the ceiling to give the illusion that you were out in space. The original dance floor was a stainless-steel metal floor which was later replaced by the legendary disco dance floor as seen in the Saturday Night Fever movie, which had over 300 flashing lights and it was actually installed by the movie makers just to improve the looks for the movie.
When you entered the club you went down a couple of stairs. To the right was a small room with a U-shaped bar and a pinball machine. There was a go-go dancer in that part of the bar. If you went straight when you walked down the stairs it was like a little lobby. There were the bathrooms and a coat check and down the hall to the left was the disco. As soon as you opened the doors you saw the dance floor. Around the dance floor was a little balcony.
The times changed and so did the club scene and the "Odyssey". Charlie and Chuck later ventured out of the venue and the place became a gay club called Spectrum. The famous dance floor, the disco balls and lightning remained in location until the last dance steps touched the floor in February 12, 2005 and the dance floor was then auctioned off in April the same year.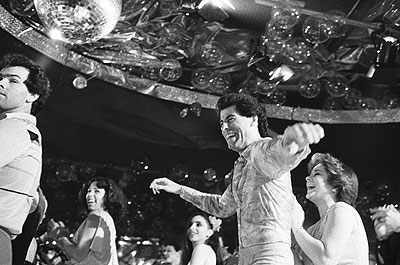 So Ralphie, which clubs have you played and have you got any favorites of those?
"Well there are two different eras, of course the Disco era and I would have to say 2001 Odyssey was a memorable experience being 17 and working in the most famous club in the world.
Then came the European Rave Scene in which I have played so many huge events and just overall great parties."
Would you say there was a different crowd in each of the clubs? Were there songs that were floor fillers in one club that didn't work in another club?
"Back in the disco era, you heard almost the same music everywhere you went. But if you went to a club in Brooklyn you would hear all the hits of the time and if you went into the city, i.e. Manhattan, you heard a lot more club oriented music which was more dance floor friendly and the radio stuff was limited."
Can you name some special "anthems" for some of the clubs of the Disco era?
"2001 Odyssey - 'San Francisco' - Village People and Infinity - 'From East To West' - Voyage."
Any comments or special memories from any of these clubs? Any celeb's who used to frequent them?
"As far as celebrities most of them came to '2001' in '78 and '79. We had most of the cast members from 'Fever' except John Travolta. Robin Gibb came at 6 o'clock on a Friday night once, blew me away with that.
Also we had almost every disco act of the era play live there including the first ever Village People show as they had never played live before that night in '78."
Cool! I know the band Mantus kind of had '2001' as their home club, but which other acts performed at 2001 Odyssey? Any acts packing the club and some which completely failed to attract visitors?
"Bionic Boogie did 'Risky Changes', of course the Trammps completely live with a horn section, Linda Clifford, Jackie Moore, The Ritchie Family, all of these acts packed the club. Really can't remember any act not drawing, as in that time it was really the club that people came to see and the acts were just added attractions. But I do remember Sweet Cream, they did 'I Don't Know What I'd Do If You Ever Left Me', they were in a serious accident on their way to the club and sadly never got to perform."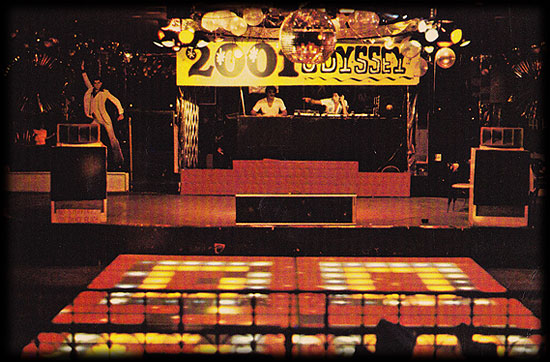 As being such a young DJ in the midst of this giantly spinning global Disco ball where '2001' was right in the center of all attention, did you have any DJ 'mentor(s)' or someone who influenced you?
"First and for most, Rick Coscia. He was the resident DJ at a club called Penthouse in Brooklyn. He sold 8 track tapes at the place I used to get my haircut. I heard those and was very impressed."
Could you name some of your personal favorite DJ's of the Disco era?
"Jim Burgess - Infinity. He did mixes that gave me goosebumps!
Mark Zimmer - Pastels. Flawless mixing ability. He taught me how to program and would do mixes nobody would ever think of doing and made them sound unreal!"
What do you think made you a top DJ? Any specific skills, special technics or ?
"I guess it was a combination of listening to the above mentioned DJ's as well as having a musical background and knowing song structures - intro, verse, chorus, break etc. For me it was always a 8 or a 16 bar mix and it had to be done at the right time in the song to get it to sound best."
Since you're a classic "Disco DJ", have you got any comments on how the DJ was regarded in the beginning and how it has changed during the years? Also, any comments on the techniques, equipment and stuff like that?
"At the very beginning of the disco era, the term DJ was just used for a guy on the radio as club DJ's were only in places where they had dance music and 75% of that music was not played on radio, so the recognition didn't come until it was exposed to the masses.
At my first gig I had two Technics 1800's and a Clubman 2 mixer, so the equipment was very small and plain until it really evolved later on."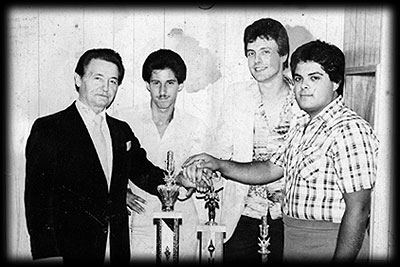 In June 20, 1979 Ralphie Dee received the neat trophy above when he was awarded - DJ of the Year 1979 and got a write up in Disco Times.
Can you tell which was your best gig ever?
"Well obviously for me, at the time being only 17 and finding myself right smack in the middle of one of the biggest cultural events, my time at 2001 was no doubt amazing to say the least. The only problems would happen in the middle of a night where either a news crew, interviewer, photographer or guests shoving drinks, cameras and other things at me, as that would sometimes break my concentration and that used to piss me off. But I was always cordial.
Another mention of a great gig for me from the era later on was working at Pastels in Brooklyn. It was there I heard the best mixing DJ ever, and I took over his job when he left the business. Very large shoes to fill as Pastels was the 2001 Odyssey of the 80's as the Disco vibe along with those early 80's tracks were a staple back there."

Do you or did you know many of the other great DJ's of the Disco era? Have you got any comments, memories or info to share about them?
"As mentioned, filling the shoes of a Brooklyn legend was hard as the best DJ I ever heard was Mark Zimmer. This is a guy that was very modest and always had a smile on his face and got so into the music when he was playing. He had a cowbell and a cymbal in the booth and was flawless when he mixed. He did mixes that I would never even think to do and made everything sound great. After first hearing him I knew he was enormously talented as he, like I, would mix using the same technique. And a large part of being a DJ often gets forgotten and it's knowing WHAT to play WHEN!
He never played for himself, always for the crowd. I heard him get more screams after mixes than anyone. For instance taking 'Disco Night' by GQ and start mixing in 'Don't Stop Till You Get Enough' by Michael Jackson. That is a standard mix that if done correctly should have gotten your dance floor to go wild, that's the kinda stuff Mark was famous for.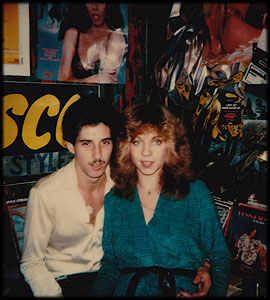 Other notable mentions would be Jim Burgess. He played at Infinity in Manhattan and sometimes after a Saturday night at 2001 we would go there about 5 o'clock in the morning. Just like the stories of people that used to go to the Garage or the Funhouse. I heard him mix 'I Don't Love You Anymore' out of 'The Bull' by Mike Theodore. A 4 bar mix that gave me goosebumps. He would also do long 32 bar mixes using a lot of the early euro records like Voyage, Munich Machine, Cerrone and would totally kill it. It wasn't until later I got near the DJ booth and realized this guy was doing these mixes using Thorens turntables. If anybody reading this knows of these or used them, they would know that they are belt driven. I never had to use them but later on I realized how hard they were to work with was I always had used Technics 1200's, 1800's or 1100A's back in that era.
2 other DJ's to mention are actually from Brooklyn also; Danny Cole who worked at a legendary Brooklyn spot called Plaza Suite and Danny 'Pooch' Pucciarelli who played at another great Brooklyn club - Night Gallery. Their techniques stood out the most out of the hundreds of guys I had heard."
Besides visiting some of those clubs to hear other DJ's play, Ralphie played hot spots like Pastels, Club B and Promotions in Brooklyn, to Manhattan clubs like The Palladium, The Limelight and Red Zone.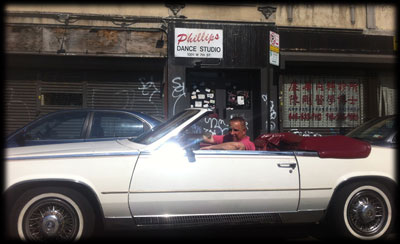 When talking legendary DJ's and their techniques, would you say it was easier or harder to mix back in the Disco days compared to today?
"Like night and day as this question comes up a lot. Disco music was made by live musicians, at least 95% of it, so with drummers being human they almost always played either a little faster or slower in certain points of the record, especially when coming out of drum rolls.
You really had to know your records to compensate for this which makes me remember certain records I would never mix in or out of in spots other than one or two places. Then it was the length of the mix as the longer you had the two records mixing the harder it was to keep them together."
Yes, recall that. Spot on. So an obvious question, I guess I know the answer, but I have to ask - Which music do you think is the easiest to mix?
"Anything that's made digitally. That's if you bothered to actually do a mix as there are programs out there now that do mixes for you!"
It's interesting you bring this up, so what do you think about programs doing the mixes for the DJ?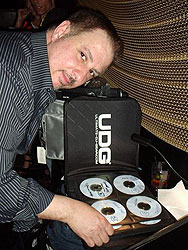 "Anything that does the core work for you is taking the art form out of the act, Being a DJ is knowing three main aspects;
One, what to play,
Two, when to play and
Three how to play.
Pretty soon DJ's will be a thing of the past as there are already programs out there that will mix a playlist of songs for you. In the very near future you will be able to buy a program that will be able to mix sets of songs for you automatically.
For instance let's say Pioneer and another royalty driven company will pair up with a software company to create a program named something like 'Superstar DJ' (or something to this nature). You buy the software and the company who makes it will pay DJ's like Tiesto , Paul Oakenfold, or whoever to create their own profiles on the software. They will have songs licensed to the companies for use on the program and you (the consumer) will buy the 'Tiesto package' - it will contain his bio , his recorded voice and his type of music he plays. You simply select the songs you want him to play and the program does the rest. So it would be like hiring one of these guys to play your party for the price of the program, with the proceed being split up between the DJ artist who will get a flat fee, the publishers of the music and the software company that makes it. Of course you can buy other DJ volumes with other types of music, something like Guitar Hero or Rockband. If you remember they featured a Beatles Rockband , follow where I'm going here?
Then later on after they go thru all the top paid Dj's you will be able to record your own tracks and put your own profile in the program. Very very very scary!
How would you describe your playing style? Any "trademarks"?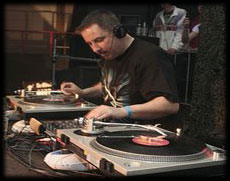 "Another great question as style means a lot. I have heard tons of DJ's over the years and my style got perfected by my early days of studying music and playing drums. To keep this short, I knew that songs had and intro, chorus, verse, break and hopefully an outro. All of these sections are usually 16 bars. I found that mixing precisely in the correct spot will give you your best sounding mix, For instance the record playing will begin to be blended with the new record coming in at exactly the first or top of the bar and the blend will last 16 bars, sometime 32 bars depending on the records. I would NEVER just start a mix just anywhere as there has to be structure."
Right! Structure is key. Talking about keys, some DJ's are really keen on mixing in key these days, is that something you're doing as well?
"Not really, but I have heard lots of sets done in keys by DJ's that use 'Mixed In Key' or programs like that and when done correctly it sounds awesome. I developed an ear for keys from my days spent in the recording studios and my studio. This technique is another weapon that can be used to make the DJ of today sound much better. I'm all for it."
I know you make and produce music these days, but have you ever worked with something else - Or is DJ'ing/music your life?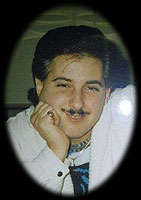 "We'll it was all done in steps, I went from The Drift Inn and was thrown right into the middle of the Saturday Night Fever thing at 2001 Odyssey. I took that experience and got monthly gigs on a mixshow for WKTU in New York. I worked in clubs all over New York, then took it on the road around the country. I then got the studio bug and began producing records, had a few hits in Europe and eventually played all of the world for 12 years. So it's all connected.
After the rave scene in the late 90's I went to Wall St. for a career in finance but 9/11 ended that and from there I ran the U.S. distribution for a company that made DJ gear called UDG from '02 'till '07, then I went into web development and started my own business in 2007 creating websites, presentations, publications and apps."
You have also had your own labels, first Mentality in 1994 and then New York Grooves in 2005. Tell me a bit more about them.
"I started Mentality in 1994 as a vehicle for my productions. Mentality had five releases and New York Grooves had 20 releases, 19 of them were digital as the vinyl era was at it's end. For the time it served it's purpose as I had it distributed on Beatport, and a bunch of other online retailers. But within a few years I realized that making money in the digital era was very hard as you always put so much in but got so little out. A far cry from the old days of vinyl when you could hold a record in your hand."
Yes, there is something special about vinyl records!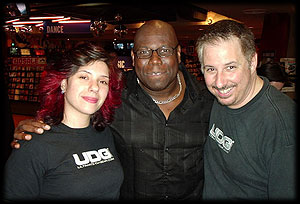 Talking vinyl records! Record Pools was a new phenomenon starting in the Disco era, which did you belong to and when? Did you receive many records from them? What was the most records you got in a day/week?
"First pool I was in was IDRC back in '78. We would get anywhere between 20 and 40 records a week once the masses had the knowledge. From there I went to InterMetro, then to Infinity and the last pool I was in was For The Record."
Which other DJ's was members of the same Record Pools, any one of them you were good friends with?
"That has to be Danny Pucciarelli, he was the manager of For The Record. We used to go to all the showcases and labels to visit all the time. It was there that I met guys like David Morales, Frankie Knuckles, Jellybean and many more."
So when receiving that amount of records weekly, have you still got your DJ record collection or have you sold it off? You must have got a HUGE, and GREAT, collection if you've kept all your records over the years.
"I have every record, never sold any, never will. They are in remarkably good condition for being carried around in crates for years and played thousands of times. I started to digitize everything as the gigs I do today rarely let you use vinyl."
Do you use CD's or have you got your music in a laptop using Serato or similar when playing these days?
"My record collection spans along time, I always took care of my records and have them in a safe place. I later went to CD's and then to Serato which is what I use today. You can do things with Serato which were unheard of doing if you used vinyl. I would never want to carry around crates of records, those days are long gone but it is still an art form but Serato, hands down, is probably the greatest tool for DJ's to date."
Let's get down to the music itself. Could you name some of your personal favorite Disco songs?
"OK, you have to remember, the average person from that era would mostly remember the hits. Those hits for everyone else, became an earache for me as I have heard and played these songs hundreds and thousands of times. I'll give you 4 which all have their special meaning to me:

Do What You Wanna Do - T Connection (1977)
Very well produced, had energy and was very mixable

Pick Me Up I'll Dance - Melba Moore (1978)
Another gem, never got too played out, excellent production

From East To West - Voyage (1977)
One of the first of the euro tracks like Love and Kisses, pure heaven listening to this in a large club. I close my eyes and I see the Infinity dance floor going wild to this one

Galaxy - War (1978)
This was one of the 2001 Odyssey anthems, the first summer of Disco and dropping this one primetime had people climbing the walls
This is an authentic Ralphie play list of his tracks as played at the 2001 Odyssey in April 7, 1978 [find the mp3 file available for download on the right]:
| | |
| --- | --- |
| Eruption | "I Can't Stand The Rain" |
| Brooklyn Dreams | "Music, Harmony, Rhythm" |
| Barry Manilow | "Copacobana" |
| Brooklyn Dreams | "Street Dance" |
| Barry Manilow | "Copacobana" |
| WAR | "Galaxy" |
| Rick James | "You And I" |
| Heatwave | "Groove Line" |
| Donna Summer | "Last Dance" |
| THP | "Two Hot For Love" |
| Love & Kisses | "Thank God It's Friday" |
| Linda Clifford | "If My Friends Could See Me Now" |
| Patti Brooks | "After Dark" |
| Universal Robot Band | "Freak With Me" |
| Kongas | "Africanism / Gimme Some Lovin" |
| Voyage | "From East To West / Point Zero" |
| - | Acetate bootleg mix |
| Saturday Night Band | "Come On Dance Dance" |
| Village People | "Macho Man / Key West / I Am What I Am" |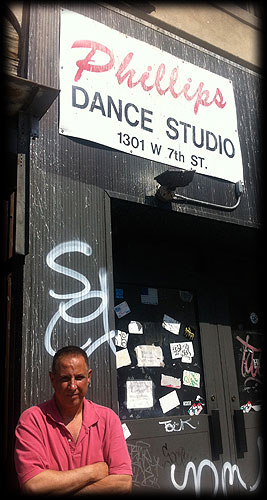 Did you like Disco music during that era, or was it just a job? Since you were a DJ I guess you liked it!
"I loved it! I ate, drank and slept music. I couldn't even call what I did a job as getting ready to leave for work on a Friday night to go play at the most famous club in the world was pretty cool and my only problem was which shirt I was gonna wear. Every night back then was a memory of fun, 7 nights a week."
Which was your "essential track" - one that you always brought to gigs?
"Hmm, if we stick to the Disco era it had to be one of the chalk on blackboard tracks like 'This Time Baby' or 'Born To Be Alive'. I'm not saying I hated these songs, I would just avoid them unless necessary."
OK! You tried to avoid playing those, but did you have some "essential track" which you loved playing and always carried with you to gigs?
"This is hard to answer as you have to understand my background is from the late 70's until today. So you had the Disco era, then the 80's Dance era which included Freestyle, House, Hip Hop, then the 90's Techno and House and on to todays Techno influenced Top 40 radio sounds.
So to break it down, if you were to play at a club or party with 40+ year olds you would have to have the following tracks;"

"Heaven Must Be Missing An Angel" - Tavares [Disco]
"Planet Rock"- Afrika Bambaataa & Soulsonic Force [80's Hip Hop]
"No Reason To Cry" - Judy Torres [80's Freestyle]
"Party People" - Royal House [80's house]
"Stranger In My House" - Tamia [90's / 2000's]
"On The Floor" - JLo [Today]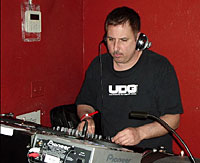 Great list, but what if you could choose one Disco track that would describe you, which track would it be?
"Galaxy by War - that track gets me going!"
Can you name one Disco track that define the essence of Disco to you?
"The essence to me was the tracks that never got too commercial and were only heard in clubs. So to me there are two types of Disco, the real Disco and the commercialized Disco. So if I had to name one it's got to be 'East To West'." [Voyage]
What kind of music do you personally prefer?
"I grew up in the 60's so I was exposed to all that great AM radio stuff like The Beatles, Motown and liked the 50's stuff that my parents would dance to at weddings when I was a kid. Then you had all those great 70's radio songs, then all the classic rock, then it was the Disco, Punk rock, Freestyle, House, Rave, Techno, Trance, so I like a lot of stuff. So depending on my mood I have a huge selection of favorite types of music."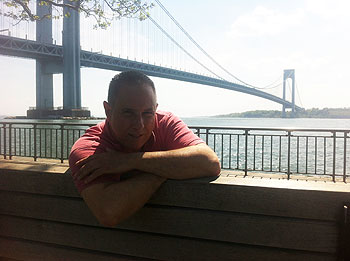 CLICK to hear some Ralphie Dee related songs;
Planet Rock
Afrika Bambaataa & Soulsonic Force

Risky changes
Bionic Boogie

Doctor Love
First Choice

Let No Man Put Us Asunder
First Choice

I Will Survive
Gloria Gaynor

Disco Nights
GQ

Boogie Nights
Heatwave

This Time Baby
Jackie Moore

Hot Shot
Karen Young

On The Floor
JLo

No Reason To Cry
Judy Torres

If My Friends Could See Me Now
Linda Clifford

Runaway Love
Linda Clifford

Pick Me Up I'll Dance
Melba Moore

This Is It
Melba Moore

Don't Stop Till You Get Enough
Michael Jackson

Party People
Royal House

Do What You Wanna Do
T Connection

Stranger In My House
Tamia

Heaven Must Be Missing An Angel
Tavares

Disco Inferno
Trammps

San Francisco
Village People

From East To West
Voyage

Galaxy
War

If I Can't Have You
Yvonne Elliman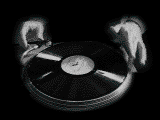 Listen to Ralphie LIVE
Live at 2001 Odyssey April 7, 1978


Click to buy from


Disc 1:
Stayin' alive - Bee Gees
How deep is your love - Bee Gees
Night fever - Bee Gees
More than a woman - Bee Gees
If I can't have you - Yvonne Elliman
A fifth of Beethoven - Walter Murphy
More than a woman - Tavares
Manhattan skyline - David Shire
Calypso breakdown - Ralph McDonald
Disc 2:
Night on Disco mountain - David Shire
Open Sesame - Kool & the Gang
Jive talkin' - Bee Gees
You should be dancing - Bee Gees
Boogie Shoes - K.C. & the Sunshine Band
Salsation - David Shire
K-Jee - M.F.S.B.
Disco Inferno - Trammps
Have you got any special memories as a DJ you wanna tell about? Or any other special memories?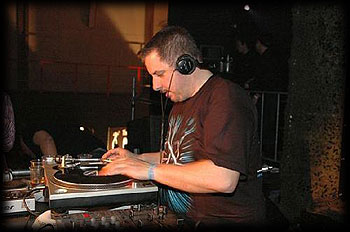 "In the Disco era: At 2001 Odyssey we had the Village People play live on June 27th 1979. It was on my birthday and in the middle of their set they sang 'Happy birthday' to me and brought out a cake. There had to be over 1000 people there. I got the pics somewhere along with autographs as they signed my Macho Man LP.
In the rave era: I had a moment when I was playing at Energy '94 in Switzerland. There were 8,000 people in the arena and I was on a stage with cameras with mobile arms all around me. After I did a mix I had my back turned as I was looking on my crate for the next record to play and got tapped on my shoulder by one of the camera guys and he pointed his finger up. As I looked I saw behind me was a 250 foot screen and they were video taping my set and seeing myself on that screen gave me a euphoric feeling that I can not explain. As the next record I played was a track I did that was a hit in Europe the year before and the place went totally nuts."
Great memories. Since DJ's have helped launching many fine artists over the years; Are there any ones you wanna mention? Some you got special contact with?
"Tavares! All the original guys were very nice and personally thanked me for playing all their stuff. Same with the Village People, Gloria Gaynor and Karen Young who was really over the top nice as well."
Do you still know or have contact with any other of the old Disco acts/divas/DJ's from the late 70's early 80's?
"A lot of acts are still around, last summer I DJ'ed the Disco Ball at Taj Mahal in Atlantic City, there were at least 25 acts from the Disco days including some I had never seen live before. Acts like; Heatwave, Ecstacy Passion and Pain, First Choice, Linda Clifford, Cory Daye, La Flavor, Ritchie Family, Teri Desario, Melba Moore, Musique, Yvonne Eliman and The Trammps."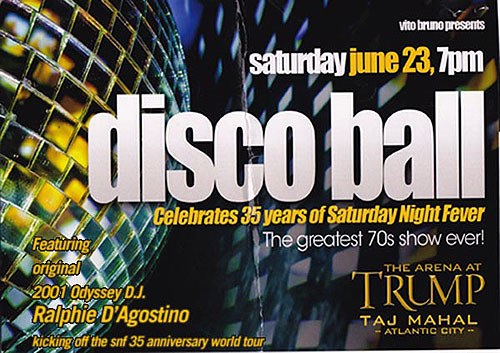 Finally, anything else you can think of that you wanna tell me about? All information is very welcome, some fun happenings, anything you'd like to share?
"I have a UK manager that is organizing a Disco tour, we are still in the early stages of this and I will travel around Europe in the late summer, as I hear that Disco is still huge in some spots.
I also have ALL the live recordings I did at '2001' from Jan 1978 to December 1980, roughly one mix per month as well as having all the tapes from the New York radio show I did in 79 to 80."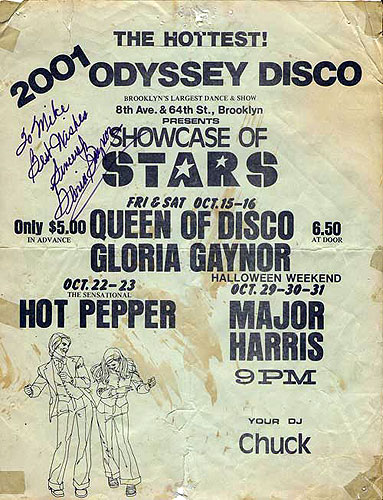 Ralphie is still active and playing gigs all over. During summer of 2013 he'll be busy touring Europe and moving dancers to classic beats. He'll also play the Disco Inferno event in NY in August. So make sure to keep your eyes (and ears) open for any Ralphie gig dates close to you.
As that would be enough, he will also be part of a DVD featuring several classic Disco DJ's which is to be released in the UK late in 2013.
He's still as active as ever and we're grateful for that.
Come on and enjoy the "Night Fever".


Ralphie Dee is all about;
Disco, Dance and Trance.
Music has been his love and passion
since the first steps of Disco
behind the turntables at the 2001 Odyssey,
throughout massive raves in Europe.
THANK YOU
Ralphie Dee