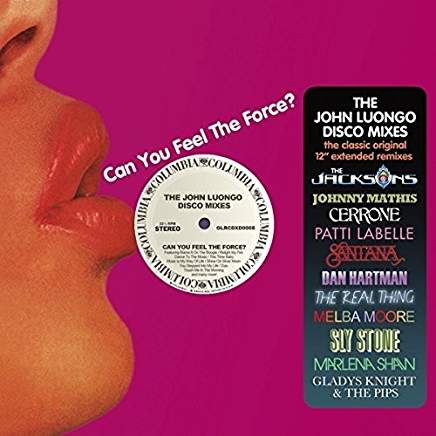 Click to buy from


Can You Feel The Force? - the John Luongo Disco Mixes
[Groove Line Records GLRCDXD005]
FINALLY John Luongo has got a compilation put together with some of his best Disco remixes, and he's so well worth it...
This release really shows the depth and variety of the remixes he created and the acts he worked with. Just look at names like The Jacksons, Melba Moore, Patti LaBelle, Dan Hartman, Loleatta Holloway, Cerrone, Sly Stone, Santana and Gladys Knight, just to name a few. Not just anyone would get to remix tracks for these acts, that's for sure!
Just how the record starts out, with one of my all-time favourite tacks; "Vertigo/Relight My Fire" - that definitely starts my heart beat faster. Just how the instrumental "Vertigo" builds up like a long intro, which then hits it crescendo when it erupts into "Relight My Fire" as sung by the fantastic Loleatta Holloway together with Dan Hartman. Just that one alone is a track to die for, but the release has more moments like that...
Just look at the three (3 !!!) Jacksons tracks; Blame It On The Boogie", "Shake Your Body" and "Walk Right Now" which are all fantastic tracks from Michael Jackson and brothers.
"Music Is My Way Of Life" by Patti LaBelle is another of those immortal tracks which John remixed to perfection along with Melba Moore's "You Stepped Into My Life" , "This Time Baby" by Jackie Moore and the title track for the compilation; "Can You Feel The Force?" by UK's famous act the Real Thing.
The liner notes along with John's own comments about the tracks are great bonuses which gives the release extra life and another dimension.
A great quality record, so what are you waiting for...


Get this now !