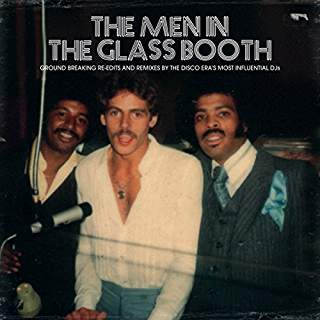 Click to buy from


the Men In The Glass Booth Ground breaking re-edits and remixes by the Disco era's most influential DJ's - Compiled by Al Kent
[BBE Disco BBE191CCD]
A triple CD set release with many acetate re-edits and remixes, versions that these DJ legends cut up on reel to reel to make their own re-edit in order to work out their own clubs. These are the versions they played themselves, versions that were not always publicly released but occasionally found their way onto a limited number of acetate copies, as sometimes sold at Downtown Records in New York City.
In this collection of classy Disco tracks you'll hear re-edits and remixes from people like John Luongo, Walter Gibbons, Rick Gianatos, Jay Negron, Jim Burgess, John Morales, Tom Savarese, Bobby "DJ" Guttadaro, Tee Scott, John "Jellybean" Benitez and others...
It's 30 great tracks from the height of the Disco era and it's impossible to mention one track and not another, so I'll not even go there. But it's a pure joy to just let the music play and hearing music from SalSoul Records acts, which are prominently featured within the collection. Another highlight is the full 12:04 Walter Gibbons remix of Glady's Knight & the Pips' "It's A Better Than Good Time", a version which were later re-edited and shortened for a Buddah Records Canadian only 12" release - a record that you have to pay top money to get hold of a copy of...
Besides it comes with a 40-pages booklet with the history and insight on the remixers, versions and things around it. Very interesting read to say the least...
2017 couldn't have started better than this... Hope BBE Disco has more of these kind of releases up their sleeve for the year! Then it will be a fantastic year!


Buy this now !!!