In 2009 four double CD's were released by Harmless Records in a new series called Disco Discharge. These releases were really something else and a great start for what was more to come... And in early 2010 we got 4 new double CD's in the series...
Each release includes around 20 quality Disco tracks and each CD is focusing on a specific genre or style. They all include a mix or more and lesser known Disco gems, but doesn't include all the tracks you find on most other Disco compilations - something that makes the Disco Discharge releases attractive to both aficionados and general Disco lovers.
They're all compiled by the mysterious MrPinks, but I managed to get an interview with the man and in the interview he shares his vision and thoughts of the compilations and reveals some of what we can expect in the future...
So tell us - Who is 'MrPinks'?
"MrPinks is my disco alter ego. My true identity is top secret... not really my real name is Dave Akerman and I work for Demon Music Group which is the home of Disco Discharge, Harmless Records and many other labels. No one would know my real name so I thought it would be fun to have a 'disco' name."


How come you've got such great interest in Disco Music? When did it start and how did it grow?
"Well I was a kid in the mid 70's so was exposed to disco from the start. I wasn't old enough to go to clubs and hear it but I spent all my pocket money on 7" singles which I played on an old mono record player that my parents had. It wasn't until the late 70's when I started earning money that I was able to start buying 12" singles and albums so I had a lot of catching up to do. I literally spent all my money on records and to be honest I still spend a huge amount on music so nothing changes!
As a kid the other great thing at the time were the K Tel disco compilations. I always got those for birthdays or Christmas. I know they only featured the single versions (and sometimes cut down further) but they were good enough for me at the time. Great sleeves as well."
What's your background? DJ, Label, interest or other?
"My background is based in the music industry. I started working in record shops in the 1980's and then moved into sales for Rough Trade Distribution. That was right at the start of the house/rave era so I worked on great records like 'Loaded' by Primal Scream, 'What Time Is Love' by The KLF and 'Pro-gen (Move Any Mountain)' by The Shamen. That was a great time.
From there I moved to Big Life Records working on artists like The Orb and Blue Pearl and after that at Creation Records which was a change for me as it was all indie/rock bands. Saying that it was a great experience.
From there I moved to Demon and I have been here ever since. I have never been a DJ but my partner Steve has been DJ-ing since the late 70's so I've always been immersed in dance music."
Who came up with the idea of creating the Disco Discharge series?
"The concept is mine. I had been pushing the idea at Demon for a couple of years before they agreed to go ahead with the first four albums. I can't claim to have given them the unique range name of 'Disco Discharge' though. That came from two colleagues Gavin Fraser, who was the Harmless label manager at the time, and Johnny Chandler, who was head of special markets at Demon. Both have now left the company. But everything else was down to me."
Have you been involved in other Disco compilations prior to Disco Discharge?
"No, these are my first compilations."
What has your vision been with the Disco Discharge series?
"To create a series of albums that are of the highest quality and will appeal to both the disco aficionados as well as the younger crowd who are discovering disco for the first time. It was important that we only use the full 12" or long album versions and that the packaging be striking and stand out from the rest."
Who took the initiative for the series, you or Harmless?
"Disco Discharge is released on the Harmless label. So I have been working closely with the legendary Ian Dewhirst who is the label manager."
How come Harmless has become so important when it comes to retro music? Earlier this year they also released the BackBeats series with different releases focusing on different genres. Do you feel like you compete with BackBeats?
"Harmless was set up many years ago to reissue lost Soul, Funk and Disco. The label is 15 years old this year so has been a great success and I think Disco Discharge is perfectly suited to the label. Ian's BackBeats releases have been very well received but they are very different to Disco Discharge so there is no competition."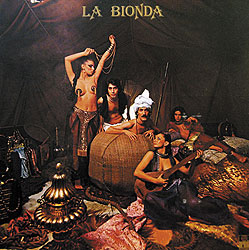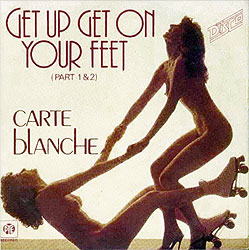 The Disco Discharge collections are great and I especially enjoy that they're so far from the "traditional" Disco compilations, which just gives you the same Disco hits over again. I guess that was just what you wanted to avoid with the Disco Discharge series?! I figure you're aiming for the Disco collectors and connoisseurs, even though the general Disco lover will also like what they hear...
"Thank you. That's exactly right. There would have been no point in putting out albums featuring the same old tracks that are on every other compilation. Disco is so much more than just 'YMCA' and 'Yes Sir I Can Boogie.' Although I have to admit I love both of those records so that is not meant to sound like musical snobbery!
It's just that they have been included on so many albums and I wanted to move in another direction. The same can be said for the packaging. When I first proposed the albums I already had the idea of using classy black and white photos for the covers. Even though none of the images are directly related to 'disco' they all have a 'disco' feel to them."
You started out with 4 double CD releases and now you release 4 new double CD Disco Discharge releases and the quality is as high as in the first four. Can we expect more Disco Discharge releases in the future?
"Thanks. It is important that I can keep up the quality both in track selection as well as the masters used. We don't have a huge budget but we do try and source the best quality masters available to us. There have been a few instances when we've had to use vinyl to master from but thankfully it has only been a few times and our mastering house has done a great job in making them sound fresh again. And yes I am in the process of compiling the next four albums for release in January 2011.
So keep checking the Disco Discharge Facebook page for progress. I'm thinking it might be interesting to keep fans updated as we go through the licensing process so they get a feel for how the albums are put together in real time."

I really like how you have grouped the tracks into one release, like the 'European Connection' or 'Euro Disco' releases, which both just focus on European Disco releases. Can you share with the readers your thoughts with each CD?
"Sure...

Classic Disco:
Like the title says Classic Disco from both the US and Europe. As this was the first album released I wanted to make sure it gave people a taste of what Disco Discharge was all about. As well as including really serious groves like Idris Muhammed, Companion and Bombers, I wanted to make sure that all bases were covered so included some great Euro disco like Peter Jacques Band, Cerrone and Don Ray. Absolutely no musical snobbery, just great tunes that make people happy and want to dance.

Disco Ladies:
Again I made the concept loose enough so I could include tracks from all over the world. So you get great US tracks from Cheryl Lynn, Fern Kinney, Melba Moore and Sister Sledge as well as Euro classics like Amanda Lear, Sylvia Love and Sheila & B. Devotion.
The only limit on the album was that all the artists were female. There are a few real favourites of mine on this album. 'Bring On The Love (Why Can't We Be Friends Again)' by Gloria Jones, 'Blood And Honey' by Amanda Lear and 'Instant Love' by Sylvia Love come to mind. We had the original ¼ inch tapes on both Amanda Lear and Sylvia Love to use as masters. Both of the tapes had to be baked in an oven to remove moisture from them prior to being used as masters. It's amazing to think these tapes have been in storage for 30 years and with a little TLC they can still sound so amazing.

Euro Disco:


My favourite genre of disco. Because disco didn't die in Europe after 1979 I wanted to show that on the CD's. That's why you get one CD from the 70's and one from the 80's. I think it works well.
Favourites on this album include 'Garden Of Love' by Don Ray, 'Margherita' by Massara (really rare on CD, we got the master directly from the producer Pino Massara) 'Extraterrestrial Lover' by Sylvia Love (first time on CD and from the original master tape), 'I.C. Love Affair' by Gaz Nevada and 'P Machinery' by Propaganda. I could go on forever about Euro disco, Ha Ha!

Gay Disco & Hi NRG:
I was clubbing a lot in the 80's and Hi NRG and Italo was what I heard all the time. At the time in the UK it was only played in Gay clubs but in Europe it was played everywhere. As such a lot of great tracks were never heard on the UK straight scene so I thought it would be good to compile an album that would bring great memories back to the Gay crowd and at the same time expose the straight scene to some truly great music that they would have missed first time around.
I'm really pleased that we were able to license the full version of 'Cruisin' The Streets' by the Boys Town Gang. It never fails to get a reaction. I don't think anyone would make such a sexually explicit record these days. It has such a good groove as well. Other highlights for me are 'American Love' by Rose Laurens, 'Take Off (Satisfaction Guaranteed)' by Harlow, 'Make It On My Own' by Free Enterprise (one of Bobby O's lesser known tracks), I'm A Man' by Macho and 'I'm A Model' by Valerie Claire. We actually had to contact Harold Faltermeyer personally to license that track. I think he was pretty surprised that we wanted to include the record but he was very pleased as well.

Diggin' Deeper:
This is really 'Classic Disco volume 2' but I didn't want to keep releasing albums with the same name. With Diggin' Deeper' I kept the 'Classic Disco' vibe and decided to go for more underground tracks. There are still a couple of more well known tracks like Dan Hartman and The John Davis Orchestra but everything else is a bit more underground.
Again there is a mix of US and European tracks and also I wanted to include some more down tempo funkier tracks because not all Disco was 125bpm!
I was really happy to be able to include 'Quiet Village' by The Ritchie Family as I've never seen it on CD in its full length version. The same applies to 'The Voice of Q' by Q. In the case of Dan Hartman I didn't want to go for 'Instant Replay' or 'Relight My Fire' and am really pleased that I could use 'Countdown/This Is It' in its full length 12" mix. We had a problem with the first master we received on that one. Luckily I had a replacement I could use.

European Connection:
Again I kept to the same formula as 'Euro Disco' but dug a bit deeper to get some really outstanding tracks. This was the most difficult album to license and it lead to many sleepless nights waiting for labels to confirm we could use their tracks. I am absolutely thrilled to have been able to include the full album version of 'The Hills Of Katmandu' by Tantra. It is my favourite disco record of all time and has been out of print for so long. Vinyl copies cost a lot and none ever sounded that hot. I have a copy of the original album and it is a prized possession but when I got the master that's included on 'European Connection' I was blown away. It must have sounded amazing when they were in the studio. The problem being that vinyl just couldn't reproduce the full soundscape. Just amazing!


'Sandstorm' by La Bionda is another key track on this album and is included in its full length album version and sounds really fresh. One of my favourites Euro disco acts is Voyage so I am very happy to include one of their best tracks 'From East To West.' Highlights on CD 2 include the classic Italo disco tracks 'You And Me' by The Funny Twins, 'I Can Hear Your Voice' by Hot Cold and 'Americano' by Vivien Vee which I think is its first release on CD. Also the US Remix of 'I Love My Radio (Midnight Radio)' by Taffy, the full length 12" of 'Walking In The Neon' (including the often omitted intro) by Peter Richard and 'In Spirit' by Dilemma. You might have guessed that I love this album!

Disco Boogie:
A new concept to the Disco Discharge range. Mixing up Soul, Jazz, Funk, Disco and Boogie and mostly taken from the 80's with a few choice tracks from the 70's. I'm really pleased with how it's turned out. Average White Band really opens the album nicely and I'm happy to have been able to include Sharon Redd's 'Love How You Feel' and The Nick Straker Band's 'Straight Ahead as well.


There are quite a few rarities on this album. 'Autumn Leaves' by The Illusion Orchestra (Swain & Jolley), Terri Wells 'You Make It Heaven', Feel 'I'd Like To' and Benelux And Nancy Dee's instrumental version of 'Switch' which is a completely different record to the A side. I think Freeze must have listened to that record before making 'Southern Freeze.' 'Georgy Porgy' by Toto feat Cheryl Lynn is another standout. Oh too many to mention. I really hope this one works as there are so many more tracks that need re-releasing.

Pink Pounders:
More gay disco and Hi NRG! I'm amazed that so much of this hasn't been exploited in the past. There's such a rich history of music made exclusively for the gay dance floor and I wanted to show just how good it was so a second volume wasn't a problem. It sure beats the hell out of the music played in gay clubs these days! Again tracks have been culled from all over the world to give an international appeal.
From the USA we have the legendary Patrick Cowley with 'Lift Off' and The Flirt's 'Danger'. From Canada, Tapps 'My Forbidden Lover', Barbara Doust's 'If You Love Somebody' (both from the Power Records stable) and the kitsch classic 'From New York To LA' by Patsy Gallant. Europe wise we have 'Black Jack' by Tom Cat and 'Only You' by Virgin.
Rarities on this album include 'Leave That Boy Alone' by Poussez and 'Yes With My Body' by Les Models, both of which make their debut on CD on this album."

I guess you must have gone through thousands of tracks before nailing the one you wanted to put on each collection. Then just licensing the ones you wanted must have been lots of work. How much time would you say have been put down in every release?
"Yes it's taken a lot of work to make the final track listings. Most of it was done at weekends and in the evening but I'm not complaining as it was a privilege and also great fun.
Each album is approx. 20 tracks so what I did was draw up a short list of approx. 40 tracks per album and then send them to our licensing department. You always need to apply for more tracks than you actually need to take into account denials and situations where you can't locate the licensor or a suitable master."
I figure it's a hard job trying to license much of the Disco stuff, as a lot of releases were made by small independent labels. Am I right? Or how do you do it?
"Yes you're right. A lot of disco, especially euro and italo seem to be lost forever which is a great shame. There were so many small labels releasing these tracks and they went out of business and were never heard of again. Luckily companies like ZYX in Germany have brought up italo catalogues so a lot have been saved.
There's a Japanese company called Avex who brought the rights to all the italo disco tracks from the Time label. So that's all available to license.
But it's not only the small independent labels. The majors have difficulty locating paperwork on some tracks and that means they are unable to license them to you. It can be very frustrating as you can imagine. But then there are times when you get in touch with a label, producer or artist and it all goes well and they have an original master so it all works out in the end."
In the 'Diggin' Deeper' collection you really have dug deep in order to find these gems, so how do you go about finding all these tracks? Is it a collaboration, or is it your sole work?
"The track listings are put together by me but with input from Steve. I have to give him credit because without him I would never have been exposed to a lot of these great tracks. He really knows his disco and Hi NRG so his input is always valued.
I must also thank Vince Degiorgio who has suggested some tracks that I've ended up using and on the Disco Boogie album my colleague Michael Neidus who put forward a number of tracks for that album."

Have you got a personal favourite out of the 8 releases?
"I do genuinely love them all but if I had to choose I'd say European Connection."
Which is your favourite track out of all the tracks released on any of the Disco Discharge CD's so far?
"Oh that's a difficult one. So many but I'm going to go for Tantra - 'The Hills Of Katmandu.' The absolute pinnacle of Euro Disco and a record like no other."
Any tracks you want to put on the collection which you haven't been able to get on there (yet)?
"Yes, plenty. Marc Harris – 'Airport', Technique – 'Can We Try Again', Grand Tour – 'Grand Tour', Witch Queen – 'All Right Now'. I already have track listings ready for the next four albums!"
Which tracks and why haven't they made it to any of the collections?
"I wanted to include some tracks from the UK Hi NRG label Electricity. We were all set to go but unfortunately the licensor did not have useable masters. 'Magnifique' by Magnifique was denied so I will try again next time."
Any track you're particularly happy with that you managed to license to the collections?
Passengers – 'Hot Leather.' That took some serious digging to find that one."
Have you got a personal "Disco Top 10", and the tracks don't need to have been on any off the Disco Discharge releases?
"OK, in no particular order they are:"



| | |
| --- | --- |
| Alec R. Costandinos | 'Romeo & Juliet' |
| Tantra | 'The Hills Of Katmandu' |
| Passengers | 'Hot Leather' |
| Donna Summer | 'Now I Need You/Working The Midnight Shift' |
| Amant | 'If There's Love' |
| Giorgio Moroder | 'From Here To Eternity' |
| Voyage | 'Souvenirs/From East To West' |
| Beautiful Bend | 'That's The Meaning/Boogie Motion' |
| Dr Buzzard's Original Savannah Band | 'Cherchez La Femme/Se Si Bon' |
| Sticky Fingers | 'Party Song' |
| | |
| | |
Anything else you'd like to share about these releases or Disco in general?
"I'd just like to say thank you to everyone who has supported and bought the first four albums. It's been amazing to see such a positive reaction and I hope you enjoy the new releases just as much. And Disco Discharge will be back January 2011."
THANK YOU for your time!
"You're welcome. It has been a pleasure."






In the beginning of 2011 the next four releases in the series was released - Mondo Disco, Disco Fever USA, Euro Beats and Cruising the Beats.
4 new double CD's filled to their full extent with wonderful Disco, Funk and Hi-Nrg beats, all the CD's include some 20+ songs, most come in their full lenght 12" versions. They also have fascinating linernotes by Alan Jones.
Also - Hat off to Dave 'MrPinks' Akerman for mentioning me in his Thanks of each release... THANK YOU Dave - for continue to give us these wonderful compilations!



Keep yourself updated on future releases on the Disco Discharge Facebook page.
I also recommend you to stop by Harmless Records web-site for other compilations.
Looking forward to MANY more releases of
Disco Discharge