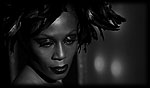 You were born Tracey Elizabeth McSween - how and when did you take on the name Shèna?
"About 12 years ago when my record label at the time, Virgin Club asked me to change my name to make it more 'showbiz', so I came up with Shena sitting on a beach in Israel. Apparently it happens to mean 'Goddess of love' in Hebrew."
That was a great meaning to your name... I know it might be rude asking about a woman's age, but - where and when were you born?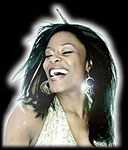 "I was born in Reading, Berkshire UK and you are right a diva never reveals her age so this is all you are getting 197x."
When did you start singing?
"Professionally as soon as I graduated from the Royal Academy of Music, I went straight into the Carmen Jones tour. Personally I have always sung since I was about 3 years old. Music is my life!!"
How come you started with music? Was it something you always wanted to do, or did it just "happen"?
"I grew up in an incredibly musical family, my father sings like Nat King Cole and my 3 sisters all sing and two of them dance professionally as well. Mum is the music critic!"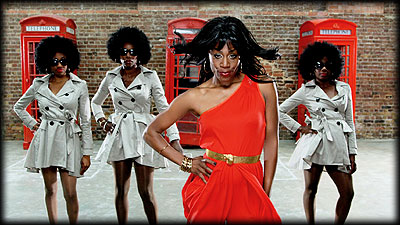 As you just mentioned, you studied at the Royal Academy of Music in London and graduated with honors with a Classical, Musical Theatre and Commercial Music Performer's Diploma and Teacher's Certificate. Have you ever been teaching, or is that something you plan for the future?
"I have taught for very short periods and for only about five pupils on a one on one basis. One was good enough to sing as Fantine in Les Miserables when I had finished and the other two teenage girls got in to two very prestigious Music Colleges - New York Film School."
When did you start working more professionally with music?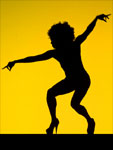 "Well I started working with a French Producer called Pascal Renault, who discovered me while I was still studying at the RAM. He took advantage of my talent and lack of business skills and exploited me. You'll be pleased to hear that as soon as I realized what was happening, I kicked him to the curb!"
Oops, but I guess he deserved that! Sadly most people can't make a living on being a performer, have you ever worked with something else or has music always been your life?
"I have worked as a waitress. I have dabbled with door to door selling. I have been a cleaner, but music has always been my passion so I kept coming back to it and finally it stuck."
Yes, that's just great and we're all very happy for that!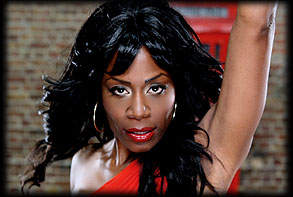 Which was the first song you ever added your vocals to and how did it feel when you heard the final result on radio or in a club for the first time?
"The first song that I ever lent my vocals to was 'More than woman' when I was signed to Virgin Club. It sounded fab (if I say so myself) and I was very proud of it. My sister still treasures her copy of it. The only problem was that a misogynist, Simon Sadler who used to work for Kiss FM at the time wouldn't playlist it and this was his reason - get this - because it had 'woman' in the title!! What a *?%T! Anyway I was just happy to have a commercial release."
You have been singing on numerous of Disco-House releases over the last couple of years, some of the ones you've been properly credited for include tracks like:

"Guilty" De Souza
"I'll Be Waiting" Full Intention
"Wilderness" Jurgen Vries
"1000 years" Jupiter Ace
"Dare Me (Stupidisco)" Junior Jack
"Weekend" Michael Gray
"Let Your Mind Go" Starchaser
"Lifting" Warren Clarke
"Bitch Is Back" Warren Clarke pres. Jonni Black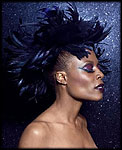 But being a House music artist I assume there are LOTS of tracks you've been singing on where you were not credited. Can you mention some?
"The 4 that come to mind are 'There's Nothing You Won't Do' and 'You Belong To Me' by JX, 'Hotstuff' with Arsenal FC, 'The Weekend' and most of the vocals on the second Girls Aloud album!"
That was nice to hear that you seem to have been properly credited in most cases. So, do you recall how many songs/records have you been involved in?
"About 42 commercial releases where I am the main vocalist and who knows how many other songs I have featured on as a backing vocalist/session singer!"
Have you got a copy of every record you've been involved in?
"Unfortunately not, but it would be easy to get hold of a copy of any if I wanted it."
Which is your favorite song of the ones you've recorded (not including your own material)?
"I love 'the Bitch Is Back' and 'You Got To'."
Yes, that's two great numbers and to me, "the Bitch Is Back" is one of my anthems of 2009...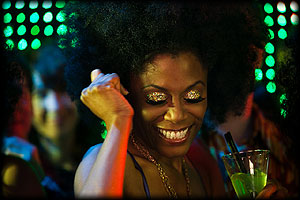 Sampling is a great part of today's dance music scene, what do you think about that?
"I have no problem with it whatsoever as long as the original artists get what they are entitled to and the sample is used imaginatively."
How do you feel about sampling?
Here Shèna's husband, Manager and Producer James Winchester steps in and answers; "It's a great tool for any producer/writer and when it first appeared it completely revolutionised the way music sounded and what was possible production-wise."
If someone would sample you, what would you think of that?
"Flattered!"
Do you have any example of some, in your opinion, very good or clever use of a sample?
"'Rhythm Nation' by Janet Jackson contains a fantastic sampled guitar part from a Sly and the Family Stone track. Funky as hell!"
Have you ever concidered using a sample in any of your songs?
James steps in again; "Yes, but not for Shena's current project. The whole idea of the new album is to return to classically-produced disco but with some modern cuts and beats etc. We wanted the album to be entirely original."
And keeping the album original is really something they've managed to do... Read ahead for all information on the album...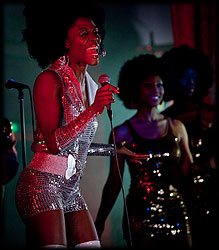 You have a very powerful and recognizable voice, in the vein of Disco legends like Donna Summer, Jocelyn Brown and Loleatta Holloway. But what would you say characterize your voice?
"Power, soul, range and emotion!"
Are there any artists/vocalists who you look up to, or some ones that have inspired you in your own work? Any "mentor(s)"?
"When Whitney Houston was at her finest, she was my international heroine, other than that it would be singers like Lauryn Hill, Donna Summer, The Emotions, Oleta Adams and Ella Fitzgerald."
Wow, that was some pure female power, spanning over many different styles, but I perfectly understand the inspiration they have been to you.
Over the years you've also been working with music giants like; James Brown, Chaka Kahn, Joss Stone and Amy Winehouse...
How was it to work with them and have you got any comments on them? Have they inspired your own work in some way?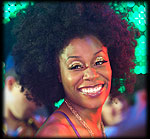 "James Brown was a true pro. Chaka Khan drank like a fish and smoked like a chimney but she always delivered. Joss Stone was lovely and engaging, but needs to be wary of not becoming affected and Amy Winehouse was extremely unprofessional, but it doesn't seem to have damaged her career so why not?"
Have you got any favorite people you would like to work with?
"I would love to work with Quincy Jones and Sledge Sisters."
I guess both Quincy and the Sledge's along with yourself would be a match made in heaven. I'll keep my fingers crossed that we'll get to hear that someday!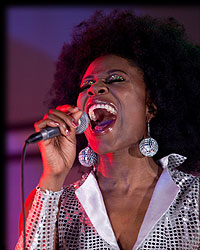 Many of the songs you have been involved in, like the ones mentioned above, all have a great Disco feel to them and have ended up on Hed Kandi compilations. These songs and your voice have established you as the Disco Queen of the 21th Century. How come you have got involved in all these "Disco" kind of songs? Is it your own choice, or is it because you got a reputation in that circuit?
"Hed Kandi and I seem to have rediscovered Disco about the same time and feel that we still love our House music, but we need a change and Disco music is the answer!"
Amen to that! I also really enjoy seeing your web-site profile and that you classify yourself as a Disco artist. Not many people would do that today. How come you do it? And how did you get this passion for Disco music?
"I guess I do it because Disco is and always has been a fantastic musical genre and it's no surprise to me that interest in it is reignited in the noughties. Disco music has always been a big influence in my life and I think that I am the most qualified and passionate diva on the planet at the moment to lead the way in the nu-disco movement."
Right so... I think you really are leading the way for Disco and I think you're doing a wonderful job!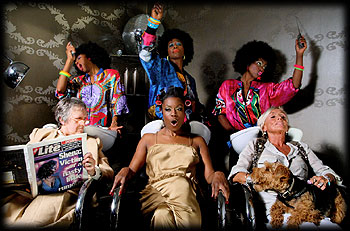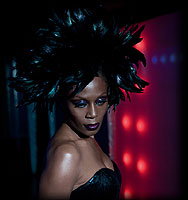 Together with your husband, James Winchester, you have been writing and producing the material for your album - One Man Woman. Have you been writing/producing prior to that? Then which songs?
"Well put it this way... our back catalogue is huge and eclectic, so let's just say we can have a lot of fun with our fans when the time is right. The world better get ready for one hell of a party!!"
With your album - One Man Woman - you really prove yourself to be a Disco Queen. It's the MOST Disco album I've heard for many many years. It's really a wonderful album from start to end!
I hear a lot of Chic and Earth, Wind & Fire influences on it, am I correct, or who would you say you have been influenced by?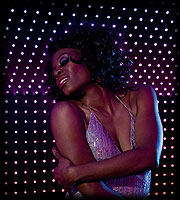 "You tell me. When you listen to Disco music most of your life and you then become a songwriter yourself, that influence leaks into your music in so many different ways that sometimes even you are confused. However, I think Chic, Earth, Wind and Fire and The Emotions are undeniably on this album, which I don't think is a bad thing."
No, absolutely not, far from... I think they are great influences, but still you've done your own thing. But I wonder how you would describe your album?
"Dizcolicious, fresh, hooky, soulful, full of killers not fillers and awesome!"
Haha! Great explanation, couldn't have said it better myself. Besides the fantastic album, I need to give you huge heads up for the nice and classy Disco videos you have made for the singles - "Can't Stop The Rain", "My Fantasy" and "Nasty Little Rumour". Who came up with all the video ideas, like the mirrorball faced guy and so on?
"My brother-in-law came up with the mirrorball faced guy because he wanted to use CGI. I think it works What do you think?"
I think it works perfectly and that your brother-in-law really got his CGI together. I have a hard time deciding which track is my favorite - Have you got any personal favorite track off the album? Which one and why?
"'Shameless' because it is modern, catchy and epic and 'My Brave Face' because it is the only ballad but it is extremely powerful and I love singing it."

'One Man Woman' is the most DISCO album I've heard in years and it's released by Shèna and James' own label - No Prisoners Records.
It's just a wonderful album from start to end and I've had my CD on repeat going for hours, enjoying every minute of it. 10 Disco grooves that will satisfy ALL Disco, Nu-Disco, Dance and House music lovers.
All the ten tracks are laid out in order below with my own comments on each one of them. If your browser is set to not allow pop-up's, then you probably have missed hearing Shèna's tracks playing while reading, then I recommend you to LISTEN HERE.
| | |
| --- | --- |
| "My Fantasy" | Shèna's second single is an uplifting and energizing Disco track which takes you way back to the heights of E,W & F and the Emotions |
| "Can't Stop The Rain" | This was the first single and it has a wonderful Chic-ish sound à la "I Want You Love". A sure floor filler and Disco killer |
| "A Love Sensation" | Fantastic Disco stomper, "a sweet temptation" (just as Shèna sings in the song) |
| "Nasty Little Rumour" | Third single from the album, top vocals over a great Disco melody in the vein of Nile & 'Nard |
| "My Brave Face" | A powerful ballad where Shèna's voice is the instrument to complete the perfection |
| "Don't Get Me Wrong" | No one can get it wrong, top Disco music for the 21st Century with Donna Summer / Vicki Sue Robinson kind of vocals. Love those strings... |
| "Everything You Need" | String filled Disco-Funk which takes you back to the 70's |
| "Sex Factor" | Funky, sexy and HOT! Reminds me a bit of Prince when he was at his best |
| "One Man Woman" | The title track is just as great as one would expect. Lovely choruses that make this track groove and groove on you |
| "Shameless" | One of Shèna's own favorites and I can nothing but agree with her explanation... it is modern, catchy and epic |
When I first got in touch with James in order to get to know more about Shena, I got the following encouraging reply; "We are actually big fans of your site, in fact we were planning to contact you, so we would be delighted to have you feature Shena and her material." and James was kind enough to send me the CD along with all the singles and two copies of the limited edition LP, which is pressed in pink vinyl. See them all below...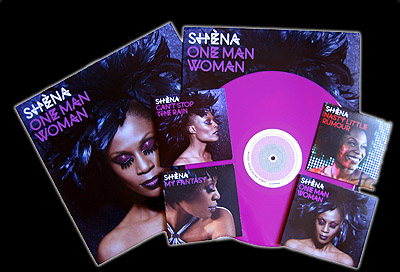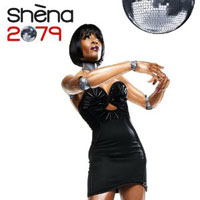 Shena's second album is called 2079, a nod to the Disco year of 1979...
Her previous album, One Man Woman, was more 1979 kind of Disco and 2079 is definitely more 'Dizco' for the 21'th Century; all the Disco elements are there, but the sound is a little harder and 'House-ier'.
Some of the favorite tracks from the previous album have got a little makeover for this one and "My Fantasy" comes in a 6 minutes lovely Disco mix and as a bonus we get a stompin' Nu-Disco re-edit of "Nasty Little Rumour".
All the tracks stand out in their own right; "Slanderous (Rude Boy)" is a future floor-filler along with Shena's latest single release and massive club hit - "Look Don't Touch".
Four of the new tracks comes in 'Dizco' mixes; the Funky and pumpin' "How Come You're Dancing?", "Homewrecker", the "Upside Down"-inspired "Dirty Money" and the space trip in "Starship Discolicious".
To top things - all the wonderful tracks are accompanied by Shena's great voice, which for sure is one of the strongest and most powerful in the business today.
Get on the starship and get movin' to 2079 - NOW !!!

Download the FREE basic RealPlayer...

CLICK to hear some Shèna songs...
LISTEN HERE (plays in separate window)
CLICK to see some Shèna videos/songs...
Can't Stop The Rain

My Fantasy

Nasty Little Rumour

Guilty
De Souza feat. Shena

I'll Be Waiting
Full Intention pres. Shena

Take Me Higher
Jonni Black feat. Shena

Dare Me "Stupidisco"
Junior Jack feat. Shena

1000 years
Jupiter Ace feat. Shena

Widerness
Jurgen Vries feat. Shena

Let Your Mind Go Free
Starchaser feat. Shena

Lifting
Warren Clarke feat. Shena

Bitch Is Back
Warren Clarke pres. Jonni Black feat. Shena


CLICK to hear some related songs...
Knock on wood
Amii Stewart

Dance, dance, dance
Chic

Everybody dance
Chic

Good times
Chic

I want your love
Chic

Le Freak
Chic

My feet keep dancing
Chic

My forbidden lover
Chic

Real people
Chic

Boogie wonderland
Earth, Wind & Fire

Fantasy
Earth, Wind & Fire

In the stone
Earth, Wind & Fire




Click to buy from


How Come You're Dancing? (Dizco Mix)
My Fantasy (12" Disco Mix)
Slanderous (Rude Boy)
Look Don't Touch
Nasty Little Rumour
Can't Stop The Rain
Homewrecker (Dizco Mix)
A Love Sensation
Dirty Money (Dizco Mix)
Everything You Need
Starship Discolicious (Dizco Mix)
Nasty Little Rumour (Sheriff's Nu-Disco Re-Edit) [Bonus Track]


Click to buy from


My Fantasy
Can't Stop The Rain
A Love Sensation
Nasty Little Rumour
My Brave Face
Don't Get Me Wrong
Everything You Need
Sex Factor
One Man Woman
Shameless


Let's get back in time - to the Disco days... Did you like Disco music during that era? I guess you kind of grew up with it...
"I was born in the 70's so I have a great introduction to it thanks to my older sister and father. When I was old enough to appreciate it in my own right, I did."
Are there any Disco songs you wish it was you who originally sung it?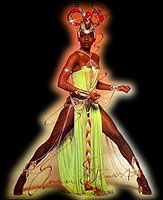 "'Knock on Wood' by Amii Stewart. Also I wish I had been the first one to wear that dress!!"
Have you got any favorite Disco songs, not including your own work?
"'My First, My Last, My Everything' by Barry White. What's not to love?"
Have you got any favorite Disco artists/groups? I'm pretty sure you're at least gonna say Chic...
"Absolutely you guessed right. I never knew that Nile Rodgers and Bernard Edwards were behind such monster tunes like 'Let's Dance' by David Bowie. That Chic gig I recently attended was a major eye-opener!!"
Have you met any classic Disco artists?
"I met the Nile Rodgers at a recent Chic gig at the Forum in London. No surprise they rocked!!"
What kind of music do you personally prefer?
"Soul, Disco and Pop!"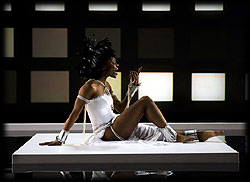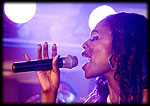 What's your best memory during your years in the business, so far?
"Performing in front of two million people at Gay Pride in Madrid a few years ago. What an experience!"
Which was your best gig ever?
"Performing Live at Indigo2 in London on New Year's Eve. As you can appreciate, it was one hell of a party!"
Anything else you can think of that you wanna tell me about? All information is very welcome, some fun happenings...
"I am the main voice behind Girls Aloud apart from Nadine who is the only one of the group that can actually sing."
THANK YOU Shèna for wanna be part of Disco-Disco.com and letting me do this interview...
"Thanks for your interest in me Discoguy and have a Dizcolicious weekend."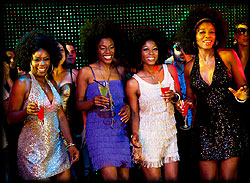 She's awesome, self-confident, cocky (in a good way) and hell of a singer...
She knows her value and goes her own way on a path no one but herself has laid out.
She's really the injection Disco music need to get the old body shaking again.
So if you ever have missed her before - you better make sure to check her out now,
as she IS and continues to consolidate herself as...
Shèna

The Disco Queen of the 21'st Century!