She went to Hyde Park High school and her classmate and best friend, who was like her big sister and whom she loved very much, was the late Minnie Riperton who recorded the number one hit "Loving You" in 1975.
Besides Geraldine and Minnie, the same school also produced the girls of the group Coffee which recorded the 1980 hit "Casanova".
Geraldine made her first recording in 1965 with a song called "I let myself go" under the name Geraldine Hunt. Her real name was still Geraldine Milligan but back then the record companies wanted to give their artists shorter names, so they named her... Hunt. Now the artist Geraldine Hunt was born.
The same year she also worked on "Donnie Haltheway" by Chuck Jackson (Nathalie Cole's ex-husband)... This was his only hit.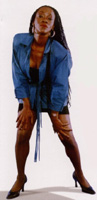 Marshall & the Chi-Lites were very good friend of hers, especially Marshall. He was the force behind that group and they were always at Geraldine's house singing her their latest tunes. For example they played her their top ten 1974 hit "Toby" long before it was recorded.
Her idols during that time was acts like Glady's Knight & the Pips, Dionne Warwick, Sarah Vanhann and All the Motown artists.
But as the fine artist she is, she has also had the opportunity to work with some of her idols during the years. Geraldine has worked with all the greatest acts like Diana Ross and the Supremes, The Temptations, Dionne Warwick, O'Jays, Nina Simone and Nancy Wilson just to name a few. It's so many people that it would take her "a life time" to remember.
Geraldine and her family moved from Chicago to Montreal, Canada in 1975. It was after the move things really got started for Geraldine...
In 1978 she recorded "Hang On To Love", which was written and produced by Tony Green for his TGO Records.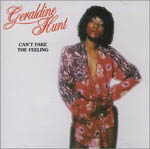 In 1980 Geraldine releases her biggest hit so far, the self written classic - "Can't fake the feeling" on the New York City based Disco label - Prism.
This song fast became a radio and club hit worldwide, even though it didn't reach the highest positions in the charts. Here in Sweden we had just got dance radio stations and this was one of the most wanted and played records of 1980-81. The song is still very popular among DJ's and it still works great on any dancefloor, that's why it often appears in Disco compilation CD's.
"Can't fake the feeling" has also recently been remade/remixed with the latest dance sounds into an up-to-date dance tune by no less than - Prince Quick Mix, released by Twisted Records America.
The song "Can't fake the feeling" was released on the album with the same name. You should also look out for her songs; "It doesn't only happen at night" and the very funky "Heart Heart".
Up 'till now Geraldine have recorded two albums and at least 20 English singles and two French songs that made it to the Top Ten, plus numerous of others. She has only sung back up on one American production and two French albums - by Boule Noire and Rene Simard.
Unfortunately she hasn't got a copy of everything she has recorded or been involved in, but she is looking for all of them.
In 1979 Geraldine helped produce a real top Disco tune on Warner called "Get up and boogie" by Freddie James - who also happens to be her son!!! Freddie was born April 26, 1964 and was only 14 years old when he started his career. Despite his young age he already sang with a voice of a grown up man.
But it's not just Geraldine and her son, Freddie, who are in the music business within this talented family. No - her daughter Rosalind "Roz" Hunt was actually one half of the popular duo Cheri which hit it worldwide with the song "Murphy's Law" in 1982. The record was produced by Geraldine and it sold nearly 2 million copies worldwide! Roz was born August 30, 1965 and she almost grew up in the studio, so it's not surprising she choose to become an artist as her mom.
Now both Freddie and Roz (aka Cheri) are back! Freddie recently released a new kicking, self-produced album and Junior Vasquez just made a monster remix of Roz/Cheri's classic "Murphy's Law". Roz has also recently been involved in various recording projects and dance music videos with artists as Naughty By Nature and M.C.J. & Cool G.. She has also been on the biography of jazz great Oscar Peterson.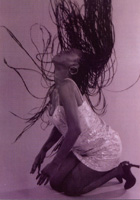 Geraldine really loves all areas of the music business. She loves to write new songs as much as she loves singing or producing. But when she started in show business she just loved singing. Then when the movement started in the early 60's people begin to sing songs that caused change. That is when Geraldine realized that everybody in the business had a duty to add not only their voices, but to speak their own truth, so she started to write her own songs.
Later when Disco entered the scene she realized that the producers of that time did not care about the artists. She once heard a producer of a famous group say: "Hey guys, we don't need you because we can just produce a janitor and take all the money, so stop asking about money or royalties etc..." That was when she started to produce herself.
Now she is certain that no one can produce her better than she can produce herself. She has been recording records since 1960 using other people as producers and she never really had a hit. It was 20 years later, when Geraldine started to produce herself that she hit the big time charts with "Can't Fake The Feeling" and then again in 1982 with "Murphy's Law" with her daughter's group Cheri. As she says herself "So I guess you could say I would not be happy unless I was in control of all three positions - writing, singing & producing."
So which are her favorite songs of the ones she have written or produced?
"My favorite songs of the ones I've written and produced would be off the Cheri album, Love Stew, such as 'Murphy's Law', 'Working girl' and 'Hold back the night'!"
Are there any songs by another writer or artist she would have wanted to write or sing herself?
"I wish I had written 'Songs in the key of life' by Stevie Wonder. I also love all of Curtis Mayfield's early stuff. From today's writers such as BabyFace I love all the Toni Braxton material."
Geraldine really loved Disco music during that era, and still does... She actually loved all of the music during that period! Now she loves all kinds of music, but she used to hate country - until she started to really listen to the lyrics...
I asked her if she has got any special memories from her years in the business... She tells me a quite sad one, but it seems like she came out as a stronger person after...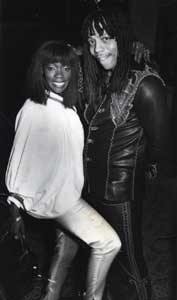 "One special memory would be when I had to take my record label, Prism, to court... The case came about because too many people were involved that had to be paid. So when it was time to renew my contract I refuse to sign with Prism again. In turn they suspended my contract, which meant I could not record or work and I had no money.
I won the case but never got paid... However, I have to say that the A&R director Dee Joseph was the best promotion woman in the world. She made 'Can't fake the feeling' happen and where ever she is - 'God bless her'. The president at the time also promised me more control over my projects but when the time came for me to record he started talking down to me saying stuff like 'Why are you choosing this or that song, studio or musicians', it was hell. Especially when you consider the fact that I wrote, produced, published and released two major records on my own label 6 A.M records from Canada.
Anyhow - I had no money and my son, Freddie, insisted I take money from him to produce 'Murphy's Law' for his sister. It costed us $900 dollars and it sold almost 2 million copies. All of the money was later stolen by the record company. But boy did it feel good to have been able to prove to myself that although I was going through this ugly court thing I could always count on my talent in the end."




Download the FREE basic RealPlayer...

CLICK to hear some Geraldine songs...
Can't fake the feeling
Hang on to love
Heart, Heart
No way
CLICK to hear some related songs...
Casanova
Coffee

Get up and boogie
Freddie James

Murphy's law
Cheri

Star struck
Cheri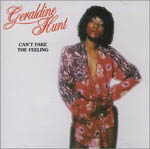 Click to buy from


Can't Fake The Feeling
No Way
Could We
Look All Around
Glad I'm In Love Again
Gotta Give A Little Love
It Doesn't Only Happen At
Undercover Lover
Cause Of Love
Heart, Heart
Baby You're Dynamite
Can't Fake The Feeling
Can't Fake The Feeling
Can't Fake The Feeling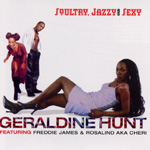 Click to buy from


Our love is here to stay
Call me
If you want it
A lot of things change
Supernova
Here's that rainy day
Autumn leaves
Pastel shades
Murphy's law
Throw it away
Can't Fake The Feeling
Mona Lisa
Listen up


Click to buy from


Our love is here to stay
Call me
If you want it
A lot of things change
Supernova
Here's that rainy day
Autumn leaves
Pastel shades
Murphy's law
Throw it away
Can't Fake The Feeling
Mona Lisa
Listen up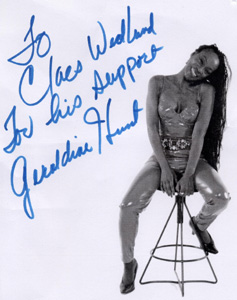 So what is she up to right now?
At this time in her life she's trying to make a grand return in style into the music business.
Why return? - Because in 1978 Geraldine realized that she was making millions of dollars, yet, she felt empty. She saw tears in the eyes of the people she loved the most.
Why? - Because she drank like a fish and raised hell like a devil. Thanks to A.A Alcoholics she managed to stop drinking.
Or as she says "I went into that wonderful organization and got a new lease on life. I am happy to say that this was the best thing that I could have done for me and my family. Although, I have not had a record since the early eighties, but I think what I have gained was far more special - which was that my life filled with real emotions."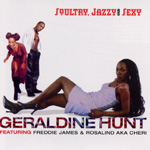 BUT... Now Geraldine's back stronger than ever... In the summer of 1998 she had a new record out, a record called "Deep deep in the night" on the Benelux based Urban Roots label (a sub-label of Private Life). The record was climbing the top of the charts in France and Belgium during that summer.
In the new millennium Geraldine returned again with a new real "family album". On the album the whole talented family is united - Geraldine, Freddie and Roz (Cheri) - and it's called Soulty, Jazzy & Sexy. This is just what this album is all about. It really IS "Soultry", it is "Jazzy" and most of all - it's "Sexy". Except for some new jazzy tunes, including a Gershwin tune, some soulful tunes and dance tracks - there's also both Geraldine's & Cheri's classic hits - "Can't fake the feeling" and "Murphy's law".
Geraldine's also trying to find a good manger/booking agent for her work. She loves to record and perform again and she's looking for any and all bookings...
As you can see... Geraldine Hunt is back stronger than ever... So be prepared to hear more from the lady who never...
"Can't fake the feeling"

Geraldine Hunt