In the late 50's, Marina Chamlin was born in New York City, NY. Some 23 years later she met the prince of her life, a guy who worked as a recording engineer at the Music House Studio in N.Y.C - named Roy Kamen. They got married and she became Marina Kamen.
Now we know this dyed-blonde dance diva as, clear and simply, just - MARINA!
Already in her very young age she got into music. As she says herself; "I started with music because I had no other choice, my family always played music in the house. Everything from Gershwin to Cole Porter to classical to rock. So - it was something I always wanted to do and it kind of just happened because I was exposed to it all the time, from the time when I was a little girl."
Marina started working with music very early on, she went to a weekend professional children's school and started playing the violin and doin' local shows. She performed both in N.Y.C and in New Jersey, where the family moved when Marina was in high school. She continued playing the violin at the Manhattan School of Music, where she also learned to sing opera. Not many people know that she's a trained opera singer as well.
It's hard to become a singer and dancer, especially in New York, so to make money she taught exercise at Body Design By Gildas, she waited tables, bartended, walked dogs... She did many different things to make money to keep up her dream about working professionally with music, 'cause music is really her life.
Brought up in the Disco days and living in the Disco era, did she like Disco music during that time? Marina replies; "Absolutely!". She even used to dance at the legendary Studio 54. I had to ask Marina if she had any memories from the club that she wanted to share, Marina said; "Not anything that I wanna share and just things that I'm probably embarrassed about and would like to forget, but I have very fond memories of that era. I was in Studio 54 every weekend as a kid, I was 17-18-19 years old at that time. In that time they didn't card you very regularly, so you were able to get into the clubs and we were there every weekend so it's a large part of my childhood or my young adulthood."
So, when having danced as much as she has on the Studio 54 dancefloor, does she have any favorite Disco/Funk songs?
"No - Actually I do not."
Have you got some other favorite songs?
"Not really - there are just too many that I love. So that is a very very difficult question."
Could you name you very favorite categories of music?
"I think my favorite category of music is probably Jazz. Old Gershwin and an old Cole Porter, things that were written more in the 30's and 40's. I think that I was probably drawn to that in my melody writing for sure."

So Marina, when did you start singing, writing and producing?
"Well, singing from the time I was very little, a little girl. I started writing in my mid-twenties and I'm over 40 now so I've been writing for the past 15-20 years. Producing went hand in hand in that, because both my husband and myself worked in a recording studio for the past 20 years. So writing and producing just came together one time because I always wrote while I was sitting in the studio so that happened simultaneously together."
But is there something of the above you prefer to do?
"Phuu... I would have to say singing because singing is something that comes completely from my heart and is my natural talent. While I think that producing and writing is something that was acquired - something that was a learned skill with a lot of time."
Marina tells me about one of her most precious [professional] memories; "That I would say would be when I started singing in the studio when I met Roy, when I was 23 years old. We would stay up late it was about 1 [A.M.] in the morning and he would try to teach me how to sing onto the mic without distorting and popping my P's and singing too loud. So I have great memories of that because that was before we had children and we were able to just stay up in the studio all night and it was a lot of fun."
In 1987, Marina and Roy started up their own Music and Media facility - Kamen Entertainment Group Inc.. In their 11,000 square foot recording and media facility right in the very heart of New York City's Times Square Theater district, they have written, cast and produced thousands of commercials. Marina is the voice in many of them, including Snicker's Ice Cream, Pontiac, Footlocker and Coty Stetson just to name a few. As Marina says herself; "For the past 14 years I have been in commercial music, producing music for radio and television commercials. I have sung with other people on many different commercials over the years. But the record business is something that is new work to me than the commercial music business."
It was on Valentine's day in 1997, MRK Records [Marina & Roy Kamen = MRK] was founded as a division of the Kamen Entertainment Group. Marina wanted to develop and use her trained voice, and after trying a few other genres first, rock and adult contemporary, she choose dance music as her genre, since it's of the same breed as the music she used to dance to at Studio 54 in her youth. And as Marina says in an interview by Troy Matthews for Streetsound; "One day some months ago I was producing a single for a guy here at MRK and his track sounded really good. It had a great groove to it so I asked him who wrote it, is this guy for hire?? I found out it was Tony Marinello from the Bobby Orlando [Bobby "O" is a legendary Hi-NRG writer/producer] camp (Divine, Pet Shop Boys, The Flirts, Shep Pettibone, John "Jellybean" Benitez, etc). Tony's contract with Bobby was going up in November 1996, so I asked him if he'd be interested in working together. He came by the office and we clicked from the start! Tony had worked with Bobby O for a long time during the 80's and 90's, and the [Hi-NRG] sound has such a great feeling to it, so that's what I decided to go for." That fits well with what MRK stands for;

MRK Records is pumping out pulsating, adrenaline laced, beat generating, producer driven, artist focused Dance Music.
Represented styles include Europop, Eurodance, Hi-NRG, Techno, Progressive, Tribal, House, Trance and Industrial.
It communicates clearly and cross-generationally. It's on the radio. And it's honest!

First song out on the new label was a classic lovers anthem, "Ti Amo" [means "I love you" in italian], and what song could be better when you start up on Valentine's Day? Flambé and Marina turned this Italian love anthem ballad by Giancarlo Bigazzi & Umberto Tozzi into a hot Dance track.
Following up the first single Marina released another cover, this time of a classic Bobby Freeman track - "Do ya wanna dance?" together with rapper Kraze. Kraze used to house us up in the late '80's with songs like "Let's play house" and others.
Marina chose to do "Do ya wanna dance?", because she loved the Bette Midler version of the song. She really thinks Bette is 'THE' perfect artist - since she's an enormously talented singer, actress and performer. Marina loves Bette's work and feels it's great with these ladies in their 50's something (Bette, Tina Turner...) that still are out there shaking their butt. This proves to her that if you and your music sounds great - your age should never matter.
The success of this second single really placed Marina in the top of the Dance music scene. It is a great song and the 12" and CD single came in many different mixes to satisfy any DJ and clubber's taste.

Third out was a track called "the Silent night". A good Hi-NRG Dance track penned by Marina and Tony Marinello, BUT I guess most of us chose to play the bonus track of the release, a cover version of the classic Lisa tune; "Rocket to your heart". "Rocket..." in the Lisa version was really one of my personal favorite Hi-NRG songs and Marina & Crew's new version totally blew me away.

Next project for this talented, productive lady was nothing less than a 3-title release - the "Dream Lover" EP. Besides the GREAT title track, written by Marina and Tony, this release included a version of Jewel's "Foolish games" and a song called "Um-Lotty-Da". "Um-Lotty-Da" is a difficult title but it's really a very very good song, but we'll be back to this song later on...
This release was another strong release from Marina and it found its way to all the HiNRG DJ's play-charts all over the US. Funny though, was that in some areas "Dream lover" was THE dance track and others it was "Um-Lotty-Da" that worked out the crowd.

Next out was a more "progressive" kind of release, still with that pumping Marina beat. This fifth release was a song called "Totally Fabu".

And then, due to public demand... the Marina and Marinello written and produced - "Um-Lotty-Da" was released again in totally new remixes. This song was a very strong release already on the "Dream Lover EP", but in these new remixes [by Marina & Tony Marinello, Bobby Rios & Matt Mayfield and Trujillo] it got even better. It really would rock your sox's off. An excellent piece of work!
In October of 1998 I had the pleasure of going to New York City and I got a chance to stop by Marina and Roy's company in really one of the prime locations of New York - right at Times Square. Finally I got to meet all these people in person. They were all so kind, lovely and nice to me. I really had a blast visiting them and my visit at MRK is still one of my strongest memories of that N.Y.C. trip.
When I was around, Tony Marinello took me on a guided tour around the premise and it is really a great company they've got running there. But I guess one of the real highlights of my visit was when Tony and Roy brought me to the big studio and played me what would become the new single; a cover of the old Eurythmics' song - "Sisters are doin' it for themselves". Roy was just remixing it and when they played it to me loud in that studio, and with Roy remixing and adding stuff to the song while I was actually there, was just AWESOME!!! This, I know right from that moment, was really one of the best Dance tracks I had ever heard and I really couldn't wait to get it on record. Which I did when it was released in late December 1998.

Just like in the Eurythmics' version, this is a duet with Marina and the classic UK Ni-NRG diva - Hazell Dean. These two Eurodance divas are really a perfect match. Marina told me how she teamed up with Hazell; "I approached Hazell. I wrote to her - she called me. We started to correspond and she flew to New York to meet me and she suggested we would do "Sisters". This was her idea and I thought it was great, we came along great and had a wonderful time doing the record. I would love the opportunity to work with her again. Because we're from different ends of the world it's a difficult thing, but we're looking for opportunities to do that."
While around, Roy gave me all Marina's 12" singles and he also gave me a sampler CD of all the tracks Marina already have recorded for the forthcoming album. This sampler include 20 songs plus a couple of remixes and except for the 9 (!!!) songs already released on 7 (!!!) singles, I can tell you for sure there are several other highlights and potential singles. We can all be sure to hear lots more from Marina in the future.
Also included in this sampler is Marina's High Energy version of Bob Marley and Peter Tosh's classic "Get Up Stand Up" which was recorded for the outreach program via the Internet by Amnesty International USA. Other acts singing the same anthem for this campaign is Patti Smith, Booker T. Jones and an all-star trio of Maxi Priest, Shaggy & Rayvon. "Get Up Stand Up" has long been considered the unofficial anthem of Amnesty International and the human rights movement.
Besides this song for the human right movement, Marina was involved in educating Public High School kids about HIV & AIDS, in the - Action Against AIDS - High School Tour 2000.
Marina was performing and acting as host to this "Edutainment" program and she said; "Our goal is to reach 20,000 High School kids with AIDS information presented in an entertaining High NRG dance program designed specifically for them. I am excited about the opportunity to help effect children's' futures. My oldest son is 14 years old, so I feel I am living the concerns of all mothers throughout this country." The program combined live performances and "straight talk" by recording artists, informational discussions with AIDS educators and pep talks by popular sports figures.

Finally the wait is over... Now for the new Millennium IT'S HERE... The Un-Lotty-Da album from Marina. It sure was worth waiting for.
This jammed packed Hi-NRG dance smacker will keep us dance music lovers dancing constantly through the 45 minutes and 11 songs long CD. Just the start up with "Dreamlover" and "Un-Lotty-Da" knocks you out and gives you a hint on what's to come...
Surprisingly, none of the Marina cover versions and previous hits are on the CD. It's just original Marina & Tony Marinello tunes - but what a great work and you don't miss the old singles when listening to the album, since it's filled with hits. Songs like "Stay away too long", "Limit of love", "Gotta new love" and "Best friends for life" (and several others) are all possible future single cuts.
Once again Marina and team have done a GREAT dance record - this time it's even better - an album! The songs are;
1. "Dreamlover"
2. "Um-Lotty-Da"
3. "Stay away too long"
4. "Limit of love"
5. "She knows you're lying"
6. "Strut"
7. "Gotta new love"
8. "Love is a way of life"
9. "Kyrie"
10. "Try some love"
11. "Best friends for life"

Now it's here... the new Marina album - Under her covers. The previous album 'Um Lotty Da' contained the material written by Marina, Tony Marinello and friends.
But here's the album with all the previous cover releases and they're all on this CD, plus some new covers like "Shame, shame, shame" (Yes - the Shirley & Company classic), "Fly" (Sugar Ray), "the Last song" (Elton John) and "Get up, stand up" (Bob Marley), the later that has been used for the human rights movement by Amnesty International.
This is like a Marina - Greatest Covers Hits, even though she hasn't been on the Dance music scene more than a couple of years. This kick ass release and all other releases can be bought from the MRK Records website (www.mrkrecords.com).
Make sure to look out for the upcoming the Mixes album as well. With remixes found on 4 different Marina maxi singles, but now on one CD...
1. "Foolish games"
2. "the Last song"
3. "Ti amo"
4. "Do ya wanna dance?"
5. "Fly"
6. "Rocket to your heart"
7. "Sisters are doin' it for themselves"
8. "Shame, shame, shame"
9. "Get up, stand up"
10. "Ti amo - ballad"

In Spring 2001 a new Marina single will be released. The track is called "Mumbo Jumbo" and is written by Tony and Marina in the KAMEN Groups studios in N.Y.C.
The song is about all the "Mumbo Jumbo" that's told at this time of "Political correctness".
MRK tries a new grip with this single. They have let DJ's that are interested in remixing this track get the vocals and it will be very interesting to hear what comes out of this. I'm sure there can be a lot of new and original mixes this way, we'll just have to wait and see.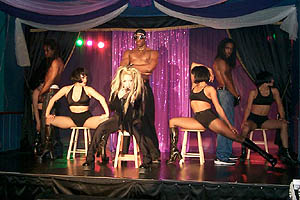 Download the FREE basic RealPlayer...

CLICK to hear some Marina songs...
"Mumbo Jumbo"
Mumbo Jumbo


"Under her covers" - the Album
Foolish games
the Last song
Ti amo
Do ya wanna dance?
Fly
Rocket to your heart
Sisters are doin' it for themselves
Shame, shame, shame
Get up, stand up
Ti amo - ballad


"Um-Lotty-Da" - the Album
Dreamlover
Um-Lotty-Da
Stay away too long
Limit of love
She knows you're lying
Strut
Gotta new love
Love is a way of life
Kyrie
Try some love
Best friends for life


"Ti Amo" w. Flambe
Radio (4:10)
Ballad 4:39)
Euromix (7:47)
House Anthem (8:38)


"Do ya wanna dance"
Retro Disco Radio (4:01)
Eurobeat Radio (4:44)
Tribal Club Anthem (6:06)
House mix (4:37)
Retro Disco Extended (6:55)
Eurobeat Extended (6:39)

"Silent Night"
Radio mix (4:17)
XXX mix (7:35)
House mix (5:42)

"Rocket to your heart"
the Mix (6:17)

"Dream Lover"
Radio mix (4:11)
Extended Club (7:12)
Dream Velvet mix (7:01)
Galaxy Love mix (6:27)
Brutal's Groovin' mix (7:46)

"Foolish games"
Radio mix (4:04)
Extended Club (7:05)

"Um-Lotty-Da"
Radio mix (3:24)
Extended Club (6:48)

"Totally Fabu"
Original Club Mix (6:52)
Lil' Big Dub (5:10)
Santana's Slammin' Mix (9:55)
a la Mode Mix (6:14)

"Um-Lotty-Da" (remixes)
Original Radio Edit (3:24)
Silky Smooth Vanilla (4:02)
Mechanized Radio Mix (4:05)
Marina vs. Trujillo Radio (4:00)
Original Radio Extended (6:49)
Silky Smooth Vanilla (5:43)
Marina vs. Trujillo Mix (5:20)
Rios-Mayfield Mix (7:33)
Mechanized Mix (7:11)

"Sisters are doin' it for themselves" w. Hazell Dean
Sisters Radio Mix (5:00)
Roc & Presta Radio (4:18)
PMS Radio Mix (4:00)
Bounce Factory Radio (3:58)
Sisters Extended Mix (7:23)
Roc & Presta Extended (6:52)
PMS Extended Mix (8:00)
Bounce Factory Extended (10:27)





To buy Marina music visit MRK Records

Click to buy
Here I Am Again
As Long As He Takes Care Of Home
Six Nights And A Day
He's Making Love To You
Young Hearts Run Free
One More Chance On Love
A Dreamer Of A Dream
Run To Me
Honest I Do Love You
When You Wake Up Tomorrow
Victim
I Ain't Got Nowhere To Go
Halfway To Heaven
Take My Hand, Precious Lord

Besides the CD sampler and all the 12" singles Roy gave me when I met him, Marina and crew in New York, he also included a great video of Marina and Hazell performing "Sisters..." live at a gig just a few days before I got to New York, at a DOA show at Webster Hall. And you could easily see how much they both enjoyed to perform the song live. And just like in Marina's all other performances it was a show... Marina has brought back drama, acting and choreography into her shows, it's almost like every song is its own story. She works hard to always make an astounding live performance; "I like to think that I put the dance into dance music." she admits. "For each show, I have a troupe of professional dancers that I rehearse with non-stop to create a high energy exciting show that tells a story. I like to think of myself not only as an entertainer, but as a director/choreographer as well."
Her performances really are a show, so DO make sure to check her out if she plays anywhere near you!
When talking about Marina's shows we came in talking about what inspire her. She mentioned Bette Midler earlier and she told me this; "My husband and my 3 children inspire me. Performers that inspire me; Bette Midler is definitely one that inspires me like an all around entertainer. I'm really not very inspired by entertainers who are just technicians - who are just singers. I respect them and I respect what they can do with their voices or how a musician can play technically. For example like Mariah Carey who has an amazing instrument or like Hazell Dean who has an amazing instrument. I am inspired by performers, people that can actually get in front of people, that's very much what I'm about, TO SHOW! I think when people walk in somewhere to spend money, to see a performer, they wanna be entertained - they wanna see the show. So certain people like Cher, Bette Midler, even Madonna and Michael Jackson - people like this are people I'm very inspired by."
Are there any people you admire or some special people you really would love to work with?
"Yeah, I would love to work with Marilyn Manson. Hahaha! (starts laughing) I know that comes out of my field, but he's a magnificent entertainer and somebody I definitely would like to meet."
There are really some great entertainers you have been mentioning here, but you must have met lots of talented people during the years, any special ones you wanna mention and some comments on them?
"Well, I've met many but not necessarily in the Dance arena. Certain Opera singers like Pavarotti that I've met, which was pretty enlightening."
Any other memories you can think of during your years in the business?
"Well memories of not have enough time to spend with my kids [ages 7, 9, and 14 in 2000], I have memories about that."
Since you're a mom of 3 kids - is it hard to find the time to do everything?
"Yes, as I mentioned before, it's VERY hard, because it's not just the time that you have to go home spend with them but actually even when I'm there if I'm pre-occupied with something that happened during the day it's very very difficult to leave that checked out the door and come home and pay attention and listen to what happened in their day, because it is their time so the balance is very difficult but it's also very supportive and it gives me a lot drawn when I write."

I continued to talk about her work; Do you always work solo or have you been involved or part of any groups?
"Well - I don't really look as myself as working solo because it takes a lot of people to make a record and do a show. I work together with Tony Marinello, Roy Kamen (my husband), all my dancers, everybody at Kamen Entertainment Group, all the engineers, mixers so... I do think of myself as a group act in that way."
In the future she and MRK Records will start producing and signing other artists to the label, we sure are looking forward to that as well.
Finally, what made you one of the hottest people in the Dance music business?
"That's very nice, I would like to think that I am and I would like to think that I will be some day... Eh, I'm able to do a lot of things. I don't think that you can't get anywhere just doin' one thing. I write, I sing, I play a couple of instruments both violin and piano, I choreograph, I dance, I juggle. I've learned a lot about business owning my own company and also being a mother of three. So, I think all those things together help make you successful."
With a weight loss of 100 pounds over the years, Marina has been much into the workout scene with her uptempo dance music. She's now taking the workout one step further and right into your home and mp3's. In March 3, 2005 Marina and the Kamen Entertainment Group is launching the first free workout podcast site - MarinaPodcast.com.
This is your way to a healthier living with new daily fitness programs automatically downloaded from the Internet to your PC/MAC and onto your mp3 player. Every day you can workout to a new program, all you need to do is to sign up, choose your favorite kind of workout, get your workout clothes on and get started...
Simply visit the MarinaPodcast.com site and download the aggregator program - which makes sure to download the Marina workouts as you sleep.
Enjoy your healthier new life...
Well, Marina is really successful - she is the Dance music star and entertainer for the new millennium. We haven't heard the last from this Euro Hi-NRG Diva, that's for sure. So be prepared, 'cause Marina IS
the All-American Euro Queen !