Buffalo in the state of New York, November 25th 1960 - a future DJ legend is born... John Ceglia!
A guy who grew up to become one of the youngest major DJ's of the whole Disco era.
John has always loved music from his early days back in the home in Buffalo, where music was always played. This love for music got him interested in DJ'ing... On to the interview...
I [Discoguy] asked John: How come you started DJ'ing?
"I was always drawn to music from a very early age. I started on the Beatles and the Motown Sound in the sixties and then as I grew into my early teen years I loved Soul and R&B. Artists and acts like Stevie Wonder, Marvin Gaye, Earth, Wind & Fire, Ashford & Simpson, Al Green and Quincy Jones had a profound influence on me.
When the Disco craze was at its peak I used to go out dancing and was intrigued by the power the DJ hade over the crowd. I loved to be excited by not only music I was familiar with, but I also loved the thrill of hearing something new and wonderful on the dance floor. I just knew it was something I wanted to do."
So, When did you start DJ'ing and which was your first gig?


"I started DJ'ing in 1978 at a teen club called Sgt. Peppers for $20 per night. That pay scale changed drastically, thank God, when I got to New York in 1980...
The pay there ranged from on the low side $250 for a week night in maybe 1980 & '81, to $350-$500 for Friday & Saturday or big parties, and $1000 for say - New Years Eve. Back in those days it was decent. I know the top Jocks today are pulling down quite a bit more."
Which other clubs did you play in Buffalo?
"Club 747, Fridays & Saturdays and Mulligans Night Club."
Have you ever done something else - Or is DJ'ing your life?
"Music and DJ'ing have been and always will be an important part of who I am. But for the past seventeen years I've been an audio engineer/mixer/editor for TV and radio. I believe my years as a DJ have helped to make me a better music editor in my 'post DJ' life."
Even though John first started DJ'ing in 1978 at the age of seventeen, he quickly gained a good reputation in Buffalo and by the time he was eighteen he was voted by the other Buffalo area DJ's to represent Buffalo in the "Worlds Largest Disco" in 1979. However, John will tell us more about this spectacular event later...
What, do you think, made you one of the hottest and most wanted DJ's?
"I think people have the innate ability to know when something comes from within, when someone has passion for what they do. I was always very passionate about my craft, the music I played and the way I presented it. Knowing the type of crowd and their level of musical sophistication was extremely important. When I would prepare a program for an evening I would ask myself certain questions, for example: 'What would be exciting for me to hear following this record if I was out there dancing? By overlaying and blending, what combination of records would be exciting or create and interesting soundscape?'
But most importantly, I always tried to stay true to myself and what I believed the experience should be about."
Did you have any specific skills, special techniques or... ??
"Looking back, I was probably known for long overlays, making vocals from two different records answer one another, or having the strings of one piece answer the vocals of another, etc."


That's really interesting... Can you give some example of some Disco tracks you used to mix together, where you let the vocals answer one another?
"One example would be: 'Alive with love' by Cut Glass into 'Stormy weather' by Viola Wills, another would be: 'Don't leave me hangin' from Pinocchio by Masquerade (Boris Midney) into 'Could it be magic' by Donna Summer. I wish there was a way I could get some of these mixes to you over the Net so you could hear them..."

Since you're one of the first classic "Disco DJ's" - have you got any comments on how the DJ was regarded in the beginning and how it has changed during the years?
"It would be more accurate to say that I'm probably one of, if not the youngest of the first generation of Club DJ's. The DJ became a star in the seventies and I think it still holds true today. Now DJ's have many more ways to market their talent than we did back in the day. Today it seems DJ's are more acrobatic in the sense that they jump around from song to song to break and back in a very short span of time. I have so much respect for today's DJ's, what they do takes tremendous skill and concentration, but from the standpoint of my personal taste, I miss the day when the evening was more 'musical', when the music itself was more melodic and groove oriented. If you look at when the Disco era was at its peak you can't help but notice the influence of Soul and R&B across the board. 99% of the music in Disco's heyday was influenced by black music."
What about the techniques, equipment and stuff like that?
"I know many of the older techniques DJ's were forced to use because of the limitations of early club equipment. Thankfully, Because I started in the late seventies I didn't need to resort to them too often, if at all in my career. One example would be, in the era before many record labels were providing 12" version, or in some instances when the only available vinyl of a particular song was a 7" 45rpm single, we would take an LP and glue the 45 to the LP so we could control cueing more accurately.


During my time as a DJ the Booth was equipped with two, sometimes three, Technics 1200 turntables, Bozak or Urei line mixers, a cassette deck and a Reel-To-Reel for recording your evening. Today they use samplers, CD mixers, create special versions of songs on pro tools rigs in their homes and burn CD's at home of their creations, among other things. Technology has made it a much different world for today's DJ.


In the very early seventies, some of the first line mixers were nothing more than a volume pot for each turntable. A few didn't even provide a quarter inch headphone jack to cue incoming records. The DJ had to actually put his ear to the needle and the record to find the beginning of the incoming song. Needless to say, in those days the DJ's mastery lied in the programming, not necessarily in the presentation."
In early 1980, John had outgrown the Buffalo Disco scene, he was invited to the Billboard Magazine's Dance Music Forum in Los Angeles. There he came to know Michael Ellis of the WKTU Radio in New York. Michael loved John's music and techniques and just knew he would do just great in New York City. So, when Maurice Brahms and John Addison, the owners of the club New York, New York, in June of 1980 where opening up Bonds at Times Square, they brought over their NY, NY DJ - Raul Rodriguez - to the new club and leaving an empty spot in NY, NY.
Michael, who knew Raul, helped John to get an audition. John was the first one out of several DJ's to show their skills for the job - after a three hours set John was directly hired and the other DJ's had to walk away. From that day on he played as the house DJ four nights a week in the DJ booth of New York, New York where he was for about a year. A booth he shared with one of the best lightning operators of the era - Richard Sabala, a guy he later also worked with at The Saint and Pines Pavillion. But it was at New York, New York John's career took off - BIG TIME!
In July of 1980 he was again invited as a panelist for the Billboard "Dance Music Forum" in New York. In the panel was other great DJ's like: Jim Burgess (who soon would become one of John's best friends), Bobby Viteritti and Mike Lewis among others. When it was time for the DJ's to show their skills, John was the only one getting standing ovations from the crowd. Worth noting is that the crowd was some of the best DJ's, promoters and club owners from all around the world...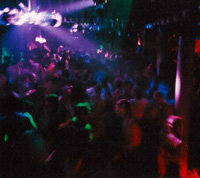 This also opened up for John to play at other NYC clubs like Underground, the River Club (formerly 12 West), the Palladium, the Saint, Limelight, Bonds, Roxy and (of course) Studio 54.
He also played Fire Island's Pines Pavillion and Ice Palace in Cherry Grove.
Besides this he also played at Salvation in Miami with Jim Burgess and many other guest appearances in clubs all over the United States.
After one year as the resident DJ of New York, New York, John decided to move on;


"Then I became the house DJ at Underground and River Club (12 West) at almost the same time. I was at Underground for over a year and River Club for three years. During that time I did regular guest spots at the other clubs mentioned. Although I was scheduled regularly on Friday or Saturday nights at Fire Island Pines Pavillion during the summers of 1982 and 1983."
John tells me that his own favorite clubs of these are the River Club (12 West), Fire Island Pines Pavillion and the Underground - because of the, as he summarize it, "Energy, Warmth & Musicality."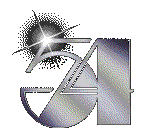 When did you begin working for Steve Rubell at Studio 54?
"I used to go to 54 on occasion when Steve and Ian were there, however I actually played Studio 54 when Mark Fleischman was in control [1981-1986]. Being one of the house DJ's at clubs like New York - New York, the Underground and the River Club (12 West) we were always welcome there."
But how was it to play at that legendary club?
"The Studio 54 crowd was very diverse in composition and I must say it was a thrill to play there simply because it was the most famous club in the world. I worked there when the club reopened under new management and to me it didn't seem to have changed all that much."
Any difference to play there compared to the other clubs you've been playing at?
"Actually YES! Studio was a lot of fun, however people seem to mistake the club that got the most media coverage with the best place to go dancing. Depending on your taste in music there were probably four other clubs on par or on a higher level: 12 West, Infinity, Flamingo and the Paradise Garage."
Would you say there was a different crowd in each of the clubs?
"Without question each club had it's own 'core' of regulars, but in those days, in those clubs in New York, people used to try and find the best party so you would see many of the same faces."
Were there songs that were floor fillers in one club that didn't work in another club?
"Not really in the clubs I mentioned. If perhaps an independent party promoter would come in on a week night, sometimes they would have their own following. For example when Studio 54 was closed for a while and Steve and Ian were away, the Underground was built to become the club for the studio 54 crowd. Studio 54 promoters like Carmen D'Alessio and Nicki Haskell were promoting some Thursday nights at Underground. The crowd make-up there was mixed on Thursday, Friday and Saturday and they had Sunday Tea dance with a mostly male crowd. On Sunday's, promoter John Blair did many of the tea dances, in fact he's the one who brought me to Studio 54 when it re-opened and he was doing Thursday and Sunday evenings there.
The regular DJ staff at Underground included myself, Jim Burgess, Roy Thode, Robbie Leslie, Michael Fierman, Richard Viglione, Sean Burke and Richie Rivera (I'm probably forgetting someone). And of course we all were fortunate to have the wonderfully talented Eric Erickson as our light man."
In the River Club (12 West) and the Saint the lightning was handled by another great talent - Richard Tucker.
Some of these clubs you have played in were mainly gay - was there some difference in the crowds, except for sexual preferences?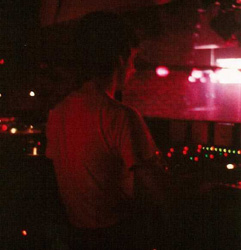 "First of all one of the most unusual things about me playing in those clubs was the fact that I am, and have always been straight. My girlfriend at the time, Darlene (currently my wife of nineteen years, and the mother of my seven years old daughter) had been going to the gay clubs in Buffalo with her cousins. She told me that the crowd in the gay clubs would appreciate my skills and music more than I could imagine and that the music was more sophisticated there, so I went with her, liked the music and energy and began working in one in Buffalo before I moved to New York. Before you knew it, many of my straight friends began to come to dance and bring their girlfriends, etc. By the time I left Buffalo for New York there was a definite mix.
The best part about playing in those clubs in N.Y. was the crowd, their energy and musical sophistication, they were great fun to spin for.
I will always remember what happened in the Saint at Jim Burgess' Swan Song Farewell in January of 1981...
Jimmy was very popular and the place was mobbed for his retirement from spinning. Burgess was always very dramatic, and in a club that was open from 11pm Saturday night till noon Sunday and the crowd wore Levi's and T-shirts, he was in white tie and tails in the booth. He played his sets, did a masterful job, and at 6am, only half way through the night, he waved me up to the DJ booth. He said; 'I'm playing one more record because I've said everything I had to say, it's over!'. I said; 'You must be joking, these people want to dance and more important they paid money to send you off.' He said; 'I'm sorry, I'm finished. I'm going to catch a cab. When the record ends, grab my crates and come to my house for the after party. Please John, do it for me.' With that he left me in the booth. Some of our mutual friends knew something was up when he split. The record ended, the crowd cheered for what they thought was another encore. No music came on. The crowd began to stamp and clap. This went on for a while as I packed his things. The owner and a few of his 'closest associates' knew I was a DJ (I had only been in New York for six months) and said; 'Play something!'. I explained for them what happened and they didn't care, they still wanted me to play. I didn't. I respected my friends wishes. ...and the rest is Disco history!
People in New York still talk about Jim walking out 21 years later. I think Jimmy knew that would be the case and boy was he ever right. Most of them don't know what really happened that night, until now."



Download the FREE basic RealPlayer...

CLICK to hear some John Ceglia favorites...
Double crossed
First Choice

Dr. Love
First Choice

Like an eagle
Dennis Parker

MacArthur Park Suite
Donna Summer

Night rider
Venus Dodson

This time baby
Jackie Moore




Double CD in Europe
2 x single CD in US
Click to buy from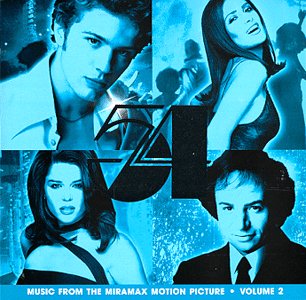 Click to buy from


Disc 1: [US CD 2]
If you could read my mind - Stars on 54: Ultra Naté, Amber & Jocelyn Enriquez
Haven't stopped dancing yet - Gonzalez
Heaven must have sent you - Bonnie Pointer
Loving is really my game - Brainstorm
Disco nights "Rock-freak" - GQ
Found a cure - Ashford & Simpson
Don't leave me this way - Thelma Houston
Come to me - France Joli
Take your time "Do it right" - S.O.S Band
Please don't let me be misunderstood - Santa Esmeralda
Spank - Jimmy "Bo" Horne
Galaxy - War
I need a man - Grace Jones
Heart of glass - Blondie
Cherchez la femme / Se si bon - Dr. Buzzard's Original Savannah Band
Fly Robin fly - Silver Convention

Disc 2: [US CD 1]
Studio 54 - The 54 Allstars
Keep on dancin' - Gary's Gang
the Boss - Diana Ross
Dance dance dance "Yowsah yowsah yowsah" - Chic
Vertigo / Relight my fire - Dan Hartman
You make me feel "Mighty real" - Sylvester
Move on up - Destination
Love machine (Pt.2) - the Miracles
Contact - Edwin Starr
Knock on wood - Mary Griffin
Let's start the dance - Bohannon
I got my mind made up - Instant Funk
Young hearts run free - Candi Staton
Native New Yorker - Odyssey
Que sera mi vida - Gibson Brothers
Wishing on a star - Rose Royce

Can you name some special "anthems" for some of these clubs?
"'That's Where The Happy People Go' by the Trammps and 'Hold On To My Love' by Jimmy Ruffin were 12 West anthems and were also loved at the other clubs.
'MacArthur Park Suite', for me and I'm sure for Jimmy Burgess, was the Underground."
How did it feel to completely fill the floor of for example Studio 54, or any of the other clubs? I mean, most of these where huge clubs and would have thousands of guests.
"To be honest, the way the evenings went back in those days, it seemed we used to build to a full floor over the first one to three hours. Once everyone in the room bought into the journey, the "first peak" of an evening was always a signpost. From that point on if you had a good plan, and depending how big your crowd was, you could literally peak the room from four to six, or eight more hours, not ever really losing dancers off the floor, but taking them to different levels of excitement and energy. That feeling of "oneness" with the room was an unbelievable experience, truly one of the most gratifying things about being a DJ."
Did you use to have some "intro song" you always started with?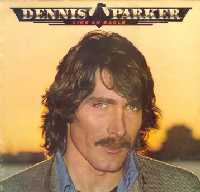 "I used to like to play an orchestral piece or something from a film score for the first twenty minutes to half hour for people to relax as they entered. I then would normally start at an extremely slow tempo (i.e. Dennis Parker 'Like An Eagle' or Idris Muhammad 'For Your Love' those types of songs) and slowly build the tempo and energy from there. I used to then do some funkier stuff followed by the more uptempo after that. Towards the end of the evening it was customary in NY back then to play a few long sets of "Morning Music" or "Sleaze" as it was affectionately referred to...
In those days the music in those sets ranged from: 'Hot Butterfly' or 'Dance Little Dreamer' by Bionic Boogie to 'What's Goin On' or 'Inner City Blues' by Marvin Gaye to 'Rock Your Baby' by George McCrae to 'Ordinary Pain' or 'That Girl' by Stevie Wonder to 'Quiet Village' by the Ritchie Family to 'Touch And Go' by Ecstasy, Passion & Pain to 'Let's Stay Together' or 'Still In Love With You' by Al Green to anything by Candi Staton and even playing the 45rpm of 'Souvenirs' by Voyage at 33rpm.
This is a small sample of the type of music we played late in the evening and quite frankly is one of the main things that really separate that era from this one."
How many hours did your gigs last?
"The average gig was anywhere from 10pm to 6 or 7am on a weeknight, 10 or 11pm to 7 or 8am on Friday and 10 or 11am to anywhere between 7 and 10am on Saturday night."
How many DJ's used to play each night in the larger clubs?
"Just one."
This really shows that it was a tough job being a DJ back in the Disco days.
I asked John if he could tell which was his best gig - ever!?
"It would be difficult to choose one of my favorite nights over another. The crowds were so in-tune musically back in those days, and on a few occasions during a two or three minute overlay, they worked themselves into such a frenzy that the entire room stopped dancing and crowded in front of the booth cheering and applauding. The first time it happened at Sunday Tea at the Underground, the manager of the club came running into the booth to give me a bottle of Dom. [Dom Perignon - Champagne]
However the largest crowd I ever played for was more of a Disco spectacle than anything. That was when I was 18 and I was voted by fellow area DJ's to represent Buffalo at the 'Worlds Largest Disco'. The event was held in Buffalo in the Fall of 1979 and was attended by 17'000 people from all over the world, making it the largest and most diverse crowd in history. Kind of a Disco Woodstock. In addition, DJ's from New York and L.A. like Bobby 'DJ' Guttadaro, Mike Lewis, Charlie Anzalone and Marty Angelo joined me at the turntables. Live performers for the event included: Gloria Gaynor, the Trammps, the Raes, Edwin Starr, Musique and Fern Kinney. The success I had that evening gave me the confidence to know that I could succeed in a large market and it served as a springboard for me. In less than a year I was in New York."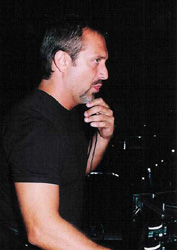 Did you know many of the other great DJ's of the Disco era?
"I was fortunate to know and hear some of the great DJ's of the era. I was in THE Record Pool, For the Record, within one week of my arrival, and I have to thank Judy Weinstein and Jim Burgess for that... I was bin #14 in a pool of 130 members and the names on the feedback sheets included DJ's: Jim Burgess, Larry Levan, Robbie Leslie, John "Jellybean" Benitez, Roy Thode, Michael Fierman, Richie Kaczor, Warren Gluck, Tee Scott, Howard Merritt, Jonathan Fearing, Frank Hoolihan and I could go on...
All of the above were extremely talented in their own right. Roy Thode had a huge following and he actually hired me to play my first night on Fire Island after hearing me speak and then mix when I was a panelist at Billboard Magazines Disco Forum in New York City. Jellybean had a tremendous amount of success and I enjoyed visiting him in the booth at the FunHouse. When I was still spinning I was close with Jimmy Burgess, Robbie Leslie and Michael Fierman. I still hear from Robbie from time to time and Richard Viglione and I are still very close. Sadly too, many of my other friends are no longer with us."
Were Frankie Knuckles in the pool as well?
"Not during my time there that I can remember. I think he was spinning in Chicago at that time if I'm not mistaken. I went to visit a friend by the name of Kenny Newburgh there on a whim just for an overnight to go out to the clubs and he took me to hear Frankie for my first time. Loved his work! I also had the pleasure of meeting him that night and remember him to be a very warm person and extremely professional as well."
I know you knew Jim Burgess quite well - I would like to know more about him if possible...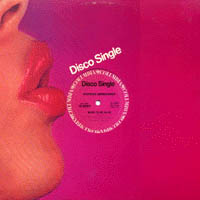 "We were very close for a time. He was such a talented and creative person. Of all the remixers from that era of the late 70's and early 80's, I think Jimmy and John Luongo (John did most everything on Columbia back in those days) had the best handle on how to make tracks work in clubs. Burgess worked almost exclusively with engineer Mike Hutchenson and brought in percussionists Jimmy Malen on many sessions to help transform the track and bring them to life.
Jim was a classically trained tenor, so his musical background was invaluable in both his DJ and remixing careers. Jim was the person who convinced me to throw away my BPM [Beats Per Minute] book because he felt that the blends tend to be more musical as opposed to when you're simply matching beats. He was right. That was the single most important thing I learned from him."
John and Jim actually shared apartments a couple of times; "When I first moved to New York I stayed with Michael Ellis [of Billboard Magazine - at that time he was in charge of charts for WKTU Radio] for one month. I then moved in with Jim into his apartment and then when my wife Darleen came to N.Y. to dance a few weeks later she also stayed there. We were with Jim in that apartment for a total of six weeks, we then moved in with lightman Richard Sabala and stayed there for about two months. Then finally we were able to get our own apartment. Jim was evicted from his place, too much loud music, and moved in with Darleen & I and stayed with us for almost a year."
Jim was also one of the first well known remixers - have you been remixing as well?
"Because of the clubs I worked in and my exposure to artists and record company executives and promoters, I always thought that I would end up doing music. Strangely enough that didn't happen. However like I mentioned earlier, I have been recording, mixing, editing and sound designing for TV and radio for over 17 years."
But that's not 100% true - John actually did remix one track: "Can't keep a secret" by Billy Stewart for the Disconet remix service. This song was remixed by John together with Marceilio Gandola and was released in the remix service's Volume 8, Program 10 release.
As a DJ - what did you think of Tom Moulton's mixes?
"Tom's another really talented person who have had a huge impact on the era, especially when the movement was on the up-swing. I never had the pleasure of meeting him, but truly enjoyed many of the records he was involved with."
Since I'm a "DISCO-holic" and Disco 12" singles collector myself I just needed to know what John had done with his records, if he had kept them all or if he had got rid of them...
"I once had an amazing collection but did sell a large chunk when I retired in 1984. I still have approximately 500 pieces of vinyl and I have collected a couple of hundred CD's of music from my era."
Did you like Disco music during that era, or was it just a job?
"As in any style or category of music there is good and bad, I loved the good, hated the bad and didn't play music I thought was bad. So really it was never just a job for me."
What kind of music do you personally prefer?
"I like all styles of music as long as it's good, I don't just say I like this style or that style. I love Jazz, Soul, Funk, some Rock stuff, classic Dance music from back in the day, and I'm more and more finding an appreciation for classical these days."
I also wondered if John could put together like some kind of Top Ten list of his own favorite Disco music. And exclusively for you visitors of www.disco-disco.com he has put together the following list.

Please note that the songs are in no particular order:
| | |
| --- | --- |
| Venus Dodson | "Night rider" |
| Jackie Moore | "This time Baby" |
| Barry White | "You're my first, last & everything" |
| Alton McClain & Destiny | "Crazy love" |
| Cerrone | "Give me love" |
| Stevie Wonder | "Master blaster" |
| El Coco | "Cocomotion" (this was playing the first time I ever set foot in a club) |
| Boris Midney | "Don't leave me hangin'"/"Open the secret door" (from Pinocchio) |
| First Choice | practically anything by them... |
| Change | "Searchin'" |
| Voyage | "From East to West" |
| Donna Summer | "MacArthur Park suite" |
Have you got any special memories as a DJ you wanna tell about?
"When I first arrived in New York, the man responsible for helping me get my audition at New York-New York, Michael Ellis of Billboard Magazine. My fiancée Darlene, Jim Burgess and I visited the Funhouse when Jellybean was working on a Friday night in 1980 or '81. France Joli was in the booth with us and Madonna was there too. But it was really before she was "Madonna". Jellybean had a tremendous grasp on many aspects of that era and I have the utmost respect for how he utilized his talent as a DJ and a producer, and he was such a down to earth and likeable person. We always got along very well, I guess my only regret is that we didn't have the opportunity to see more of each other. John was a consummate professional in the Booth and the few times I had the pleasure of hearing him, he always knew exactly where to take the room next. It was fun to watch.
I also had the opportunity to play parties that featured such artists as Thelma Houston, Phyllis Hymann, Grace Jones and Gino Soccio among others.
Being present at Jim Burgess' "Swan Song" at the Saint was memorable to say the least. I used to love to show up at 12 West at 7 or 8AM after spinning at NY-NY or Underground and hear Jimmy or Robbie Leslie do their morning sets, that was a real joy and an inspiration. And talk about inspiration, my very dear friend to this very day, Richard Viglione, was probably the best kept secret of all DJ's. He could spin circles around most DJ's and unfortunately never received the recognition he truly deserved. He was one of the best I've ever heard.
I had the pleasure of working with the greatest lighting designers of the era, Richard Sabala, Richard Tucker and Eric Erickson, all of whom were very dear friends of mine as well.
From the standpoint of being a DJ, it's extremely special in my mind to look back and remember the respect I received from my piers and how they welcomed me into the family. I could be playing just a regular Sunday night at Underground, Studio 54 or the Saint and five or six of the best DJ's in New York would come to hear me. THAT was truly an honor!"
So finally, When and why did you quit DJ'ing?
"I quit in 1984, most of the major clubs of the Disco era were closing. The music itself was in a very weird transition. Club music was getting edgier (I was not a big fan of much of that sound) and it was just before House became prominent. I really think the music had a lot to do with that whole period and had we gone from the Disco straight into the House era I think there may have been a chance for some of those clubs to survive."
This was the DJ career of John Ceglia, the youngest hotshot DJ of the Disco era, who was a master in having records reply to each other in a unique and remarkably great way.
He doesn't DJ any more, but in some special occasions you can get to hear him behind the turntables - You better make sure catch him then!

DISCO-ON - John!