Wilfred W. Wilson II was born in St.Thomas [US Virgin Islands] in February 27th, 1958 by Jamaican parents. He's the oldest of two kids and When Freddie, as he's always called, was 4 years old the family moved back to Jamaica where he got his upbringing and exposure to all various kinds of music that bloomed in the Island during the 60's.
At home Classical and Jazz music was played, while Roots Rock Reggae, Funk, Soul and R'n'B where played in the radio and in the streets. The various kinds of music has influenced his life forever and formed him as the DJ and entertainer he is today.
His first more professional job in the music business was when he started working in his cousin Ron Burke's record shop and recording studio - Micron - in Kingston. The studio later became Bunny Wailer's Solomonic and Freddie's cousin went on to create the Reggae Sun Splash.
Through the shop and studio Freddie got exposed to the rapidly growing Dub music and this is when he started collecting the new and fresh music released and one thing led to another and Freddie found himself spinning in various Kingston Clubs.
I [Discoguy] had to ask Freddie: How come you started DJ'ing, was it something you wanted to do, or did it just "happen"?
"I started spinning because I love music, all kinds of music. I had some records, started spinning and from there. Never really thought about standing up in front of people and turntables and spinning, it just kind of happened."
So, What kind of music did you spin then? Reggae/Dub?
"Musically, I am a product of the 60's. I heard it all when it was new - from Jimmi Hendrix to King Stitch, The Skattalites and King Tubby to Django Rheinhart and Lady Day, from Scratch - the Super Ape to Debussey... I loved it all.
In Jamaica, they had these things called 'Sets'. Guys built up stereos and competed against each other for the sweetest sound in town, which they still do. These guys played it all, sets like Bell Paul and Blackout. These guys really played it all. Ska to Reggae was a way of everyday life there, so the stuff that REALLY hit me back then was the R&B & the Funk... 'Scorpio', 'Soul Makossa', 'Brothers gonna work it out', 'Bra', 'Give it up and turn it loose'... The 'WICKED Pickett'... Man, 'Crystal Grass' knocked me for a loop FOREVER! The love songs, the harmonies, those voices from back then... I just loved it all."

As being born in the US Virgin Islands, he was a US citizen, and by his 18th birthday he decided to go to New York and joined the US Marines. Freddie got stationed in Italy for two years and it was actually here in Naples he started spinning professionally, i.e. he started earning money out of his spinning.
Which was your first gig and how did you get discovered?
"In Naples, I bought a serious stereo and was pumping music for myself in the barracks because I loved it. Apparently, some people were buffaloed by what they were hearing, and eventually a girl with a boyfriend in the Navy band in Naples, approached me and asked me to come spin at this place called Charlie Browns. I didn't know that it was supposed to be the like best club in Naples at the time. I did it, they loved it, and I played there almost every weekend that I had off duty. Then I started to get offers from club owners all over Italy... This was my real beginning as a paid DJ, I play because I love Music."
After his time in the military he was planning on returning to Jamaica, but the political situation in the Island had changed and was a little out of hand, so he and the family returned to the Virgin Islands instead.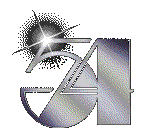 Back on the Islands he soon became friends with DJ Bert Bevans, who at that time was the resident DJ of the Studio 54 Virgin Islands.
When Bert later moved on to Europe it was natural for him to give the residency of '54' in St.Thomas over to Freddie... And over the next four years he played the '54' and all the other hottest clubs in the Caribbean's like Jimmy Zís, Safari, Club Z, Blue Room, The Ritz, Cruzan Elegance, Rumours, Hondoís and The Mill.
But in the early 1980's he decided to return to New York to study at the Institute of Audio Research/School of Multi Track Recording Technology, where he completed a Degree in Audio Engineering.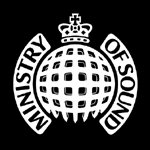 All this time while studying he continued to develop his talents by spinning in New York clubs like The Cat Club, Paradise, Swetz and others. He has also played other clubs all over the world like SW1, the Park and Ministry of Sound in London, UK, as well as several clubs in Switzerland and Italy, along with Hot Clubs in many of the US states.
While in New York Freddie also got to be around, hear and be influenced by DJ's like Larry Levan, David Mancuso and Tee Scott...
But of all these clubs you've played, have you got any favorites ones?
"Favorite clubs? Safari and Jimmy 'Z In St. Thomas, Swetz in NYC. The Garage in Ischia [Italy]... I LOVE Richard Long Systems !"
Would you say there Was a different crowd in each of the clubs?
"Yes, completely different.
Safari was predominantly gay and waspish... 'Billie Jean' and 'It's Raining Men' type of thing.
Jimmy'z was a mixed crowd, of predominantly straight people, also touted as possibly the most beautiful club in the Caribbean. That was more of a 'La Bamba', 'Jingo' and Colonel Abrams type of deal. The kind of place that appreciated slow songs as a part of the set.
Swetz was is NY and it was a melting pot, mostly black and those people came to shake it for real. That place was RAW. 'Give it up and turn it loose', Bohannon, 'Bra'...
The Garage in Ischia was a top 40 disco club, and the Bee Gees ruled their world. I got so sick of having to play that Saturday Night Fever record there, that I used it as a frisbee off the balcony of the club, 1500 ft over the Med whilst aiming for Russia."
Were there songs that were floorfillers in one club that didn't work in another club?
"Not particularly. It's not what you play, it's how you play it."
Can you name some special "anthems" for some of these clubs?
"For Safari, 'The Hills Of Katmandu' [Tantra]. Jimmy Z's would have to be Colonel Abrams' 'Music Is The Answer', 'Street Player' by Chicago and 'Jingo' by Candido. 'Bra' by Cymande and 'Give It Up And Turn It Loose' by James Brown for Swetz."
Any comments or special memories from these clubs?
"In Jimmy Z's in St. Thomas, a girl came up to the booth with tears of joy, and told me she just wanted to watch me spin, because she never heard anything so beautiful in all her life."
THAT is for sure a wonderful memory! Can you tell which was your best gig ever?
"My best gig ever in terms of a SERIOUSLY good time, with a few thousand people that is, would have to be Club'Z in St.Thomas. A New Year's Eve thing that I played at, pumped for 19 1/2 hours straight. I had a BALL! First time I ever heard of a club selling off 7 thousand cases of champagne in one night. Richard Long got me a guest spot there that turned into a residency. It was his last club installation. He died whilst I was down there."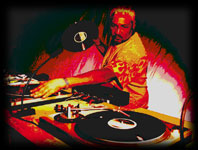 What do you think made you one of the hottest and most wanted DJ's?
"I didn't know that I am regarded as one of the hottest and most in demand DJ's. Haha! That would be nice. I do know, that for a few people around this world, I have changed their lives musically forever and they will tell you that."
Do you think you have any specific skills, special techniques or likewise?
"Special techniques or skills that I use? Well...
Firstly, I find it very difficult to play with just 2 sources. I much prefer 5. That's 3 turntables, a reel to reel and a cd player and its like - Hi Mom, I'm home... I treat spinning as art. Instead of using colors, I use sounds, and I will layer things, on top of things, that will take you emotionally thru the clouds.
Also, control over frequency is very important to me, plus a time frame of Midnight till noon. I feel that there must be a message in Music. I use sounds, not just music, conversations, a world full of sound effects, instrumentals, vocals from everywhere. In effect, to put little pieces of my personality thru an electronic system, and TICKLE peoples brains with it.
The rule is: THERE ARE NO RULES... This is why for me, it is art. You are limited only by your imagination. I place no limits on mine."
Have you ever worked with something else, except of the record store and DJ'ing. Or is DJ'ing your life?
"I have worked at other things. The music was always there though, always. I made it a point years ago to work only at jobs that were somehow involved with music. There is always something to learn in this business.
Even if the money isn't there, you can always learn... Knowledge IS Power!"
Since you're a classic "Disco-DJ", have you got any comments on how the DJ was regarded when you started and how it has changed over the years?
"First of all, I do not like all of the different labels that have been placed on dance music, different genres. I come from the era of playing only good music, irrespective of genre. Also, I don't like the fact that DJ's are being forced to become musicians just to be able to function as a DJ. I think something gets kind of lost with that."
Any comments on the techniques, equipment and stuff like that?
"Digital technology has reached the point where you as the DJ have been replaced, so to a great degree, I steer away from digital gimmicks."
So how would you describe your playing style?
"Serious music, nothing frivolous. My only criteria for rating records is goose-bumps and that's it."
Freddie is dubbed "Machine" and of course I needed to know how he got that name. He tells me;


"The first time I went into the Paradise Garage in '78, at top of the ramp going in, There was a big black billboard that had 2 words on it, displayed above and below as: LARRY MACHINE.
I went into the main room, and TRULY... at about 11:am on a Sunday morning, heard the voice of GOD... along with whistles blowing, tambourines shaking, and about 4000 people stomping, screaming and crawling the walls in the place... taken over by the chant - 'Huh, Huh, BODY MUSIC' - coming over a stereo system that is NOT of this earth.
At noon, Machine took the stage and 'There but for the grace of God' went us all... Amen!
I used to castigate Leroy Washington at Studio 54 [St.Thomas] for years. I always told him -'Yo Bro, you are an awesome DJ, but I don't think that anybody has ever really heard you cut loose and do what YOU want to do up there in the booth.' Eventually he got pissed, and schooled me on a couple of things and I quote: 'Freddie have you ever witnessed an autopsy before? No? well you should see that. You should watch the guy that's doing it. He is doing a job that's dirty, a job that no one else is willing to do, a job that most people either won't do, or aren't capable of doing... and he does it professionally. With surgical precision and complete attention to detail every single time. The owners of this club want a MACHINE that kicks out music the way THEY WANT IT... and I am teaching you how to become one.'
I have learned my lessons well."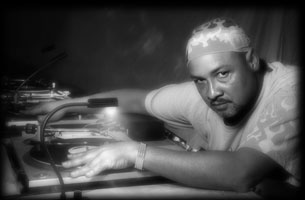 "Machine", you have also said you want to keep the magic of Paradise Garage alive, in which way do you keep the magic alive?
"Predominantly by fusing the music of then, with an emphasis on the music of NOW, using the same type of emotional intensity in the mix. But also by having two copies of every record and in actuality remix the track right there in the booth. To be able to take one record and just go some place for as long as you want."
That's actually just what the late Larry Levan used to do at the Paradise Garage, so Freddie is really keeping the magic alive.
Do/Did you know many of the great DJ's of the Disco era and have you got any comments, memories and/or info about them?
"Yes. I knew Larry Levan, Tee Scott, Bert Bevans, Leroy Washington, Mboya and Kenny Carpenter among others.
The first thing that comes to mind with any of these guys is Levan. He dropped 'Bra' by Cymande and knocked out a friend of mine cold. He just dropped like he got shot in the head. I picked him up off the floor and carried him out of the club. I could have sworn he was dead. Half way out, he woke up and asked me; 'What happened, what happened?' and I told him; 'I don't know man, but I'm taking you out of here because you can't handle this shit.' - The sound system was so powerful and overwhelming that it literally knocked him unconscious. I LOVE RICHARD LONG'S SYSTEMS!"
Have you got any DJ "mentor(s)"?
"Larry Levan, Bert Bevans, Tee Scott and Leroy Washington."
Many other DJ's went into remixing as well - have you ever been remixing? Which acts/tracks?
"Not many, just three. First one was 'Pay Up' by Urgent (isn't it always?), 'Say, Say, Say' by Club Session and a thing I call the 'F Medley' which is unreleased."



Download the FREE basic RealPlayer...





CLICK to hear some Freddie "Machine" Wilson favorites...

Billie Jean
Michael Jackson

Body music
Strikers

Bra
Cymande

Don't make me wait
NYC Peech Boys

Give it up or turn it loose
James Brown

Give your body up to the music
Billy Nichols

Jingo
Candido

Love is the Message
MFSB

Music is the answer
Colonel Abrams

Night fever
Bee Gees

Stayin' alive
Bee Gees

Street player
Chicago

You should be dancing
Bee Gees






Click to buy from


Funky Sensation - Gwen McCrae
Over Like A Fat Rat - Fonda Rae
Can't Play Around - Lace
What Can I Do For You? - Labelle
Always There - Side Effect
Why Leave Us Alone - Five Special
Is It All Over My Face - Loose Joints
Free Man (Disco Version) - South Shore Commission
Bad For Me - Dee Dee Bridgewater
I Love Music - The O'Jays


Click to buy from


Just Us - Two Tons O' Fun
Baby I'm Scared Of You - Womack & Womack
Somebody Else's Guy - Jocelyn Brown
Touch And Go - Ecstasy, Passion & Pain
Love Is The Message - MFSB
Running Away - Roy Ayers Ubiquity
Now That We Found Love - Thirld World
Bra - Cymande
Down To Love Town - The Originals
Over And Over - Sylvester


Click to buy from


Give Your Body up to the Music - Billy Nichols
Weekend - Phreek
You Got Me Running - Lenny Williams
I'll Do Anything for You - Denroy Morgan
Runaway Love - Linda Clifford
Girl You Need a Change of Mind - Eddie Kendricks
I Want to Thank You - Alicia Myers
Clouds - Chaka Khan
Vertigo/Relight My Fire - Dan Hartman
Music Got Me - Visual