In 1979 Bobby also starts his own "O" Records, with some distribution help from his friends at Vanguard, and his first releases on "O" would come in 1981 when "Just a Gigolo" by Barbie & the Kens and I-Spies' "Change of Life" were released. Both became Billboard Dance hits. The strange thing is that the "Just A Gigolo" 12" inch single was released in matrix # OR 811 and the I-Spies in matrix # OR 711, the later which would become the series used for the upcoming "O" Records releases.
As Disco music had just "died" (according to its critics), Bobby Orlando set his focus and immediately became one of the most influential parties of this evolving dance music genre, later to become known as High Energy [Hi-NRG]. Together with peers like Patrick Cowley and a few others, Bobby "O" would come to dominate this up-tempo (usually 130+ BPM's), synthesizer driven genre for years.
It's rather surprising and might be some kind of blessing in disguise that Bobby would come to dominate this genre, as Hi-NRG was frequently played and got most attention and followers in the gay clubs all over the world. Specially since Bobby Orlando is told to be a very religious man who knows his Bible - along with being a homophobe. But still he would make wonderful dance tracks that everyone could enjoy!
What Bobby liked so much with Hi-NRG was the positive and uplifting nature of the genre and the fact that is used classical arrangements along with strong lyrics. He feels Hi-NRG celebrate life opposed to certain other genres whose nature are more dark and destructive, and music should make you feel good and happy - just as he did with his music.
He would come to release his music by many different monikers, group names and labels, as well as writing and producing for other acts and artists. Most of the acts he worked with were pure studio productions, like his successful female trio - the Flirts. They have been one of Bobby's longest lasting projects, but the gorgeous models appearing in the album covers changed by every album and the vocals were all done by studio session singers.
Same goes for many other Bobby "O" acts - he was the actual act and then he brought in session singers to lay the vocals before giving the act a clever name - or - in some cases re-use some of his existing alter egos.
More on this later...
So already in the late 70's he had started to make a name for himself and more and more acts wanted to work with him. One of the first was the French duo Ottawan, a group that already had taught us how to spell "D.I.S.C.O" as well as exercise on the dance floor with their "Hands Up". In 1980 Bobby released their "Hello Rio" on his "O" Records label, but it never came close to the success' of their earlier hits.


In 1982 he wrote and produced "I Will Follow Him" for former Disco diva Claudja Barry, who released her first album on legendary SalSoul Records in 1977 and who had a major hit in 1979 with "Boogie Woogie Dancing Shoes". Bobby wrote and produced Claudja again in 1984 when they recorded her hit "Born To Love" for Personal Records which peaked at # 14 in the Billboard Dance Charts. Next they both entered the studio for the hit duet "Whisper To A Scream" [# 27] in 1985.

Still in 1982 Orlando produced Tony Baxter's worldwide Club hit "Get Up Offa That Thing", which was a cover of the James Brown classic. The track was later re-released as "Screamin'" in 1984, probably because the original release had put 'Screamin' a bit above Tony's name, as in Screamin' Tony Baxter, but the space between the names made all DJ's call the song just "Screamin'".
The track still gets it share of play today and is still uplifting and vibrant.


The same year Bobby was also approached by Drag Queen and cult-movie star - Divine, whose real name was Glenn Milstead and who had starred in cult classics like; Pink Flamingos, Hairspray and Polyester. Together they started what would become a successful work-relationship. This might look like a strange relationship based on the information of what a homophobe Bobby was and knowing who openly gay Divine was, but the partnership paid off. First track they released was "Native Love (Step By Step)" which instantly became a hit, # 21 in the Billboard Dance Chart but did much better in Europe. Their next release would hit it off big time... The single was "Jungle Jezebel", but it was not the A-side making all the fuzz, it was the B-side track; "Shoot Your Shot". The track was such an immediate hit in Europe that the single was re-released with "Shoot your Shot" as the A-side within a month after the original release and it sold Gold in Europe.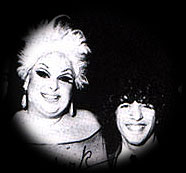 Next major hit by this, on the paper, unlikely team was "Love Reaction" which was released in 1983. It's clear to hear that Bobby had been heavily inspired by the famous bass line (and melody) of New Order's "Blue Monday". Some say that New Order took legal action against Bobby for stealing, while the band themselves say they never did and actually honored Divine in one of their concerts by letting a crew member dress up in drag and sing "Love Reaction". No matter which - it still became a hit, but it was actually their last major hit, even if they did release a few other tracks before Divine started working with UK writer & producer team Stock, Aitken & Waterman in 1984.
But Divine never managed to get the same kind of hits with S.A.W. as he had had with Bobby, and sadly he passed away far too early in 1989 of an enlarged heart at the age of 42.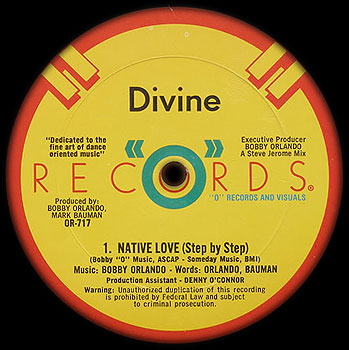 About the time Divine choose to fly across the Atlantic to start working with S.A.W. in the UK, an UK music journalist at Smash Hits flew the other way to attend a the Police concert in New York and to interview Sting for his magazine. What his employer didn't know was that his own goal with the trip was to meet up with Bobby Orlando for a possible work-relationship. The journalist's name was Neil Tennant and together with his friend Chris Lowe, he had formed a band in August 1981 and now approached Bobby Orlando to have him produce them. Bobby saw their potential and produced their first single - "West End Boys". Yes, the group was the Pet Shop Boys, even though they originally was going to call the band the Altar Boys to add a bit of religion and ambiguity into the name, but the name was changed at the last minute.


Not everyone, not even all Pet Shop Boys fans, knows of the original first release of "West End Girls" which was released on Bobby's BobCat label (distributed by Columbia Records).
I would say that Bobby O's version of this classic hit has a more Hi-NRG feel and more driving bass beat than the 1985 version that became a worldwide hit for the 'Boys' and EMI Records. You see, after Bobby had released "West End Girls", major companies approached the 'Boys' and finally they signed with EMI, a company that originally had not been interested in the group at all. That they ended up on a label that originally didn't want them, that's one of the things that still kind of bugs Bobby, but still he signed a great deal with EMI which was giving him percentage on the band's first three albums, with a limit of one million dollars. Plus that he still own the rights of the songs "One More Chance" and "Pet Shop Boys" [a 28 minutes piano concerto which has never been released] along with his version of "West End Girls" and he still gets all the royalties for those. He's also the co-writer of "One More Chance" and "Two Divided by Zero", so he gets his share of those as well. So I guess Bobby made a brilliant deal when relinquishing the band to their new label, considering the millions of records the Pet Shop Boys have sold over the years.
Despite the split, Bobby has mentioned in interviews that he still had a personal friendship with Neil and Chris and as a matter of fact he was the one who recorded their first three hits, including the original version of "It's A Sin".
Personally I would have loved to hear more of the Pet Shop Boys in Bobby "O" style, but I guess we can only guess what they would have sounded like, based on the now kind of hard-to-find BobCat 12" single of "West End Girls". The full length version is available on CD in the The Definitive "O" Records 12" Collection (which sadly is not available any more) and in the Grand 12-inches 4 compilation (which also include several other Bobby "O" tracks in their 12" versions).
It seems like the Pet Shop Boys tried to pay Bobby "O" a little tribute in their 2003 Disco 3 album, in which they recorded their own version of Oh Romeo's 1983 classic - "Try It (I'm In Love With A Married Man)". A lyric that gave the song an extra twist when sung by a male duo.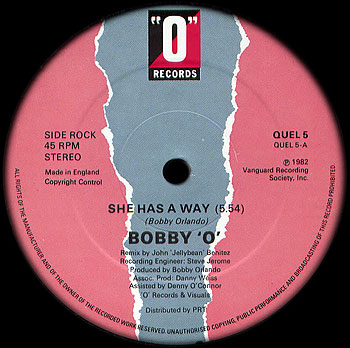 Besides being a highly in demand producer for others, Bobby wrote, produced and played all instruments for his own acts. As a matter of fact, Bobby himself was the act in most cases. He did all of the musical work before bringing in session singers to add the vocals to the songs.
Bobby released his material through a never ending (as it seems) list of different aliases and monikers. But he gained most success under his own name - Bobby "O" - and with the Flirts.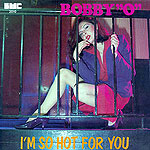 In 1982 he started to use and score hits as Bobby "O". First out was the brilliant "I'm So Hot For You" which peaked at # 17 in the Billboard Dance Charts. He followed it up by releasing the now classic "She Has A Way", both hits were remixed by FunHouse DJ supreme - John "Jellybean" Benitez and "She Has A Way" reached # 10 in the US Dance Charts.
In 1983 "I Cry For You" was released in Europe, followed by "Reputation" which had the equally great "I Pretend" as the B-side of the US 12" release.
The same year the first Bobby "O" album was also released - Freedom In An Unfree World. It included the songs from these two just mentioned 12" singles along with the upcoming 12" singles in 1984; "How To Pick Up Girls" and the European released "Givin' Up", which had "the 'O' Medley" on the flip. The medley was mixed by famous Netherlands DJ and remixer Ben Liebrand and it includes the songs; "She Has A Way", "I'm So Hot For You", "Passion" (the Flirts), "Make It On My Own" (Free Enterprise and finally a reprise of "Passion". None of these 1983 and '84 releases became chart hits in the US, but did well in Europe.
Next hit would come in October 1985 when Bobby's duet with Claudja Barry, "Whisper To A Scream", peaked at # 27 in the Billboard Charts.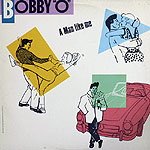 That same year "A Man Like Me" was released, the B-side track was the heavily Frankie Goes To Hollywood's "Relax" inspired - "Pump It Up". It's kind of a rip off, just like Bobby's song "Confusion" which even had the same title as the New Order track it was inspired by.
All these 1985 songs were also to be found in the album Bobby O & His Banana Republic, along with tracks like; "Mixed Up World", "Somebody" and "Hangin' On".
During the last years of the 80's Bobby released a few more tracks as Bobby "O" where his cover of the Elvis Presley classic - "Suspicious Minds" - was the most notable.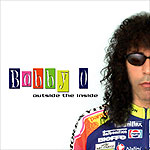 It would be close to 20 years before we would get to hear some new material from him as Bobby "O" again. In 2005 Radikal Records released Bobby "O"s third album - Outside the Inside. The album spans over many different genres, from Rock to Hi-NRG via Pop, Dance, Country and slower tracks (which I wouldn't call ballads). There are 3 tracks which get you back to the Bobby "O" music we're used to hear from back in the days and that's the songs; "Excited", "Sorrow" and "Voyage (C'est La Vie Voulez-Vous)". Those are all Bobby "O" Hi-NRG at its best! Else I think a couple of songs sounds more like the Pet Shop Boys than I ever would have expected, but overall I think the album sprawls a little too much in different directions and over different genres, and I would have loved to hear more classic 'Bobby "O" Disco'.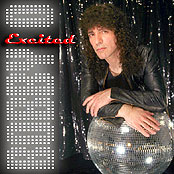 As mentioned earlier, the Flirts were Bobby's longest lasting project besides his Bobby "O" alias. The group got so successful that Bobby at some point even made the name, 'the Flirts', a registered trademark and servicemark.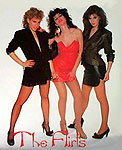 The whole idea for the group was to get three beautiful models together to front the band, while the actual voices were sung by studio vocalists. The concept was to have these three babes - one blond, one brunette and one redhead - to sing about sex, and let's face it, babes and sex does sell and the Flirts quickly became a success starting out with their wonderful track "Passion" in 1982. The 12" [matrix OR 716] had "Calling All Boys" as the flip side and the record reached # 21 in the Dance Charts and their follow up release - "Boy Crazy" [matrix OR 719] - did almost as well, the thing is that it was actually the B-side of that release that became the hit - "Jukebox (Don't Put Another Dime)". A brilliant track that still gets people up on their feet's when played.
Based on their success both "Passion" and "Jukebox" were quickly remixed and re-released in matrix OR 720 and OR 724, the later now with "On The Beach / Surf's up" on the back side. But Bobby managed to squeeze in another the Flirts release in between these two remixes, and that was the track "We Just Want To Dance" which was released in matrix OR 723 in 1983. It did not reach the success of the Flirts previous songs though. The same goes for "Calling All Boys" which was also re-released in 1983, but with "We Just Wanna Dance" on the other side.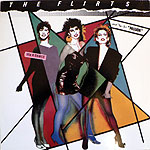 All the above mentioned songs were included in the Flirts first album from 1982 - 10¢ A Dance, and for this LP the three girls that formed the group were: Andrea, Rebecca & Holly.
Next album out were 1983's Born To Flirt and the lineup for this album was: Christina, Debby & Holly. The album included the two prior released 12" singles - the great and sometimes overlooked "Danger" and "Telephone". Besides these singles the LP gave us songs like; "Teenage Werewolf", "Big Boys Don't Cry", "Nice Girls Say No", "Love Reaction", "Dream Boy" and "Oriental Boy".
In 1984 there was a 4-track EP released on Preppy Records called the Flirts by a group calling themselves Heartbeat U.S.A.. It t featured the songs "Impulse", "Kiss 'N' Tell", "Boys Make Me Nervous" and "You're Gonna Be Sorry Later". But this was not a new the Flirts album, instead it was one of the original 'Flirts' girls who brought two other girls together and tried to cash in on the name. This was legally stopped by Bobby, as he had no involvement at all in this release, and the 'group' change their name to Heartbeat U.S.A. and called the EP 'the Flirts' instead.
Next hit out would come in 1984 when Bobby wrote and produced "Helpless (You Took My Love)" for his favorite band. For the track he nicked the beats off Fancy's "Slice Me Nice", but that didn't stop the song from reaching # 12 in the Billboard Dance Chart and it was followed up by the LP - Made In America. Now the group consisted of Debby, Christy & Christina and it also included the upcoming single; "Dancing Madly Backwards" and its flip side "Temptation". But the latest single didn't make much fuzz even though it's a cow bells filled Hi-NRG smacker and the failing success of "Dancing Madly Backwards" would radically be turned into success with their next release...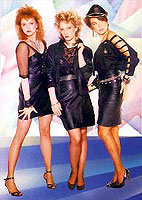 "You & Me" was released in the Fall of 1985 and it reached all the way to the top of the Billboard Dance Chart. It would become the Flirts first (and only) # 1 hit. It was remixed by the highly in demand DJ & Remixer - Shep Pettibone, who also remixed many of Madonna's hits of that time. Next single did almost as good and the concept was kept, i.e. Bobby as writer & producer and Shep as remixer. "New Toy" peaked at # 5 and both tracks were found on the 1985 album - Blondes, Brunettes & Redheads and the group was now Tricia, Debby & Christina. On the album were also the European single release "Voulez-Vous", which had "I Wanna Wear Your Ring" on the B-side, along with tracks like; "Opposites Attract", "Just Another Heartache", "Come To Me" and a few others.
The Flirts last Chart hit would be their next single, the 1986 released - "Miss You". The track had a great remix by M&M, that's John Morales & Sergio Munzibai and it reached Top 15 of the charts. "Miss You" was followed by "All You Ever Think About Is (Sex)" and for some strange and unknown reason "Miss You" was NOT included in the Flirts 1986 album - Questions Of The Heart. This time Geri, Debby & Christina sung about stuff like; "My Boyfriend Is A Marine", "Boys On The Beach", "Just Another Kiss" and similar.
Then we had to wait until 1988 until we heard from the Flirts again, they returned with the single "A Thing Called Love" and then the next time we would hear from them was in 1989 when they sung "After School" and were credited The Flirts feat. Full Force.
There was another the Flirts album released in 1992 in Europe which contained some 14 new Bobby "O" written and produced songs. The album was called Take A Chance On Me and preforming credits were given to the Flirts'92.


I have not been able to find this 1992 album, but thanks to Pete I got the information that the full album is featured on the second CD of the Physical Attraction triple CD box released in 2001. The songs are all classic Bobby "O" disco, but with a typical 90's touch. Tracks include the original title track "Take A Chance On Me" along with hot tracks like; "Put Your Body In Motion", "Too Hot To Handle", "Love And Desire", "Boy Candy", "Lover Boy" and more...

Bobby once said that he would rather put out 200 records that sell 5000 copies each, than one record that sells a million, the man clearly has done both and he has 17 gold and five platinum records to prove his successes.
He has also resembled himself as the Ronald McDonald of the music industry as he has "Over a billion served."
As he said before, many of his releases only sold a limited number of copies and never became hits, but still it was great Dance music and many of them worked fine in the Underground Club scene. It also seems like the European and Canadian crowd were more receptive to Bobby's music than the US ones. He had much more success with his releases especially in the Benelux countries and Canada than anywhere else. Tracks that were Top Hits in Europe or Canada sometimes even failed to enter the US Charts. Like for example the earlier mentioned "Shoot Your Shot" by Divine, which sold Gold in Europe but hardly entered the Top 40 of the US Dance Charts.
Some of his US Billboard Dance Chart hits (excluding his Bobby "O", Divine and the Flirts releases) includes Waterfront Home's "Take A Chance" [# 14 in 1983], "Guilty" by Hotline [# 29 in 1983], Teenrock's "Set Me Free" from 1985 [# 31], "Street Music" by the Bang Gang [# 44 for Sugarscoop Records in 1981], in 1987 the Boyd Brothers reached # 47 with "Keep It Coming" and Eric chanted "Who's Your Boyfriend" in 1984 and peaked at # 55 with it.
Bobby had many more hits than the above in the European and Canadian charts and Dance Charts, and I can't list them all. But just to mention a few; "These Memories" and "Once Is Not Enough" by Oh Romeo, "Make It On My Own" by Free Enterprise, Band Of South's "Sensitive", "Lust Or Love" by Malibu, "Ready Or Not" by Hotline, "Saving Myself" by Girly, WOW with their "Bring On the Men" and Gomez Presley's cover version of the Box Tops # 1 hit from 1967 - "the Letter".
The list of names Bobby used for his releases seems countless and it seems impossible to get a complete view of all of his releases and aliases. At the height of his career he put out a couple of new 12" every week, that would give you over 100 releases in one year (if he kept that tempo all year), so I guess it will be a close to unfeasible task to get to know them all. But besides all the ones mentioned earlier he also used pseudonyms and aliases as Orbob, House Of "O", Banana Republic, New York Models, One Two Three, Jonny Bankcheck, Hippies With Haircuts, 1 Plus 1, Joy Toy, Boytronic, Beat Box Boys, College Boys, Girls Have Fun, Miss Kimberly, Gina Desire, Lilly & The Pink, Ronnie Goes To Liverpool, He-Man Band, Gangsters Of House, Future Generation, Dressed To Kill, Lifestyle, Athletique, Contact, Vision, Citrus, Gringo Lopez, Tony Caso and Dexter D, but the list could go on and on and on...
It's really intriguing when trying to fill in the gaps in the matrix listings of his numerous different labels, then it's clear to see how much records and acts he must have put out over the years.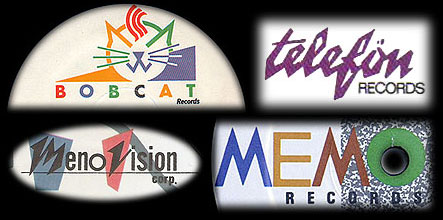 Almost as impossible as finding all the different names Bobby used for his releases, equally hard is it to sort out all the different labels he released the music through. It seems like another endless list, but of labels this time.
Bobby started his "O" Records back in 1979 and he has said in interviews that it was active for a bout a decade. But I think we're talking several different things here...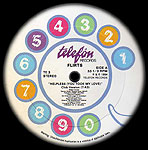 I figure what Bobby really started in 1979 was Bobby "O" Music and later also Orbob Music, which were his publishing companies.
Then in 1981 he started "O" Records as part of "O" Records & Visuals, which I suspect was like the parent company for all the different labels.
But the list of US labels which released Bobby's works and which he seems to have controlled or been involved in throughout the 80's grow rapidly and the most known ones are Bobcat, Memo, Menovision and Telefon.
Besides those there are several other labels which might have released anything from one or a few releases up to dozens, labels like; Basic, Beach, Beat Box, Eurobeat, Generic, Insect, Intelligente, Knowledge, Malibu, Obscure, Plastic, Popular, Preppy, Producers Combine and Riovista. I'm sure there were several others which I'm not aware about...
Bobby's different labels were first distributed via his former employers at Vanguard Records, but in the mid 80's, about the time Vanguard stopped releasing their own 12" Disco/Dance singles, Bobby moved his labels to be distributed via CBS/Columbia Records.


In Europe the Belgian BMC Records along with Break Records in the Netherlands and Ariola in Germany, seems to have been the most avid releasers of his material. In Canada UniDisc released most of his stuff, and that was before they became a major classics re-releasing label. Not that I think Bobby had any actual involvement in these foreign labels, but I just wanted to state these them for the record and as trivia for you collectors out there.
Mr. Orlando also had a production company called Nunzio Brocheno Productions and several of his releases have the production company name attached to it, but through the production company he also produced other "non Bobby O" acts like the mid to late 80's NYC rap group Full Force and the successful decade lasting R'n'B Dance trio - Lisa Lisa & Cult Jam.


In the late 80's the music business started to change and Bobby wanted to move on, to do something else. Besides he felt sad and disappointed over the ingratitude shown by several of his acts. So in 1987 he started to close down his business and then sold off his music empire to Henry Stone, of T.K. Disco fame, and Henry's HOT Productions in Florida. Through HOT many of Bobby's hits has been re-released (several times) both on 12" and on CD's. And HOT has also released several "O" related compilations - both 2 volumes of Best of "O" Records, a Best of Bobby "O" as well as the Best of the Flirts and more...
Henry told me the following about HOT Productions when I did my interview with him; "I owned Hot Production's and felt in the mid 1980's that there was a need for compilations of the 1970 Disco Master's. I made arrangements to lease a good deal of these Disco classics from all the various Disco Companies, thus being one of the first companies to put out compilations on these great disco classics... We must have had 800 to a 1000 releases on 12" and CD. Thanks to all the contacts I made through the years with all these people who had all these Disco classics."
So, when leaving the music business, what did Bobby do then? He actually completed his law studies and he completed a book he had been writing which refutes Darwin's theories of the evolution. The book was called Darwin Destroyed, a book I have failed to retrieve.
But I guess the attraction to the music industry was invincible and in 1996 Bobby Orlando returned with a new Hi-NRG label, Reputation Records, which was named after his 1983 hit - "Reputation". First out on the new label was a group called the Franky's with "All Men Have Sinned", followed by acts like Legstacy, Melrose, Focus 1 and One & Two Teenies. As per my understanding the track "So Many Males, So Few Men" by Chicks Inc. was the labels biggest success. Bobby also managed to get Claudja Barry to his new label for which she sung "Ain't Gonna Miss You".
It seems like Bobby had great plans and faith in his new label, because in an interview with Troy Matthews of the now abolished Canadian Hi-NRG magazine and webzine StreetSounds in late 1996, Bobby said; "Actually, we have a new project underway - a new album by The Flirts, the project is going really well so far and we're expecting a release by the Spring or Summer of '97.". Sadly I think that album never got released as Reputation folded in the first half of 1997.
Then Bobby disappeared from the music scene again until his already mentioned 'Outside the Inside' album was released on Radikal Records in 2005. Since then we sadly haven't heard nothing more, but I bet he will return again someday...
Just like almost every Swede (or Aussie) with some relation or roots in the 1970's, Bobby just loves ABBA!
He has said; "The first time I ever heard ABBA I almost fainted, they were just so wonderful."


Even though ABBA was not clearly Disco or Hi-NRG, nor were they really Pop or Rock either. They were more of a brilliant mixture of it all. But some celebrate ABBA as the Godfathers of Hi-NRG, but back then the term was not even invented yet. But to some extent I can agree that some of their late 70's/early 80's dance tracks could be classified as Hi-NRG today. Just listen to tracks like "Gimme Gimme Gimme (A Man After Midnight)", "Voulez-Vous", "Summernight City" and the Club classic "Lay All Your Love On Me", which even got remixed by DiscoNet.
Bobby loves the perfection of ABBA's recordings, and the way they used vocals to create harmonies and melodies to create their special sound. As sound which their sound technician, Michael B. Tretow, was influential in creating. He used to record Agnetha's and Frida's voices on several tracks and then deliberately let the voice tracks be out of pace, like half a second late. That, along with the background vocals and the wonderful melodies, gave their productions this rich and amazing sound.
Bobby shares the fascination and love for ABBA's music with many other influential and legendary people in the music business. In my interview with 12" Disco Single inventor and Remixer legend Tom Moulton he tells me;
"See... You know what kills me? It's that I had the chance to mix 'Dancing queen'. And you know what I told them - Atlantic [Records]?"
No?!
"I said; 'That record doesn't need me!' And I'm so sorry I ever said that, because I would have loved to made a long version of 'Dancing queen'. I mean, I just love that song. But really, I thought it was flawless... I wish I could have been able to work on some of their stuff 'cause I'm just a big fan of them. Their music is beautiful."
Besides ABBA, Bobby absolutely loves and admires the work of Giorgio Moroder. A man he thinks is completely brilliant and a great Master in what he does.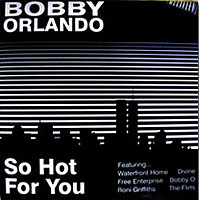 Download the FREE basic RealPlayer...

CLICK to hear some Bobby "O" songs...
A Man Like Me

Beat By Beat (Try My Love)

Confusion

Give It Up

Hangin' On

How To Pick Up Girls

I'll Never Find Another Girls Like You

I'm So Hot 4 You

Lonely Too Long

Mixed-Up World

Pump It Up

Reputation

She Has A Way

Suspicious Minds

Whisper To A Scream
Bobby "O" & Claudja Barry


CLICK to hear some Bobby "O" acts...
the Best Part of Breakin' Up
Roni Griffith

Boy Crazy
the Flirts

Breathless
Gina Desire

Bring On the Men
WOW

Calling All Boys
the Flirts

Change Of Life
I-Spies

Danger
the Flirts

Dancing Madly Backwards
the Flirts

Desire
Roni Griffith

DJ Girl
Miss Kimberly

Get Up Offa That Thing (Screamin')
Tony Baxter

Guilty
Hotline

Helpless (You Took My Love)
the Flirts

I Want A Man
Bonnie Forman

Jukebox (Don't Put Another Dime)
the Flirts

Just A Gigolo
Barbie & the Kens

the Letter
Gomez Presley

Love Attack
Tony Caso

Love Reaction
Divine

Lust or Love
Malibu

Make It On My Own
Free Enterprise

Miss You
the Flirts

My girl
1 Plus 1

Native Love
Divine

New Toy
the Flirts

On the Beach
the Flirts

Once Is Not Enough
Oh Romeo

Passion
the Flirts

Ready Or Not
Hotline

Rock Your Baby
Fascination

Runaway Girl
One-Two-Three

Saving Myself
Girly

Sensitive
Band of South

Shoot Your Shot
Divine

Take A Chance On Me
Waterfront Home

These Memories
Oh Romeo

We Just Want To Dance
the Flirts

Westend girls
Pet Shop Boys

Who's Your Boyfriend
Eric

Working girl (One Way Love Affair)
Girly

You And Me
the Flirts


CLICK to compare a few songs...
Relax vs. Pump It Up [mix at 3:45]
Frankie Goes To Hollywood vs. Bobby "O"

Blue Monday vs. Love Reaction [mix at 2:08]
New Order vs. Divine


CLICK to hear some related songs...
Dancing queen
ABBA

Gimme Gimme Gimme (A Man After Midnight)
ABBA

Lay All Your Love On Me
ABBA

Voulez-Vous
ABBA

I feel love
Donna Summer




Click to buy from


I'm So Hot 4 You
She Has A Way
Beat By Beat (Try My Love)
How To Pick Up Girls
Lonely Too Long
Give It Up
A Man Like Me
Confusion
Pump It Up
Whisper To A Scream
Mixed-Up World
Suspicious Minds
I'll Never Find Another Girl Like You
Reputation
Hangin' On


Click to buy from


Desire - Roni Griffith
Passion - The Flirts
Native Love - Divine
Just A Gigolo - Barbie & The Kens
I'm So Hot For You - Bobby 'O'
Make It On My Own - Free Enterprise
Whisper To A Scream - Bobby 'O' & Claudja Barry
Danger - The Flirts
These Memories - Oh Romeo
Love Reaction - Divine
The Letter - Gomez Presley
Ready Or Not - Hot Line
Sensitive - Band Of South
You & Me - The Flirts


Click to buy from


Helpless - The Flirts
She Has A Way - Bobby 'O'
Shoot Your Shot - Divine
Lust Or Love - Malibu
Take A Chance On Me - Waterfront Home
Saving Myself - Girly
The Best Part Of Breakin' Up - Roni Griffith
How To Pick Up Girls - Bobby 'O'
Calling All Boys - The Flirts
Once Is Not Enough - Oh Romeo
Who's Your Boyfriend - Eric
Love Attack - Bobby 'O'
West End Girls - Pet Shop Boys


Click to buy from


Shoot Your Shot
Jungle Jezebel
Native Love
Love Reaction
Shout It Out
T-Shirts and Tight Blue Jean
Psychedelic Shack
Shake It Up
Kick Your Butt
Alphabet Rap
You think You're A Man
Walk Like A Man
I'm So Beautiful
Hey You!


Click to buy from


Passion
Calling All Boys
Jukebox (Don't Put Aonther Dime)
Boy Crazy
On The Beach
We Just Want To Dance
Jungle Rock
Helpless (You Took My Love)
Danger
Dancing Madly Backwards
You And Me
New Toy
All You Ever Think About Is Sex
After Midnight
Miss You


Click to buy from


Disc 1:
Billie Jean - Michael Jackson
Galaxy - WAR
Boogie Oogie Oogie - A Taste of Honey
Groove Line - Heatwave
Le Freak - Chic
Spank - Jimmy "Bo" Horne
They Only Came out at Night - Peter Brown
He's the Greatest Dancer - Sister Sledge
Stay the Night - Billy Ocean
Love Can't Turn Around - Farley "Jackmaster" Funk

Disc 2:
La Vie en Rose - Grace Jones
You Are My Melody - Change
Share the Night - World Premiere
Genie - B.B.& Q. Band
Who's Zoomin' Who? - Aretha Franklin
S.O.S. Fire in the Sky - Deodato
Going Dancing Down the Street - Peter Jacques Band
System of Survival - Earth, Wind & Fire
Walk Right Now - Jacksons
Runner - Three Degrees

Disc 3:
West End Girls - Pet Shop Boys
She Has a Way - Bobby Orlando
High on Mad Mountain - The Mike Theodore Orchestra
Native Love - Divine
I'm So Hot for You - Bobby Orlando
San Salvador - Azoto
Fear - Easy Going
Set It Out - Midway
Passion - The Flirts
House of the Rising Sun - Hot R.S.

Disc 4:
Trommeltanz (Din Da Da) - George Kranz
Running Away - Roy Ayers Ubiquity
History - Mai Tai
Love Games - Level 42
Got to Have Your Love - Mantronix feat. Wondress
Automatic - Pointer Sisters
Ai No Corrida - Quincy Jones
Disco Nights (Rock-Freak) - G.Q.
White Horse - Laidback
Follow Me - Jam & Spoon
Trommeltanz (Din Da Da) - George Kranz