Alcazar released their third Swedish single including the songs "Ritmo del amor" and "Tears of a clone". It didn't become the same success as "Crying...", but they followed up with sampling another Chic classic - "My forbidden lover" - in their early 2002 hit, "Sexual guarantee". This was another great song which I'm sure made all of us wanna dance and... But the band wouldn't stop there...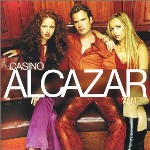 During spring 2002 their album Casino was released all over Europe and Australia, and it has sold gold and platinum in many European countries as well as in Australia. Along with the album release was the releases of the fifth single from the album, a great cover of the Human League's classic 1981 hit - "Don't you want me". The band really managed to give this classic an up-to-date sound without killing any of the magic of the original [which unfortunately seems to be the case with most covers].
In an interview with Gregg Shapiro of Florida's Gay mag - the Express - Andreas explains why the song was selected; "It was actually one of our producers, Alexander Bard, who got the idea for us to sing the song and record it. When he asked us, "What do you feel about doing a cover of 'Don't You Want Me'?", we immediately got all of these memories from the '80s. It's kind of the same with the '70s music as well. We were kind of too young to be out clubbing. The song is so kind of funny, fun lyrics. They're very desperate, 'Don't you want me?' and we love desperate lyrics...'Crying at the Discoteque', 'Don't You Want Me', 'Sexual Guarantee'. Maybe that goes hand in hand with the gay thing, the queer thing, like 'I will Survive' [Gloria Gaynor], 'Disco Inferno' [Trammps], everything is kind of desperate. We like that. Desperate lyrics are always welcome for Alcazar. Also it's kind of funny that Human League are one guy and two girls, so we thought that it fit pretty well with our line-up.".
Other tracks in this really excellent album include future hits like "Transmetropolis", "Paris in the rain", "Almost famous", "Ritmo del amor" and the track "Paradise" in which they sample S.O.S Band's "Take your time (do it right)" in a really clever way.
Casino was released in the US in August 20th 2002, by E-Magine Entertainment. The US and European releases are different in many ways, both are brilliant in it's own right, but the US version include some dance/club remixes of the hits, "Crying at the Discoteque", "Don't you want me" and "Sexual guarantee", which are not in the European release. The US release is the more "club" version of the album, while the European release include more songs from the group and also the "hidden" bonus track "Blues in G minor".
In the US "Don't you want me" was selected as the bands first single and in early December of 2002 "Don't you want me" is the #4 Breakout Dance Single in USA. The second single release in the US was some new extremely HOT remixes of "DYWM" made by no other than - Junior Vasquez. His remixes made great success on the US dance floors and reached the top of the US dance charts.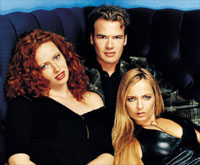 With the release of Casino, people started to try to label their music. Some people have called their music a hybrid between Disco and Pop, but I would personally describe their sound as Disco-House, which I feel is a perfect word for their music. Disco music using today's techniques and Dance [House] beats.
But I got to ask them myself - All of your songs are more or less "Discorized", but how would you describe or label you music? Disco, Dance, Pop...
"It's a fusion of the three... We can't put a label on our music, it's just happy!! :-)"
Andreas has once said the following when getting the question on why there's such a Disco feel to their music; "The three of us loves the disco groove - it's as simple as that!".
And when getting the question if they have got any favorite period in music he says; "It's hard to decide, because I love them all. I must say for me, the '70s crossing over to the '80s disco music I kind of like the most, because when it was really hip in the '70s with disco and everything, I was too young to go out clubbing. I never got to go out dancing to that music. I did it in my living room. Now that I'm older, I can kind of take it back, do it real, full out, and record it and sing it."
When asked about the direction he think the dance/club music is heading, Andreas replies; "I think it's heading for more feelgood disco and maybe some less techno." Sounds like Alcazar are Right on Track...
Andreas doesn't try to hide nor make a big deal about the fact that he's gay. And the fact that their music seems to appeal especially to the gay audience, he explains like "Gays have a good taste, don't they? It is a big compliment.". He also feels that they understand exactly what Alcazar is all about: kitsch, camp and fun. It is like Studio 54 all over again!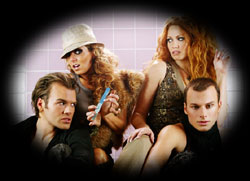 To support the gay community and liberation, the band have headlined Sydney's gay Mardi Gras in March 2002, and also performed at several pride events in Europe.
One of the strangest comments Andreas has ever got was one about his sexuality, it was an old woman telling him "I think you're really good - EVEN though you're gay." Else he doesn't usually get comments about his sexuality and he feels people in Europe are totally cool about this fact and that people see him most of all as a performer.
Some people would like to compare Andreas with the classic female Disco Diva's and would like to call him a male Diva, but he doesn't see himself as any Diva, but he wouldn't mind if people do. But the parallels people draw is also to other openly gay men [male Diva's] singing Disco/Dance music, people like Sylvester, Jimmy Sommerville and Pet Shop Boys. But Andreas doesn't think his sexuality comes across in their music and he says "Maybe it's because I like disco and maybe that's very queer music. Other than that, I'm just a singer like other singers, straight or bi, or gay. I don't see it as a big thing, maybe other people do, or as a good thing or whatever. I think there's more gay singers, but they just aren't saying they are."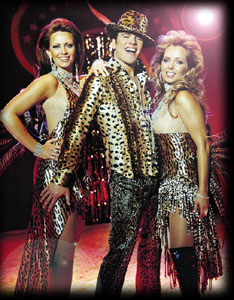 You can't mention Alcazar without mentioning their videos. They are very personal, glittery and glamorous. In the video of "Crying at the Discoteque" you will see Andreas in silver-glittery male hot pants and the girls are also dressed up in silver outfits and they also wear silvery helmets, a little like roman gladiators. There are also some strange dancing animals in the background and you'll also get to see Alexander Bard for his talking part of the song.
The idea behind the video were supposed to be a B-movie gone wrong. Andreas says "And it did, behind the camera. My silverpants broke in the back and some lights fell and broke. So I can really say that it was a B-movie gone wrong!" But the result sure is entertaining.
The band first saw the completed video on tour in Finland and they found it unreal to see themselves on TV, but Andreas adds; "It was a big kick, but I'm not too keen on seeing myself on the screen. I'm always finding faults and details. And on top of that I'm so vain! Hahaha!" [laughs]
In the video of "Sexual guarantee" it's a little classic "Dallas" [the TV series] feel and in the same kind of manor the video is presented as "Casa del Alcazar" starring Andreas, Annikafiore and Tess. The band has kind of Texas style outfits in the beginning when having meetings in different '70s style offices, in between there's dancing scenes and the video end up with the band dancing in a disco in lovely glittery outfits.
The video of "Shine on" is located in a theatre, and gives an atmosphere which suites the sound of the song perfectly. And as always - it's a very classy Alcazar production.
Else all the members of Alcazar prefer live performances - to be in the moment. One of their biggest and best moments where in Verona, Italy when 30 000 people were singing along in "Crying at the Discoteque" with them.
One of the worst must have been when they performed in a techno club for only 3 people in the audience.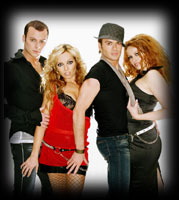 In Billboard Magazine of October 19, 2002 you could read the following review of their live performance: "The summit's closing-night party at the Discotheque club featured eight acts and five DJs. Sweden's Alcazar delivered the evening's most spectacular and professional show. The trio's tight set spotlighted a few tracks, including "Crying at the Discotheque" and a cover of the Human League's "Don't You Want Me", from its E-Magine Entertainment full-length, Casino."
Actually even Pop Star Britney Spears once saw the band perform in a New York City Club.
Despite all their success the group members are cool and down to earth, they explain why; "Because we're Swedish, typical Swedish people, we don't take anything for granted..."

As all bands originating from Sweden, Alcazar is also always being compared to other successful Swedish acts like ABBA, Ace of Base, Army of Lovers and Roxette. The band doesn't feel they could be compared to any of these groups, but they admit they take it as a BIG compliment to be compared with ABBA. Even though they feel no one can be compared with ABBA - since they are still unique and one of a kind!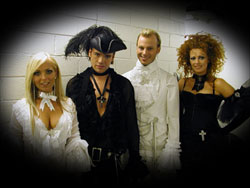 But actually they added themselves to the comparing to ABBA when they in August of 2002 participated in the "ABBA - the Tribute" show, held at the Stockholm Globe arena.
In this show different Swedish acts paid their tribute to ABBA by performing their favorite ABBA song.
Among the Swedish acts performing was Jessica Folcker, Eldkvarn [a group that was really anti-ABBA back in the days], Afro-Dite and DiLeva. The show was headlined by Dionne Warwick singing first "S.O.S" and the final anthem "Thank you for the music".
But of course our band - Alcazar - was also performing. For the show the girls and Andreas had brought in Andreas' boyfriend, Magnus, and together they gave one of the best performances of the night when they got on stage singing "As good as new".


This song is one of ABBA's lesser known ones, but it was really a highlight to hear Alcazar with Magnus perform this song. At that time - They really WERE ABBA!!!
I later asked them about it...
I had the pleasure being in the Globe arena to see you live in the ABBA Tribute. I have to say that your performance was really one of the true highlights of the whole show. You were ABBA !!! But how come you choose "As good as new"? It's not one of ABBA's most well-known songs, but it sure is a great song and you really made the Globe rock when performing it.
"Thank you! We choose the song because we wanted to perform a 'not so well-known' ABBA song from the Voulez-Vous era."
It had been known for a long time that Magnus was leaving his band Barbados and after this excellent performance everyone started speculating if Magnus would be joining Alcazar. Then the group would have the same setting as ABBA - two girls and two guys.
This rumor became true and as of December of 2002, Magnus is a member of Alcazar.
To add some more gossip... It was originally planned that Alcazar should have sung the terrific uptempo Disco-House song "Never let it go", which won the Swedish finals and ended up as the song competing in the 2002 Eurovision Song Contest.
Unfortunately the group was too busy with their international career that they had to turn it down and instead the female trio Afro-Dite got the chance, they did very well and ended up somewhere in the top 10 in the finals in Estonia.
It became official in mid December 2002 that Alcazar was to be performing the song "Not a sinner nor a saint" in one of the pre-qualifying elections of the Swedish song for the 2003 Eurovision Song Contest. The band was performing this song in the elections in Gothenburg in February 22'nd of 2003.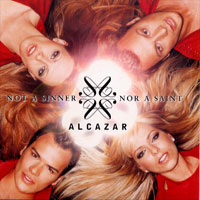 Alcazar didn't make it in the first round - they ended up as number 3 in this election, where the number 1 & 2 was automatically in the finals in the Globe arena in March 15. This was very strange, 'cause their song was the best in that election - but when the viewers can call in voting, I guess things like this can happen... But every # 3 & 4 from the four pre-elections got a second chance to reach the finals and... Alcazar made it! Alcazar is in the Swedish finals of song to send to the Eurovision Song Contest 2003.
In the Swedish finals in Saturday March 15, 2003 - Alcazar ended up as # 3 - but the group was the clear favorite of the audience in the Globe arena, with most of the audience standing up and clapping hands through out the song. They did a great performance and were (of course) my top choice...
The single is out with 4 versions of the song! The single entered the Swedish charts directly at #2 and fast made its way to the # 1!!!
During Winter of 2003 Alcazar was back in the studio recording their second album, filled with more stylish disco-house from this classy, colorful disco act.
The band also squeezed in live performances all over Europe and the US.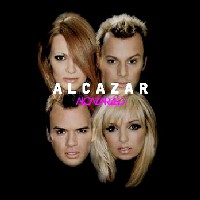 In May 12, 2003 their second album - Alcazarized hit the stores in Sweden. It's a great album with 16 songs - 14 official tracks and two hidden tracks. Alcazarized is a complete package of happiness, you can't sit still when listening to this album and you get happy of all uplifting tracks. The lyrics are, as in 'Casino' - clever and funny.
The album includes the first Swedish single - "Not a sinner nor a saint" and the track decided to become the first internationally release "Ménage à trois". The later with some French accents and partly inspired by the classic "Ain't no stoppin' us now" [McFadden & Whitehead]. This single will do great - for sure!
The whole album [like Casino] breathe DISCO, titles like "Last days of Disco", "Dancefloor Docusoap" and "I love the DJ" would give you an idea of the fact that this is a wonderful Disco-Dance album.
In "I love the DJ" (which is a little harder, drumbeat driven, uptempo dance track and which will work great in clubs) the group is even counting classic discotheques like Studio 54, Xanadu, Paradise Garage, Roxy, Limelight...
Of course Alexander Bard & Anders Hansson have been involved in the song writing for this album as well. They have written the tracks "Dancefloor Docusoap", "I go shopping" and "Singing to heaven". In both "Dancefloor Docusoap" and "I go shopping" they have had additional help of Nile Rodgers & Bernard Edwards since they're (again) sampling some Chic classics - "I want your love" and "What about me". Just as in Casino the samples just match perfectly into their new tracks.
The track "Singing to heaven" is a wonderful tribute to Barry Manilow's classic - "Could it be magic", which also Donna Summer and Take That later scored hits with.
"Funky feet" is a funky little ABBA track, with wonderful ABBA piano chords. Maybe that isn't very strange since it was penned by Benny Andersson & Bjorn Ulveaus [yes - the ABBA guys] in 1976, but ABBA never released it on record - the track was given to Swedish act Svenne & Lotta, since the guys thought it sounded too similar to "Dancing Queen".
For the album Alcazar has also been given a song by Neil Tennant & Chris Lowe of Pet Shop Boys fame. Their song is called "Love life" and is a nice modern, uptempo dance track in Pet Shop Boys style, but "Alcazarized".
"Celebrate the night" is a nice faster dance track and this track, together with, the syn-drum filled "Chemistry" are written by famous writers Anders Wollbeck & Mattias Lindblom, who have written hits for numerous of acts.
Famous Swedish artists/writers Orup and Johan Kinde has teamed up writing "Last days of disco", which is a fabulous DISCO track along with the French inspired harmonica sounds in "Wonderland" and the official last track, the cheerful "Someday".
Don't miss out on the albums only ballad - the beautiful "Here I am" and the hidden track... "Save my Pride", which is to be found 8:52 into the last (14th) track. This track is a shame to miss - since it's an awesome dance track in the "Transmetropolis" kind of style.
AND... don't miss the track "Dance with the DJ", which is actually located prior to the first track of the CD. So you'll have to search backwards while on track one!
Make sure to get "Alcazarized" = Don't miss this album!!!



LIVE performances from their last ever gig...
Start The Fire
Här är jag [Here I Am]
Stay The Night
Download the FREE basic RealPlayer...





CLICK to hear some Alcazar songs...



CLICK to hear some Alcazar songs...
Celebrate the night

Chemistry

Dancefloor docusoap

Funky feet

Here I am

I go shopping

I love the DJ

I save... (hidden track)

Last days of disco

Love life

Ménage à trois

Not a sinner nor a saint (Radio edit)

Not a sinner nor a saint (Disco club mix)

Not a sinner nor a saint (FL's Heaven & Hell rmx)

Singing to heaven

Someday

Wonderland

Lovegun
Andreas Lundstedt

Nightfever
Andreas Lundstedt

If we all give a little
Six4One


CLICK to hear some "related" songs...
Dancing queen
ABBA

Disco Inferno
Trammps

Don't leave me this way
Thelma Houston

Don't you want me
Human League

Gimme! Gimme! Gimme!
ABBA

I will survive
Gloria Gaynor

Lay all you love on me
ABBA

My forbidden lover
Chic

Spacer
Sheila B. Devotion

Stayin' alive
Bee Gees

Upside Down
Diana Ross

Voulez-vous
ABBA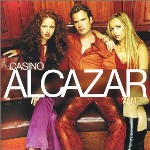 Click to buy from


US release
Sexual guarantee
Crying at the discotheque
Don't leave me alone
Paradise
Transmetropolis
Paris in the rain
Don't you want me
Almost famous
Ritmo del amor
Crying at... (Illicit rmx)
Crying at... (Ivan's X mix)
Don't you... (Project Eden rmx)
Don't you... (Almighty Club mix)
Sexual... (Fu-Tourist rmx)
Sexual... (Johan S Vocal Club mix)
European release
Sexual guarantee
Crying at the discotheque
Don't leave me alone
Almost famous
Paradise
Transmetropolis
Stars come out at night
Paris in the rain
Baby come back
Breaking free
Don't you want me
Shine on
Ritmo del amor
Tears of a clone
Bells of Alcazar
Blues in G minor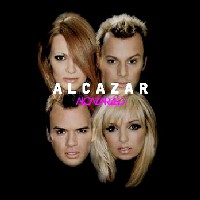 Click to buy from


I Love the DJ
Celebrate the Night
Ménage À Trois
Dancefloor Docusoap
Not a Sinner nor a Saint
Funky Feet
I Go Shopping
Last Days of Disco
Chemistry
Love Life
Wonderland
Singing to Heaven
Here I Am
Someday
Save my pride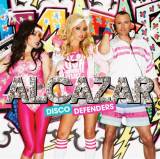 Click to buy from


Disc 1:
We Keep On Rockin'
Burning
Stay the Night
From Brazil With Love
Inhibitions
Harlem Nights
Baby
Jump Straight Into the Fire
My My Me and Mine
Funkytown
Put the Top Down
Thank You
Stay the Night (Club Mix)


Disc 2:


This Is the World We Live In
Crying At the Discoteque
Menage a Trois
Sexual Guarantee
Don't You Want Me
Start the Fire
Shine On
Not a Sinner Nor a Saint
Physical
Ritmo Del Amor
Alcastar
Love Life
Someday



In July 8, 2003 the group performed in the popular Swedish TV show - "Allsang pa Skansen" and the live show reached its all time high with over 36'000 in the audience, compared to some 20-25'000 normally, and some 2 million viewers in front of the TV's.
Alcazar did a wonderful performance singing "Funky feet", it was a great number and the whole band seemed to enjoy every minute and they were perfectly coordinated. It was great seeing them giving it all and see Tess keeping it up even though she's eight months pregnant.
After the cameras was turned off, the band did a second performance singing "Not a sinner, Nor a saint".

Also in the beginning of July 2003, the second Swedish single from the Alcazarized album was released - The track was "Menage a trois", this was also the single set to be the first one released internationally.
Except for the original version, the CD maxi comes in 5 different mixes to make sure everyone will find his or hers favorite version - no matter of which type of dance music you normally like.


Just some two weeks after the release of "Menage...", the next Swedish Alcazar single hits the stores. That's the single "Someday", which is the official song of the 'Stockholm Pride Festival' - held in Stockholm during July 30 to August 8 of 2003.
During Pride Alcazar was the main music act, but you could also see other acts like A-Teens and Samantha Fox on the festival scene.
For every single sold, 2 Swedish kronor go to the International solidarity work performed by the Stockholm Pride Organization overseas.
This single came in 2 mixes - the original version and also a Studio 54 revival remix.
It's also time to welcome the latest addition to the Alcazar family... In September 5 of 2003, Tess gave birth to a baby boy.
Tess has already decided that her best friend since 12 years - Andreas - will be the baby's god father.

Congratulations Tess!
Just a little more than a month after giving birth, Tess was performing again in October 11'th in the Swedish TV show Fame Factory. In the show Alcazar performed their upcoming single - "Love life".

In mid October 2003 Alcazar released their fourth single from their 'Alcazarized' album, the Tennant & Lowe [Pet Shop Boys] penned "Love life".
A wonderful Pet Shop Boys track in Alcazar style, still with the now classic Alcazar type of lyrics.
The song is found in 3 versions - the 'Original version', an 'Extended version' and also the more clubby version called 'FL Rebirth Club mix' - all great in their own rights.
In November 9, 2003 - the Swedish Hit Music Awards were held in Stockholm. The Awards are given in many different categories like Best Swedish Song, Best Foreign Artist and others... Alcazar was given the award for Best Swedish Artist!
Unfortunately we not got to see them perform live during the Awards - but acts like Atomic Kitten, Enrique Inglesias, the Rasmus, Offspring, Black Eyed Peas and others all did nice performances.
In early 2004 I got a chance to ask the band a couple of questions and I've chosen to put some of them together here as it was too hard get them fit into the text above...
I think you're the ultimate Disco band of the 21st century... Do you think there's something special that have made Alcazar such a popular act?
"The retro sound and the new beats, Alcazar music makes you happy, disco music is here to stay!"
How come each of you started with music ? Is that something you always have wanted to do, or did it just "happen"?
"All four of us have musical backgrounds and have been working in the business for about 10 years. Alcazar is something we all have wished for, but we didn't know it..."
In both your albums you thank Golden Hits, a restaurant in Stockholm where the waiters are also performing. Was there where you (3 original members) met?
"It's our favorite restaurant, where we meet and have a lot nice dinners and watch the shows."
Alexander Bard have been involved in both your albums and he has been involved in many acts before like; Barbie, Vaccum and Army of Lovers. How has he influenced you as a group? What I mean is that I can see similarities between Alcazar and Army of Lovers - like the glamour, energy, spectacular videos, wonderful lyrics and great music. Do you see any similarities?
"Alexander Bard has written and produced songs for Alcazar and he wrote 'Crying...', so we have him to thank for a lot. He has been a huge inspiration with his creativity and 'know-how'. His lyrics are great!"
Yes, his lyrics are great, does he write all your lyrics or who writes your wonderful lyrics? I really love them, like in "I go shopping" - "You broke my heart and I go shopping shopping... I got your name on my credit card...". It's just brilliant...
"Alexander writes some lyrics, but every songwriter writes the lyrics for each song."
Who came up with all the clever samplings in 'Casino' ("Sexual...", "Crying...", "Paradise" and "Paris in...") and in Alcazarized ("Dancefloor..." & "I go shopping")? Those really fit into your songs in an excellent way.
"Alexander Bard."
Do you specially like the Chic sound - since you have been sampling them 4 times already?
"We just love Chic !!"
Actually, just weeks after this comment, the latest Alcazar single was sent out to the radio stations. A song called "This is the world we live in", where they sample another Nile & Bernard penned track - Diana Ross' "Upside down" along with Genesis' "Land of confusion". It's a killer track and has been well received all over Europe. It will be released commercially in June 14th.
When talking sampling - what do you think about that? What if someone would sample Alcazar?
"It would be an honor !"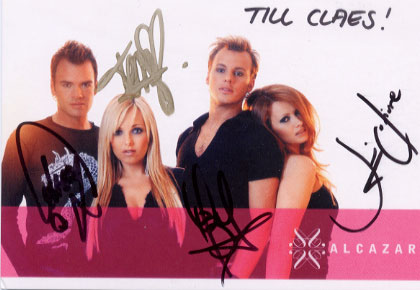 You have covered "Don't you want me" and sampled disco tracks and you also have many influences like in "Singing to heaven" which is clearly influenced by Barry Manilow's "Could it be magic". How come, Is it the love for Disco music?
"It's love for the Disco music !"
So, Have you got some own favorite Disco tracks?
"Yes, we sure do:
Andreas - 'Stayin' alive' [Bee Gees]
Fiore - 'Disco inferno' [Trammps
Magnus - 'Upside down' [Diana Ross]
Tess - 'Don't leave me this way' [Thelma Houston]"
If you could choose any Disco song to cover in your next album - which would it be?
"We have an upcoming surprise for you....... Wait and see..."
In Casino you've hidden an extra track "Blues in G minor" and the same in Alcazariezed? Who's idea was that to "hide" tracks and WHY? What's the correct names of the tracks on Alcazarized?
"We had so many good tracks and we didn't want to delete any of them. The names are 'Dance with the DJ' and 'Save my pride'."
Have you got any favorite Alcazar track?
Andreas - "Not a sinner nor a saint"
Fiore - "I go shopping"
Magnus - "I love the DJ"
Tess - "Love life"
What kind of music do you prefer to listen to yourselves? Do you listen to Disco?
Andreas - Stevie Wonder, Beyoncé
Fiore - George Michael, Robbie Williams
Magnus - ABBA
Tess - Audioslave and other Rock'n'Roll music.
Where are you most popular, outside of Sweden?
"Germany, Italy, Australia and USA."
What's your best Alcazar memory, so far?
"When we had the pleasure of getting to know our idols - Pet Shop Boys."
Anything else you wanna tell me about or share with the readers of this page?
"Look out for a new Alcazar album !! You will get 'Alcazarized'..."

In the beginning of June 2004 a new single was released - "This is the world we live in". Once again they included a Nile & Bernard sample using their Diana Ross hit "Upside down" along with Genesis' "Land of confusion".
As mentioned earlier - it's a killer track which was originally only intended for the new European version of their Alcazarized album. But as it was leaked to the Swedish DJ's and radio stations and became a major hit not only in Sweden but in lots of countries all over the world the band has decided to give their Swedish fans a special treat. A double album called Dancefloor Deluxe - the same name as their Swedish summer tour had.


The first CD, titled Deluxe, is like a Greatest Hits - but with 3 new songs... First track is the latest single along with "Physical" and "Start the fire". "Physical" is said to probably be the bands next single and it includes a sample of the 1990 hit "I've been thinking about you" by London Beat. AND - it's not a cover of the Olivia Newton-John classic, which rumors said prior to the release.
"Start the fire" sample the Delegation classic "Heartache No. 9" as well as Billy Joel's "We didn't start the fire". All three tracks are well in line with the bands now world famous Disco-House music.
Then there are many of the bands biggest hits, most in their original mix but some in unreleased or remixed versions.
The second CD, named Dancefloor Deluxe, is a 50 minutes megamix of all their hits. Here's the track listing of the Dancefloor Deluxe album:
Disc One - DELUXE
"This is the world we live in "
"Physical"
"Start the fire"
"Love life"
"Someday" (Unreleased Single Mix)
"Ménage a trois"
"Not a sinner nor a saint"
"Don't you want me" (Almighty Radio Edit)
"Sexual garantee"
"Ritmo del amor" (Radio Edit)
"Crying at the discoteque"
"Shine on"

Disc Two - DANCEFLOOR DELUXE
"Intro - Dancefloor deluxe"
"This is the world we live in (SoundFactory Club Anthem)"
"Start the fire (Original Version)"
"Sexual garantee (Almighty Remix)"
"Paradise (FL's Re-invention Club Mix)"
"Someday (Studio 54 Revival Remix)"
"Menage a trois (J. Pipe Smooth Club Edit)"
"Shine on (Suezia Remix Radio Edit)"
"Don't you want me (Wild Cowboys Blonde Radio Mix)"
"Physical (Original Version)"
"Not a sinner nor a saint (Disco Club Mix)"
"Save my pride (Original Edit)"
"Dance with the DJ (Original Edit)"
"Love life (FL's Rebirth Club Mix)"
"Crying at the discoteque (Special Extended Show Version)"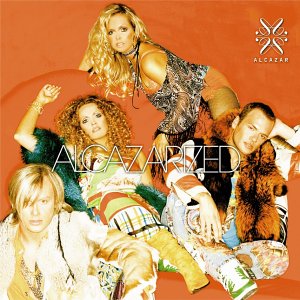 The European version of Alcazarised does also include 2 of the new songs ("This is the world we live in" and "Physical") along with the following tracks from the previously released version of the album; "I love the DJ", "Love life", "Not a sinner nor a saint", "Funky feet", "I go shopping", "Last days of disco", "Celebrate the night", "Singing to heaven" and "Someday". "Crying at the discoteque" is on the CD as a bonus track and "Here I am" is the album's hidden track.
In October 15th the band performed "Physical" in Grynets MegaShow in Swedish National TV.


Two days later they performed in Swedish National TV again when the show TV-Huset was celebrating 50 years of Rock'n'Roll. In this show they performed a great cover of Queen's "I want it all".
In December 2004 the maxi-single "Here I am" was released. The CD maxi includes 10 versions of the track, including versions in both Spanish and French as well as various nice club and dancefloor remixes.
"Here I am" was also the track they opened up with in their little medley they performed to a very enthusiastic crowd at the Swedish Gay Awards in late January 2005.
In January 2005 it was announced that Alcazar would be singing the song "Mr. DJ", which is one of the contributing songs to enter the Eurovision Song Contest 2005 - for the UK !!!
BUT - In January 18, 2005 it's announced that Alcazar will be one of four Jokers' in the Swedish Eurovision elections. They will perform the song "Alcastar" in the first (of four) election in Gothenburg in February 12th.
This means they will not be participating in the UK elections...
No matter what - we keep our fingers cross to see them in the big European final in May!
Unfortunately Alcazar ended up in third place in the first Swedish election. The first two acts were directly qualified to the finals and the two runner ups (third and forth place) are going to the "second round" and will get another chance... This starts to look just like last time Alcazar entered the competition...


Anyhow - "Alcastar" was first song out in the elections. It's a great track and the band did a great performance in their kind of futuristic space inspired clothes and I'm pretty sure the song will end up in the finals and it will do great there !
AND YES !!! Alcazar just did it again. They won the Second Chance and made their way to the Finals in Globen in March 12, 2005 !
Let's keep out fingers crossed for them there !!!
After a great show and new outfits in the finals, Alcazar ended up as # 3. Great done!
No matter what - "Alcastar" is already a HIT !
After the success with "Alcastar", the band will do some heavy touring during spring and summer. For their summer tour they will do some close to 50 gigs in 60 days... Unfortunately they will have to do the tour without Annikafiore as she broke her foot in July 4th when shooting the video for the bands single - "Start the fire". In the video she was supposed to slide down a fireman pole and after a few takes she had the accident, with the foot all put in plaster she is reported to be of good spirit but sad to miss the tour.


Regarding the single itself it's a treat for all Alcazar fans as both the CD single and the CD maxi include unreleased songs by the band.
Beside "Start the fire" both include the title track along with "Nothing but the video on".
The CD maxi also includes the extended and acapella versions of "start the fire" as well as the 'Poolbreeze mix' of "Physical" and the unreleased "Glamourama".
After the tour the band has decided they will let Alcazar take a break until spring 2006 - when their new album is planned to be released. For that album, I know they're at least considering a couple of great songs written by disco legend Mick Jackson, who wrote the disco classic "Blame it on the boogie". Both Mick himself and Michael Jackson with brothers in the Jackson's were battling the charts in 1978 with this monster hit.
Besides this, they have been given a new song by the Pet Shop Boys, a song called "Baby" and it's said that Neil and Chris want Alcazar's original producer and band former, Alexander Bard, to produce the track.
But until then the members will keep themselves busy with other projects...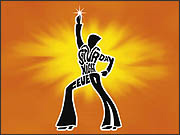 In September 15, 2005, Andreas will get into the white suit to become Tony Manero, John Travolta's break through character, in the Disco musical - Saturday Night Fever in the Oscars Theatre in Stockholm. The role of DJ Monty is played by famous Swedish rapper - Markoolio.
I've seen the show and it's really EXCELLENT! Andreas truly IS Tony Manero and plays his part GREAT! Wonderful singing, acting and dancing. I expected a good performance, but not this great. In the ending 10 minutes music medley the whole theatre was on their feet dancing and clapping hands. The cast had to get back in 3 times as ovations wouldn't stop.
Magnus will also be in a former John Travolta musical, he will play the role of the 'Teen Angel' in Grease. The role was played by Frankie Avalon in the movie. Magnus will also be part of a huge Christmas show together with singer Lotta Engberg, among other things.
Tess will concentrate on being a fulltime mom and Annikafiore has also got some plans.
So, they all will keep themselves busy and they promise to get back together again for the new album and assure us they're NOT splitting up, just taking a break from Alcazar.
In January 2006 it's final that Magnus will not be part of the band any more, as he said in an interview that he never was in love with Andreas and that it was a media thing they played. But Andreas told to the papers that he was at least in love with Magnus back when they were together...
Andreas also said he would get the band back together (but without Magnus) soon... Keep your fingers crossed and ears open for the return of Alcazar!
Andreas keeps acting in Saturday Night Fever with great success. He will also be singing in the Eurovision Song Contest 2006 in Greece. He's part of the group Six4One and will be singing for Switzerland (not Sweden)!! Andreas was asked to join the group because of the huge success Alcazar have had in Switzerland. The song is called "If we all give a little" and is written by Ralph Siegel and Bernd Meinunger. The group consists of singers from 6 different countries; Andreas Lundstedt (Sweden), Liel (Israel), Tinka Milinovic (Bosnia & Herzegovina), Keith Camilleri (Malta), Marco Matias (Germany) and Claudia D'Addio (Switzerland).
Six4One is actually first act out in the big Eurovision Song Contest finals held in Athens, May 20th 2006. That date is actually also Andreas' birthday, so let's hope birthday and starting as number one will take him and the group to #1. Some news on Magnus as well... He was performing in the Swedish elections for the Eurovision Song Contest. He performed in Karlstad in Feb. 25 with a song called "Leva livet", written by Anders Glenmark and Niklas Strömstedt. He made it to the final round, but not all the way.
Magnus also got married in January 29 to his boyfriend - Mats Pelli.
During spring 2006 rumors has been spreading over the Internet that Alcazar would be doing a comeback and that Tinka Milinovic, whom Andreas has become good friends with, would be joining the band. I have heard no confirmation at all about that. There will be a Six4One album out after the Eurovision Song Contest and in that album all six artists will sing a few songs together and also a few songs as solo acts.
During the summer Andreas will be touring with Saturday Night Fever, not as a musical, but of a concert thing.


During fall 2006 he will focus on a solo career and in early May a new danceable single in Alcazar style, "Love gun", is available. It's a great track, a little 'heavier' than we're used to and it keeps reminding me a little of Rod Stewart's classic "Da Ya Think I'm Sexy" mixed up with a small part of KISS' "I was made for loving you".
Second track on the single is also Andreas' version of the Bee Gees' classic "Night fever". A track he knows very well after all nights of performing in the Saturday Night Fever musical.
Check this single out!
In early June 2007 the London club G-A-Y announce in their web-site that Alcazar will be re-united for a gig in the club in July 21, together with other brain childs of Alexander Bard - Army of Lovers and BWO [Bodies Without Organs].
According to people attending this evening - it was a huge success.
First act out was Army of Lovers, also re-united for this evening only. The group was represented by Alexander Bard, Jean-Pierre Barda and singer Dominika Peczynski [plus a black inflatable doll representing La Camilla, the first original singer of the band. Nor was AoL's other female singer, Michaela de la Cour, part of the group this night.] They performed their hit "Crucified" and was followed by... ALCAZAR!
Alcazar included original members - Andreas and Tess - and were joined by Lina Hedlund for this gig. So the group was back to being a trio again as AnnikaFiore has left the group and Magnus can't see any future for himself as part of the group any more.
The trio started out with their 2004 hit "This Is the World We Live In", followed by "Start the Fire" and finishing with their first hit "Crying At the Discotheque".
Third and last act out was BWO, who are Alexander Bard with singers Martin Rolinski and Marina Schiptjenko. They started out with "Chariots of Fire" followed by "Temple of Love" [which ended up in second place in the Swedish Melodifestivalen in 2006] to end with their new single "Save My Pride" [which was actually first recorded by Alcazar as a hidden track of their Alcazarized album].
Then BWO starts "Chariots of Fire" again and all the performing acts join the stage to celebrate Mr. Bard's 20 years contribution to Swedish Dance music.
After this performance Alcazar has promised to evaluate if they might start working on a new album. In fact they already have some unreleased material, among that material two songs written by the Pet Shop Boys. So, let's keep our fingers crossed that this was the injection they needed and that it will be a new start for the band and we hope to see (and hear) more from them again soon...

In October 7, 2007 - Andreas made his premier as a TV-show host at Swedish Kanal 5 in the show 'Ranking the Stars'.
In the show 10 Swedish female celebrities and stars should rank each other in different categories, like; Who is the biggest Star and Who is the easiest to seduce. Then 100 men had also rank the ladies and the ladies who have got their lists to match closest to the men's list earn points and most points at the end, wins the evening's show.
The ladies in the show were Tess Merkel (no introduction needed), Hanna Hedlund (singer and partner of singer Martin Stenmarck), Magdalena Graf (model, wife of football pro Magnus Hedman), Hannah Widell (TV-show hostess and writer), Josefin Crafoord (model and artist in Dominizer), Malin Berghagen (model, actress and more... Daughter of Lill-Babs), Anna Book (singer), Sanna Bråding (actress and TV-show hostess), Annika Jankell (hostess of both TV and Radio shows), Hannah Graf (model and sister of Magdalena).
The show was filled with Disco music... The signature track was "Got To Be Real" [Cherryl Lynn], Anita Ward's "Ring My Bell" and Chic's "Everybody Dance" was also to be heard.
It was a fun show and concept, and Andreas did a great job keeping the ladies happy but yet not let them chatter too much.
Right before Christmas 2007 Andreas went public what the fact that he is HIV positive and is getting treatment and is actually feeling great. He also confirmed that Alcazar will revive and release new material during s'pring 2008.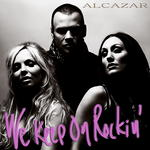 And in February 4th, 2008 it was premier in Swedish radio for the new Alcazar single - "We Keep On Rockin'".
Another great Alcazar-Disco hit, with bits of Pet Shop Boys influences and pumping beats. It will be a hit and no Alcazar fans will be disappointed. It seems like the trio, yes - they're back as a trio again, of Andreas, Tess and Lina Hedlund have found the Alcazar formula direct and we can't wait to hear more...
In interviews Andreas also explained that he had not met any prejudices or similar since he revealed his illness, he actually felt it had been the other way around and people had really been supportive and good to him.
In February 7, 2009 - Alcazar enters the stage of Melodifestivalen, the Swedish Eurovision Song Contest elections, in Gothenburg singing "Stay The Night". It's a typical Alcazar uptempo dance hit and elections made it a clear winner of this elimination round and the group is ready for the Swedish finals which is taking place in Stockholm in March 14th.
Alcazar was the only performing act in Gothenburg who got standing ovations for their performance... Looks promising for the finals!
In the finals Alcazar manages to make an even better performance than in the eliminations. They are clearly the favorite act of the people watching the event live in the Stockholm Globe Arena, sadly the TV-viewers didn't vote in the same favor and Alcazar ends up in fifth place. But their song is a huge HIT in radio, Clubs and sales.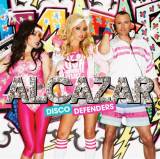 Just days before the Melodifestivalen finals, in March 11, the band release their new album - Disco Defenders, and the same night they had a releaseparty at Hotel Norrtull. The theme of the night was Miami Vice and the music was from the 80's and the band performed five songs from the album.
The album is actually a double CD. The first disc is all new material and is labeled "Now", while the second disc is a "Best of..." and labeled "Then".
Lets focus on the new material... First song out is the first single of the current trio, "We Keep On Rockin'", followed by "Burning" another great dance track leading up to their brilliant Melodifestivalen Club and Dance hit "Stay The Night".
Next track out is "From Brazil With Love" with a bit of carneval feel to it. This track was also co-written Danny Saucedo who is part of the group EMD who competed (and ended up just before Alcazar in the Melodifestivalen finals).
Fifth track is the little more Pink!'ish disco track "Inhibitions", before the band heads over to New York in "Harlem Nights" which is a little strange 'Disco-Charlston' kind of tune that gets stronger and stonger by each listening.
Then... Track number 7... "Baby"... The long-awaited song the Pet Shop Boys wrote for the band. It's just as great as any PSB can be. It's really PSB but Alcazarized.
"Jump Straight Into The Fire" gives you the currage to do just that... Excellent Alcazar Disco we're used to hear and a track that easily would work out any dance floor. Same goes for "My My Me and Mine" with its pumping bass that builds up perfectly for the groups cover of the Disco classic "Funkytown". They really manage to bring new life into this classic track, without killing the soul of the original. Well done!
In the 11th track, "Put The Top Down" the tempo slows down just a bit into a Soulful Disco feel where the members voices clearly show how well they work together. Last track out is "Thank You" which is a lovely little ABBA kind of piece... OK, there also a bonus track on the CD, that's the Club Mix of "Stay The Night".
The "Best of..." CD include the following tracks (no introductions needed); "This Is The World We Live In", "Crying At The Discoteque", "Menage A Trois", "Sexual Guarantee", "Don't You Want Me", "Start The Fire", "Shine On", "Not A Sinner Nor A Saint", "Physical", "Ritmo Del Amor", "Alcastar", "Love Life" and "Someday".
So this album is really a great buy and will make every Alcazar fan, and others, happy!
The band had decided to put themselves on hiatus, but still they have enjoyed each others company as much as they've kept playing gigs from time to time and in March 8, 2014 Alcazar find themselves (once again) in the finals of Melodifestivalen in Friends Arena in Stockholm.
This years' song is called "Blame It On The Disco" and is a Disco-House smacker and the band enters the stage in the most spectacular way ever; a giant disco ball descends from the ceiling and while descending it opens up and Alcazar steps out and presents the strongest performance of the show. It was full of tempo, perfect singing and dancing from the members and the stage and arena exploded in a fantastic Disco craze.
Alcazar would have been a perfect representative in the Eurovision, but they ended up as second runner up, as number 3. But the song will absolutely become a new worldwide hit for the band.
Throughout 2015 Alcazar performed with their own show - Disco Defenders, first at Rondo in Gothenburg, Sweden during the Spring, while then relocating to Hamburger Bors in Stockholm from September 'till Christmas.
The show was a great success and in Spring 2016 they took it on tour around the Nordics and they will even get back to Hamburger Bors to continue running it during Fall 2016.
I've seen the show 3 times and it's a fantastic show where each member gets to glow to their full potential. It's glitter and glamour, sexy and... DISCO! Love it! I even saw the closing show right before X-mas 2015 and the band played pranks on each other and for example when the group reentered the stage for the encore they found the backing band stripped down to their knickers and wearing Father Christmas caps.
Apparently others loved the show as well, because in February 2016 Alcazar received the award for Best Show at the QX Gay Awards.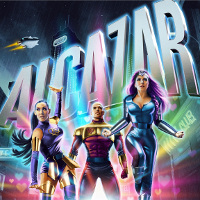 During Europride in August 4, 2018 in Stockholm, Alcazar was the final act and for the first and only time ALL members of the band performed together on stage. Both former members Magnus and Annika Fiore joined Andreas, Tess and Lina for this special occasion.

Everything comes to an end and throughout the Fall of 2018 Alcazar were out performing their 20 Years of Disco - Mission Completed tour all over Sweden. This was the bands farewell tour and was well received all over.
The grand finale was their special performance on New Years Eve at Circus in Stockholm. Alcazar performed the ordinary show and after a break they entered the stage again before the Midnight countdown to perform some additional songs, like ABBA's "Happy New Year" and also toast in 2019.
As their last ever final track they made the whole venue scream and shout as they performed their hit "Stay The Night". See this last performance!



On New Years Eve 2018 we sadly got to hear the last from this successful Swedish band.
But their music will remain and as they say...
Alcazar:
"We will keep spreading our disco bacteria!"