The Horse & Groom presents The Revenge (Instruments Of Rapture)
Sat 3rd Dec/ 9pm til 4am/ The Horse & Groom 28 Curtain Rd EC2A 3NZ adv tickets £4
http://www.residentadvisor.net/event.aspx?304521/
MOTD
The Revenge (Instruments of Rapture) 3hr Set with support from Neil Thornton (Discovery), Mark Pharaoh (Systematic) plus the Unwanted Family in the loft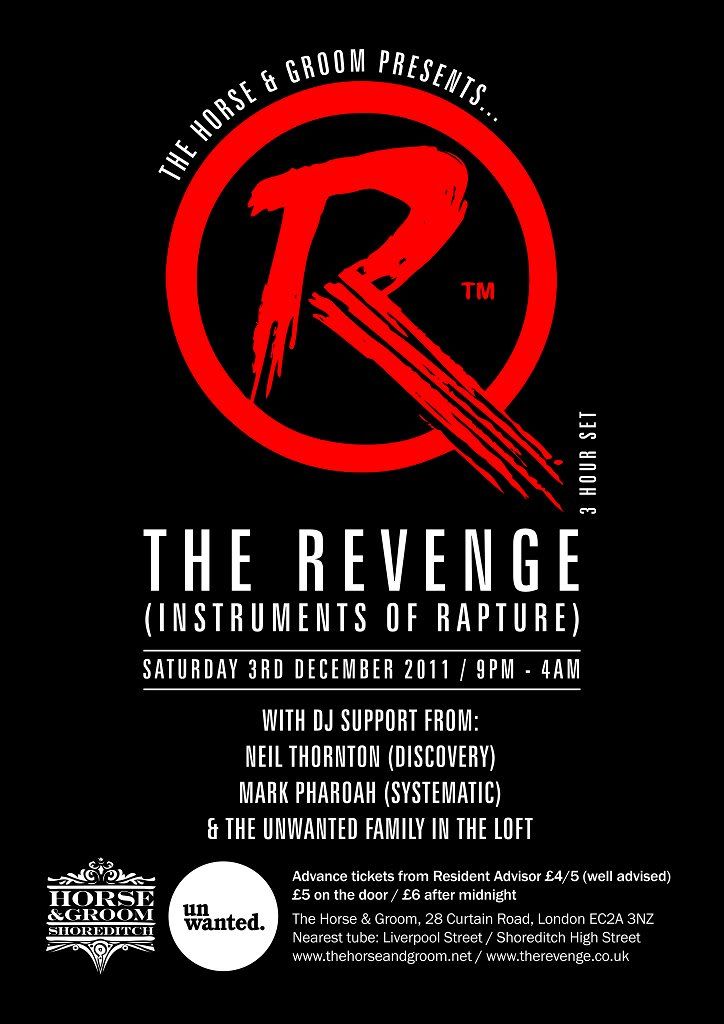 For the final Horse & Groom presents event of 2011 and we welcome back to the stables one of the hottest UK acts and a firm favourite from these parts we welcome Greame Clark aka The Revenge (Instruments of Rapture) who will be playing a special extended 3 hour set on the night. It has been a fantastic few years for Graeme who has been putting out so much quality music which taps all the right buttons for house and disco lovers alike. Dj support comes from Neil Thornton, Systematic's Mark Pharoah, The Unwanted family and more TBC.
It has been another great year for the venue and especially these parties where guest such as Todd Terje, Kyle Hall, Eric Duncan & Jacques Renault having all played fantastic sets and good times had by all and for this one' with the Revenge on board you know this is going to be another big one. As with all the previous H&G presents which have all reached capacity it is well worth purchasing advance tickets from Resident Advisor.
THE REVENGE (INSTRUMENTS OF RAPTURE)
Graeme began producing in his early teenage years, making a skewed blend of electronic music using a couple of his dad's old drum machines and a sampler. Influenced by his parents collection of rock, soul and funk aswell as eighties daytime radio and the burgeoning rave scene, he began the process of dissecting and re-imagining the music. Productions for his own labels Instruments Of Rapture, Five20East and his DJ edits for L.E.S.S. Productions have had across-the-board support from scene heavyweights including Danny Krivit, Jimpster, Radio Slave, Prins Thomas, Fabrice Lig, Todd Terje, The Unabombers, Karizma, SWAG, Dan Ghenacia, Gilles Peterson, Ashley Beedle, Domu, Kissy Sellout, Joe Claussell, Stuart Patterson, Atjazz, Bill Brewster, Phil Asher, Tim Sweeney and more.DJ work over the years has included spots with Jimpster, Joe Claussell, Domu, Mark E, Mad Mats, Seiji, Yousef, Jeff Mills, Jazzy Jeff, MAW, Sinden, James Lavelle and more.Graeme has also provided his engineering experience to several projects over the past few years and has recently mastered Harri & Domenic's 20 Years Underground / Sub Club mix for Soma aswell as new material for Mark E, Jisco, Under The Shade and Fine Art Recordings. His other collaborative projects currently include Deportivo Street Team, OOFT!, Cronk Family Enterprises, 6th Borough Project and The Hong Kong Micros.
http://www.therevenge.co.uk/
Unwanted Family
Since they began promoting nights at the Horse and Groom just 7 months ago the Unwanted Family have built a solid fan base amongst the East London crowd. With DJ gigs picking up nicely all over London there is no better way to say thanks and no greater pleasure for them than to run the upstairs at the Horse & Groom presents... 'The Revenge' party.
The Unwanted Family will be providing the perfect accompaniment to the downstairs merriment with their multi-genre style and party atmosphere. As ever at an Unwanted night you'll be hearing huge funk and soul sounds, rare grooves and of course those big house belters. DJs at the helm: Franklin (soul/motown), Thomas James (deep house/disco/tech), Chris Gee (deep grooves/house/disco), Mr Venom (funk/hip-hop/breaks), and Rocksteady Freddie (soul funk bangers/deep disco). The Unwanted Family are purveyors of a unique party style, so go and say hi, you'll be glad of it.
http://www.facebook.com/unwantedfamily