Lasermagnetic 6th B/day Warehouse party w/ Rahaan (Chicago) Zernell (Grimy Edits / Los Angeles) +cinema/ exhibtion 28/4 (bank hol)
Line-up / Rahaan (Chicago) Zernell (Grimy Edits / Los Angeles)
Johnny CHINGAS Hiller & Neil Thornton (Lasermagnetic)
& Hang the DJ hosting the Gallery
Lasermagnetic celebrate their 6TH birthday in continuing their passion for showcasing underground disco music in the capital.
Early Bird tickets on sale now £7
http://www.residentadvisor.net/event.aspx?244944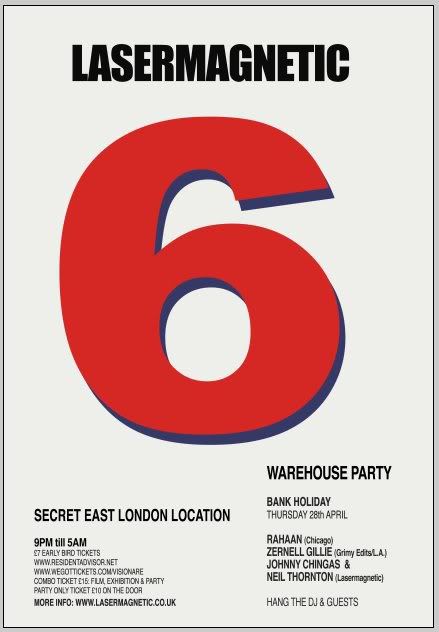 Resident DJ's Johnny CHINGAS & Neil Thornton have decided to curate something a little bit out of the ordinary. Taking over a Gallery space in east London on the 28th April Bank Holiday Thursday, there will there will be an underground cinema screening (UK first!) depicting New York's Lower East Side during the early 80s featuring Clayton Patterson.
http://www.youtube.com/watch?v=mxUZSIf5yjQ
Later in the evening, an art exhibition dedicated to the soul of black music, plus visual installations and a specially commissioned lighting show and other treats, which will all, serve as a backdrop to the event. The party will take place over 2 dance spaces - taking over the Gallery will be the Hang the DJ collective, whereas the Warehouse space which will see an install by Bozak, every disco DJ's favorite rotary mixing console.
Joining Lasermagnetic will be Rahaan from Chicago and hotly tipped Zernell (L.A), who's behind the quality Grimy Edits imprint and makes his first ever gig to the UK! Both DJ's were protégées of the late Ron Hardy and continue his tradition of serving up underground disco and early house music in that undeniably energetic Chi-Town way. This is a show not to be missed - we call it the 2 Chairs of Chicago! Some serious disco heat in the making...
(A little bit of House music history: The Picture below shows DJ Gene Hunt, who used to warm-up for Ron at the music box, DJ Pierre & Zernell at a Studio in the suburbs south of Chicago in '87. During that session either We Are Future or Acid Trax was cut.
Both Rahaan & Zernell belong to a small group of Chicago DJ's (Bring the Heat! & Soul in the Hole) who dig deep for the more obscure, but equally dance floor friendly disco/funk vinyl's and take the tradition started by Hardy to the next level. Rounding up the evening will be Neil & Johnny, embracing the broad styles of music they have always pushed in a party context.
Combo tickets will be available, which include access to the exhibition, films and party.
Or party only!
Film & Exhibition starts at 9pm (Ticket are £15)
Party starts at 11pm till late (Tickets are £10), but early bird tickets will be available for £7 from Resident Advisor