OK, to kick us into the season of goodwill, Harmless is proud to announce the next 10 volumes of the Backbeats series which will be released on Boxing Day 26/12/11.
As per usual, we've used great compilers and raided the vaults of labels like G.S.F., Sound Stage 7, Hi, Paula, Curtom, Brunswick, Bearsville, Chi-Sound, Dynamite, Sound Plus, Metromedia, Sansu, Instant, Philadelphia International, Douglas, Invictus, Strata East, Hot Wax, House Of The Fox, Toddlin' Town, T.S.O.P., Soul Power, Ronn, Jet Stream, Gemigo, Cream, Alaska, Mayfield, SSS International, Seventy 7, Canyon, Dakar, Deesu, Share, Philly Groove, Soulville, Nola, Pameline, Vee-Jay, Tollie, One-Derful!, Thomas, Audio Arts, Jewel, Mar-V-Lus, Constellation, Blue Cat and numerous others.
However, the most significant thing is the price! You can buy all of these for less than £4.00 each from both HMV and Amazon including postage! Links below. Don't say we don't look after you!
BACKB021 Backbeats - Soul A La Mode – 1970's Modern Soul

Compiled by Ian Dewhirst
1 Bobby Womack I Don't Know
2 Lloyd Price Love Music
3 Gavin Christopher This Side of Heaven
4 Don Thomas Come On Train
5 Willie Hobbs 'Till I Get It Right
6 The Anderson Brothers I Can See Him Loving You
7 Africano Satisfactorise Your Mind
8 The Montclairs Hung Up On Your Love
9 Gene Chandler Don't Have To Be Lying Babe
10 Wales Wallace Somebody I Know
11 Skull Snaps I'm Your Pimp
12 Barbara Lynn Movin' On A Groove
13 Sidney Joe Qualls I Don't Do This (To Every Girl I Meet)
14 Jackie Wilson Because Of You
15 Brief Encounter Human
16 Bobby Walls & Co Just You and Me
17 Danny Hunt What's Happening To Our Love Affair
18 Tony Drake Suddenly
19 Ben Monroe Broken Home
20 Ann Peebles If This Is Heaven
21 The Impressions Love Love Love
22 Leroy Hutson Ella Weez
23 The Winstons Color Him Father
HMV Link:
http://hmv.com/hmvweb/simpleMultiSearch ... ryID=music
Amazon Link:
http://www.amazon.co.uk/Backbeats-Soul- ... 685&sr=1-1
BACKB022 Backbeats - What's The Word? – Socially Conscious Soul Music

Compiled by Dean Rudland
1 The Impressions Mighty Mighty (Spade & Whitey)
2 Lee Dorsey Who's Gonna Help A Brother Get Further
3 Larry Darnell Son of A Son Of A Slave
4 Moody Scott Bust Out Of the Ghetto
5 Philadelphia All Stars Let's Clean Up the Ghetto
6 The Last Poets Blessed Are Those Who Struggle
7 Parliament Oh Lord Why Lord
8 Gil Scott-Heron Peace Go With You Brother
9 Curtis Mayfield We the People Who Are Darker Than Blue
10 Harrison Kennedy Sunday Morning People
11 Freda Payne Bring the Boys Back Home
12 Laura Lee Woman's Love Rights
13 Billy Paul False Faces
14 Chairman Of The Board I'm A Sign of Changing Times
15 The Identities Hey Brother
16 Brothers & Sisters I Am Somebody
HMV Link:
http://hmv.com/hmvweb/simpleMultiSearch ... rimaryID=0
Amazon Link:
http://www.amazon.co.uk/Backbeats-Whats ... 799&sr=1-1
BACKB023 Backbeats - Smooth Grooves – Sophisticated 80's Philly Soul

Compiled by Ralph Tee
1 Lou Rawls Lady Love
2 Patti LaBelle I'm In Love Again
3 Teddy Pendergrass Easy, Easy, Got To Take It Easy
4 M.F.S.B. Tell Me Why
5 McFadden & Whitehead I've Been Pushed Aside
6 The Jones Girls When I'm Gone
7 The Stylistics Mine All Mine
8 Dee Dee Sharp Gamble I Believe In Love
9 Billy Paul You're My Sweetness
10 Jean Carn Start the Fire
11 The Intruders Everyone's a Star
12 Silk (I Can't Stop) Turning You On
13 Phyllis Hyman Set a Little Trap
14 The O'Jays Lovin' You
15 Bunny Sigler Your Love Is Good
16 Instant Funk So Glad You're The One
17 Anthony White Yes You Need Love
HMV Link:
http://hmv.com/hmvweb/simpleMultiSearch ... rimaryID=0
Amazon Link:
http://www.amazon.co.uk/Backbeats-Smoot ... 852&sr=1-5
BACKB024 Backbeats – Philly Busters – Underground Philly Dance Floor Gems

Compiled by Kev Roberts & Ian Dewhirst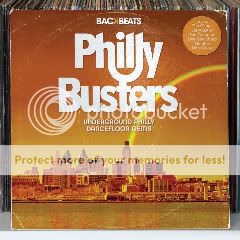 1 The O'Jay's Darling Darling Baby
2 Archie Bell & the Drells Old People
3 McFadden & Whitehead I Heard It in a Love Song
4 Jean Carn (with Glenn Jones)Sweet & Wonderful
5 The Futures Sunshine & You
6 Anthony White Hey Baby
7 Teddy Pendergrass When Somebody Loves You Back
8 Jean Carn (No No) You Can't Come Back Now
9 Jerry Butler (I'm Just Thinking About) Cooling Out
10 Lou Rawls Groovy People
11 Don Covay Travellin' In Heavy Traffic
12 Dee Dee Sharp Gamble Happy 'Bout the Whole Thing
13 Billy Paul Let the Dollar Circulate
14 Harold Melvin & The Blue-Notes Tell The World How I Feel About 'Cha Baby
15 The Trammps Stop & Think
16 The Stylistics Found a Love You Couldn't Handle
17 Billy Paul I Trust You
HMV Link:
http://hmv.com/hmvweb/simpleMultiSearch ... rimaryID=0
Amazon Link:
http://www.amazon.co.uk/Backbeats-Phill ... =1-1-spell
BACKB025 Backbeats – Bustin' Out – Ghetto Grooves from Dusty Cellars

Compiled by Dean Rudland
1 Jackie Beavers Somebody Help the Beggar Man
2 Alvin Cash Keep On Dancing
3 Toddlin' Town Sounds It's My Thing
4 African Music Machine Mr Brown
5 The Genies Know What to Do When You Get It
6 Barbara Lynn You'd Better Quit It
7 Laura Lee If You Can Beat Me Rockin'….
8 Harolyn Montgomery Gotta Get Away
9 Ann Peebles Somebody's On Your Case
10 Bobby Patterson Right On Jody
11 Cyril Neville Gossip
12 Sir Joe Quarterman The Way They Do My Life
13 Al Green Love Ritual
14 Lightnin' Rod Sport
15 Bobby Womack Across 110th Street
16 Aaron Neville Hercules
17 8th Day Good Book
18 The Politicians Close Your Big Mouth
19 African Music Machine The Dapp
20 Scott Brothers Orchestra A Hunk of Funk
21 Hone Cone Ace in the Hole
22 Parliament Funky Woman
23 Exit 9 Miss Funky Fox
HMV Link:
http://hmv.com/hmvweb/simpleMultiSearch ... rimaryID=0
Amazon Link:
http://www.amazon.co.uk/Backbeats-Busti ... 940&sr=1-5
BACKB026 Backbeats -2 Steps To Soul Heaven – More 70's & 80's Steppers

Compiled by Ian Dewhirst
1 Arnold Blair Trying To Get Next To You
2 Leroy Hutson Lovers Holiday
3 The Dells Ain't It A Shame
4 The Jones Girls This Feeling's Killing Me
5 Ken Williams Sweet Music, Soft Lights & You
6 The Notations Take It Slow
7 Leroy Hutson Lucky Fellow
8 Curtis Mayfield Just Want To Be With You
9 Archie Bell & the Drells It's Hard Not To Like You
10 Intimate Strangers Love Sounds
11 The Staple Singers Let's Do It Again
12 The Dells I Touched a Dream
13 Natural Four Try Love Again
14 Al Green Loving You
15 Joyce Cobb How Glad I Am
16 Jean Carn We Got Some Catching Up To Do
17 Patti LaBelle Love, Need and Want You
18 Strutt Said You Didn't Love Him
HMV Link:
http://hmv.com/hmvweb/simpleMultiSearch ... rimaryID=0
Amazon Link:
http://www.amazon.co.uk/Backbeats-Steps ... 993&sr=1-1
BACKB027 Backbeats - They Call It Crossover – More Mid-Tempo Soul

Compiled by Sean Hampsey
1 The O'Jays Just Another Guy
2 The Five Stairsteps I'm The One Who Loves You
3 Marvin Smith Who Will Do Your Running Now
4 Erma Franklin It Could've Been Me
5 Bobby Womack Tried & Convicted
6 Otis Clay Holding on To A Dying love
7 Johnny Adams You're A Bad Habit Baby
8 Holland-Dozier ft Lamont Dozier If You Don't Want To Be In My Life
9 Eddie Billups Shake Off That Dream
10 Gene Chandler Without You Here
11 Linda Jones If Only We Had Met Sooner
12 Doris Duke The Feeling is Right
13 Tyrone Davis You Keep Me Holding On
14 Channel 3 The Sweetest Thing
15 Eldridge Holmes Lovely Woman
16 Gloria Edwards I Don't Need Nobody (To Help Me Keep Up With My Man)
17 Ella Washington Stop Giving Your Man Away
18 Tony Love Crying Time Is Over
19 The Eliminators Lovin' Explosion
20 Mary Holmes I Need Your Lovin'
21 Ann Sexton I Had A Fight With love
22 100 Proof Aged In Soul Don't You Wake Me
23 Jackie Wilson What A Lovely Way
24 Kenny Young Aint It Funny
25 Na Allen Lay It on Me Right Now
26 Chuck Armstrong How Sweet It Is
HMV Link:
http://hmv.com/hmvweb/simpleMultiSearch ... earch.y=18
Amazon Link:
http://www.amazon.co.uk/They-Call-Cross ... 040&sr=1-1
BACKB028 Backbeats - Mod Life Crisis – 60's Mod Anthems

Compiled by Dean Rudland
1 Sugar Pie Desanto Do the Whoopie
2 Robert Parker Barefootin'
3 Young Holt Trio Wack Wack
4 Johnny Jones & the King Casuals Soul Poppin'
5 Jackie Wilson & Count Basie Uptight
6 Willie Mitchell Everything's Gonna Be Alright
7 Tommy Neal Going To A Happening
8 Little Richard Baby Just Tear Off My Clothes
9 Billy Preston I Am Coming Through
10 Betty Everett Getting Mighty Crowded
11 Barrett Strong Make Up Your Mind
12 Wade Flemmons That Other Place
13 The Sharpees Tired Of Being Lonely
14 Jamo Thomas & his Party Bros Orch I Spy (For the FBI)
15 The Incredibles There's Nothing Else To Say
16 Barbara Acklin Just Ain't No Love
17 Shades of Blue Oh How Happy
18 The Rubaiyats Omar Khayyam
19 Little Hank Mr Bang Bang Man
20 Robert Parker Let's Go Baby (Where the Action Is)
21 Kim Melvin Doing the Popcorn
22 Toussaint McCall Shimmy
23 Banny Price Monkey See - Monkey Do
24 Bill Black's Combo Turn On Your Lovelight
25 Frank Frost My Back Scratcher
26 Gene & Al's Spacemen Mercy
27 The Du-Ettes Every Beat of My Heart
HMV Link:
http://hmv.com/hmvweb/simpleMultiSearch ... rimaryID=0
Amazon Link:
http://www.amazon.co.uk/Backbeats-Mod-L ... 081&sr=1-1
BACKB029 Backbeats - Lost In Time –More Northern Soul Treasures

Compiled by Kev Roberts & Ian Dewhirst
1 Sam Fletcher I'd Think It Over
2 Barbara Lynn I Don't Want A Playboy
3 The Ad-Libs Nothing Worse Than Being Alone
4 The Inspirations Touch Me Hold Me Kiss Me
5 Didi Noel Let the Music Play
6 Linda Jones You Hit Me Like TNT
7 Sydney Barnes I Hurt On the Other Side
8 Jimmy & the Entertainers New Girl
9 The Ringleaders Baby What Has Happened To Our Love
10 Fred Hughes I Keep Trying
11 Gene Chandler I Can Take Care Of Myself
12 Nolan Chance Just Like the Weather
13 Mill Evans I've Got To Have All Of Your Love
14 Saxie Russell Psychedelic Soul Pt 1
15 Richard 'Popcorn' Wylie Rosemary What Happened
16 Detroit Executives Cool Off
17 Stanley Mitchell Get It Baby
18 Jimmy 'Soul' Clark (Come On and Be My) Sweet Darling
19 Don Varner Tear Stained Face
20 Maurice Williams Being Without You
21 Little Richie Just Another Heartache
22 Little Johnny Blair Momma's Gone
23 Sam Dees Lonely For You Baby
24 Ohio Players You Don't Mean It
25 The Skull Snaps My Hang Up Is You
26 The Valentines Breakaway
27 The Artistics I'll Always Love You
28 The Impressions Stay Close To Me
HMV Link:
http://hmv.com/hmvweb/simpleMultiSearch ... rimaryID=0
Amazon Link:
http://www.amazon.co.uk/Backbeats-Lost- ... 125&sr=1-1
BACKB030 Backbeats - The Pain Goes Deep – More Deep Soul Gems

Compiled by Sean Hampsey
1 Otis Clay That's How It Is
2 Linda Jones Fugitive from Love
3 Little Archie I Need You
4 100 Proof Aged In Soul I Don't Care If I Never Get Over You
5 Annette Snell You Ought To Be Here With Me
6 George Jackson Aretha, Sing One for Me
7 Jean Plum Loneliness
8 Melvin Davis I'm Worried
9 Doris Duke He's Gone
10 Big John Hamilton Take This Hurt Off Me
11 Tyrone Davis I Keep Coming Back
12 Charles Smith I'm Useless
13 Leon Byrd I Catch Myself Crying
14 The Whispers Seems Like I Gotta Do Wrong
15 Bettye Lavette Let Me Down Easy
16 Aaron Neville Been So Wrong
17 Laura Lee I'll Catch You When You Fall
18 Sydney Joe Qualls I'm Being Held Hostage
19 Quiet Elegance You've Got My Mind Messed Up
20 Tommie Young She Don't Have To See You
21 Ann Sexton I'm His Wife (You're Just a Friend)
22 Jackie Wilson Just As Soon As the Feeling Is Over
23 Joe Valentine I Can't Stand To See You Go
24 Wilson Pickett I'm Down To My Last Heartbreak
HMV Link:
http://hmv.com/hmvweb/simpleMultiSearch ... rimaryID=0
Amazon Link:
http://www.amazon.co.uk/Backbeats-Pain- ... 163&sr=1-1
Could be worse ways to close off the year!
Merry Xmas All!
Ian D